Gold Taking a Breather After Recent Plunge
Commodities
/
Gold and Silver 2010
Jul 11, 2010 - 01:18 PM GMT


After a sharp drop leading into the long weekend last week gold seemed to have just taken a breather and moved sideways this week. I guess we'll just have to wait and see what the next week brings.
TIME PERIODS
As you may have noticed while reading these commentaries they are separated into three time periods called long term, intermediate term and short term. Why bother, you might ask.
Unless you are a very short term or day trader you would want to know the direction of the existing gold trend, but there is no one trend. The market is always moving in different directions depending upon your investment or speculative time horizon. It could be in a very short term down trend but still within an intermediate term upwards trend all within a long term bear trend.
Before you invest or speculate you should know two things as far as the trend of your investment or speculation is concerned. You need to know the existing trend within your time horizon so that you can invest or speculate with the trend. The other thing you need to know is the next shorter time period trend. Trend reversals usually start in these shorter periods. Regardless if the trend looks good for your preferred time period, if the trend is in the opposite direction for the next shorter time period you would be prudent to wait for that trend to change into your preferred trend direction before jumping in. No use investing or speculating in your preferred trend direction only to see it turn around shortly there after.
Determining the trend is a function of technical analysis. It is impossible for the fundamental analysis of a company to determine the trend of a company stock. They are two different disciplines addressing two different subjects. There are many commentaries posted on the internet providing you the information of the trend in gold or whatever commodity or stock you may be interested in. In these commentaries I try to keep it simple. Why get fancy if simple does the trick.
GOLD : LONG TERM
As mentioned last week the P&F chart that I have been using for some time now seems to have exhausted its usefulness as a long term chart. The gold price has advanced to the point that the combination of units and unit reversal have become too volatile to serve as a long term combination. I will continue using the existing combination (i.e. $15 units and 2 unit reversal) but as an intermediate term chart. For a long term chart, at the present price range, I have only changed the reversal criteria to 3 unit reversal from 2. This seems to work okay at these price levels.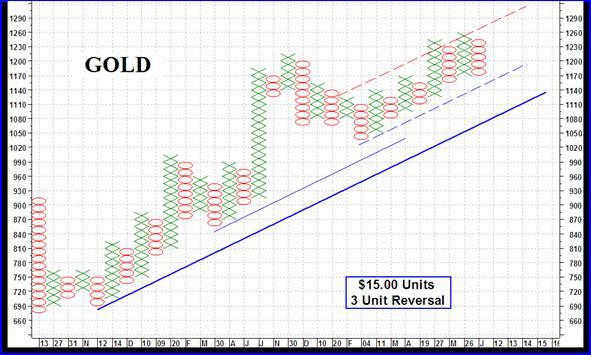 With this new long term P&F chart we are still far from a reversal and are still under a bullish trend. We have a primary up trend line that is still far from the action while secondary up trend lines are closer.
As for the normal indicators, gold remains above its positive sloping moving average line and the long term momentum indicator remains in its positive zone. The indicator is, however, heading lower and is below its negative sloping trigger line. The volume indicator has been reaching into new high ground lately and remains above its positive trigger line. All in all, the long term rating remains BULLISH at this time.
INTERMEDIATE TERM
I show the new intermediate term P&F chart (the same as the old long term chart) to show the difference in the charts that just changing the unit reversal makes. The long term chart has a 3 unit reversal while the intermediate term chart has a 2 unit reversal. Both have the same unit values. Since reaching its lows in late 2008 the intermediate term P&F chart had 2 reversals of trend and is now showing its third reversal. The (new) long term chart remained in a bullish trend throughout. As mentioned, the P&F chart here has given us a P&F bear signal with a downside projection to the $1020 level. That is just below the previous intermediate term bear low.
As for the normal trend and indicators, gold dropped below its intermediate term moving average line a week ago and remains there. The line had turned downward during this past week but the Friday action was enough to turn the average slightly upwards again. Unless gold moves above its moving average line pretty soon this average line should turn back to the down side. The momentum indicator has been dropping quite rapidly lately but is still in its positive zone. It seems to be turning around and heading upward now but remains below its negative trigger line. As for the volume indicator, it is the strongest indicator and remains above its positive trigger line. As often cautioned, at a market top too often the volume indicator is a lagging indicator. With the moving average having turned upward even very slightly I must give the intermediate term a rating just above a full bear, at a – NEUTRAL rating.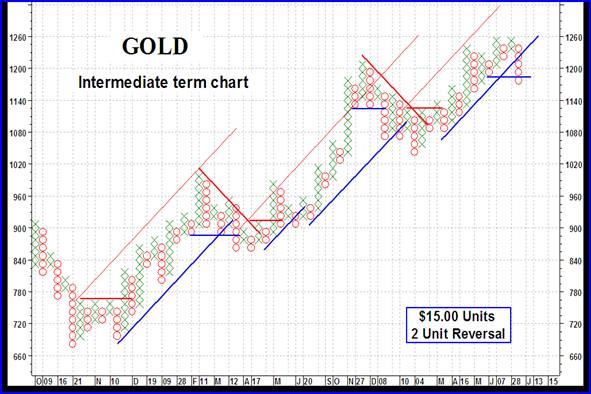 SHORT TERM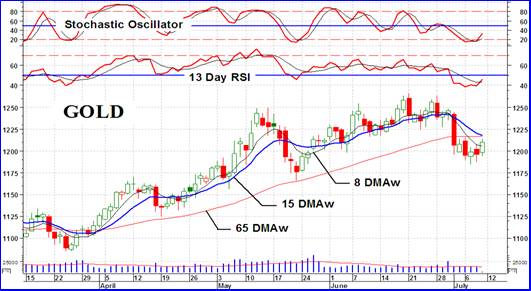 Short term it was a stalemate this week. Basically gold went nowhere except sideways. This may be seen as a prelude to a reversal of trend but let's not get ahead of ourselves. Too often things looked like they were turning around only to disappoint.
Looking at the short term indicators we see that gold continues to move below its negative sloping moving average line. The momentum indicator remains in its negative zone but is moving upward and has now crossed above its trigger line. The trigger has also just turned to the up side. As for the daily volume activity, that remains low and not a deciding factor. With the mixed message from the momentum indicator one would have hoped for a slight improvement in the rating but putting it all together I still get a rating of BEARISH, at this time. It could only be another day or so for the rating to improve but not yet today. The very short term moving average line remains below the short term line confirming this rating.
As for the immediate direction of least resistance, that's a guess as it most often is. Gold closed on Friday above its very short term moving average line but the line slope remains to the down side. The Stochastic Oscillator has turned upward and has crossed back above its oversold zone and trigger line. However, it still is in its negative zone although one more day and that may be history. The immediate trend appears most decidedly to the up side and I will go with its continuation.
SILVER
With the three gold charts shown above I have used up my chart space so I'll leave the silver chart for next week. Looking at the silver P&F chart that is often shown here silver is still above its support. A move to $17.00 would be required to break the support and give a bear signal.
As for the usual indicators, looking at the ones that give us the Table information gives us a bad feeling. The short and intermediate term are rated as bearish while the long term is still bullish. Looking at the chart and the indicators I usually use for visual analysis (they are slightly different) I see no contradiction in them. They are also giving us the same ratings message. There is a head and shoulder pattern mentioned in previous commentaries and that pattern remains unbroken. A move below the $17.50 mark would break below the neckline and confirm a H&S break. Things to look out for.
PRECIOUS METAL STOCKS
It was a so-so week for the gold and silver stocks. Most Indices, North American and Merv's. were higher at the close but only by a few % points. The PHLX Gold and Silver Sector Index was up 3.1% as the best performer while Merv's Penny Arcade Index was the worst performer with a loss of 2.1%. Still, very little movement. In the universe of 160 there were 84 stocks (53%) advancing on the week and 70 stocks (44%) declining on the week. The week ended with the overall ratings for the universe at short term 18% bull and 67% bear, intermediate term at 17% bull and 74% bear and for the long term at 41% bull and 51% bear. Despite this week's up move the overall ratings are still nothing to get all excited about. Despite many stocks with moves in the 20% area, once more there were none that made it into my great move category of 30% plus level.
Merv's Precious Metals Indices Table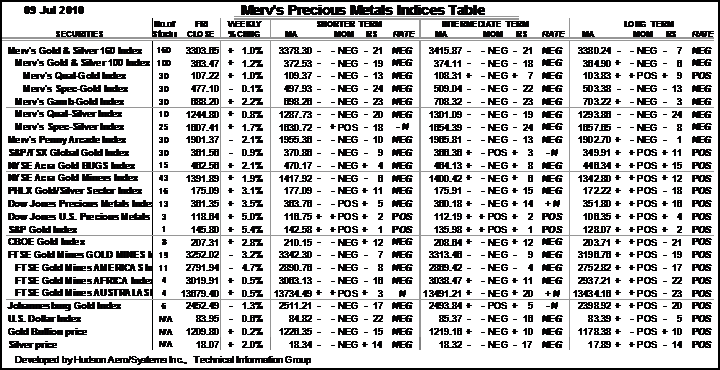 Well, that's another week.
By Merv Burak, CMT
Hudson Aero/Systems Inc.
Technical Information Group
for Merv's Precious Metals Central
For DAILY Uranium stock commentary and WEEKLY Uranium market update check out my new Technically Uranium with Merv blog at http://techuranium.blogspot.com .
During the day Merv practices his engineering profession as a Consulting Aerospace Engineer. Once the sun goes down and night descends upon the earth Merv dons his other hat as a Chartered Market Technician ( CMT ) and tries to decipher what's going on in the securities markets. As an underground surveyor in the gold mines of Canada 's Northwest Territories in his youth, Merv has a soft spot for the gold industry and has developed several Gold Indices reflecting different aspects of the industry. As a basically lazy individual Merv's driving focus is to KEEP IT SIMPLE .
To find out more about Merv's various Gold Indices and component stocks, please visit http://preciousmetalscentral.com . There you will find samples of the Indices and their component stocks plus other publications of interest to gold investors.
Before you invest, Always check your market timing with a Qualified Professional Market Technician
© 2005-2019 http://www.MarketOracle.co.uk - The Market Oracle is a FREE Daily Financial Markets Analysis & Forecasting online publication.

Only logged in users are allowed to post comments.
Register/ Log in