China: The US Is "Insolvent and Faces Bankruptcy"
Interest-Rates
/
US Bonds
Jul 21, 2010 - 06:34 PM GMT


The common thought amongst even reasonably educated and economically literate Americans is that China is 'stuck with US Treasuries' and has no choice, so it must perform within the status quo and do as the US wishes, or face a ruinous decline in their reserve holdings of US Treasuries.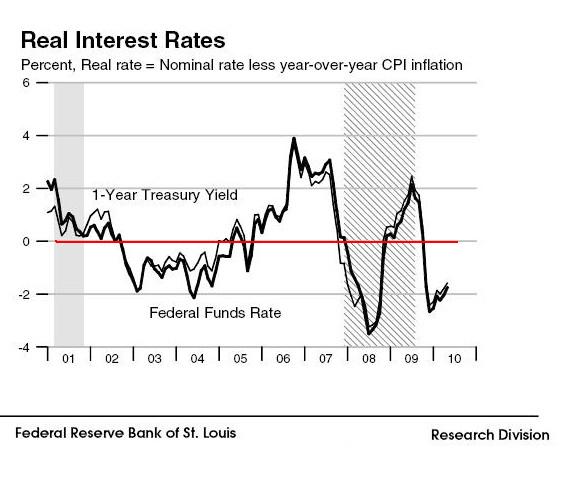 And with real short term US Treasury interest rates decidedly negative, meaning that it is costing you money to hold dollars, there is a case to be made that there are a lot of 'price takers' out there in this world. Wow, they are just that good, aren't they. Having their heyday in a genuine deflation. A subtle tax levied on all holders of US dollars, probably more significant because of the official understantement of inflation. Yo, come git some.

I think China is already diversifying their reserve portfolio, and more stealthily and effectively than one would imagine.

Further, I suspect that through the use of hedging short positions and derivatives such as Credit Default Swaps, China would be able to cover a greater portion of its reserves than the common mind might allow. And if this is in reality one theater in a global struggle for power, sacrificing a pawn or two, and even a bishop, would be a small price to pay to bring down the world's remaining superpower, as indirectly and gracefully as is possible. War is never cheaply waged.

It would most certainly be a nuclear option to outright dump Treasuries outright, and would raise the ire of what is still a formidable military power. But it is the Western mind that is so incapable of seeing the many shades of gray in every situation, the subtle gradations in a range of choices that I believe China not only sees but is already actively pursuing.

China is not the only country that resents the devastating frauds that the US has perpetrated on not only its own people but the rest of the world through its Wall Street banks and ratings agencies.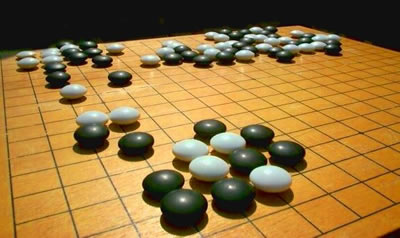 Most Americans overlook this developing estrangement that is beginning to isolate the US and UK from even their traditional allies in Europe and South America and Asia. This is a serious error, but so typical of the short term mentality dominated by greed, dishonesty, and self-delusion that captured the American psyche in the latter part of The New American Century. But what choice does Europe have except to take what the Anglo-Americans serve them. Take it or leave it. And ain't currency war hell?

It never pays to have a 'checkerboard mentality' when your opponent is playing Go."

Financial Times
China rating agency condemns rivals
By Jamil Anderlini in Beijing
July 21 2010 16:22
The head of China's largest credit rating agency has slammed his western counterparts for causing the global financial crisis and said that as the world's largest creditor nation China should have a bigger say in how governments and their debt are rated.

"The western rating agencies are politicised and highly ideological and they do not adhere to objective standards," Guan Jianzhong, chairman of Dagong Global Credit Rating, told the Financial Times in an interview. "China is the biggest creditor nation in the world and with the rise and national rejuvenation of China we should have our say in how the credit risks of states are judged."

He specifically criticised the practice of "rating shopping" by companies who offer their business to the agency that provides the most favourable rating.

In the aftermath of the financial crisis "rating shopping" has been one of the key complaints from western regulators , who have heavily criticised the big three agencies for handing top ratings to mortgage-linked securities that turned toxic when the US housing market collapsed in 2007.

"The financial crisis was caused because rating agencies didn't properly disclose risk and this brought the entire US financial system to the verge of collapse, causing huge damage to the US and its strategic interests," Mr Guan said.

Recently, the rating agencies have been criticised for being too slow to downgrade some of the heavily indebted peripheral eurozone economies, most notably Spain, which still holds triple A ratings from Moody's.

There is also a view among many investors that the agencies would shy away from withdrawing triple A ratings to countries such as the US and UK because of the political pressure that would bear down on them in the event of such actions.

Last week, privately-owned Dagong published its own sovereign credit ranking in what it said was a first for a non-western credit rating agency.

The results were very different from those published by Moody's, Standard & Poor's and Fitch, with China ranking higher than the United States, Britain, Japan, France and most other major economies, reflecting Dagong's belief that China is more politically and economically stable than all of these countries.

Mr Guan said his company's methodology has been developed over the last five years and reflects a more objective assessment of a government's fiscal position, ability to govern, economic power, foreign reserves, debt burden and ability to create future wealth.

"The US is insolvent and faces bankruptcy as a pure debtor nation but the rating agencies still give it high rankings ," Mr Guan said. "Actually, the huge military expenditure of the US is not created by themselves but comes from borrowed money, which is not sustainable."

A wildly enthusiastic editorial published by Xinhua , China's official state newswire, lauded Dagong's report as a significant step toward breaking the monopoly of western rating agencies of which it said China has long been a "victim".

"Compared with the US' conquest of the world by means of force, Moody's has controlled the world through its dominance in credit ratings," the editorial said...
By Jesse
http://jessescrossroadscafe.blogspot.com
Welcome to Jesse's Café Américain - These are personal observations about the economy and the markets. In providing information, we hope this allows you to make your own decisions in an informed manner, even if it is from learning by our mistakes, which are many.
© 2010 Copyright Jesse's Café Américain - All Rights Reserved
Disclaimer: The above is a matter of opinion provided for general information purposes only and is not intended as investment advice. Information and analysis above are derived from sources and utilising methods believed to be reliable, but we cannot accept responsibility for any losses you may incur as a result of this analysis. Individuals should consult with their personal financial advisors.
© 2005-2022 http://www.MarketOracle.co.uk - The Market Oracle is a FREE Daily Financial Markets Analysis & Forecasting online publication.

Only logged in users are allowed to post comments.
Register/ Log in