U.S. Targeting Iran, Preparing for World War III
Politics
/
US Politics
Aug 01, 2010 - 07:47 AM GMT


Humanity is at a dangerous crossroads. War preparations to attack Iran are in "an advanced state of readiness". Hi tech weapons systems including nuclear warheads are fully deployed.
This military adventure has been on the Pentagon's drawing board since the mid-1990s. First Iraq, then Iran according to a declassified 1995 US Central Command document.
Escalation is part of the military agenda. While Iran, is the next target together with Syria and Lebanon, this strategic military deployment also threatens North Korea, China and Russia.
Since 2005, the US and its allies, including America's NATO partners and Israel, have been involved in the extensive deployment and stockpiling of advanced weapons systems. The air defense systems of the US, NATO member countries and Israel are fully integrated.
This a coordinated endeavor of the Pentagon, NATO, Israel's Defense Force (IDF), with the active military involvement of several non-NATO partner countries including the frontline Arab states (members of NATO's Mediterranean Dialogue and the Istanbul Cooperation Initiative), Saudi Arabia, Japan, South Korea, India, Indonesia, Singapore, Australia, among others. (NATO consists of 28 NATO member states Another 21 countries are members of the Euro-Atlantic Partnership Council (EAPC), The Mediterranean Dialogue and the Istanbul Cooperation Initiative include ten Arab countries together with Israel.)
The roles of Egypt, the Gulf states and Saudi Arabia (within the extended military alliance) is of particular relevance. Egypt controls the transit of war ships and oil tankers through the Suez Canal. Saudi Arabia and the Gulf States occupy the South Western coastlines of the Persian Gulf, the Straits of Hormuz and the Gulf of Oman. In early June, "Egypt reportedly allowed one Israeli and eleven U.S. ships to pass through the Suez Canal in ....an apparent signal to Iran. ... On June 12, regional press outlets reported that the Saudis had granted Israel the right to fly over its airspace..." (Muriel Mirak Weissbach, Israel's Insane War on Iran Must Be Prevented., Global Research, July 31, 2010)
In post 9/11 military doctrine, this massive deployment of military hardware has been defined as part of the so-called "Global War on Terrorism", targeting "non-State" terrorist organizations including al Qaeda and so-called "State sponsors of terrorism",. including Iran, Syria, Lebanon, Sudan.
The setting up of new US military bases, the stockpiling of advanced weapons systems including tactical nuclear weapons, etc. were implemented as part of the pre-emptive defensive military doctrine under the umbrella of the "Global War on Terrorism".
War and the Economic Crisis
The broader implications of a US-NATO Israel attack on Iran are far-reaching. The war and the economic crisis are intimately related. The war economy is financed by Wall Street, which stands as the creditor of the US administration. The US weapons producers are the recipients of the US Department of Defense multibillion dollar procurement contracts for advanced weapons systems. In turn, "the battle for oil" in the Middle East and Central Asia directly serves the interests of the Anglo-American oil giants.
The US and its allies are "beating the drums of war" at the height of a Worldwide economic depression, not to mention the most serious environmental catastrophe in World history. In a bitter twist, one of the major players (BP) on the Middle East Central Asia geopolitical chessboard, formerly known as the Anglo-Persian Oil Company, is the instigator of the ecological disaster in the Gulf of Mexico.
Media Disinformation
Public opinion, swayed by media hype is tacitly supportive, indifferent or ignorant as to the likely impacts of what is upheld as an ad hoc "punitive" operation directed against Iran's nuclear facilities rather than an all out war. War preparations including the use of US and Israeli produced nuclear weapons in terms of their devastating consequences are trivialised, when compared to the perils of global warming or the H1N1 pandemic. The war on Iran is presented to public opinion as an issue among others. It is not a threat to Mother Earth as in the case of global warming. It is not front-page news. The fact that an attack on Iran could lead to escalation and potentially unleash a "global war" is not a matter of concern.
The Cult of Killing and Destruction
The global killing machine is also sustained by an imbedded cult of killing and destruction which pervades Hollywood movies, not to mention the prime time war and crime TV series. This cult of killing is endorsed by the CIA and the Pentagon which also support (finance) Hollywood productions as an instrument of war propaganda:
"Ex-CIA agent Bob Baer told us, "There's a symbiosis between the CIA and Hollywood" and revealed that former CIA director George Tenet is currently, "out in Hollywood, talking to studios." (Matthew Alford and Robbie Graham, Lights, Camera… Covert Action: The Deep Politics of Hollywood, global research, January 31, 2009).
The killing machine is deployed at a global level, within the framework of the unified combat command structure. It is routinely upheld by the institutions of government, the corporate media and the mandarins and intellectuals of the New World Orders from within Washington's think tanks and strategic studies research institutes, as an unquestioned instrument of peace and global prosperity.
A culture of killing and violence has become imbedded in human consciousness.
War is broadly accepted as part of a societal process: The Homeland needs to be "defended" and protected.
"Legitimized violence" and extrajudicial killings directed against "terrorists" are upheld in western democracies, as necessary instruments of "law and order".
A "humanitarian war" is upheld by the so-called international community. It is not condemned as a criminal act. Its main architects are rewarded for their contributions to world peace.
With regard to Iran, what is unfolding is the outright legitimization of war in the name of an illusive notion of global security.
A "Pre-emptive" Aerial attack directed against Iran would lead to Escalation
At present there are three separate Middle East Central Asia war theaters: Iraq, Af-Pak, and Palestine.
Were Iran to be the object of a "pre-emptive" aerial attack by allied forces, the entire region, from the Eastern Mediterranean to China's Western frontier with Afghanistan and Pakistan, would flare up, leading us potentially into a World War III scenario. The war would also extend into Lebanon and Syria. It is highly unlikely that the bombings, if they were to be implemented, would be circumscribed to Iran's Bushr nuclear facility as claimed by US-NATO official statements. what is more probable is an all out air attack on both military and civilian infrastructure, transport systems, factories, public buildings.
Iran, with an an estimated ten percent of global oil and gas reserves, ranks third after Saudi Arabia (25 %) and Iraq (11 %) in the size of its reserves. In comparison, the US possesses less than 2.8 % of global oil reserves. (See Eric Waddell, The Battle for Oil, Global Research, December 2004).

Of significance is the recent discovery in Iran of the second largest known reserves of natural gas at Soumar and Halgan estimated at 12.4 trillion cubic feet.
Targeting Iran consists not only in reclaiming Anglo-American control over Iran's oil and gas economy, including pipeline routes, it also challenges the presence and influence of China and Russia in the region.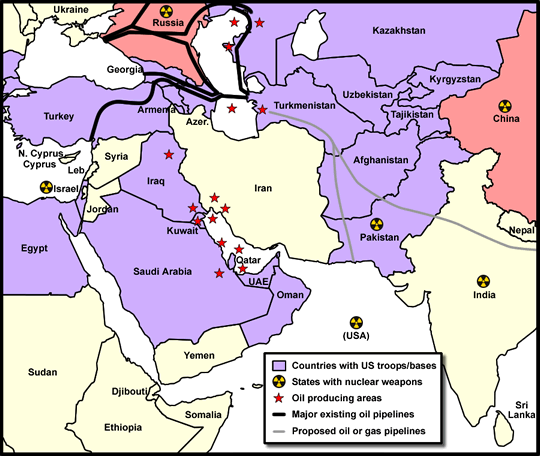 The planned attack on Iran is part of a coordinated global military road map. It is part of the Pentagon's "long war", a profit driven war without borders, a project of World domination, a sequence of military operations.
US-NATO military planners have envisaged various scenarios of military escalation. They are also acutely aware of the geopolitical implications, namely that the war could extend beyond the Middle East Central Asia region. The economic impacts on the oil markets, etc have also been analyzed.
While Iran, Syria and Lebanon are the immediate targets, China, Russia, North Korea, not to mention Venezuela and Cuba are also the object of US threats.
At stake is the structure of military alliances. US-NATO-Israel military deployments including military exercises and drills conducted on Russia and China's immediate borders bear a direct relationship to the proposed war on Iran. These veiled threats, including their timing, constitute an obvious hint to the former powers of the Cold War era not to intervene in any way which could encroach upon a US-led attack on Iran.
Global Warfare
The medium term strategic objective is to target Iran and neutralize Iran's allies, through gunboat diplomacy. The longer term military objective is to directly target China and Russia.
While Iran is the immediate target, military deployment is by no means limited to the Middle East and Central Asia. A global military agenda has been formulated.
The deployment of coalition troops and advanced weapons systems by the US, NATO and its partners is occurring simultaneously in all major regions of the World.
The recent actions of the US military off the coast of North Korea including the conduct of war games are part of a global design.
Directed primarily against Russia and China, US, NATO and allied military exercises, war drills, weapons deployments, etc. are being conducted simultaneously in major geopolitical hotspots.
-The Korean Peninsula, the Sea of Japan, the Taiwan Straits, the South China Sea threatening China,

-The deployment of Patriot missiles in Poland, the early warning center in the Czech republic threatening Russia,

-Naval deployments in Bulgaria, Romania on the Black sea,

- US and NATO troops deployments in Georgia,

- A formidable naval deployment in the Persian Gulf including Israeli submarines directed against Iran.
Concurrently the Eastern Mediterranean, the Black Sea, the Caribbean, Central America and the Andean region of South America are areas of ongoing militarization. In Latin America and the Caribbean, the threats are directed against Venezuela and Cuba.
US "Military Aid"
In turn, large scale weapons transfers have been undertaken under the banner of US "military aid" to selected countries, including a 5 billion dollar arms deal with India which is intended to build India's capabilities directed against China. (Huge U.S.-India Arms Deal To Contain China, Global Times, July 13, 2010).
"[The] arms sales will improve ties between Washington and New Delhi, and, intentionally or not, will have the effect of containing China's influence in the region." quoted in Rick Rozoff, Confronting both China and Russia: U.S. Risks Military Clash With China In Yellow Sea, Global Research, July 16, 2010)
The US has military cooperation agreements with a number of South East Asian countries including Singapore, Vietnam and Indonesia. involving "military aid" as well as the participation in U.S.-led war games in the Pacific Rim (July -August 2010). These agreements are supportive of weapons deployments directed against The People's Republic of China. (See Rick Rozoff, Confronting both China and Russia: U.S. Risks Military Clash With China In Yellow Sea, Global Research, July 16, 2010).
Similarly and more directly related to the planned attack on Iran, the US is arming the Gulf States (Bahrain, Kuwait, Qatar and the United Arab Emirates) with land-based interceptor missiles, Patriot Advanced Capability-3 and Terminal High Altitude Area Defense (THAAD) as well as sea-based Standard Missile-3 interceptors installed on Aegis class warships in the Persian Gulf. (See Rick Rozoff, NATO's Role In The Military Encirclement Of Iran, Global Research, February 10, 2010).
The Timetable of Military Stockpiling and Deployment
What is crucial in regards to US weapons transfers to partner countries and allies is the actual timing of delivery and deployment. The launch of a US sponsored military operation would normally occur once these weapons systems are in place, effectively deployed with the implementation of personnel training. (e.g India).
What we are dealing with is a carefully coordinated global military design controlled by Pentagon, involving the combined armed forces of more than forty countries. This global multinational military deployment is by far the largest display of advanced weapons systems in World history.
In turn, the US and its allies have established new military bases in different parts of the world. "The Surface of the Earth is Structured as a Wide Battlefield". (See Jules Dufour, The Worldwide Network of US Military Bases , Global Research, July 1, 2007).
The Unified Command structure divided up into geographic Combatant Commands is predicated on a strategy of militarization at the global level. "The US Military has bases in 63 countries. Brand new military bases have been built since September 11, 2001 in seven countries. In total, there are 255,065 US military personnel deployed Worldwide." (See Jules Dufour, The Worldwide Network of US Military Bases , Global Research, July 1, 2007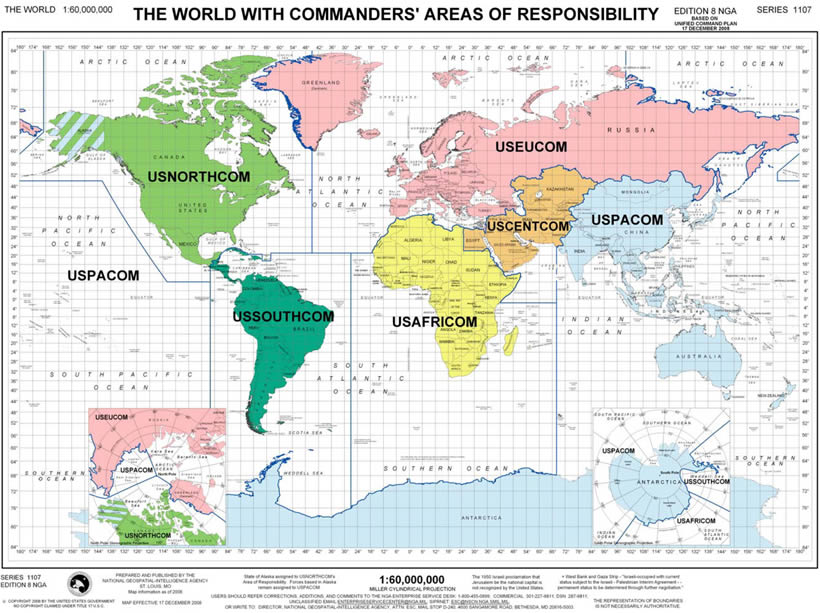 Source: DefenseLINK-Unified Command Plan
World War III Scenario
This military deployment is occurring in several regions simultaneously under the coordination of the regional Combatant Commands, involving the stockpiling of US made weapons systems by America's allies, some of which are former enemies, including Vietnam and Japan.
The present context is characterised by a a global military build-up characterised by one World superpower, which is using its numerous allies to trigger regional wars. In contrast to the Second World War was a conjunction of separate regional war theaters. Given the communications technologies and weapons systems of the 1940s, there was no strategic "real time" coordination in military actions between broad geographic regions
Global warfare is based on the coordinated deployment of a single dominant military power, which oversees the actions of its allies and partners.
With the exception of Hiroshima and Nagasaki, the Second World War was characterized by use of conventional weapons. A contemporary global war is characterised by the militarization of outer space. It would not only use nuclear weapons, the entire gamut of new advanced weapons systems, including electrometric weapons and environmental modification techniques (ENMOD) would be unleashed.
The United Nations Security Council
The UN Security Council adopted in early June a fourth round of sweeping sanctions against The Islamic Republic of Iran, which included an expanded arms embargo as well "tougher financial controls". In a bitter irony, this resolution was passed within days of the United Nations Secrity Council's outright refusal to adopt a motion condemning Israel for its attack on the Gaza Freedom Flotilla in international waters.
Both China and Russia, pressured by the US, have endorsed the UNSC sanctions' regime, to their own detriment. Their decision within the UNSC contributes to weakening their own military alliance, the Shanghai Cooperation organization (SCO), in which Iran has observer status. The Security Council resolution freezes China and Russia's respective bilateral military cooperation and trade agreements with Iran. It has serious repercussions on Iran's air defense system which in part depends on Russian technology and expertise.
The Security Council resolution grants a de facto "green light" to wage a pre-emptive war against Iran.
The American Inquisition: Building a Political Consensus for War
In chorus, the Western media has branded Iran as a threat to global security in view of its alleged (non-existent) nuclear weapons program. Echoing official statements, the media is now demanding the implementation of punitive bombings directed against Iran so as to safeguard Israel's security.
The Western media is beating the drums of war. The purpose is to tacitly instil, through repeated media reports, ad nauseam, within people's inner consciousness, that the Iranian threat is real and that the Islamic Republic should be "taken out".
A consensus building process to wage war is similar to the Spanish inquisition. It requires and demands submission to the notion that war is a humanitarian endeavor.

Known and documented, the real threat to global security emanates from the US-NATO-Israel alliance, yet realities in an inquisitorial environment are turned upside down: the warmongers are committed to peace, the victims of war are presented as the protagonists of war. Whereas in 2006, almost two thirds of Americans were opposed to military action against Iran, a recent Reuter-Zogby February 2010 poll suggests that 56 % of Americans favor a US-NATO military action against Iran.
Building a political consensus which is based on an outright lie cannot, however, rely solely on the official position of those who are the source of the lie.
The antiwar movement in the US, which has in part been infiltrated and co-opted, has taken on a weak stance with regard to Iran. The antiwar movement is divided. The emphasis has been on wars which have already occurred (Afghanistan, Iraq) rather than forcefully opposing wars which are being prepared and which are currently on the Pentagon's drawing board. Since the inauguration of the Obama administration, the antiwar movement has lost some of its impetus.
Moreover, those who actively oppose the wars on Afghanistan and Iraq, do not necessarily oppose the conduct of "punitive bombings" directed Iran, nor do they categorize these bombings as an act of war, which could potentially be a prelude to World War III.
The scale of antiwar protest in relation to Iran has been minimal in comparison to the mass demonstrations which preceded the 2003 bombing and invasion of Iraq.
The real threat to global security emanates from the US-NATO-Israel alliance.
The Iran operation is not being opposed in the diplomatic arena by China and Russia; it has the support of the governments of the frontline Arab states which are integrated into the NATO sponsored Mediterranean dialogue. It also has the tacit support of Western public opinion.
We call upon people across the land, in America, Western Europe, Israel, Turkey and around the world to rise up against this military project, against their governments which are supportive of military action against Iran, against the media which serves to camouflage the devastating implications of a war against Iran.
This war is sheer madness.
World War III is terminal. Albert Einstein understood the perils of nuclear war and the extinction of life on earth, which has already started with the radioactive contamination resulting from depleted uranium. " I know not with what weapons World War III will be fought, but World War IV will be fought with sticks and stones."
The media, the intellectuals, the scientists and the politicians, in chorus, obfuscate the untold truth, namely that war using nuclear warheads destroys humanity, and that this complex process of gradual destruction has already commenced.
When the lie becomes the truth there is no turning backwards.
When war is upheld as a humanitarian endeavor, Justice and the entire international legal system are turned upside down: pacifism and the antiwar movement are criminalized. Opposing the war becomes a criminal act.
The Lie must be exposed for what it is and what it does.

It sanctions the indiscriminate killing of men, women and children.

It destroys families and people.It destroys the commitment of people towards their fellow human beings.

It prevents people from expressing their solidarity for those who suffer. It upholds war and the police state as the sole avenue.
Breaking the lie means breaking a criminal project of global destruction, in which the quest for profit is the overriding force.
This profit driven military agenda destroys human values and transforms people into unconscious zombies.
Let us reverse the tide.
Challenge the war criminals in high office.
Break the American inquisition.
Undermine the US-NATO-Israel military crusade.
Close down the weapons factories and the military bases.
Bring home the troops.
Members of the armed forces should disobey orders and refuse to participate in a criminal war.

Part II of this essay will be published shortly.
Preparing for World War III. Nature and History of the Planned Military Operation against Iran

Includes analysis of the role if Israel

Michel Chossudovsky is an award-winning author, Professor of Economics (Emeritus) at the University of Ottawa and Director of the Centre for Research on Globalization (CRG), Montreal. He is the author of The Globalization of Poverty and The New World Order (2003) and America's "War on Terrorism" (2005). He is also a contributor to the Encyclopaedia Britannica. His writings have been published in more than twenty languages.
Global Research Articles by Michel Chossudovsky
© Copyright Michel Chossudovsky, Global Research, 2010
Disclaimer: The views expressed in this article are the sole responsibility of the author and do not necessarily reflect those of the Centre for Research on Globalization. The contents of this article are of sole responsibility of the author(s). The Centre for Research on Globalization will not be responsible or liable for any inaccurate or incorrect statements contained in this article.
© 2005-2019 http://www.MarketOracle.co.uk - The Market Oracle is a FREE Daily Financial Markets Analysis & Forecasting online publication.
Comments
Mike
05 Aug 10, 08:40
World War


The idea a new world war would repeat the outcome of world war 2 - the U.S. taking over as world #1 and in turn making a fortune and everyone else paying them back for decades - is the dumbest thing thats been said since Gordon Browns 'saved the world' gaff.

This time around, it would be America asking other countries for troops, just like currently in Afghanistan and Iraq. It would be the U.S. asking for money/weaponry.

The U.S. has already stated they 'need more' from NATO members in terms of troop numbers, due primarily to Americas rubbish physical-fitness standards.

Then theres the options China and Russia combined could take.

Combined they hold roughly 1 trillion. If they felt war was guaranteed, the first blow they would deliver would naturally be economically.

Why would they not deliver a financial strike to help them pay for their military counter-attack?

If at war, trade would no longer be the issue stopping China from bankrupting the U.S., as China would be cut off automatically from U.S. markets.

India wouldnt be an issue. China could counter-arm Pakistan similarly to how Russia has for the past few decades..thus containing India.

In the first few hours, with the help of North Korea, America could see 30,000 U.S. troops in South Korea removed from the available man power numbers.

Taiwan would be destroyed within weeks, after all, the missiles in taiwans direction would flatten the country wiping out vast amounts of civilians/military equipment.

Russia could keep the U.S. troops in japan at bay easily, by destroying a few warships.

It wouldnt be much trouble for the Russians. they currently already enjoy the freedom to 'buzz' U.S. warships when and how high they please.

Israel would be obliterated within months, if not weeks. thats one small territory if Syria/Lebannon(including hizbullah) and Iran decided to all attack at the same time.

As the Germans refered to the russian artillery in world war 2 "it was like rain" that would surely apply if Syria and Hizbullah fired at the same time. After all, Iran can easily send tens of thousands of medium/long range missiles under the radar to Hizbullah, and also reinforce the Syrian arsenal without any issues.

Russia of course has ships in Syria and would provide anti-aircraft systems, if they havent done so already.

This is no longer the 60s-90s. Israel has shown its weakness, apart from in the air Israel would suffer greatly.

Even in the air Syrian pilots arent to be ridiculed. they have shown in the past they can fly well, and dog fight with the best.

Iran would obviously attack U.S./Israeli businesses world wide, and in turn deplete even more financial resources the U.S./Israel would need to fight a prolonged war.

The costs of this tab for support from the foreigners who America would depend on would make Americas current debt look relatively small.

America would be paying them back for centuries, not decades.

It would be U.S./NATO/Israeli suicide. plain and simple.



Mudasir
09 Aug 10, 22:03
Digging the grave


i think it will be absolutely devastating for US/NATO/Israel to attack Iran.Considering the Debt ridden Us and European states i thing it will be hard for them to continue the war if Iran manages to hold on for some time.I think war would also lead to more radicalization around the Muslim world.I think the people in Us and European countries should stand against this idea of war or otherwise don't blame Muslims for extremism and its consequences



Nadeem_Walayat
10 Aug 10, 11:08
Attack Iran mantra


I have been hearign the attack iran mantra for the past 5 years.

When there was last a big spike in attack chatter it coincided with oil hitting $150, at the time I stated that a. that iran would not be attacked and oil was headign below $80.

http://www.marketoracle.co.uk/Article5508.html

Therefore I put the actual probability of an imminent attack against Iran (this year) at less than 10%



PJ
11 Aug 10, 17:01
Dream on Mike


If there is an attack on Iran it will be because Iran will have or be very close to having nuclear weapons and Israel will be in danger of extermination. Israel can, in any given 2 hour period of time, launch a first strike on the major Farsi speaking population centers of Iran and with 25 million dead Persians Iran no longer would exists as a nation. It would immediately degenerate into Kurds, Arabs Azaries etc. Will Russia retaliate against Israel after such an attack with Israel still in positions of enough nuclear weapons (they have hundreds) to destroy every major Russian city in Europe, which means the death of Russia? That is impossible. And Russian will never launch a suicidal attach against America. Why would they, are they insane? I think not, Iran will be moot by then. And do you think Syria will then attack Israel with Iran in the grave?

In addition India could over run Pakistan in day regardless of conventional weapons. Pakistan has NEVER won a war against India, it has never even come close to a tie. America can and would destroy all Pakistani submarines in short order so India will not worry about nuclear "retaliation".



Ross Wild
11 Aug 10, 19:15
Dream on Mike ...


And how is going to be be these 'new world' if Israel destroys Iran? What will happen after that? Destruction of a country without severe consequences? Are you joking about this?

At the limits of at-least the world will be in a super-cold-era, with global terror, scare and menace over every single country, wars will emerge everywhere, the economics will collapse, the system will collapse. WWI & WWII will look like a little rock.



Shelby Moore
11 Aug 10, 20:13
Iran's torpedos


PJ your chest thumping won't help you.

Killing 25 million Iranians would not stop this:

http://www.caseyresearch.com/displayCwc.php?id=67

"A likely response would be to close the Strait of Hormuz, by way of punishing America through a denial of a large part of its oil supply. About 40% of all seaborne oil shipments pass through that strait – 20% of all the global oil supply. Its closure would be a major disruption to the whole world.

Of course, Obama would thump on his chest and say that Iran can't be allowed to close international waters. Iran would likely say, "We just did. What do you expect after launching an unprovoked attack?"

It's well known that sea-skimming missiles go 2,000 miles per hour. They have hundreds of them, maybe thousands, and they can be launched from small, fast boats. Even in the U.S.' own war games conducted a few years ago, the U.S. Navy lost against these things. If the U.S. tries to open the Strait of Hormuz by force against Iran, I think it's likely that most of the fleet will soon be turned into an artificial reef that divers in future decades will explore with morbid fascination. Militaries always fight the last war, and that's precisely what the U.S. is doing with its carriers and B-2s."



Nadeem_Walayat
12 Aug 10, 06:15
Using Nukes


PJ

The way I see it, if you open pandoras box by using just one nuke then no matter what you think is going to happen at the end of the day it will resolve in total global thermo nuclear war.

U.S. Using nukes on Japan NEARLY set this chain reaction in motion ! That trended all the way to the cuban missile crisis.

Israel using nukes on Iran WOULD set this chain reaction in motion.

NOTE - it does not matter which country uses the nukes first, ANY use of a nuke would set in motion a sequence of events towards nuclear armageddon.

If it ever happened, I would turn all my assets liquid and enjoy what little time I had left !

And the Iranians are doing it the hard way, I would imagine once a detonation occurs, gulf states would be lining up to buy ready built nukes from North Korea at a billon a pop



PJ
12 Aug 10, 09:33
No Nukes is good nukes?


Mr. Moore, Iran attempted to shut the Straits of Hormuz during the Iran Iraq War and they could not do it. NATO, Gulf Cooperation Council, Japan, India etc. have had 25 years to plan counter measures and their military capabilities have increased many times faster than Iran's. If the Mullahs and Revolutionary Guard are gone, and under this scenario they would be, how long could the little Iranian boats run? They would not be difficult to sink and their bases would not be difficult to destroy. How many days before mine sweepers opened a channel in the gulf and escorted tankers through; perhaps a week?

Mr. Walayat, I do not believe that the world's major nuclear powers (America, Euro-Russia, China, and India) are control by lunatics who would destroy the world in a chain reaction if two regional powers used nuclear weapons. Such beliefs encourage third rate nations run by fanatics and genuine lunatics, such as Iran and North Korea, to seek nuclear weapons in the false belief that such weapons will make them invulnerable. What may happen when regional powers inevitably do use nuclear weapons is that the major nations will take proliferation seriously and cooperate to restricting such weapons to them alone.



Nadeem_Walayat
12 Aug 10, 10:37
nuclear war


Nuclear war only needs to occur once.

Whereas humans have shown wars to be norm

both world wars started as a chain reaction of a consquence of what were at the time seen as minor events.

If Iran is wiped out, then that radiactive cloud will hit all the neighbouring states who will see it as an act of war.

Russia would not stand for its soil being radiated.

The bottom line is that the likes of Israel, America and even Iran have done the maths and know that NO nuclear attack can occur as it WOULD ignite WW3.

So all the talk of an nuclear attack on Iran is just wishful thinking by those that want it and anti-war chatter from those that don't want it to happen. Because it just won't happen.



Shelby Moore
12 Aug 10, 11:14
Counter measures?


What counter measure can be done against a torpedo rocket skimming across the surface of the water at 2000 miles per hour? We couldn't even stop every SCUD missles in the air, and much more difficult for something much smaller skimming along the surface of water. Surely technology has improved, but heat seeking probably won't help you with you all the interference of the rocket interacting with the surface of the water. Ditto laser. The only counter measure I can think of is to surround the tankers with armada of sacrificial lamb ships. That might be plausible, assuming you have enough of them to replenish after each one is sunk.

The USA military wouldn't be able to win another Vietnam in the jungle, and for the similar reasons you can't compare this to wiping out the Republican Guard in Iraq where they were sitting ducks in trench lines (buried alive by the 1000s with bulldozers). Instead you would be trying to find needles in haystacks in the desert coastline. And don't think the needles can't dig holes in the sand to hide themselves. You would have to put foot soldiers on the ground at sufficient density, and I doubt 100,000 would be enough. As Casey says, the militaries fight the last battles, not the navy or the air force, because the final battles are fought tooth and nail, inch by inch. Unless of course you can just nuke the whole planet, as Nadeem pointed out. There is no way to use nuclear as an effective deterrent unless you use it sufficiently to kill every last person, because these middle east fanatics (aka patriots) are not going to stop if you just take out one city, this will likely just turn more of them into suicide attackers and turn it into a religious war (Islam vs. infidels). And if you use nuclear to that degree, you will have escalation, especially given that it will send the western nations directly into poverty (they are teetering that direction any way), due to the mad global rush into gold that will follow any use of nuclear. At that point, China will have very little reason to continue propping up the west, and will have riots at home, escalating political pressure which must be diffused by blaming someone and usually with a war to direct the blame. And Russia would love war, as it would drive the demand for its natural resource to the moon.

The USA hasn't won the war in Iraq and if we stay there long enough we will bury our military there. If we add more such battles, it will only hasten the fall of the west.

The fuse for WW3 is dangling and ready to be lit by the current financial tsunami developing. So I will disagree with Nadeem, and say the nations do not have control over themselves any more. And have incentive for such an escalation. You will see chaos and everything is going to spin out-of-control eventually.

The wildcards include technology:

http://www.caseyresearch.com/displayCwc.php?id=68

(I think I know the answer and am working on it)

Got gold yet?



PJ
12 Aug 10, 11:35
Nukes


Mr. Walayat-Russia has irradiated its own soil and that of other nations with Chernobyl. Let us assume that an attack on Iran contaminated some portion of Russia to some degree, would starting a war that would lead to exterminating its population and contaminating all its soil correct that? I hope that you are right, however, if nations such as Iran obtain nuclear weapons I fear your logic is "out the window" fanatics and "the math" simply do not match.



Nadeem_Walayat
12 Aug 10, 13:00
nuclear poliferation


Since the United States acquired nuclear weapons it has always been a question of time before most of the others that can afford it do so also.

Now there are 9 countries with nuclear weapons in 50 years there will be about 20.

Using nuclear weapons is NOT the answer, that would just accelerate the trend, as occured following the US bombing Japan, which shocked the US into how quickly the Russians acquired nukes.

The best solution that I can imagine is that the UN guranteeing all states protection against nuclear attack i.e. if any state uses a nuke then that state will be attacked by the five permanent members of the UN - All of whom have nukes.

That is the only solution that I can see that would deter any country like North Korea, Iran, Israel, Pakistan and India from using a nuclear weapon, it's not perfect but would negate some of the risks that countries fear from an neighbouring nuclear power attcking them.



bxx
12 Aug 10, 16:18
nuke


Follow the money.

Who stands to gain by ratcheting up tension between Iran and the West? Not the west.

Who is the #1 global oil producer, hmmmm?

What is the nationality of the original poster hmmmm?

In the provocative "third world war" piece by the OP, he is careful not to mention who the actual opponent would be.

Would Russia and/or China WANT a world war iii?

Doubtful.

But it's in their hands. The Americans *don't* want a confrontation with Iran as has been shown time and time again. The Israeli's on the other hand want the nuclear reactor shut down and the Iranians want it built.

The Russians are milking this for all they can get and laughing all the way to the bank.



Shelby Moore
12 Aug 10, 20:30
Nuclear chess


Nadeem I am surprised you would advocate a "solution" that involves the UN. So seems you are a closet socialist and new world order slippery slope (big govt, loss of local sovereignty) proponent?

It is precisely the chaos of the coming financial implosion of the west (hyper-inflation in fiat, deflation in gold, poverty for westerners) and the world war 3 it will induce (govts need to direct the anger of poverty), that will induce the world to accept a supra-national governing order.

All the nations are just chess pieces for the banking elite who are committed to their world govt plan. It is simply a matter of positioning the nations in economic situations which force them to accept war. Nuclear proliferation will be pretty easy, as all they have to do is set off one rogue, and that will spiral out-of-control, especially with the financial implosion it will induce as investors race to be liquid (which means buy gold, because as the race accelerates, the fiats will be imploding towards their intrinsic value of 0).

The only solution is one that stops the mass theft system AND brings prosperity and control to the hands of those who are intelligient enough to not steal and to create prosperity for mankind, and such solution is a technological one that totally changes the intellectual property control of the world. I have written extensively about this, and now am programming it. I doubt I will succeed in time, and confident that a chaos lies in front of us of unimaginable horror.



Shelby Moore
12 Aug 10, 21:08
Disperse non-theft power


TPTB know exactly when they will start the hyper-inflation...

They will let the hyper-inflation run once they have sold all the debt to the govt, and they have used that money to buy up assets that will go up in price in the hyper-inflation.

They can trigger the hyper-inflation with numerous chess moves, including a war in Iran. They have proved that they even control the oceans with BP saga.

Gold and silver will not protect you. TPTB have plans to tax you and defeat you.

The only wildcard TPTB do not control sufficiently, are any spontaneous revolutionary technology paradigm shifts. For example, the invention of the cotton gin or the steam engine.

We need an internet paradigm shift that renders the control of TPTB impotent.

Other than that, live humbly and pray.

We've probably entered a severe Tribulation, but probably not the final one. It is put up or shut up time for me, and others who have any plans for interferring with this big push to NWO.

It is probable that TPTB are not "one brain" and do not act with any identifiable consciousness, but rather just a natural phenomenon in action. In this case, rephrase my statement, "TPTB system will naturally transistion to hyper-inflation when all of its ducks are in a row". And that system involves control over the nations and even the oceans.

For example, if we could get a completely frank interview with David Rockefeller, I suspect he would tell us about situations he is in that compel him to make certain decisions, and find that he has literally no control whatsoever. I suspect the system and situations are in control of him.

Thus any solution that involves more centralized power (e.g. Nadeem's idea of compelling the UN to attack with nukes), is not a solution (people offer non-solutions, i.e. laws and centralized futility, when they can't see the fundamental nature of the problem that has to be solved). The only solution or fix, is the one that disperse power back to those masses who do not steal:

http://www.marketoracle.co.uk/Article21650.html

Such dispersion of power will destroy the mass theft situations which are leading us into this mess.

War is fundamentally driven by economic situations, not vice versa.



Nadeem_Walayat
13 Aug 10, 08:31
New World Order


not much value in Sovereignty on a nuclear waste land.

The world is trending towards a federal planet, the sooner it gets there the better.

If it works, it would end wars for good (well until the federation disintegrated).

Remember we are only one small planet, it is far better for our and the planets survival if we started working together, rather then fighting with one another in pointless resrouce wasting wars.

The world spends $2 trillion on the military every year, what a waste !

We just cannot afford to have a world war 3. It would not be survivable.



Shelby Moore
13 Aug 10, 20:01
Centralization is unnatural


Agreed not much value in sovereignty in a nuclear waste land. However, there is another direction, other than centralizing control and obligations. In fact, it is mathematically the only solution, because the trend towards centralized governance (i.e. socialism) can not be sustained because it is an economic redistribution (theft) system (and theft systems always mis-allocate all the human capital, i.e. production, and implode) and because complex/random natural systems can not be controlled (if you obligate the UN to attack, it will not stop nuclear war, but rather insure Armageddon, because random shit happens especially as costs of producing nuclear weapons decreases). Again you need to understand the math:

http://www.marketoracle.co.uk/Article21650.html

(read also the comments at bottom pertaining to insurance and why mathematically we can not control the future)

Rather the only successful direction for mankind, and it is a small seed which has recently been planted and is growing exponentially but has so few followers yet, is the one where individuals are empowered to use honest weights and measures without futures contracts and "guarantees" (a non-theft system) and where the individuals create, control, and sell their own intellectual property (the production of their minds) in widespread micro (granular) transactions, so that the entire paradigm of fiat, oligarchy, patents and copyrights is rendered impotent.

Yes then the nations will implode, but they will implode into a new world order that is not centralized, but incredibly dispersed. Remember the 1856 2nd law of thermodynamics states that the universe (a closed system by definition) is trending to maximum disorder (possibilities, i.e. independent actors):

http://en.wikipedia.org/wiki/Second_law_of_thermodynamics#Mathematical_descriptions

Don't stand in the way of nature with your impotent and failure directed centralization. Nature (God) will rip to shreds any attempt you have to stop the propagation of maximum entropy.

Understand the math of the universe and nature, if you want to understand. Take the time to correctly reformulate your view of the way nature works.

Don't let your fear of what will happen if we don't stop the theft system, goad you into increasing it. Socialism is like that, it sucks you into its dislogic. Understand that by ridding ourselves of the theft system, mathematically we can be in tune with nature's path of maximum entropy. If we don't, nature will rip us to shreds and then nuclear waste land can not be avoided, and in fact centralization (more theft system) will help us get there faster. Instead if we come out of the theft ("harlot" in bible, prostituting to each other) system, the incentive to use nuclear weapons will entirely evaporate (over night, mental paradigm shifts spread faster than the speed of sound). Who would you attack in a decentralized world? Who would have motivation to attack in a world that is not based on theft and oppression of individuals?

Please try to wrap your feeble minds around the math. I would like to see more of you come out of the theft system, that is why I bother to explain it to you. But the elite have already decided that you sheep are lacking the intellectual capacity to ever understand it.

That is why I am trying to create a market driven phenomenon (on the internet, soon to compete with facebook), so that those who innately refuse the theft system, can drive those who won't stop into poverty faster. So we can bring the world more quickly out of this current centralization death spiral sooner. I doubt I will succeed, because the nature of failure cancer is that it must first peak and kill its host (and all the good cells around).

Unfortunately (or fortunately because the world will be cleansed) most people can not understand math or the 2nd law of thermodynamics, and so they are destined to stay in the theft system until they kill each other.



Shelby Moore
13 Aug 10, 20:07
Decentralization after peak failure


Decentralization = end the theft system = end socialism

Unfortunately (or fortunately because the world will be cleansed) most people can not understand math or the 2nd law of thermodynamics, and so they are destined to stay in the theft system until they kill each other (see my prior comment above).

The bible tells us that TPTB will gain power until they have all the gold and then they are defeated by the Anti-Christ. And mathematically this is understood to be true, see prior comment above. However, they are not in control of their power, the power (theft system) is in control of them (everyone in theft system, including TPTB are on a hamster wheel).

The theft system naturally allows TPTB to avoid taxes and transfer wealth from the masses to them. We will be destroyed even with our gold and silver, because we gained it in the theft system. None of us would be as wealthy as we are, if we had been born in the 3rd world (well I might be an exception, because I gained most of my wealth working from a Nipa Hut in squalor and with weekly dysentry). The only people that will escape with more talents will be TPTB and THOSE WHO ARE SUCCEEDING IN EXPONENTIALLY GROWING THE DECENTRALIZATION SEED. Then the final battle looms and of course the thieves will all perish. It is not about gold and silver (they are just minor tools in this), it is about paradigms.

It is economic failure to be self-sufficient:

http://goldwetrust.up-with.com/health-f5/preparing-for-coming-crisis-t41-45.htm#3402

http://jasonhommelforum.com/forums/showthread.php?p=54674#post54674

http://jasonhommelforum.com/forums/showthread.php?p=54685#post54685

The maximum division-of-labor and economy-of-scale will OBLITERATE any "jack of all trades" (uniform distribution of diversification), but it is wise to have a Bell Curve distribution to your diversification to maximize survivability from extreme events.

If you have bet the farm on peak energy and decline of civilization back into the 1800s, you will lose that bet (eventually, but you may win for a while), because nature NEVER goes backwards, rather there are some rhymes but in total new directions overall. This is what the 1856 law of thermodynamics says (universe is a closed system by definition!). And it is has always been the case in history. Yes there are set backs (e.g. the Dark Ages), but even during the Dark Ages, there were new seeds of division-of-labor and economy-of-scale that were growing exponentially, which eventually lead to the Renaissance (once those paradigms had gained mass involvement). Specifically nuclear energy with breeder reactors will give us thousands if not millions more energy than we have now. You will be correct only for as long as the theft (socialism) system is still peaking. We will go through a dark period (possibly ending in a complete implosion and extinction level event), but we will eventually come out of it with more than we have now.

If you have also bet on decentralization, so in that respect you are on the correct trend, but perhaps some of you are overfocused on a future with no energy (nature going backwards into more order, and not forwards into more disorder, in violation of the 1856 law of thermo). Remember energy is the process of transforming matter from order (chunks, few independent actors) into disorder (dispersed, decentralized, more chunks, more independent actors):

http://www.coolpage.com/commentary/economic/shelby/Mass-Entropy_Equivalence.html

Hope this helps.



gordan finch
21 Aug 10, 15:22
Iran proposed attack


Iraq war was irresponsible a lie and was about control of oil wealth.

Afghan war is about mineral wealth, nickel copper lithium gold uranium silver etc again the control of it.

The common denominators are Zurich Financial Services, AIG unit going bust destroying the Worlds economy.

The US Government bailing it out to the tune of $200 billion +.

The US Governments gross dept of $13 trillion + about 90% of GDP.

Iran war will be about the above 3 comments.

The jewish connections with wall street money Goldman Sachs, Israels nuclear weapons, Zurich Financial Services jewish influence and domination of worlds wealth.

Goldman Sachs and Zurich Financial Services even share same CEO.

Now the evil corrupt same order want to start WW3 to finance its poor state of wealth.

Hopefully there are enough readers who know theses are not just comments and can respond to others if they know the facts are true.

hope this helps GF



Ammar
01 Sep 10, 22:07
Nuclar war is very possible


Nuclar war and very advanced technology weabons are very possible for use on Iran. This war cant be stopped by traditional weabons. The winner will surely use very advanced destructive technology.

The West and top elite bankers of the world will not accept to have isreal suffer much in this war. Even WEST will not accept any threat of the existance of isreal. Thus, if this war used only traditional weabons then isreal is in very dangerous and risky position to fail the war. Thus, a decsion is made to have "drastic" shocking use of weabon. It is important to do that to win the war fast and not allow Iran to think how to reply.

surely, mass destruction weabons will be used and that couldnt be exclusively nuclear weabons. It could include HAARP, Electrowave and other possible technologies.



Michael
23 Oct 10, 14:12
Shelby Moore


Shelby, do you have an email address I can contact you on?



Shelby Moore
23 Oct 10, 16:42
my email


It is listed at the bottom of all my articles:

http://www.marketoracle.co.uk/UserInfo-Shelby_H_Moore.html

Did you all see that bombshell release of 60% civilian death rate in Iraq:

http://wikileaks.org

Watch the video at bottom of wikileaks home page.

I think silver is going to absolutely blast off to about $47 before summer 2011, after this current dip to about $21:

http://goldwetrust.up-with.com/precious-metals-f6/silver-as-an-investment-t33-255.htm#3808



Michael
31 Oct 10, 12:10
Idea


Hi Shelby

Interested in hearing more about your market driven phenomenon, can you elaborate on it here...

Thanks



Shelby Moore
01 Nov 10, 01:24
plz don't ask again


Please go to my forum if you want to post questions to me, because we must not pollute the comments on this site are for the articles they apply to. I discussed the idea in depth there:

http://goldwetrust.up-with.com/knowledge-f9/book-ultimate-truth-chapter-6-math-proves-go-forth-multiply-t159-15.htm#3640



Me 2oo
01 Nov 10, 17:33
World War 0


this article correctly points out the fact that the long term goal of this "war on terror" is to target Russia, China and India. Just because USA may have a military deal with India does not make it USA's friend. It is just simply business and to ensure proper conflagration on both sides in the event of a war.

It is true that Israel can cause heavy damage in Iran without much losses on its end. It is true that America can destroy Iran sitting at a desk and sipping on hot coffee. However, one thing the people are not understanding is that Iran is not alone and has many many friends. While the sanctions are designed to hurt and cripple the Iranian economy so that it may be easier to launch an attack on Iran, at the same time, other countries such as China and Venezuela, and Russia continue to have normal trade with Iran....life is going on as usual.

Russia is working with Iran on the Busher nuclear power plant.

If war does break out and if Iran is attacked, it would be after a 9-11 similar event, such as a nuclear detonation in Europe or USA, which would then put the blame on Iran that "Iran has the bomb", and therefore an all out attack would then be a reality.

Make no mistake about that because the perpetrators of such a detonation would be none other than Americans or NATO to compel the forces to invade Iran and destroy its people and install military bases and steal its resources.

This presents a dangerous outlook for the world, because Russia and China, being heavily armed nuclear countries, will not just sit quietly and watch the show.




Only logged in users are allowed to post comments.
Register/ Log in