Gold Safehaven as Northern Rock Potential Bust Impacts Financial Markets
Commodities
/
Gold & Silver
Sep 17, 2007 - 11:26 AM GMT

Gold
Spot gold was trading at $710.30/710.80 an ounce as of 1215 GMT after last week's more than 1% price increase.

Gold has risen in Asia and early European trading and safe haven buying on Northern Rock and wider financial market jitters are likely to be supportive of the price despite gold looking slightly overbought in the short term.


The key event shaping the week is tomorrow's decision from the Federal Reserve on U.S. interest rates. A cut from the current 5.25% is expected - it's just a matter of whether it is 0.25% or 0.5%. Unusually due to the huge turmoil in financial markets there is still uncertainty as to whether the cut will be 25 or 50 basis points. Poor retail sales and job numbers last week, the Northern Rock "run on the bank" which is already badly affecting confidence in financial markets and may soon affect consumer confidence, may lead to a 50 basis point cut. Photos and footage of panicking bank customers in the 5th largest economy in the world will not help already jittery property markets and falling consumer confidence in much of the western world. This may lead to a 50 basis point cut which would be highly inflationary with oil prices remaining near record highs and energy and food inflation on the increase.

Former Federal Reserve Chairman Alan Greenspan has warned that significant inflationary pressures may necessitate interest rates at double-digit levels in coming years. Alan Greenspan said in an interview with USA Today, published today, that the Fed would have to raise interest rates to double-digit levels in coming years to thwart inflation.

Results from investment banks like Merrill Lynch and Bear Sterns will give some indication of the damage caused by the global credit crunch. Analysts expect the big investment names to between them write off up to €30 billion of the loans they've issued. The Times of London reports that world's investment banks are to reveal a $30 billion (£14.9 billion) hit from bad debts as they unveil results that give the first real insight into the impact of the debt crisis. City analysts predict the banks will have to write down as much as 10% of the $300 billion of leveraged loans currently agreed but not yet syndicated when they report third-quarter results to the market.

Gold rallied more than 2% in GBP, from £350 GBP to £357.20 GBP with sterling selling off and the FTSE down 1.7% at 1215 GMT.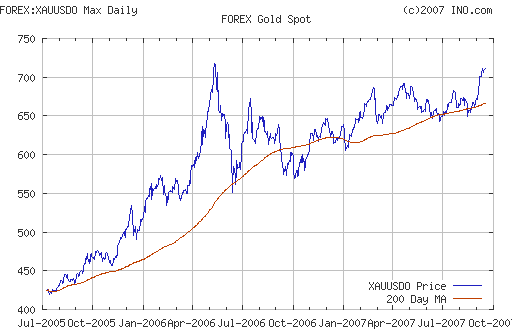 Forex and Gold
Gold's focus will clearly be on the U.S. this week as markets await the outcome of Tuesday's FOMC meeting. The Fed is likely to cut interest rates by at least 0.25%, with the tone of the statement also indicating that further easing is in the pipeline. Anything less than this will leave markets disappointed. Gold's rally today may be in anticipation of this cut.

There is also a host of key U.S. data due for release over the week, notably the latest CPI report as well as key data on the housing and industrial sectors, including the Empire State and Philly Fed indices. Meanwhile, forex markets will be watching Tuesday's TICs report for any evidence of a fall off in the demand for U.S. assets as warned of by Bernanke last week.

Data releases in the eurozone are limited to the flash manufacturing and services of PMIs for September and the German ZEW index. Markets, however, will be paying close attention to ECB comments, with a host of council members, including Trichet, due to speak on Friday. Markets will also be looking to see if there is further fallout in the UK from the Northern Rock bailout which looks like it may lead to an old fashioned "run on the bank".

Northern Rock depositors cued out the door and up the street in Northern Rock branches in throughout the UK again this morning. While the problems in Northern Rock are partly and more immediately due to the freezing up of the wholesale money markets, the fundamental problem facing Northern Rock is that they are the most exposed bank to a slowdown in the UK housing bubble. On Friday, Rightmove showed a very significant 2.6% fall in prices in the month of August alone. UK banks and mortgage brokers will now come under pressure and Northern rank is the weakest link and the most vulnerable to bankruptcy. While it is not insolvent now, it may well be soon and the Bank of England would not be bailing Northern Rock out otherwise.

Northern Rock is not too big to fail and the notion that the Bank of England "will never" allow Northern Rock to fail is dangerously delusional. Barings Bank was the oldest merchant bank in the UK and they were allowed to fail following reckless trading on behalf of just one trader.

The entire fractional reserve banking system rests on trust and confidence and can quickly become a "house of cards" when these two essential but fickle ingredients evaporate. In today's fiat-based monetary system, economic growth is almost entirely dependent upon credit expansion. A fiat-based monetary system is an economic system where money is created through fractional reserve banking techniques. Fractional reserve banking is the practice of issuing more money than a bank holds in cash reserves. As long as credit expansion and demand for credit continues at an accelerating pace, the appearance of prosperity continues as asset prices increase. The "accelerating pace" aspect is critical. It is the key to maintaining the boom. In a fiat-based monetary system, if risk appetites are supportive - that is, if borrowers are willing to take on debt - then credit expansion feeds into risk-seeking behaviour and creates unsustainable booms, such as the global housing bubble, and the inevitable consequent bust.

The issue is not one of the U.S. suprime mortgage market as some politicians and some "hear no evil, see no evil" market analysts would have you believe. Rather one of property bubbles and record debt levels in much of the western world. With interest rates increasing these debts and mortgages are becoming increasingly hard to service. This is the fundamental issue and one of which you will becoming more aware of in the coming months.

Silver
Spot silver is trading at $12.59/12.64 an ounce (1215 GMT).

PGMs
Platinum was trading at $1295/1300 (1215 GMT).
Spot palladium was trading at $330/335 an ounce (1215 GMT).

Oil
Oil remains near record highs. NYMEX crude oil had fallen 51c to $78.59 a barrel this morning. Brent spot was down to $76.55 in London.

Cork is host to the sixth annual conference of the Association for the Study of Peak Oil this week. Peak Oil is the point when global oil production begins to decline for ever. Among the speakers is the former chairman of Shell, Lord Oxburgh who told a British Sunday newspaper the price of oil could hit $150 a barrel. Last week oil closed above $80 a barrel for the first time. He didn't say when it will hit that price, but we can expect it to do so during the next 20 years.

Mission Statement
Gold and Silver Investments Limited hope to inform our clientele of important financial and economic developments and thus help our clientele and prospective clientele understand our rapidly changing global economy and the implications for their livelihoods and wealth.
We focus on the medium and long term global macroeconomic trends and how they pertain to the precious metal markets and our clienteles savings, investments and livelihoods. We emphasise prudence, safety and security as they are of paramount importance in the preservation of wealth.
Financial Regulation: Gold & Silver Investments Limited trading as Gold Investments is regulated by the Financial Regulator as a multi-agency intermediary. Our Financial Regulator Reference Number is 39656. Gold Investments is registered in the Companies Registration Office under Company number 377252 . Registered for VAT under number 6397252A . Codes of Conduct are imposed by the Financial Regulator and can be accessed at www.financialregulator.ie or from the Financial Regulator at PO Box 9138, College Green, Dublin 2, Ireland. Property, Commodities and Precious Metals are not regulated by the Financial Regulator
Disclaimer: The information in this document has been obtained from sources, which we believe to be reliable. We cannot guarantee its accuracy or completeness. It does not constitute a solicitation for the purchase or sale of any investment. Any person acting on the information contained in this document does so at their own risk. Recommendations in this document may not be suitable for all investors. Individual circumstances should be considered before a decision to invest is taken. Investors should note the following: The value of investments may fall or rise against investors' interests. Income levels from investments may fluctuate. Changes in exchange rates may have an adverse effect on the value of, or income from, investments denominated in foreign currencies. Past experience is not necessarily a guide to future performance.

All the opinions expressed herein are solely those of Gold & Silver Investments Limited and not those of the Perth Mint. They do not reflect the views of the Perth Mint and the Perth Mint accepts no legal liability or responsibility for any claims made or opinions expressed herein.

Fair Use Notice: This newsletter contains copyrighted material the use of which has not always been specifically authorized by the copyright owner. We are making such material available in our efforts to advance understanding of issues of financial and economic significance. At all times we credit and attribute the copywrite owner and publication.
We believe this constitutes a 'fair use' of any such copyrighted material as provided for in Copyright Law. The material on this site is distributed without profit to those who have expressed a prior interest in receiving the included information for economic research purposes. If you wish to use copyrighted material from this site for purposes of your own that go beyond 'fair use', you must obtain permission from the copyright owner.

© 2005-2019 http://www.MarketOracle.co.uk - The Market Oracle is a FREE Daily Financial Markets Analysis & Forecasting online publication.

Only logged in users are allowed to post comments.
Register/ Log in