Bernanke Is 100% Sure He Can Control Inflation
Economics
/
Inflation
Dec 07, 2010 - 01:05 AM GMT


I don't know about you, but I'm not 100% sure about anything. The older I get, the less sure I am about everything. I question things that I was sure were true when I was 25 years old. I'm not sure I'll wake up in the morning. I'm not sure I'll survive my commute to work. That is why I was flabbergasted last night as I watched Scott Pelley interview Ben Bernanke on 60 Minutes. As a side note, boy this show has gone downhill. In the old days of real journalism, Mike Wallace would have scorched Ben Bernanke, pointing out his phenomenal ability to be wrong or clueless on every financial issue the country has faced in the last 10 years. Today, Pelley under hands softball questions to Bernanke and never challenges him. It was a pathetic display of journalism.
Below is the dialogue that made me almost fall off my chair:
Pelley: Is keeping inflation in check less of a priority for the Federal Reserve now?
Bernanke: No, absolutely not. What we're trying to do is achieve a balance. We've been very, very clear that we will not allow inflation to rise above two percent or less.
Pelley: Can you act quickly enough to prevent inflation from getting out of control?
Bernanke: We could raise interest rates in 15 minutes if we have to. So, there really is no problem with raising rates, tightening monetary policy, slowing the economy, reducing inflation, at the appropriate time. Now, that time is not now.
Pelley: You have what degree of confidence in your ability to control this?
Bernanke: One hundred percent.
The hubris in this statement is breathtaking. The U.S. economy is a complex interaction of thousands of variables and is intertwined with the policies and actions of hundreds of other countries throughout the world. No one has a handle on the worldwide economy and no model can predict anything with any amount of accuracy. And still, this pompous professor from Princeton who has never worked a day in his life in the real world is 100% SURE that HE knows what will happen and when it will happen. I'm sure his track record of predictions and analysis will give you comfort in this statement:
"We've never had a decline in house prices on a nationwide basis. So, what I think what is more likely is that house prices will slow, maybe stabilize, might slow consumption spending a bit. I don't think it's gonna drive the economy too far from its full employment path, though." – 7/1/2005
"Housing markets are cooling a bit. Our expectation is that the decline in activity or the slowing in activity will be moderate, that house prices will probably continue to rise." – 2/15/2006
March 28th, 2007 – Ben Bernanke: "At this juncture . . . the impact on the broader economy and financial markets of the problems in the subprime markets seems likely to be contained,"
May 17th, 2007 – Bernanke: "While rising delinquencies and foreclosures will continue to weigh heavily on the housing market this year, it will not cripple the U.S."
June 20th, 2007 – Bernanke: (the subprime fallout) ``will not affect the economy overall.''
October 15th, 2007 – Bernanke: "It is not the responsibility of the Federal Reserve - nor would it be appropriate - to protect lenders and investors from the consequences of their financial decisions."
February 29th, 2008 – Bernanke: "I expect there will be some failures. I don't anticipate any serious problems of that sort among the large internationally active banks that make up a very substantial part of our banking system."
June 9th, 2008 – Bernanke: Despite a recent spike in the nation's unemployment rate, the danger that the economy has fallen into a "substantial downturn" appears to have waned,
July 16th, 2008 – Bernanke: (Freddie and Fannie) "…will make it through the storm", "… in no danger of failing.","…adequately capitalized"
September 19th, 2008 - Bernanke: "most severe financial crisis" in the post-World War II era. Investment banks are seeing "tremendous runs on their cash," Bernanke said. "Without action, they will fail soon."
As you can see, he has been a regular Nostradamus with his predictions.
Whenever I see Bernanke or Obama seek to go on 60 Minutes I get the impression they are getting desperate. Last night was nothing but a PR effort by Bernanke because he is losing control of the situation. Our entire financial system is nothing but a confidence game. During the interview, Bernanke made two BIG LIES. He said that buying $600 billion of US Treasuries would reduce long term interest rates.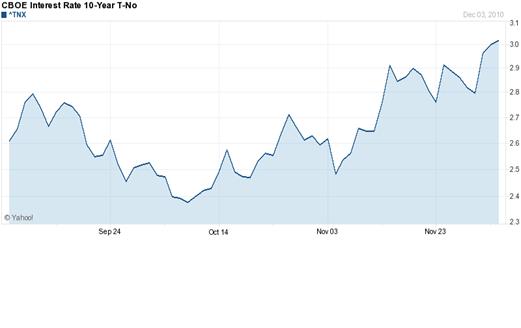 When Bernanke made it clear he would institute QE2 in early October the 10 Year Treasury was at 2.4%. Today, it is 3.0%. Mortgage rates are tied to the 10 year Treasury. They are rising, not falling. Bernanke is lying. His sole purpose for QE2 is to make the stock market go higher, enriching his Wall Street masters.
His 2nd BIG LIE is that there is no inflation. In his little world of models there is no inflation. In the real world, where we live there is plenty of inflation. I guess his limo driver doesn't tell him that gas now costs $3.25 a gallon. Let's assess his no inflation lie:
Oil is at $89 a barrel, up 21% in the last year.
Gold is trading at $1,413, up 23% in the last year.
Silver is trading at $30, up 66% in the last year.
Copper is trading at 4 per pound, up 26% in the last year.
Corn is trading at 573 a bushel, up 49% in the last year.
Soybeans are trading at 1,300 a bushel, up 23% in the last year.
Wheat is trading at 779 a bushel, up 41% in the last year.
Pork is trading at 104 a pound, up 23% in the last year.
Beef is trading at 106 a pound, up 28% in the last year.
Cotton is trading at 130 per pound, up 78% in the last year.
Sugar is trading at 29 per pound, up 32% in the last year.
Coffee is trading at 205 per pound, up 40% in the last year.
If you think these figures couldn't possibly be correct, go to this link and verify for yourself.
http://money.cnn.com/data/commodities/
Evidently, Mr. Bernanke thinks that the sheeple will just believe him because he is the Federal Reserve Chairman. The truth is that only two things are deflating: middle class wages and home prices. Bernanke certainly has chutzpah when blatantly lying to the American public about inflation. I'm sure none of you drive cars, heat your homes, eat food, or wear clothes.
I'm 100% sure that Ben Bernanke will be wrong again. He will ultimately be known as the professor that never saw the collapse of the USD coming.
Join me at www.TheBurningPlatform.com to discuss truth and the future of our country.
By James Quinn
James Quinn is a senior director of strategic planning for a major university. James has held financial positions with a retailer, homebuilder and university in his 22-year career. Those positions included treasurer, controller, and head of strategic planning. He is married with three boys and is writing these articles because he cares about their future. He earned a BS in accounting from Drexel University and an MBA from Villanova University. He is a certified public accountant and a certified cash manager.
These articles reflect the personal views of James Quinn. They do not necessarily represent the views of his employer, and are not sponsored or endorsed by his employer.
© 2010 Copyright James Quinn - All Rights Reserved
Disclaimer: The above is a matter of opinion provided for general information purposes only and is not intended as investment advice. Information and analysis above are derived from sources and utilising methods believed to be reliable, but we cannot accept responsibility for any losses you may incur as a result of this analysis. Individuals should consult with their personal financial advisors.
© 2005-2019 http://www.MarketOracle.co.uk - The Market Oracle is a FREE Daily Financial Markets Analysis & Forecasting online publication.
Comments
Parth Vasa
07 Dec 10, 12:12
Its easy to be 100% sure - you need skill


I am 100% sure that Bernanke is 100% wrong that he can 100% tame a sudden surge in inflation. There, three 100% calls in 15 seconds (not 15minutes).

I should be the Fed chair.




Only logged in users are allowed to post comments.
Register/ Log in