How the Banking Industry Works - Xtranormal Video
InvestorEducation
/
Learning to Invest
Dec 08, 2010 - 02:39 AM GMT


Julia Sanders interviews Thomas Lloyd, an investment banker of ABC Wealth Management, resulting in a satiric exposition of the banking industry.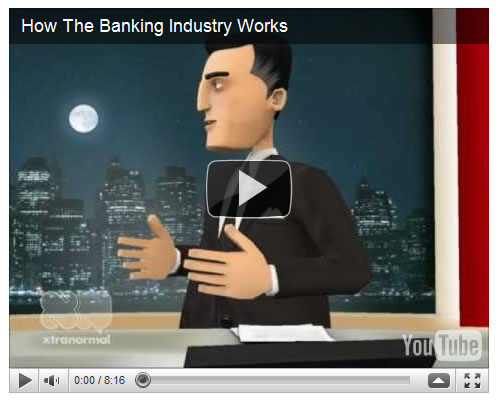 JULIA: Welcome to tonight's show. I'm Julia Sanders. We have with us Mr. Thomas Lloyd. It's great to have you here with us tonight.
LLOYD: Thank you Julia. I'm very glad to be here today.
JULIA: OK. So, as an investment banker with ABC Wealth Management, you must be very familiar with the nature of financial markets.
LLOYD: Yes, very much so.
JULIA: How do you think things are going at the moment?
LLOYD: Well, there's a great deal of international concern, but things will sort themselves out. This is what markets do through a process we call volatility.
JULIA: Can you explain to me how the banking industry works?
LLOYD: Sure, assume I'm a bank. I make money by lending it out.
JULIA: Yes. People deposit their money with you at a lower interest rate than what you lend it back out again at.
LLOYD: Well, yes. But that by itself isn't really all that profitable.
JULIA: What do you mean?
LLOYD: It is true, that I lend out money collected from the depositors, but it's more than that. I lend out many times more money than is what actually in the bank vault.
JULIA: How can you do that? Is that not fraud?
LLOYD: No no no. That's called fractional reserve banking, and it's perfectly legal.
JULIA: But Mr. Lloyd, how do you lend out more money than you have?
LLOYD: By creating it. Let's assume that you are asking for a loan to purchase a house. When you sign the mortgage agreement, that money is created right there and then and is backed by your obligation for repayment. And, if I'm successful, you will also pay the insurance costs in case of a default.
JULIA: So, Mr. Lloyd. What you are telling me is that the money I get from you, doesn't exist until I sign the mortgage agreement?
LLOYD: Exactly! Wonderful isn't it? See, this is what grows an economy. And as you repay your mortgage, I can use that money to lend out even greater amounts.
JULIA: And who do you lend this additional money to?
LLOYD: People who need credit of course! You see, as I just explained, money creates more money. So we grow and broaden the economy, expanding it all the time. We need to lend, so people can continue to buy.
JULIA: But shouldn't people just buy the things they can afford?
LLOYD: No Julia, you don't need to afford the things you buy. You only need to afford the interest on the money you borrow in order to buy the things.
JULIA: Do people really need to be buying all these things?
LLOYD: Well, they certainly believe they do, and who are we to suggest they don't. People regard these things as being very necessary, deeply important and extremely attractive. You see it is really all about building a stronger economy. We truly have your best interests at heart. Without an economy you wouldn't have a job and could not afford the things you need.
JULIA: You mean I wouldn't be able to afford the interest on the things I buy.
LLOYD: Don't be so cynical Julia. To build a better world we must invest back into the economy.
JULIA: So what was this trouble in the housing market all about?
LLOYD: Well, that was a bit of a mistake. See, we lent out money to people who couldn't pay it back.
JULIA: Why was money lent to people who couldn't pay it back?
LLOYD: Quite simply because the people who could pay it back, already have money and don't require a loan?
JULIA: So money is lent to those who cannot pay it back?
LLOYD: Naturally, but that isn't a problem because it is based on property. And we all know, property over time only goes up in price.
JULIA: Unless it goes down.
LLOYD: Well yes, unless, as you correctly point out, it goes down. But fortunately that is rare.
JULIA: If the property does go down, then the lenders would lose money wouldn't they?
LLOYD: Only if they still held the loans.
JULIA: Where did the loans go?
LLOYD: Let's say they sold them on.
JULIA: Sold them to who? How do you sell loans that aren`t worth anything?
LLOYD: Quite easily, if they are marketed well and beautifully presented. Use good quality paper, emboss the name on each sheet. Fund managers just love this sort of thing.
JULIA: But aren't they just rubbish.
LLOYD: Well, no Julia. They look good and are given very technical sounding names - like Collateralized Debt Obligation, or Mortgage Backed Securities, or Structured Investment Vehicle.
JULIA: But that doesn't change anything.
LLOYD: It most certainly does! Julia, if I presented you with some paper and told you they were a bunch of dodgy loans that will likely never be paid back, would you buy them?
JULIA: Of course not!
LLOYD: Exactly!
JULIA: Exactly what Mr. Lloyd? Wouldn't anyone buying this stuff lose money?
LLOYD: Like who?
JULIA: Like these fund managers for instance.
LLOYD: No, they make money Julia.
JULIA: Wait a minute! I'm sorry. What do I not understand?
LLOYD: That is their job Julia. They are paid to buy things. They won't make any money if they don't buy stuff.
JULIA: But they are buying rubbish!
LLOYD: They are fund managers. The money continues rolling in so long as they keep buying.
JULIA: And this money comes from where exactly?
LLOYD: Well from private investors, pension funds, and trust funds of course.
JULIA: Why would people place their money into something that is based on loans that will never be paid back?
LLOYD: Julia, people who don't know what they want will buy anything, especially if it sounds good. Take for instance, "High-Grade Structured Credit Strategies Enhanced Leverage Master Fund", that sounds good doesn't it?
JULIA: Well, yes I suppose it does.
LLOYD: And a person, looking to invest their money would likely find such a fund to be very enticing. Especially when sitting in a nice comfortable chair, being presented with a glossy brochure by a well dressed sales representative.
JULIA: Well, something doesn't seem right.
LLOYD: It's very attractive. Look at the words. It is high-grade. It's a master fund - that must be good right? It's structured. It's enhanced. Who wouldn't want to own something sounding so distinguished?
JULIA: Why are you talking about this fund?
LLOYD: Because, it was the name of one of the two notorious hedge funds that brought down Bear Stearns in 2008. Before the firm collapsed, it had been receiving praise as being one of the most admired companies in the United States.
JULIA: That's terrible!
LLOYD: Most terrible Julia! Many people lost their retirement savings as a result. But fortunately, such occurrences are rare.
JULIA: Mr. Lloyd, you have not instilled much confidence within me regarding the banking system.
LLOYD: I assure you Julia, that the banking sector is perfectly safe.
JULIA: Except when things go wrong.
LLOYD: When things turn south, we are all caught in the financial maelstrom. But try to focus on the long-term Julia.
JULIA: We will now take a break to hear a message from our sponsors.
Inspired by the comedic genius of John Clarke & Bryan Dawe from A Current Affair and John Bird & John Fortune from The Last Laugh.
By Mike Hewitt
http://www.dollardaze.org
Mike Hewitt is the editor of www.DollarDaze.org , a website pertaining to commentary on the instability of the global fiat monetary system and investment strategies on mining companies.
Disclaimer: The opinions expressed above are not intended to be taken as investment advice. It is to be taken as opinion only and I encourage you to complete your own due diligence when making an investment decision.
© 2005-2019 http://www.MarketOracle.co.uk - The Market Oracle is a FREE Daily Financial Markets Analysis & Forecasting online publication.

Only logged in users are allowed to post comments.
Register/ Log in