Stock Market Elliott Wave Analysis and Forecast for Week Starting 17th Jan
Stock-Markets
/
Stock Markets 2011
Jan 17, 2011 - 02:27 AM GMT


US markets rally for the seventh week in a row, while economic reports continue to be encouraging. On the economic front: the twin Deficits were about unchanged, wholesale inventories and consumer sentiment declined, and the weekly jobless claims came in higher. On the positive side: export/import prices remained positive, along with the PPI/CPI, retail sales, and business inventories. Industrial production and capacity utilization rose, along with the monetary base and the WLEI. Overall a fairly good week!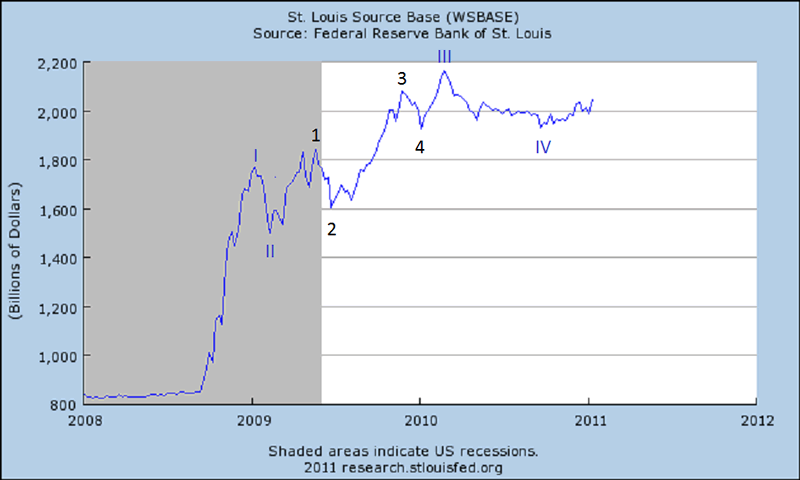 For the week the SPX/DOW were +1.35%, and the NDX/NAZ were +2.0%. Asian markets were mixed losing 0.4%, European markets gained 3.2%, the Commodity equity group gained 2.8%, and the DJ World index was +2.0%. Bonds were +0.2%, Crude rallied 4.2%, Gold slipped 0.7% and the USD dropped 2.4%. Next week is Options expiration and economic reports will be centered around housing, the NY/Philly FED and Leading indicators. Best to your week!
LONG TERM: bull market
The best time to invest in a new bull market is before anyone knows it is a bull market. This is exactly what happened to the followers of this blog in March 2009. As the SPX was approaching its bear market low at 667, we identified a completed OEW wave pattern at the lows. Within a few days of that low we made the following projection: http://caldaro.wordpress.com/2009/03/14/weekend-update-83/. At the time, the market was still declining after the October 2008 redemption mini-crash, it appeared to be an outrageous call. Yet, the OEW pattern was clear, (a 5-3-5 zigzag from October 2007 to March 2009), and we projected a 50% retracement rally into the SPX mid-1100′s.
As the market began to recover and then started uptrending we monitored the waves. The first uptrend reached SPX 956 in Jun09. Then a correction to SPX 869 in July09 followed. The next uptrend reached the targeted SPX 1150 in Jan10. We had witnessed a 50% retracement bear market rally. After three waves up we now expected the bear market to resume. The downtrend into Feb10, however, was not impulsive, it was corrective. The market was not breaking down to start another major decline. It was consolidating and correcting after a six month uptrend. After the correction appeared to end around SPX 1045 we realized it was really a bull market afterall, and posted on findings during Feb10/Mar10 in this blog. The 50% retracement rally was actually its beginning, and the market was about to complete its first five Major waves up of the new bull market. OEW nailed it perfectly. Your editor was too cautious and did not! We did, however, benefit from the bull market before we even knew it was bull market.
MEDIUM TERM: uptrend high at SPX 1293
The bull market continues to unfold as projected in our September report. From the Mar09 SPX 667 low we count five Major waves up to complete Primary wave I. Major wave 1 SPX 956 Jun09, Major wave 2 SPX 869 July09, Major wave 3 SPX 1150 Jan10, Major wave 4 SPX 1045 Feb10 and Major wave 5 SPX 1220 Apr10. Primary wave I was followed by a three month Primary wave II correction. After this correction ended in July10 at SPX 1011 the bull market entered the next five Major wave sequence: Primary wave III.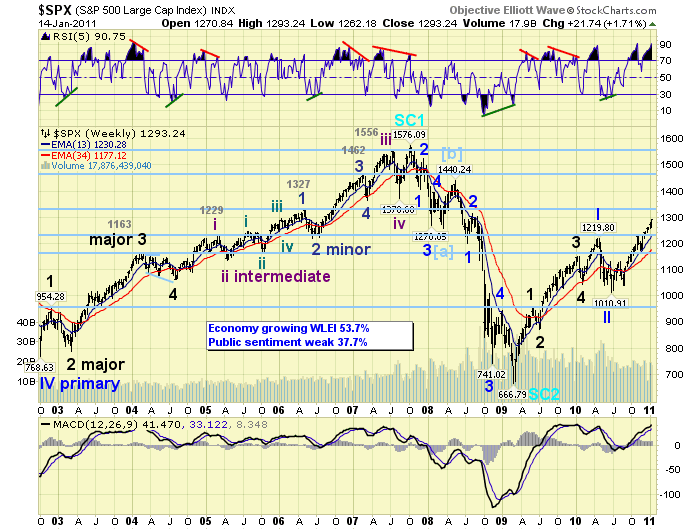 We had projected this initial Primary wave III uptrend, Major wave 1, would last six months. It is in its sixth month now. We also projected a price target near the OEW 1313 pivot in Jan11. The market hit and closed at SPX 1293 on friday. We're very close to our projection and have been cautious on this market now for about a week. When the uptrend does end a Major wave 2 correction will follow. We're expecting that decline to be in the neighborhood of 9% in the SPX. Interestingly enough, a decline of this magnitude was drop the SPX down into the 1170′s, from current levels. This price area also happens to be where the fourth wave of a lesser degree (Intermediate wave four @ SPX 1173) bottomed. This is the Elliott Wave in action, quantified by OEW. After the Major wave 2 correction ends a Major wave 3 uptrend will take the market to new bull market highs.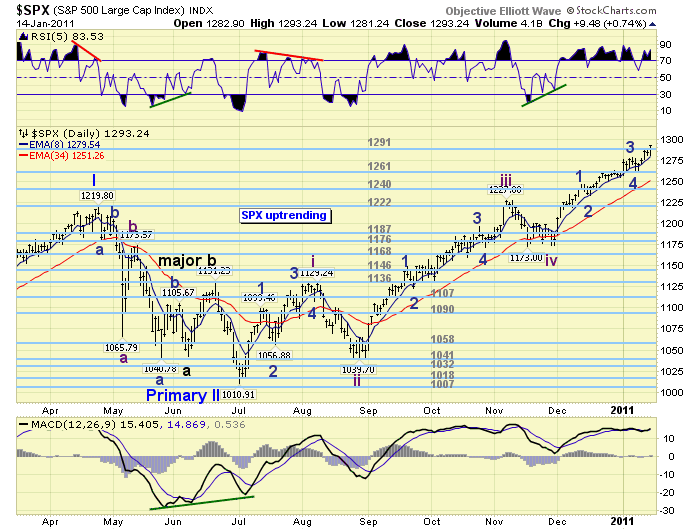 SHORT TERM
Support for the SPX is now at 1291 and then 1261, with resistance at 1303 and 1313. Short term momentum ended the week overbought. The first several tradings days of the year were a bit tricky with two pullbacks over 10 points. This entire Intermediate wave five rally from late November has had only four pullbacks of that nature. The market cleared the way for one of the two potential short term counts we had been monitoring with wednesday's gap up. Now that we are certain we are in Minor wave 5, of Intermediate wave five, of the six month Major wave 1 uptrend. We should be looking for a conclusion to this uptrend.
Fibonacci price targets offer the following resistance areas: @ SPX 1289 Int. five = 0.618 Int. three, @ SPX 1291 Int. five = Int. one, @ SPX 1292 Major 1/Primary III = Major 3/Primary I, @ SPX 1300 Major 1/Primary III = Major 1/Primary I, and @ SPX 1306 Int. five = 0.618 Int. waves one through three. There is lots of fibonacci resistance between SPX 1289 and 1306. The OEW pivots also display a cluster of overhead resistance. We have pivots at 1291, 1303 and 1313. If the market can clear this heavy resistance area there's a huge gap to the next pivot at 1363. Probabilities suggest, during this uptrend, it will not.
Technically, the market is holding its own. All nine SPX sectors remain in uptrends. We would have expected some weakness at this point. The foreign indices recovered this week. Only three of the fifteen world indices we track are in confirmed downtrends. The weekly MACD is doing well, but the RSI is extremely overbought. The daily MACD is still heading higher, but the RSI is starting to display a negative divergence. The daily MACD remains weak, and this RSI is overbought. Also, we're noticing a lack of upside conviction in daily market breath (NYAD), and the put/call ratio (CPC) just hit an extremely oversold condition at the close on friday. This is the first time it has hit this level since April 2010. It is usually an early signal of an impending uptrend top.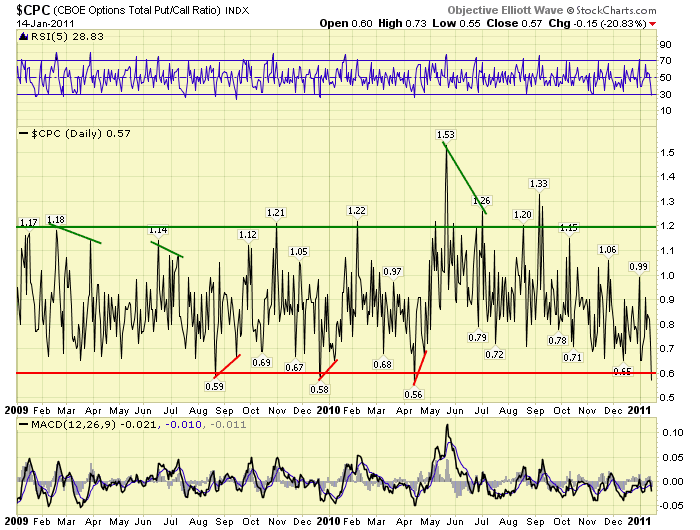 Two events will unfold during the next two weeks that will also have an impact on the markets. On friday we have the often volatile Options expiration. Then next wednesday the FED concludes its FOMC meeting with an afternoon statement. These are two volatile events that can alter a trend. Our last point. This market has rallied for seven weeks, during Int. wave five, from SPX 1173 to SPX 1293 on friday with only four pullbacks over 10 points (13, 14, 14, 15). This is quite unusual! The first pullback that is greater than these levels is likely to be the beginning of a new dowtrend.
Short term support is now at 1282, and more important support is at the OEW 1261 pivot. The market would have to decline over 30 points to pullback to this pivot. This would be a signal within itself. Objectively, major uptrend support is at the OEW 1240 pivot and then the OEW 1222 pivot. At this stage of the uptrend a decline to either of these two pivots would almost certainly confirm an OEW downtrend. Overhead resistance continues between the combined three pivot ranges: SPX 1284-1320. Should the market clear SPX 1320 the OEW 1363 pivot would be next. We remain cautious at current levels until this market does clear SPX 1320. It has already been a long uptrend, six months and SPX 1011-1293: +28%. Best to your trading!
FOREIGN MARKETS
Asian markets were quite mixed on the week for a net loss of 0.4%. India's BSE and China's SSEC remain in downtrends.
European markets all rallied, especially Spain's IBEX, for a net gain of 3.2%. Only Germany's DAX is still in a downtrend, and moderately so.
The Commodity equity group were all higher for a net gain of 2.8%. All are uptrending.
The DJ World index remains in an uptrend and gained 2.0% on the week.
COMMODITIES
Bonds were +0.2% on the week and still appear to be in the early stages of an uptrend. After 10YR yields rose from 2.33% in September to 3.57% in December they have been drifting lower.
Crude soared on the week +4.2%. Its uptrend is still underway, but it is now displaying negative divergences in both the daily and weekly RSI.
Gold lost 0.7% on the week after an early week rally. It continues to downtrend from its recent diagonal triangle fifth wave. Silver is very close to confirming a downtrend as well. Expecting a low in Gold around $1315 in February. Then a resumption of the bull market.
The USD (-2.4%) and EUR (+3.6%) continue to trade like they are on bungee cords. The last time we observed these kinds of quick trend reversals was in late 2007 – early 2008. Certainly something to monitor going foward.
NEXT WEEK
With monday a national holiday economic reports start flowing in on tuesday. At 8:30 the NY FED, and at 10:00 the NAHB housing index. Wednesday we have Housing starts and Building permits. Then on thursday the weekly Jobless claims, Existing home sales, Leading indicators and the Philly FED. Friday is Options expiration. Nothing on the FED's schedule until the FOMC meeting the following week. Enjoy your weekend!
CHARTS: http://stockcharts.com/def/servlet/Favorites.CServlet?obj=ID1606987
http://caldaroew.spaces.live.com
After about 40 years of investing in the markets one learns that the markets are constantly changing, not only in price, but in what drives the markets. In the 1960s, the Nifty Fifty were the leaders of the stock market. In the 1970s, stock selection using Technical Analysis was important, as the market stayed with a trading range for the entire decade. In the 1980s, the market finally broke out of it doldrums, as the DOW broke through 1100 in 1982, and launched the greatest bull market on record.
Sharing is an important aspect of a life. Over 100 people have joined our group, from all walks of life, covering twenty three countries across the globe. It's been the most fun I have ever had in the market. Sharing uncommon knowledge, with investors. In hope of aiding them in finding their financial independence.
Copyright © 2010 Tony Caldaro - All Rights Reserved Disclaimer: The above is a matter of opinion provided for general information purposes only and is not intended as investment advice. Information and analysis above are derived from sources and utilising methods believed to be reliable, but we cannot accept responsibility for any losses you may incur as a result of this analysis. Individuals should consult with their personal financial advisors.
© 2005-2019 http://www.MarketOracle.co.uk - The Market Oracle is a FREE Daily Financial Markets Analysis & Forecasting online publication.

Only logged in users are allowed to post comments.
Register/ Log in