Malaysia's Rich Natural Resources: The Next Great Asian Investment Opportunity
Economics
/
Emerging Markets
Jan 19, 2011 - 08:32 AM GMT


Last week I flew to Penang, Malaysia, and traipsed around the countryside in sweltering heat and humidity looking for the next great Asian investment opportunity. I found several amazing ones. But some background first …
Penang is a fascinating island city that sits a few miles on the Indian Ocean side of the Malaysian mainland near the northern mouth of the Straits of Malacca. It is this strategic location that turned Penang into one of the most important commercial trading centers in Southeast Asia.
Penang was discovered in 1588 by Sir James Lancaster, who had served under Sir Francis Drake. The island, originally called the Prince of Wales Island, was first settled in 1786 by the British East Indian Trading Company for the purpose of trading spices, such as: Pepper, nutmeg, cinnamon, tamarind, and opium. Penang became a thriving port and had over 10,000 residents within 10 years.
Today, 900,000 people live on Penang Island. It has become a thriving Southeast Asian technology hub and is referred to as Silicon Island. A virtual who's who of the technology world — Dell, Intel, AMD, Altera, Motorola, Agilent, Hitachi, Osram, Plexus, Bosch and Seagate — have offices and manufacturing facilities in Penang. And 45% of the island's economy is based on technology.
Malaysia as a whole is an exciting, vibrant, and thriving economy. Most Americans think of Malaysia as an exotic, underdeveloped country. But it has 28 million residents, is the 29th largest economy in the world, and its citizens have an average annual income of $14,900 a year.
Another underappreciated but key business advantage: Almost all Malaysians, thanks to the British rule from 1786 to 1957, speak English. This is a huge plus for attracting western businesses to set up shop in Malaysia.
The Malaysian stock market has reflected that economic prosperity. It was up 19% in 2010, and I believe it has many more years of prosperity ahead of it. Long term, investing in Malaysian stocks should be very rewarding.
Although Malaysia has thriving technology and financial industries, the country's rich natural resources excite me the most. The spice trade may have originally attracted traders and merchants to Penang, but it was the discovery of rich deposits of natural resources on the Malaysian peninsula that powered its economic growth.
I'll break them down for you …
RENEWABLE NATURAL RESOURES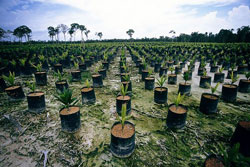 Malaysia is world's largest exporter of palm oil.
Palm oil: Palm oil may not sound like a very important natural resource, but it is the primary cooking oil used in Asia. And Malaysia is the largest exporter of palm oil in the world. Plus, clever Malaysian scientists are developing efficient ways of converting palm oil into ethanol. Boustead Holdings (2711.KL) operates 286,000 acres of palm oil trees.
Rubber: I have written many times about the booming automobile sales in China. So you need to ask who provides all those tires for all those new cars? Instead of investing in tire companies, like Goodyear or Cooper Tire, you could invest in companies that produce rubber. Malaysia is the third largest rubber producer in the world (Thailand is number one and Indonesia is number two) and Kossan Rubber Industries (7153.KL) has the wind at its back.
Timber: Thanks to its tropical climate and abundant rainfall, Malaysia is COVERED with trees. A lot of those trees — teak, sandalwood, ebony, and ironwood — can be turned into valuable lumber products. Jaya Tiasa Holdings (4383.KL) is one of Malaysia's top timber producers.
NON-RENEWABLE NATURAL RESOURCES
Oil: Malaysia is blessed with massive deposits of oil and is one of the largest non-OPEC oil exporters in the world. Malaysia's state-owned energy giant, Petronas Gas Berhad (6033.KL), is so profitable that its royalties provided 44% of the government's total revenues last year.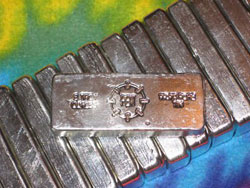 The soaring demand for tin could continue to push prices up over the next five years.
Tin: Of the six basic principal base metals — tin, copper, iron, lead, zinc, and lead — tin increased the most last year rising by 59% to as much as $27,500 per metric ton. It is expected to hit $40,000 on growing demand within the next five years. And Malaysian Smelting Group (5916.KL), the largest tin producer in Malaysia, could be a big winner.
Now, I am not recommending you rush out and buy any of the above stocks tomorrow morning. As always, timing is everything. So I recommend you first do your own homework to make sure those companies are appropriate for your personal situation AND then wait for them to go on sale.
However, I know that many of you will ignore these five Malaysian companies because they're listed on the Kuala Lumpur Stock Exchange. I don't know why but most investors I talk to seem to have a phobia about buying stocks on a non-U.S. exchange. I think that's shortsighted …
It only costs a few dollars more (no more than $20 or $30 per trade if you use the right broker) to trade foreign stocks. Plus it's simple and easy. Here are some examples:
E*Trade offers trading on six of the largest international markets — Canada, France, Germany, Hong Kong, Japan, and the United Kingdom — through its online trading platform.
EverTrade offers trading in 22 markets — Australia, Austria, Canada, Denmark, Finland, France, Germany, Hong Kong, Italy, Japan, Mexico, Netherlands, New Zealand, Norway, Russia, Singapore, South Africa, Spain, Sweden, Switzerland, Thailand, and the United Kingdom — for a flat $50 per trade.
NobleTrading is an online discount trading company based in New York and also trades in 22 countries — Australia, Belgium, Canada, Denmark, Finland, France, Germany, Greece, Hong Kong, Ireland, Italy, Japan, Mexico, New Zealand, Norway, Portugal, Russia, Singapore, South Africa, Sweden, Thailand, the United Kingdom.
Boom Securities may be the best choice if you are primarily interested in trading Asian stocks because it includes Australia, China, Hong Kong, Korea, Indonesia, Japan, Malaysia, Philippines, Singapore, Thailand, and Taiwan. Trading commissions vary by country. But Hong Kong, for example, is 0.18% plus some minor currency/tax fees (minimum $12). That means that any investment under US$6,000 would roughly cost the minimum $12. Cheap!
You might notice that I didn't include the two largest discount brokers, Charles Schwab and Fidelity. That is because while they do offer foreign trading, they charge too darn much.
What I want you to realize is that (a) the most exciting investment opportunities are across the Pacific Ocean and that (b) investing in foreign stocks is easy and cheap.
Best wishes,
Tony
This investment news is brought to you by Uncommon Wisdom. Uncommon Wisdom is a free daily investment newsletter from Weiss Research analysts offering the latest investing news and financial insights for the stock market, precious metals, natural resources, Asian and South American markets. From time to time, the authors of Uncommon Wisdom also cover other topics they feel can contribute to making you healthy, wealthy and wise. To view archives or subscribe, visit http://www.uncommonwisdomdaily.com.
© 2005-2019 http://www.MarketOracle.co.uk - The Market Oracle is a FREE Daily Financial Markets Analysis & Forecasting online publication.

Only logged in users are allowed to post comments.
Register/ Log in