How Much More Demand Can Silver Handle?
Commodities
/
Gold and Silver 2011
Feb 16, 2011 - 03:16 PM GMT


Jeff Clark, BIG GOLD writes: The numbers for silver demand are starting to make some market-watchers nervous. The U.S. Mint sold over 6.4 million silver Eagles in January, more than any other month since the coin's introduction in 1986. China's net imports of silver quadrupled in 2010, to 122.6 million ounces, roughly 13.7% of global production. Meanwhile, mine production can't meet worldwide demand; the only way demand gets fulfilled is from scrap supply.
That is some very hungry demand. Which raises the question, how long can this pace continue?
This is important for various reasons, starting with how demand contributes to price. If demand falls off, our investments could, too.
While I've discussed the concern regarding the lack of supply before, which has its own implications for the silver market, let's focus on investment demand. Frankly, is there room for it to continue to grow? After all, how long can investors continue to set records?
There are a number of ways to measure this – the amount of money available to invest, its percent of total financial assets, its contrast to demand in the last bull market, etc. – but I think the bottom line to answering the question is to compare the biggest silver investments to some popular equities. If they rival that of the stocks we always see on the news and analysts constantly talk about and every fund manager wants to own, then it might be reasonable to assume demand could be nearing its pinnacle.
So how do the world's largest silver ETF and one of the biggest silver producers compare to the more fashionable equities?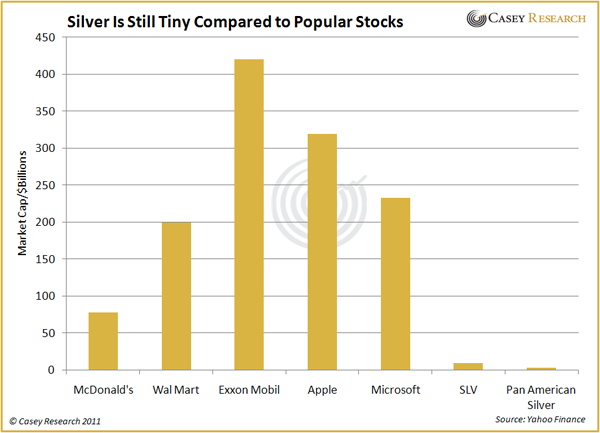 The largest silver ETF, iShares Silver Trust, has net assets of $9.6 billion (as of February 4). This pales in comparison to the more popular stocks trading in the U.S. In fact, SLV has roughly 3% the market cap of Apple. It would have to grow over 43 times to match Exxon Mobil.
Pan American Silver, the largest pure silver producer trading on a major U.S. exchange, has a market cap of $3.72 billion. This is 4.7% the size of McDonald's. The market cap would have to increase more than 53 times to match Walmart. It is over 62 times smaller than Microsoft.
This isn't to suggest SLV and PAAS will match the market cap of these other companies, but clearly the masses are still demanding much more of them than the biggest of silver's investment vehicles.
So how much more demand can silver handle? As much as it takes to make it the household name I'm convinced it will be before this is all over. When SLV is a favorite of fund managers. When Silver Wheaton is a market darling of the masses. When Pan American is Wall Street's top pick for the year.
Imagine what those bars on the right will look like when most everyone you know is talking about poor man's gold. The rise could be breathtaking.
Remember that silver rose over 3,646% from trough to peak in the last precious metals bull market; it's up about 630% in our current run. A return matching the 1970s advance would push the price to $152. This price level is further supported by the fact that this is about where it would be when inflation-adjusted for its 1980 peak.
When you look at the potential growth in market cap of the world's biggest silver investments, it becomes easy to view any downdraft in price as nothing but a buying opportunity. I know I do.
[The current edition of BIG GOLD includes naming the cheapest one-ounce bullion coin on the market right now, plus a new gold stock pick that has incredible growth potential. Get all this and more for only $79 per year, including a 3-month trial with full money-back guarantee. Details here.]
© 2011 Copyright Casey Research - All Rights Reserved

Disclaimer: The above is a matter of opinion provided for general information purposes only and is not intended as investment advice. Information and analysis above are derived from sources and utilising methods believed to be reliable, but we cannot accept responsibility for any losses you may incur as a result of this analysis. Individuals should consult with their personal financial advisors.
© 2005-2019 http://www.MarketOracle.co.uk - The Market Oracle is a FREE Daily Financial Markets Analysis & Forecasting online publication.
Comments
hmjjbe
17 Feb 11, 08:13
Silver 1980


"This price level is further supported by the fact that this is about where it would be when inflation-adjusted for its 1980 peak"

people keep using 1980 as a rational that silver isn't near it's peak. 1980 was an anomaly, the hunt brothers tried to corner the market and the price eventually crashed. This is a poor argument for further silver price increases.



Shelby Moore
17 Feb 11, 19:54
silver 8x scale


Those who think the 1980s are not repeating, need to look at the annotated chart I drew here, for the 8x repeating scale pattern:

http://goldwetrust.up-with.com/t33p300-silver-as-an-investment#4207

Sorry I have no way to insert that image in this comment, so you will have to copy+paste that link in the address line of your browser.

I will write an article about this someday.

Nadeem, how do you like my call now, where I dedated you in January to not sell silver at $30? hehe. I told you so. Yeah I know you just took profits and you moved on to another profitable trade. Note that silver is the only investment in the world that I have found in which the rate of increase in the price is not declining. I will need to write an article about that too.

God bless everyone. And cheers.



Nadeem_Walayat
18 Feb 11, 07:04
Enjoying your wealth


There is no real profit until its banked.

I'm cashing a lot of my chips in and going to enjoy my wealth, there's little point in having millions listed on a spread sheet, much better to have approx 2/3rds of ones wealth in a property you live in so that it can be enjoyed during ones life time.

Best

NW



Shelby Moore
18 Feb 11, 11:51
$3000 house-on-wheels


Difficult choice between 100x priced anchor, or a $3000 house-on-wheels to roam the beauty of entire Americas (Canada, USA, Mexico, Costa Rica, etc) overland. Check this out, if you are looking for fun retirement (and you could still publish over the internet while enjoying nature):

http://www.thesurvivalistblog.net/uncategorized/rv-bug-out-vehicle/

Thanks for the good spirits. I am not living that lifestyle right now, but it also interesting here in Asia.

Anyway, I agree, to each his own preference. Perhaps I will end up the old geezer with a treasure map and a mobile home trying to find where I buried my stash. LOL. Money is very ephemeral-- we only have each day to do what we love to do.

Nadeem thanks for you site, it is best one and very much open to all to express their views. We've probably got a long way to go in this secular cycle, and expect your site to gain readership.




Only logged in users are allowed to post comments.
Register/ Log in