Gold and Silver Sunny Days, Marc Faber Top Busted, Elliott Wave Wrong as Usual
Commodities
/
Gold and Silver 2011
Mar 02, 2011 - 06:52 AM GMT

"In the Soviet Union, capitalism triumphed over communism. In this country, capitalism triumphed over democracy." -- Fran Lebowitz
About a month ago Marc Faber called a top in gold and said he was looking for a correction back to 1,100.00. Three weeks ago the Aden Sisters said that this wave up in gold had topped. A week ago they said they were "watching" it. Elliot Wave has called an end to the bull market in gold on numerous occasions. Is it any wonder that the public is so late to get in on the move higher and so quick to abandon a long position? Personally I can't find any evidence to support the hypothesis that this secondary leg up in a primary gold bull market is over.
Many assume that I am stubborn, or a dyed in the wool gold bug, but nothing could be further from the truth. I could care less whether gold goes up or down, but I care a lot about being on the right side of the gold market. If gold goes down a dollar or up a dollar it's the same profit for me as long as I'm on the right side of the trade.
Yes, I am stubborn. You have to be damn stubborn to sit on the long side of a trade for nine years regardless of the secondary reactions, firm in the belief that the primary trend is intact and will stay that way. Fortunately, the trajectory of the gold price has backed me up as you can see here: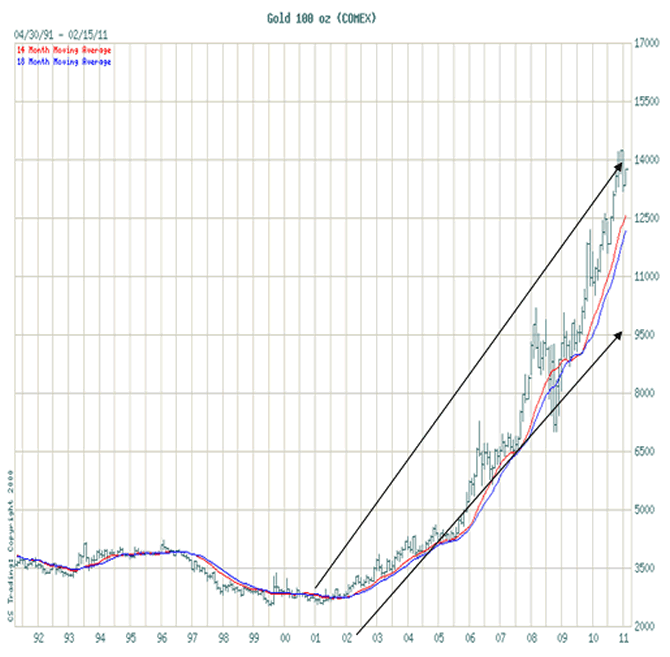 Gold has methodically moved higher since the 2001 retest of the 1999 low of US $252.00, and the spot price for the yellow metal currently rests at US $1,420.30/ounce as of 9:19 am EST this very morning. That is a greater than five-fold increase showing that patience is not only a virtue, but can be quite profitable as well.
That's the big picture and in today's myopic world I've learned that almost no one cares about the big picture. We all live the "here and now" so I want to give you a dose of your own medicine. Take a look at this daily chart for gold: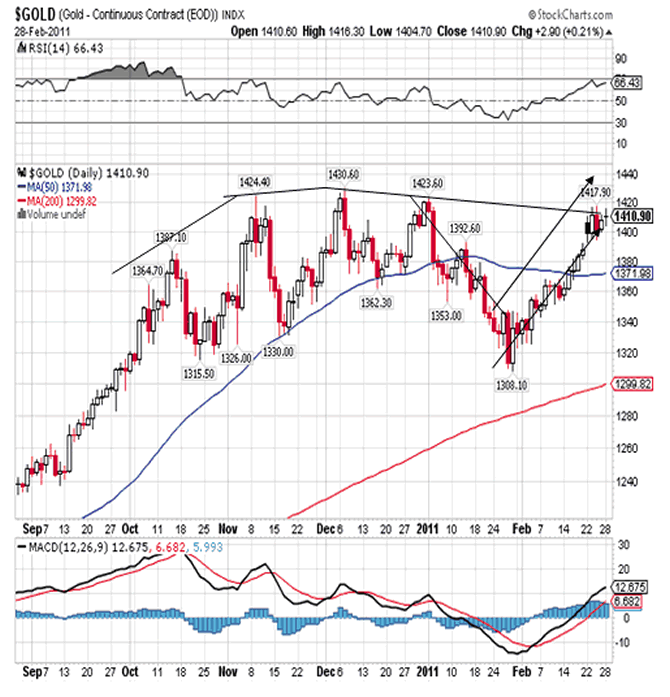 Many investors looked at gold's failure to make an all-time higher intraday high back on January 3rd as a technical failure and called a top. That was a mistake because gold did in fact make a new closing all-time high on that date and the close is what really matters. Then gold went and broke below good support at 1,372.00, catching many of the latecomers off guard, and that just served to throw more wood onto the bear fire. The world was coming to an end, save yourself if you can, because gold is going to US $1,100.00 and maybe even as low as US $850.00. No one even bothered to notice that gold held well above strong support at US $1,298.10.
Lost in all the drama was common sense and simple observation. Gold had not broken down out of its secondary trend and gold had never ended a secondary move higher with what I will call a rounded top. It always ended significant rallies with a big spike higher highlighted with and exhaustion. What in fact we saw was gold simply pulling back 7.5% from a weak attempt to test critical resistance at 1,447.50, and regrouping for another run higher. The confirmation of the coming higher gold prices can be seen in this weekly chart: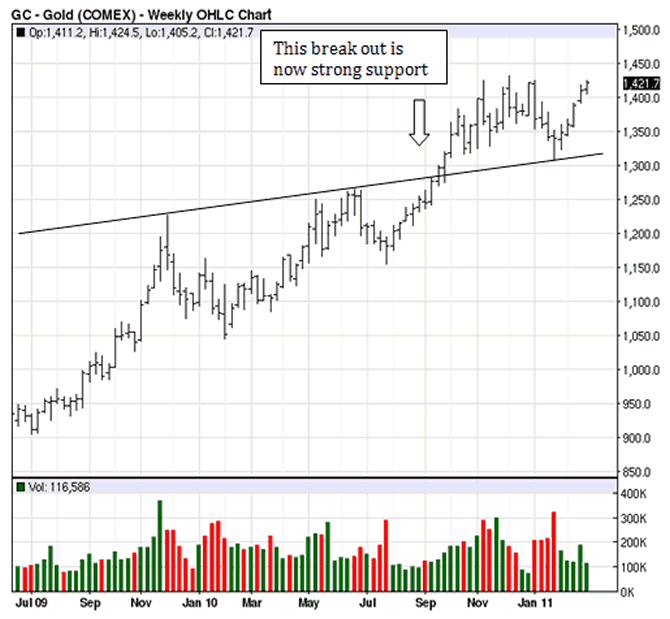 Here you have a trend line that connects the November 30, 2009 high with the June 21, 2010 high and you can see that gold moved above it in September and has consolidated gains above it, using it as support ever since. This is extremely bullish behavior and almost no one took the time to notice!
Then there is silver. Gold's poor cousin made a series of higher closing highs in November and December, leading gold higher, and has done the same thing in February. This can be seen here: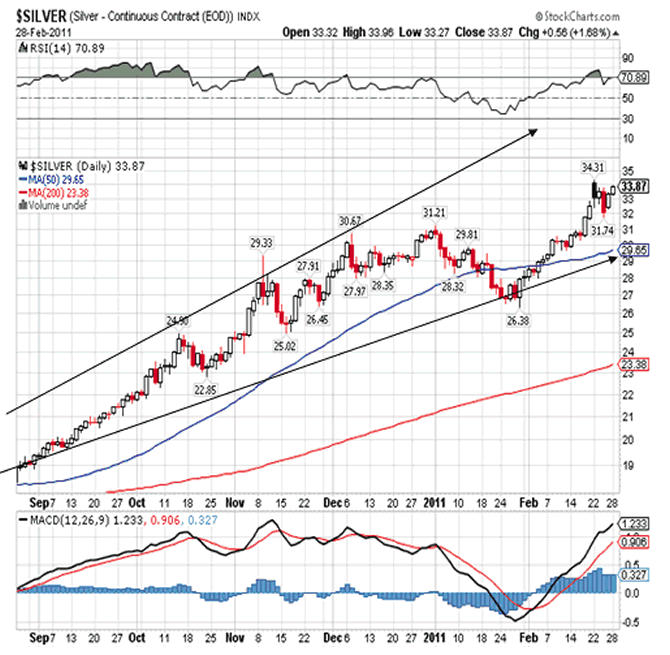 Right now the spot silver is trading up 41 cents at 34.39 at what would be yet another new bull market closing high. A lot of people are wondering if we are seeing short covering here but you can't really know since these markets are anything but transparent. Besides it doesn't matter why a price moves higher; what matters is that it does and how it goes about it.
For further confirmation that gold is going higher let's take a look at the HUI, otherwise known as the Gold Bugs Index: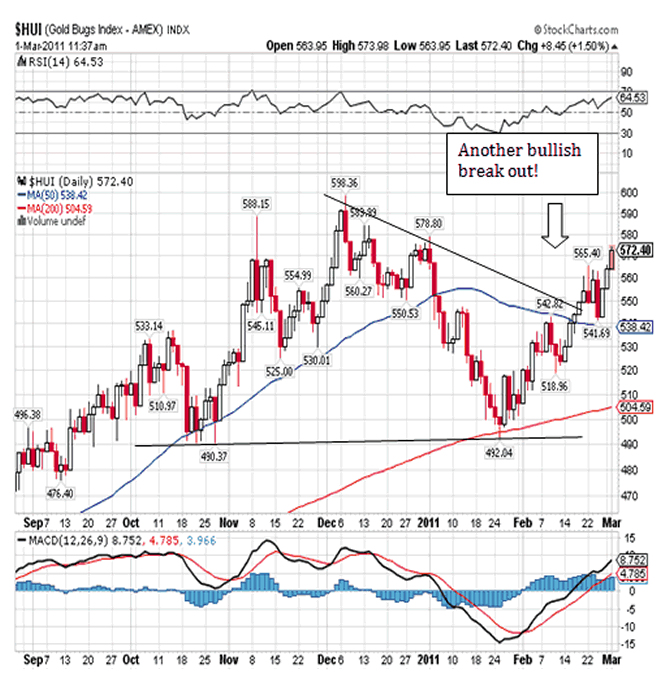 Like gold and silver it has broken out to the upside and is very close to making a new all-time closing high. Most of you know by now that I am not a fan of gold stocks but I have to recognize that it did in fact put in a higher low and is now going to test strong resistance at 580.22 and move through it. Once that happens there is nothing to stop it until it reaches the next level of resistance at 640.76 and that is a long way from today's price. My only concern with gold stocks is what happens to the HUI when the Dow tops? I believe it will get caught in the down draft and I feel that it is an unnecessary risk. Buying and holding physical gold eliminates that risk to a large degree.
In conclusion the April gold is now trading at US $1,429.00 at 11:50 am EST and that is almost $4.00 above the all-time closing high of US $1,425.10 posted way back on January 3rd. Barring accident or injury we should see a new all-time closing high today or tomorrow at the latest and that will open the door for a test of the critical resistance at US $1,447.50.¹ You will see that gold will not stop there, instead powering higher to and through US $1,500.00 and in all likelihood US $1,600.00. A lot of you have listened to the voices of doom and that was a mistake, and now you're making an even bigger mistake by waiting for the next correction. There will be reactions, there always are, but gold is going higher and there is now a chance that it might not stop at US $1,600.00, instead plowing higher to as much as US $2,000.00 an ounce.
You're all afraid of intervention but intervention occurs almost daily and what you fail to realize is that it has less affect with each passing day. In fact gold's best friend is the US Federal Reserve and it's handy dandy printing press. The more they print, and they're going to print like there's no tomorrow, the higher they'll push the price of gold (and silver). So you can "watch" gold or wait for US $1,100.00 to appear on the horizon. You can even embrace the new bear market as prophesized by Robert Prechter and Elliot Wave, or you can simply buy gold and put it away for the remainder of this decade. Maybe longer! In an age where debt has run amuck and every western central bank is printing fiat currency to extremes, I would listen to the gold's message and buy every chance you get. Sit through corrections firm in the knowledge that a year from now you will be richer in real terms, and you'll sleep better. You'll be the only one on your block that does, and that should tell you something right there. Most Americans have been reduced to praying that somehow things work out because they are so deep in debt, and with almost no savings, that prayer is all they have left.
Anthony J Stills Steve Betts
as@theablespeculator.com sb@theablespeculator.com
© 2011 Copyright Anthony J. Stills - All Rights Reserved
Disclaimer: The above is a matter of opinion provided for general information purposes only and is not intended as investment advice. Information and analysis above are derived from sources and utilising methods believed to be reliable, but we cannot accept responsibility for any losses you may incur as a result of this analysis. Individuals should consult with their personal financial advisors.
© 2005-2019 http://www.MarketOracle.co.uk - The Market Oracle is a FREE Daily Financial Markets Analysis & Forecasting online publication.

Only logged in users are allowed to post comments.
Register/ Log in