Gold Reversal Ahead?
Commodities
/
Gold and Silver 2011
Mar 13, 2011 - 12:10 PM GMT


Over the past several days gold has been hitting all time highs BUT the momentum indicator was telling us that the move was on greatly diminished strength. Reversal Ahead?
GOLD :LONG TERM
From the long term stand point we are still nowhere in trouble with this bull market but things are starting to show weakness. Gold remains above its positive sloping long term moving average line. The long term momentum indicator (I use the 150 day RSI) remains in its positive zone but has now moved below its trigger line, although the trigger is still in a positive slope so this is just the very first stage of a momentum warning. The momentum indicator is well below its levels from the Nov to Dec period when gold was about at the same price level as now. The one indicator that continues to be on a tear is the volume indicator. It is still right up there at all time high levels and above its positive sloping trigger line. All in all the long term rating remains BULLISH.
INTERMEDIATE TERM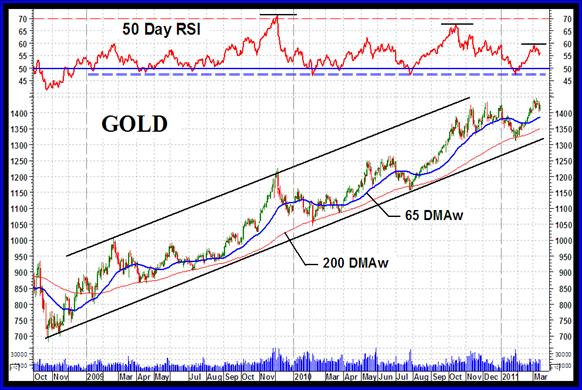 A two year bull move seems to be sputtering and having difficulty moving higher. The chart very clearly shows the topping process with the intermediate term momentum showing continued reduced strength as gold was trying for higher ground. Since the momentum indicator reached into its overbought zone way back in early Dec of 2009 the subsequent new highs have been on lower and lower momentum readings. Although we usually look at the neutral momentum line (at 50%) as the dividing line between positive and negative momentum gold seems to have established a very solid level at about the 47.5% level as the strong support level. This is the level to now watch to see if the momentum shifts to the negative side. Yes, the momentum is heading lower and one can say its trend is negative but it is still slightly inside its positive zone. With all that has been going on in the world these past several weeks one should have expected gold to be zooming into the stratosphere. The momentum indicator shows that, at this time, the strength is just not there for such move.
The other feature that jumps out at you is the long up trending channel that has trapped gold for the past two years. Remember, momentum is a warning. One would not declare the direction of the security based solely on momentum. One needs to also check the trend of the price. The price could continue on its merry way for a long time with a steadily diminished momentum reading so it's important to check the trend also. Here, as long as gold stays inside that channel one might continue to suggest that the trend remains positive.
Having said all that I still go to my normal indicators for my final reading as to the rating for the period. Gold is still above its positive sloping intermediate term moving average line. The intermediate term momentum indicator is still in its positive zone but moving lower and has already crossed below its trigger line. The trigger has also turned to the down side. The volume indicator remains quite positive and above its positive sloping trigger line. For the intermediate term the rating remains BULLISH but starting to weaken. The short term moving average line remains above the intermediate term line for confirmation of this rating.
SHORT TERM
The short term is showing a little more weakness than the other time periods but it's not yet in the bear category. Trend changes are usually (but not always) noted in the short term first. Here, the price of gold did drop below its short term moving average line on Thursday and the line did turn negative just a wee bit but on Friday gold was back just above its moving average line and the moving average turned back just a wee bit to the up side. We are in an area that any up and down move by the price of gold could change the indicators so unless we get a trend we may be in for more volatility on a daily basis. The momentum indicator remains just above its neutral line in the positive zone. It also is moving lower and is below its negative sloping trigger line. As for the daily volume action, it is somewhat questionable as to its message. Friday the daily volume was above its average volume of the past 15 days for a good sign as the day was an up day in the gold price. However, the day before the volume was a little bit higher and also above its 15 day value but that was a down day for the gold price. So, no real message that you can grab on to. All in all, as of the Friday close the short term rating is BULLISH but very iffy. The very short term moving average line is just above the short term line for confirmation of this bull BUT it is moving lower fast and could very easily cross below the short term line on another down gold day.
As for the immediate direction of least resistance, I'll go with the down side, although there may still be another day or so of upside movement. The topping process seems to have been completed with the Stochastic Oscillator in its negative zone and still in a downward drift. The very short term moving average line remains pointing downward and the trend is still towards lower levels despite Friday's advance.
SILVER
Silver remains in a short term up trending channel since late Jan. It seems to want to break to the down side but still remains in the channel. The recent move into new highs was with slightly diminished momentum but not to the point of being a concern yet. Although still out performing gold it does appear that silver is getting ready for some sort of reaction to the bull move and new commitments in this area should be carefully reviewed, as they should always be. All three time periods are still BULLISH as far as the ratings go.
PRECIOUS METAL STOCKS
It has not been a good week for precious metal stocks, as the Table below indicates. Dangerous times may be ahead for investors and speculators.
Merv's Precious Metals Indices Table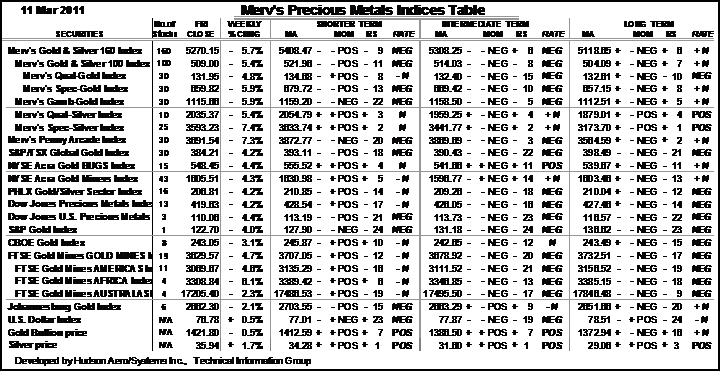 Well, that's it for this week. Comments are always welcome and should be addressed to mervburak@gmail.com.
By Merv Burak, CMT
Hudson Aero/Systems Inc.
Technical Information Group
for Merv's Precious Metals Central
For DAILY Uranium stock commentary and WEEKLY Uranium market update check out my new Technically Uranium with Merv blog at http://techuranium.blogspot.com .
During the day Merv practices his engineering profession as a Consulting Aerospace Engineer. Once the sun goes down and night descends upon the earth Merv dons his other hat as a Chartered Market Technician ( CMT ) and tries to decipher what's going on in the securities markets. As an underground surveyor in the gold mines of Canada 's Northwest Territories in his youth, Merv has a soft spot for the gold industry and has developed several Gold Indices reflecting different aspects of the industry. As a basically lazy individual Merv's driving focus is to KEEP IT SIMPLE .
To find out more about Merv's various Gold Indices and component stocks, please visit http://preciousmetalscentral.com . There you will find samples of the Indices and their component stocks plus other publications of interest to gold investors.
Before you invest, Always check your market timing with a Qualified Professional Market Technician
© 2005-2019 http://www.MarketOracle.co.uk - The Market Oracle is a FREE Daily Financial Markets Analysis & Forecasting online publication.

Only logged in users are allowed to post comments.
Register/ Log in