Major Stock Market Low Soon?
Stock-Markets
/
Stock Markets 2011
Aug 21, 2011 - 08:19 AM GMT


After last week's rebound, which carried into mid-week, world equity markets headed south on thursday and friday. While the SPX/DOW were losing 4.35%, the 10 Year US Bond hit an all time low of 1.98%, and Gold soared to $1881 on friday. Recession fears, centered around Europe this time, are driving rates lower. While monetary fears, centered around the developed countries, are fueling the rise in Gold. On the economic front reports came in mixed with an interesting theme: rising prices during a weakening economy. On the negative side: housing starts, existing home sales, building permits and the monetary base were all lower. The NY and Philly FED, plus the WLEI, are now all in contraction and negative.
Weekly jobless claims increased. On the positive side: industrial production, capacity utilization and leading indicators all increased. What also increased was import/export prices, the CPI/PPI and the M1-multiplier. No wonder public sentiment has reached levels not seen since 1980 – the worse reading in the past 55 years. For the week the SPX/DOW were -4.35% and the NDX/NAZ were -6.60%. Asian markets lost 2.3%, European markets lost 5.4%, the Commodity equity group lost 2.0%, and the DJ World index was down 3.9%. Bonds gained 0.8%, Crude lost 2.8%, Gold soared 6.1%, and the USD lost 0.8%. Next week will be highlighted by Q2 GDP, Consumer sentiment and possibly the world summit at Jackson Hole.
LONG TERM: bear market highly probable
After a 26 month bull market, from the March 2009 SPX 667 low to a May 2011 SPX 1371 high, it certainly appears that a new bear market is underway. OEW has not confirmed a new long term downtrend, but the wave structure since May suggests it is just a matter of time. How long it will last and how far it will decline depends on lots of interrelated factors. The most important one, however, is price. Bear markets are corrections to bull markets. Just like downtrends are corrections to uptrends. Some bear markets have lasted as long as five years, i.e. 1937-1942 and 1977-1982. And, others have lasted as short as four months to six months; i.e. August to December 1987 and January to July 1984. Bear markets end when most have sold out and buyers overwhelm the remaining sellers.
Probabilities, based on time cycles, suggest two potential bottoming windows. The first being Q3/Q4 of 2012, and the second Q3/Q4 of 2014. Should we get a relatively straight down bear market it could end by next year. If it gets drawn out it may require a double bottom and end in 2014. Investors/traders may want to consider getting aggressive on the first major decline and then monitor the rebound. This was somewhat the approach taken at the March 2009 market low. That, btw, was a nasty 17 month bear market.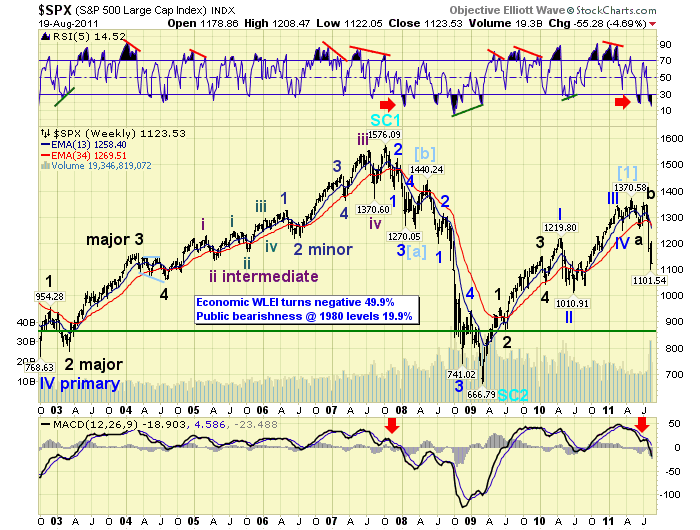 The bear market is currently in its second downtrend from the May SPX 1371 high. The first downtrend was a minor one declining 113 points or 8.2%. The following uptrend retraced nearly the entire decline: 98 points or a 86.7% retracement. The current downtrend has been quite severe: thus far 254 points or 18.7%. And, the market is currently down 19.6% from the bull market high in only three months.
Technically we had many warnings prior to this current downtrend that something was amiss. The weekly chart even signalled market weakness with the oversold RSI during the first downtrend. Bull market downtrends, historically, do not get that oversold. Now we have a similar oversold condition with the stock market a lot lower. Notice also how the MACD has turned negative. Another sign of an ongoing bear market.
MEDIUM TERM: downtrend low SPX 1102
Thus far we have been labeling this bear market with two sets of labels: 1/a, 2/b and an ongoing 3/c. The reason for this is some significant bear market declines, several waves, unfold in fives (1-2-3-4-5), i.e. 2007-2009, and others in simple abc's, i.e. 2000-2002. At the beginning of this bear market we didn't favor one potential scenario or the other. After only three months, and a mini-crash like decline, some of our long term indicators are already getting extremely oversold. This suggests the market is approaching a significant low. The last time they were this oversold, during the early stages of a bear market, was in March 2008. That low led to a two month 14.6% rally, and a retracement of more than 50% of the first significant decline. It certainly did not end the bear market, as the next ten months were quite a waterfall event. But it did provide an opportunty for those trapped in long positions they no longer desired to hold, an exit period. As a result of these longer term technical indicators we are upgrading the SPX charts to display a more typical abc decline pattern, while keeping the alternate potential five wave count on the DOW charts.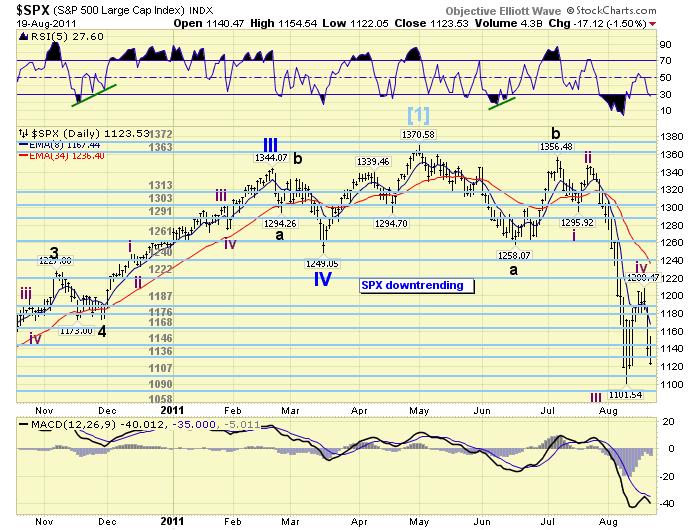 For those of you that have been following us for a few years you are aware that we counted the October 2007 high as the end of Supercycle wave 1 and the nasty bear market ending in March 2009 as the end of Supercycle wave 2. The recent bull market was five Primary waves ending Cycle wave [1] of the new Supercycle wave 3. When this bear market ends it will be labeled Cycle wave [2]. It should also end the Secular bear cycle that has been ongoing since the year 2000. This is normal activity for a Secular bear cycle. Counting this bear market as a Cycle wave suggests the first significant decline will be Primary wave A. Then there will be a Primary wave B counter trend rally. To be followed by a Primary wave C decline to possibly end the bear market next year. Therefore, if our long term technical indicators are performing as they should the current downtrend should end Primary wave A. We continue to project, monitor and adjust.
SHORT TERM
The first downtrend, labeled Major wave A, was a five wave decline from SPX 1371 to 1258. Then after an abc Major wave B rally to SPX 1356, this next downtrend is also a five wave decline. This should end Major wave C and Primary wave A of the bear market. The five waves have been labeled as Intermediate waves: wave 1 SPX 1296, wave 2 SPX 1347, wave 3 SPX 1102, wave 4 SPX 1208 and wave 5 underway. Thus far, the two downtrends and intervening uptrend have met all the typical parameters of bear markets wave action.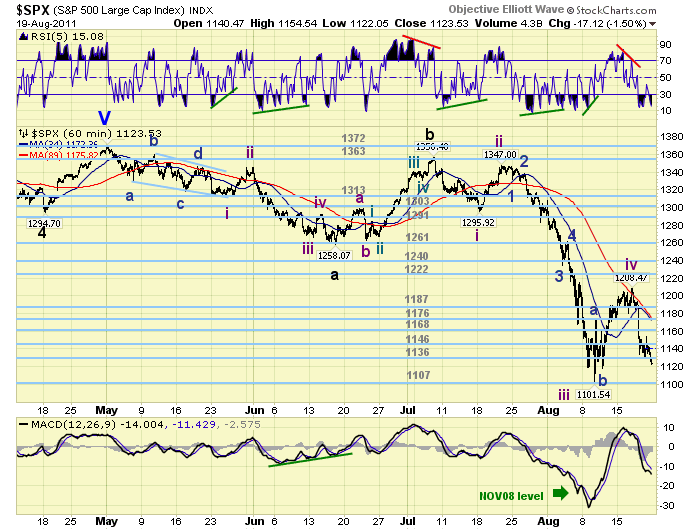 As we noted in wednesday's post: http://caldaro.wordpress.com/.... The waves in this downtrend have been displaying a unique relationship. Should this relationship continue to hold Intermediate wave v should approximately equal twice that on Int. wave i. This occurs at SPX 1088, exactly within our OEW 1090 pivot range. Should this pivot not hold, and we enter another extended period of declining prices, we would expect support at one of the following pivots: 1058, 1041, 1032, 1018 or 1007 the low of Primary wave I, (July 10). Technically the setup looks quite good for a possible positive divergence on the daily chart along with an extremely oversold MACD. We're expecting a downtrend low this month so the next several trading days should be quite important. Best to your trading!
FOREIGN MARKETS
The Asian markets were all lower on the week for a net loss of 2.3%. Three of the five are in confirmed bear markets.
The European markets were all lower on the week as well for a net loss of 5.4%. Four of the five indices we track are in confirmed bear markets.
The Commodity equity group all lost on the week for a net decline of 2.0%. Brazil is in a confirmed bear market.
The DJ World index lost 3.9% on the week.
COMMODITIES
Bonds are uptrending and continued to benefit from market turmoil (+0.8%). The much heralded "biggest bubble of them all" hit record low yields.
Crude is downtrending, but trying to hold the recent lows, lost 2.8% on the week.
Gold continued its uptrend gaining 6.1% on the week. We are seeing, however, a potential negative divergence on the daily chart after a better than $400 rise in less than two months.
The USD continues to downtrend in a sideways pattern losing 0.8% on the week. The recent price action looks quite similar to the base building pattern in the spring/summer of 2008.
NEXT WEEK
A relatively light economic calendar ahead. On tuesday New homes sales, then on wednesday Durable goods orders and FHFA housing prices. On thursday weekly Jobless claims, then on friday Q2 GDP and UofM Consumer sentiment. The FED has only one thing scheduled for the week. FED chairman Bernanke's much anticipated speech at Jackson Hole on friday. Best to your weekend and week!

CHARTS: http://stockcharts.com/...
http://caldaroew.spaces.live.com
After about 40 years of investing in the markets one learns that the markets are constantly changing, not only in price, but in what drives the markets. In the 1960s, the Nifty Fifty were the leaders of the stock market. In the 1970s, stock selection using Technical Analysis was important, as the market stayed with a trading range for the entire decade. In the 1980s, the market finally broke out of it doldrums, as the DOW broke through 1100 in 1982, and launched the greatest bull market on record.
Sharing is an important aspect of a life. Over 100 people have joined our group, from all walks of life, covering twenty three countries across the globe. It's been the most fun I have ever had in the market. Sharing uncommon knowledge, with investors. In hope of aiding them in finding their financial independence.
Copyright © 2011 Tony Caldaro - All Rights Reserved Disclaimer: The above is a matter of opinion provided for general information purposes only and is not intended as investment advice. Information and analysis above are derived from sources and utilising methods believed to be reliable, but we cannot accept responsibility for any losses you may incur as a result of this analysis. Individuals should consult with their personal financial advisors.
© 2005-2019 http://www.MarketOracle.co.uk - The Market Oracle is a FREE Daily Financial Markets Analysis & Forecasting online publication.

Only logged in users are allowed to post comments.
Register/ Log in