Compelling Case for Urgent Action in the Global Food System
Commodities
/
Agricultural Commodities
Oct 18, 2011 - 05:30 AM GMT


UK Government Office of Science report on global food situation, The Future of Food and Farming (2011):Challenges and choices for global sustainability is likely to become the benchmark for such research, and will be quoted extensively in the years ahead. Sir John Beddington, Chief Scientific Advisor to HM Government, summarizes the situation well in the preface to this 200+ page report,
"The case for urgent action in the global food system is now compelling. We are at a unique moment in history as diverse factors converge to affect the demand, production and distribution of food over the next 20 to 40 years. The needs of a growing world population will need to be satisfied as critical resources such as water, energy and land become increasingly scarce."
When the last iPhone is placed in the Smithsonian, the world will still be hungry.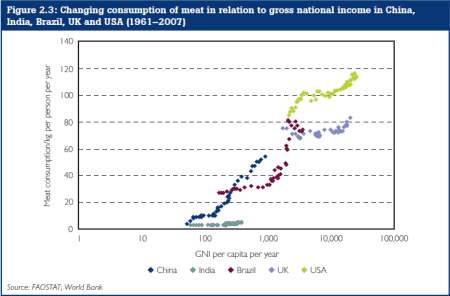 Chart above was extracted from above-mentioned report, page 52, as it so well illustrates one of the important issues of coming decade, meat. Human beings like to consume meat. As their incomes grow, horizontal axis in chart, they like to consume more meat. In that chart is plotted the per capita consumption of meat versus income for five nations over the period 1961-2007. Meat consumption is especially important as more than one pound of grain is required to produce one pound of meat. Switching from eating grains to meats actually increases the global consumption of grains. Beef is not produced in a factory.
Group of plots in upper right is for U.S. Even though already high, per capita consumption continues to rise. Plots immediately below it are for the UK. Trailing behind it are plots for Brazil, where consumption has doubled in not too many years. Next in line to left is China. That meat consumption has been a growth sector in China is unarguable, and the good part is yet to come. If China ultimately matches the average consumption of the U.S., Chinese per capita meat consumption would rise by nearly 70%. That, note, is per capita. Total consumption is per capita times population. The answer to that math problem is a lot of wealth being transferred to Iowa to pay for hogs and corn to feed hogs. The Lexus will indeed become the state bird of Iowa.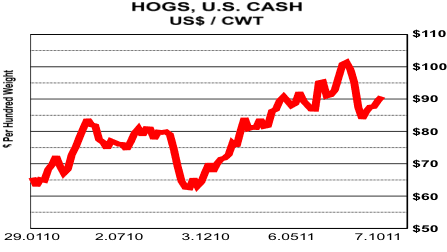 Readily agreed is that pigs don't fly. However, pork is "flying" out the doors at packing plants. Chinese demand for pork is voracious as prosperity, rather than Keynesian induced stagnation, continues in that nation. China has been importing pork to hold down the rate of increase in food prices. In January, as China celebrates a new year, an all time record is likely to be set for Chinese pork consumption. And, we suspect the ducks better start looking over their shoulders. Well, if the above chart of pork prices is correct, can the following one be also correct?
While prices for most meats, and everything else from hay to peanuts, are up, chicken prices continue to languish. Over production has been a persistent problem. However, the recent spike down in prices may suggest that the much needed liquidation of flocks has advanced significantly. The scale on the price axis of that chart is suggested by the price move that has occurred in hogs. Could chickens be the next Agri-Food shock for consumers? Perhaps yes. Little doubt that the years ahead for poultry, and all other meat, producers should be far better than that of history. Researching Agri-Equities of meat producers may indeed be a timely exercise.
In that first chart the lowest set of plots across the bottom is for per capita meat consumption in India. Few nations consume less meat per capita than India. That situation is considered a cultural factor. Perhaps, or might it have something to do with centuries of most citizens of that nation existing by subsistence farming. That situation persists today. Indian has not had the "time" to wait for grain to be converted to animal tissue. They needed to eat then and now. Nor could they afford the "waste" of grains associated with producing animals.
As the Indian economy expands, meat will be increasingly consumed by the Indians. We note that a change in meat consumption by India that is an insignificant decimal still amounts to an extremely large gross number when multiplied by 1.3 billion people. Whether or not the world can feed India may indeed become an important question.
By Ned W Schmidt CFA, CEBS
AGRI-FOOD THOUGHTS is from Ned W. Schmidt,CFA,CEBS, publisher of The Agri-Food Value View, a monthly exploration of the Agri-Food grand cycle being created by China, India, and Eco-energy. To contract Ned or to learn more, use this link: www.agrifoodvalueview.com.
Copyright © 2010 Ned W. Schmidt - All Rights Reserved
© 2005-2019 http://www.MarketOracle.co.uk - The Market Oracle is a FREE Daily Financial Markets Analysis & Forecasting online publication.

Only logged in users are allowed to post comments.
Register/ Log in