Pick-up Cheap MLP Dividend Stocks at Bargain Basement Prices
Companies
/
Dividends
Dec 16, 2007 - 12:32 PM GMT


Master Limited Partnerships (MLP) have long been my favorite income-oriented group. The stocks offer an unbeatable combination of high tax-advantaged yields, steady cash flow profiles and the potential for significant income growth over time.
Even better, I see a rare opportunity developing in this space: The recent pullback in the group looks like an outstanding opportunity to buy at bargain-basement prices and lock in some highly attractive yields. We've seen a handful of pullbacks in the MLPs over the past decade, and each has proven to be an outstanding opportunity for investors with the foresight to jump in. And this latest short-term selloff will prove to be no different.
The Alerian MLP Total Return Index tracks the performance of publicly traded MLPs and limited liability companies (LLC) traded on the US exchanges. Many are focused in some way on the energy industry, typically owning assets such as pipelines, actual mature oil and gas fields, and storage facilities. This index tracks the performance of the group, including both capital gains and distributions (the MLP equivalent of dividends) paid over time.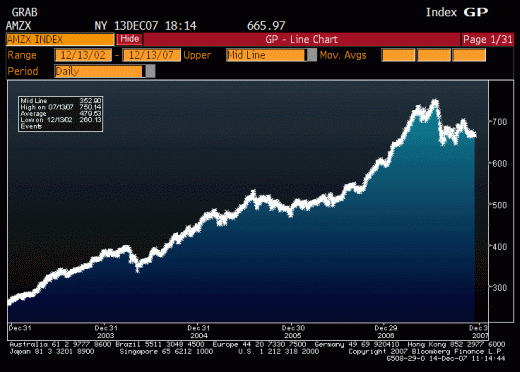 Source: Bloomberg
The chart shows that the long-term performance of the index has been solid. During the past three years, the group has returned just more than 52 percent, equivalent to a 15.1 percent annualized gain. For comparison, consider that the S&P 500 is up just 33 percent on a dividends reinvested basis over the same time period, equivalent to an annualized gain of just 10.1 percent.
On this longer-term chart, the recent dip in the Alerian Index looks next to meaningless. However, it certainly hasn't felt that way for investors lately. The index is down nearly 12 percent since its July highs, although it's still up around 10 percent from year-ago levels.
There's been two primary factors behind the decline in the Alerian Index in recent months: a full calendar of initial public offerings (IPO) and credit-related concerns.
As for the first point, a similar issue pressured the group back in late 2005. Check out the chart below.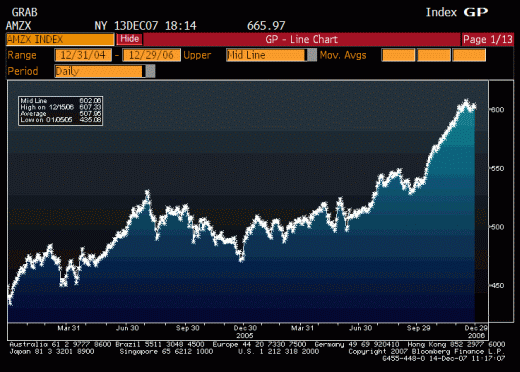 Source: Bloomberg
Back in late 2005, a number of new MLPs became public, and existing MLPs issued new units (the MLP equivalent of shares). Investors should remember that, although the MLP space has grown a great deal, it's still a relatively small, niche market. Most MLPs are lightly traded; in fact, many trade less than 200,000 shares per day.
What happened back in 2005 is that investors sold down their existing MLP holdings to participate in new IPOs. The additional supply of stock had an outsized effect because of the light volume traded in most MLPs.
The key point to note is that this was a technical/trading issue, not a factor that had any real, fundamental effect on the MLPs' ability to pay distributions or generate cash. MLPs issuing new units were doing so to finance acquisitions of cash-producing assets like pipelines. Therefore, as soon as that excess supply was absorbed in late 2005, the sector shot higher. Investors who grabbed high-quality MLPs were handsomely rewarded for buying the dip.
Today, MLP investors face a similarly hefty calendar of IPOs and new issues. Between now and the end of the first quarter of 2008, there are more than $3 billion worth of new issues coming to market and a number of secondary offerings of units by existing MLPs. This is the heaviest calendar of issuance since that late 2005 time frame. Just as additional supply pressured prices in late 2005, it's hitting the group today.
However, this selling is artificial. Investors aren't really selling down existing MLP holdings because of fundamental deterioration but because they want to own the new issues with strong prospects. I expect this headwind to gradually dissipate in the first quarter of 2008 as the new supply of MLPs is absorbed.
Perhaps the more important factor in the recent decline relates to credit woes and the plethora of so-called PIPE deals completed this year. (PIPE stands for Private Investment in Public Equity. PIPEs are a way that many partnerships raise capital quickly to fund acquisitions.) This has been a particularly strong headwinds for MLPs involved in the actually production of oil and natural gas.
In such a deal, the partnership sells additional units to so-called "qualified" investors, typically institutions. Such units aren't registered for trading on the major exchanges, and there's no ready public market for these shares.
But in a typical PIPE deal, the partnership will agree to register these privately issued units at some time in the future, allowing those units to be traded on the exchange just like any other unit. PIPE deals aren't dilutive to current unitholders as long as the capital is used to purchase new assets that generate cash.
However, the result of all these PIPE deals is that ownership of many smaller, fast-growing MLPs has become concentrated in the hands of only a few institutional investors. Closed-end MLP funds and hedge funds are just two examples. The fear here is twofold.
First, because these hedge funds were hit by the recent credit crunch, they may become less willing to buy into future PIPE deals. Alternatively, they may demand a larger discount to buy into such deals. These factors would hamper the partnerships' access to capital and could ultimately impact their capacity to continue growing.
And second, many such institutional investors need to raise cash. As a result, they may choose to dump their holdings and take their money off the table. This would pressure the partnerships' stocks for obvious reasons: Added selling pressure in relatively thinly traded securities spells falling stocks.
These concerns are real but vastly exaggerated. First, partnerships have continued to close PIPE deals in the past few months. Although the cost of such deals has risen, it's still a cheap source of capital. And several partnerships have managed to negotiate expanded lines of credit and other debt facilities to fund future growth. And given the strong cash flow profile of most partnerships, these firms still have access to debt capital.
Moreover, some publicly traded partnerships (PTP), such as Linn Energy (NSDQ: LINE), with the greatest overhang of PIPE shares, are now trading with yields in the 10-to-11-percent range. And these distributions are sustainable.
In fact, these stocks are down significantly even though, in many cases, they're actually planning big boosts to their distribution payouts in the coming year. These stocks have been falling in anticipation of share overhang from institutional investors. To a large extent, they're already pricing in the risk of that share overhang pressure.
The golden rule of investing in PTPs: Buy PTPs with sustainable, rising cash distributions. Partnerships that can continuously boost the amount they pay us quarter after quarter consistently outperform.
In the most recent issue of The Partnership , we took a closer look at all the stocks in the Alerian MLP Index that have been public for at least three years; a total of 25 partnerships fit the bill.
The average PTP boosted distributions by 11.6 percent annually over the trailing three years. That's equivalent to a near 40 percent jump in total cash paid out to unitholders over just three years. Also note that the average MLP in this universe managed a total average annualized gain of around 15 percent, or 50 percent over the entire three-year period.
Although that average is far from a shabby return, investors could have done far better. We also ranked the Alerian MLP Index members by average annualized distribution growth. Note that the top five distribution growers boosted their payouts by nearly 25 percent annualized, more than twice the average rate.

Source: The Partnership , Bloomberg
That strong distribution growth filtered through into superior performance. These five returned an average annualized gain of 20.2 percent. During a three-year period, that means that investors made close to 75 percent on their cash.
And PTPs that ranked poorly in terms of total distribution growth vastly underperformed the average. The bottom five PTPs managed to boost payouts by just more than 2 percent annualized and returned less than 9 percent. That's a dramatic variation in performance.
Although the partnerships may be pressured by the aforementioned factors short-term, the long-term prospects for those with the scope to maintain and steadily boost distributions is strong.
I'm co-editor of The Partnership , which focuses solely on PTPs, including MLPs, LLCs and a host of other similar securities. In this newsletter, we're recommending a twofold approach to playing the pullback in these high-income stocks.
To pick the best-placed partnerships, you can't just look for PTPs offering the highest percentage yields. Sometimes PTPs with ultra-high yields may be vulnerable to distribution cuts. Others may simply have limited scope to boost their payouts in the coming years.
First, we focus on PTPs that are amply covering their current cash distributions. That means that their distributable cash flow is equal to or higher than their current payout. PTPs that don't cover their payouts will eventually be vulnerable to a cut in distributions.
Second, we look for PTPs with the scope to grow distributions in the coming years, either via acquisitions or through the completion of new projects.
There's a big difference between long-term outperformance and short-term market noise. Specifically, the market occasionally punishes PTPs that fit our favored distribution growth characteristics. That can be painful, but you shouldn't fear the volatility. Such downdrafts offer investors the chance to buy more at an attractive price and yield
By Elliott H. Gue
The Energy Letter
© 2007 Elliott H. Gue
Elliott H. Gue is editor of The Energy Letter , a bi-weekly e-letter as well as editor of The Energy Strategist , a premium bi-weekly newsletter on the energy markets. Mr. Gue is also associate editor for Personal Finance , where he contributes his knowledge of the energy markets.
Mr. Gue has a Master's of Finance degree from the University of London and a Bachelor of Science degree in Economics and Management from the University of London , graduating in the top 3 percent of his class. Mr. Gue was the first American student to ever complete a full degree at that university.
© 2005-2019 http://www.MarketOracle.co.uk - The Market Oracle is a FREE Daily Financial Markets Analysis & Forecasting online publication.
Comments
Jack Griffin
03 May 08, 11:44
Mlp stocks.


Do you buy MLP stocks like you buy stocks that aren't MLP

stocks or is there a special way you have to go about this?




Only logged in users are allowed to post comments.
Register/ Log in