Democracy Isn't Dead Yet, Just the Euro as Greece Debt Crisis Epicentre Shifting to Italy
Politics
/
Global Debt Crisis
Nov 07, 2011 - 03:21 AM GMT

"Canned laughter" is frequently used on TV shows to create the illusion of soothing, comedic value in the minds of the show's viewers. Anyone who has watched a show with "canned laughter" is familiar with the logic. One of the characters says something or another that isn't very interesting or funny, the laugh-track comes on and then we find ourselves forcing a smile or snicker as an almost "unconscious" reaction. Almost, but not quite, because many times we are still forced to face our participation in this contrived reality after the fact.


The ongoing shows in the realm of the political economy are no different. They use their own versions of "canned laughter" to legitimatize a situation which is otherwise plainly illegitimate to those of us strapped into our seats, forced to watch along in agony. A great example of these political laugh-tracks is the "vote of no confidence" that is held in Parliamentary countries, where the appointed governments almost always survive in one piece by maintaining "party discipline" or slightly modifying policies to corral dissenters in.
However, attempts to impose an artificial feeling of political satisfaction for the people and political legitimacy for the government cannot and will not be successful forever, under any and all circumstances, and that fact couldn't be any truer than it is now.  It is evident from the "no confidence vote" that has just occurred in Greece, where Prime Minister George Papandreou was truly on the chopping block this time, and the one that will soon occur in Italy, where Prime Minister Silvio Berlusconi will be as well.
With regards to the former, G-Pap managed to survive with a slight majority of 153 votes (2 votes more than necessary), and is now claiming to be in talks with other parties about forming a "national unity government", which he almost assuredly will not be the leader of. At first blush, one could be forgiven for seeing the developments of last week in Greece, culminating in this vote of confidence for a future government coalition, as marking an unmistakable death blow to "democracy" in the developed world.
G-Pap dangled the prospect of a truly democratic process in front of the Greek people
as a ploy
, to scare the opposition parties into throwing their support behind the oppressive EU deal of October 26 and joining a coalition government, after which both the referendum and the protection offered by "opposition" parties would be callously stripped away from the people. Indeed, a better example of blatantly anti-democratic tactics within a  democracy cannot be found short of fiscal "supercommittees" and military coups.
G-Pap's government has now managed to stay in power (albeit in a different form), gain stronger commitments from opposition parties to the EU bailout/austerity deal and postpone new elections until after the deal passes and €8 billion from the IMF is disbursed to avoid "default". Merkel and Sarkozy will now sleep better knowing that the Greek people will be forced to play their part as victims in an epic criminal extortion scheme, without any inconvenient democratic processes, such as a referendum, interfering along the way. Or will they?
Sometimes, when we get bogged down in the superficial details, we miss the bigger perspective that is evolving. G-Pap did win his confidence motion, but only by a slight majority of two votes, and it cost him his job. More importantly, it is not clear what kind of credible "coalition" government can be formed or whether it can really quell political dissent against the austerity deal. Now comes the part where ruling politicians must actually convince the various political factions that G-Pap's words to them in Parliament about "national unity" and "personal sacrifice" are more than just words. Deutsche Welle Reports:
Papandreou Wins Confidence Vote But Looks Set to Step Down


" It is a first in the constitutional history of Greece; parliament expressing its confidence in the prime minister so that he can soon resign.

… If the conservatives continue with their refusal to take part in any government of national unity, it would leave the Socialists with no choice but to form a shrunken coalition with the populist right and the economically liberal "Democratic Alliance" of former Foreign Minister Dora Bakoyannis – seen as a rather pointless exercise.

The leftist opposition signaled that it was particularly upset about the vote. "They want us to express our support for a government that is not even there anymore," said leader of the moderate Left Alliance Alexis Tsipras – with many commentators agreeing that there's an element of truth in Tsipras' assessment of the situation. "

CNN adds some more "clarity" to the ruling politicians' ambitious political plans for Greece (but against the people of Greece), and the ongoing negotiations with New Democracy opposition leader Samaras, who has so far refused to play his part in this Greek tragicomedy by demanding both G-pap's resignation and snap elections for a new government within six weeks. Now it seems G-Pap has agreed to resign if a coalition government is formed, but Samaras refuses to be a part of any coalition until the resignation is put in writing, notarized and delivered to his doorstep, and only then will he be willing to discuss additional terms (i.e. when to hold elections).


Greek PM Expected to Resign After Coalition Government Formed


"Sunday's Cabinet meeting will be the last with Papandreou as prime minister, the spokesman said, according to media reports. The meeting will focus on issues relating to Monday's Euro group meeting, at which Finance Minister Evangelos Venizelos will represent Greece, the reports quoted the spokesman as saying.

Venizelos is likely to remain in his post as finance minister in a new government, sources told Greek television. Candidates for the prime minister's job include Petros Moliviatis and Loukas Papaimos, according to Greek television. The new government will have a life of four months, according to Greek television, citing sources, and elections will be held in early spring.

...Speaking briefly to reporters after the meeting, Samaras said that once Papandreou resigns, everything will "take its course" and "everything else is negotiable."

...But many questions remain unanswered. The main opposition party has showed little willingness to join the unity government, with Samaras making it clear he did not want to be part of a coalition. In forming the new government, the PASOK party will likely seek the support of smaller parties. Samaras has called for a transitional government for six weeks, followed by elections."

The only clear result we can expect from all of this political haggling is that the Greek people will not take kindly to such a blatant betrayal of what little trust they had left to offer to their government. So underneath the surface of G-Pap's despicably cruel, yet "successful" ploy against the representative interests of the Greek people, we see that there lays a sociopolitical situation that is as volatile and uncertain as it ever was. The Greek people, the opposition leaders and, really, the rest of the world were presented with the PASOK government's "canned laughter" routine, and very few of us felt the need to smile or laugh along.

In a decades-long era where democracy has been severely lacking and dysfunctional at best, and entirely non-existent at worst, it seems that what has happened in Greece over the last week was net beneficial for the concept of representative democracy within a nation-state. The ruthless political brinkmanship of the Greek Prime Minister was laid bare on the table in full view for the world to see, and, more importantly, for the Greek and German people and their few remaining "representatives" to digest. It has left both him and his anti-democratic government with not even a pinch of credibility. Bloomberg reports:


Papandreou Seeks Unity Government


"The Communist Party of Greece, the third-largest party with 21 seats, and Syriza, which has nine, [in addition to Samaras' New Democracy Party], rejected the overture from Papandreou, and called for elections. "I won't bow to blackmail," Communist Party leader Aleka Papariga said.

The government will need the backing of 180 lawmakers to secure approval for Greece's second aid package that was negotiated in Brussels last month. Disbursement of funds was halted after Papandreou's call for a referendum was opposed by German Chancellor Angela Merkel and French President Nicolas Sarkozy.

"In the eyes of Angela Merkel and Nicolas Sarkozy he doesn't have much credibility left," Jacob Kirkegaard, research fellow at the Peterson Institute for International Economics, said in a Bloomberg TV interview. "Greece needs to have a new face to the rest of the world."

We must also remember that, while the democratic ideal may have began in Greece, it now encompasses much of the world and especially the West, so it cannot be expunged from our collective consciousness quite so easily. It has taken many, many hits over the years, nearly becoming a heap of garbage in the dumpster of history in 2008-09, but it refuses to go gently into that good night. It's resolve will next be tested in another critical (and much larger) member state of the Eurozone, Italy, and this time the odds that it comes out of the battle on top are that much better.

It has become quite clear that Berlusconi will not survive as the leader of Italy much longer, as many of his party members are refusing to support him. The financial "contagion" from Greece has rapidly enveloped one of the largest economies in Europe, as Italy's sovereign bond yields have consistently hit record highs, and its ruling government simply does not know how to respond.

Brussels wants it to effectively relinquish full fiscal sovereignty in a gambit to calm markets, but that is appropriately an untenable outcome for Italy, and Berlusconi is hoping the EU/ECB will offer to perpetually buy its debt until some political consensus is reached, which is justifiably untenable for the rest of Europe.

The prospect for that political consensus is also drifting further and further out into the Mediterranean, as all of Europe "re-enters" a severe recession and credit markets weaken further. Given the way things have played out in Greece, anyone with the least bit of common sense knows that systematic austerity will not improve Italy's rate of economic growth or debt-to-GDP levels, but only make them worse, and therefore further destroy its ability to remain solvent.

Der Spiegel reports on how Italian politics is rapidly transforming to reflect the dire state of Italian finances.


Italy Becomes Next Euro Battleground


"It was a telling tidbit of news. This week, the French bank BNP Paribas announced that it had slashed its holdings of euro-zone government bonds, including €2.62 billion worth of Greek debt.

But it wasn't just bonds from Athens that the bank dumped. BNP Paribas also indicated that it had drastically reduced its holdings of Italian debt. In the three months prior to the end of October, the bank sold off €8.3 billion worth of bonds issued by Rome, reducing its exposure by 40 percent.

…Yet even as the turmoil in Athens dominated headlines this week, there were increasingly distressing indications that Rome may also be in trouble. For one, Italian borrowing costs soared earlier this week, with interest rates on sovereign bonds rising to 6.4 percent, perilously close to the mark which triggered emergency Italian bond purchases by the European Central Bank in August. Analysts consider a rate of 7 percent to be the level at which investors stop buying sovereign bonds.

Equally concerning are indications that the Berlusconi government may be close to collapsing. Several former Berlusconi loyalists published an open letter in the Italian daily Corriere della Sera on Thursday calling for a change at the top. One of the parliamentarians indicated that a rebellion could be mounted as early as next week, during a budgetary vote on Tuesday.

Reuters reported on Thursday that Berlusconi told European leaders in Cannes that he would call a confidence vote within two weeks. The Italian prime minister has survived 53 votes of confidence since 2008, the last of which took place on Oct. 14."
Before any of the dust has even settled on the political machinations out of Greece, we can expect a whole new level of political turmoil in Italy, where Berlusconi cannot put together a "credible" austerity package and is losing the confidence of EU institutions, the Italian people, the opposition parties and much of his own party at a faster pace each and every day. And, once again, there is no separating the devolving European politics from the deteriorating European finances anymore, as is clearly illustrated by Italian Finance Minister Tremonti's following statement to Berlusconi (translation from Italian news).
Tremonti to Silvio: Go Away or Monday Market is Bloodbath


Tremonti: "I am saying that on Monday there will be a disaster on the markets if you, Silvio, stay at your post and do not go. Because the problem for Europe and the markets, correct or not as it may be, is in fact you."

In the evening, the Treasury has denied that Tremonti has said this sentence.

However, the chronicler of Linkiesta, along with a colleague from a major newspaper Anglo-Saxon, have personally heard the minister's statement that was later confirmed by government sources."
So, despite the government's best post-hoc denial, it appears that Berlusconi's own finance minister has singled him out as not only being a political thorn in Europe's side, but also a man capable of producing complete financial chaos on the Continent and around the world come market open on Monday. Now if that's not something to laugh about, then I don't know what is. A man whose biggest problem a few short months ago was a plethora of sex scandals is now being accused of potentially collapsing the entire EMU by his mere presence in Rome, and by his own man!
Even the Financial Times has stepped up to voice its opinion that Berlusconi has to go, in their lead editorial published on Saturday.
In God's Name, Go!


"In a Group of 20 summit that fell well short of what was needed, the world's most powerful leaders were powerless in the face of the manoeuvres by two European premiers: George Papandreou and Silvio Berlusconi.

The similarities between the two prime ministers are striking: both men rely on a thin and shrinking parliamentary majority and they are both squabbling with their own ministers of finance. Most importantly, they both have a dangerous tendency to renege on their promises at a time when markets worry about their countries' public finances.

There is, however, one important difference: having reached €1,900bn, Italy's public debt is so high that its potential to destabilise the world economy is way above that of Athens.

...After two decades of ineffective showmanship, the only words to say to Mr Berlusconi echo those once used by Oliver Cromwell.

In the name of God, Italy and Europe, go!"
The mainstream media critics and those within Berlusconi's party, of course, believe he has to go because he is too weak to "handle" the political opposition and therefore unable to push through the savage austerity measures that the "Troika" (European Commission, ECB and IMF) requires of him. They are
dead wrong
. The truth is that there is no one on Earth "strong" enough to push such devastating and exploitative measures through, and Berlusconi is just a caricature of what happens when you make the foolish decision (or have the bad luck) to be "that guy". Eventually, that guy is always swept away by the financial torrents that flow beneath.
Men like Berlusconi have only survived this long because institutions like the ECB have been willing to subsidize private and public finances through monetary policy, and namely asset purchases. That particular dose of canned laughter, however, is itself being exposed for what it truly is after a few years of diminishing returns and sociopolitical outrage. That's why ECB governing council member, Yves Mersch, told an Italian newspaper that his institution will not continue to defend the line in the sand for Italian bond yields and spreads indefinitely (a line dangerously close to being crossed after last week's action). Reuters:
ECB Debates Ending Italy Bond Buys if Reforms Don't Come


"Asked if this meant the ECB would stop buying Italy's bonds if it did not adopt reforms it has promised to the European Union, Mersch, who heads Luxembourg's central bank, replied:

"If the ECB board reaches the conclusion that the conditions that led it to take a decision no longer exist,it is free to change that decision at any moment. We discuss this all the time."

Since the ECB resumed its bond buying programme (SMP) around three months ago it has purchased some 100 billion euros of government bonds, a majority of which are thought to be Italian BTPs. Mersch said the ECB did not want to become a lender of last resort to help the euro zone solve its debt crisis and said it was concerned that its job could be made more difficult by governments that "don't meet their responsibilities."
Once again, neither Berlusconi nor anyone else can ever meet the "responsibilities" asked of them by the other Euro-crats. Some are foolishly more willing than others, but all fall short. Berlusconi "has to go" for the simple reason that he, like his obsolete colleague in Athens, refuses to represent the Italian people in any meaningful way or give them a voice to be heard throughout Europe, as representatives of their own best interest. It is because he has held 53 "canned" motions of no confidence in the last three years and each one of them was a bigger joke than the last.
And it gets even funnier. It is clear that the ruling politicians in both Greece and Italy are both scrambling to provide some "resolution" to their chaotic political atmosphere before Mr. Market opens on Monday, and that tells us almost all we really need to know. Every weekend has become a chance to smooth out the increasingly unprecedented volatility of the week that preceded it. To stifle the democratic processes of the economy, if you will. To prevent investors from voting with their accounts, and to prevent that from feeding back into actual political change.
Every weekend this happens, and every weekend the people who have to actually live in this world find the whole process less and less funny. All of these people aren't taking to streets to protest individual leaders, either. Many of them are protesting the entire Hollywood show, with all of the rigging and cheating and stealing and killing that goes with it. Some of us still wait in anticipation for the twists and turns, yes, but perhaps that is because we realize there is no longer only one way it could all play out. Bloomberg reports:
Thousands Rally in Rome, Pressing Italy's Berlusconi to Resign Amid Crisis


"Tens of thousands of Italians gathered in Rome to call on Prime Minister Silvio Berlusconi to resign, as defections eroded his parliamentary majority at a time when the country's borrowing costs are at a euro-era high.

Hundreds of buses and 14 special trains brought thousands of supporters of the opposition Democratic Party to the rally in front of the Basilica of St. John Lateran to hear calls for the premier to go. Demonstrators shouted "Shame"" and "Get Out" in the square that's home to the first church built in Rome.

The premier, who generally spends his weekends at his home in Milan, remained in Rome in consultation with his top advisers after several lawmakers said they planned to abandon his People of Liberty party, threatening to leave him without a majority in Parliament before a key vote. Calls will increase for Berlusconi to resign if he loses the ballot to rubberstamp the 2010 budget report, likely to be held on Nov. 8."

Rest assured: the next vote of no confidence, rumored to be held within 2 weeks (if the government even makes it that far), will not produce the automated response desired by Berlusconi. It may not produce the response desired by the rest of his party either, or the EU/ECB/IMF, or even the opposition parties. That's the point, right? Democracy isn't about getting exactly what you want or promoting economic growth or establishing "solidarity" in Europe. It is about one thing and one thing only, and that is giving a voice to the people so their opinions on these policy matters can be incorporated into action.

Whether those policies are trivial or absolutely critical to European stability is irrelevant at this time, like it or not. For now, it is clear that the European people are increasingly opposed to the tired old measures of the last two years, where people are squeezed from their jobs, benefits and homes just to keep the zombie banks alive for one more day, while economies across the world crumble. Some may ask whether the Greeks, for example, even know what they are protesting against, and what will happen as a consequence. UBS' Stephen Duo would probably answer "not really", as The Guardian relays.


How Grim Would Bankruptcy be For Greece?


"There is no script to follow when a country goes bust, but as Greece stares into the abyss that would open up if it left the euro, the gravity of the situation has prompted UBS's Stephane Deo to quote Keynes: "Lenin was certainly right. There is no subtler, no surer means of overturning the existing basis of society than to debauch the currency."

Deo added: "If a country has gone to the extreme of reversing the introduction of the euro, it is at least plausible that centrifugal forces will seek to break the country apart... monetary union break-ups are nearly always accompanied by extremes of civil disorder or civil war."

...Financial markets have already priced Greek government debt as worth less than 50c for each euro. But it's not the same for companies and individuals. If a Greek shipping company's debts are denominated in euros, the debts don't disappear, they just become dramatically more expensive to service.

NIESR can envisage that a Greek default would see the banks shut for weeks, even months. During a default, lending comes to a halt and corporate life seizes up. Unemployment and poverty soar; in Argentina's case, the jobless rate came close to 25%. By 2003, the numbers in "extreme poverty" reached 26% of the population, with more than 50% deemed below the poverty line.

One long-lasting impact of Argentina's bankruptcy has been the rise of worker co-operatives: they took over failed businesses and remain a feature of the country's economy. Local assemblies, which helped distribute food and organise health care, also sprang into being.

The flight of capital that precedes a default can also swiftly reverse. Once assets in Argentina became 80% cheaper than before the default, foreign buyers returned in force. Ireland, even though it has not defaulted, is seeing something akin to that today. Argentina has bounced back from the horrors of December 2001 faster than anyone predicted."

Although Deo (or The Guardian) isn't exactly the most unbiased observer in this whole discussion, he is correct to point out that Greece's economy and society will be dramatically effected by the aftermath of a default and devaluation. Business will not go back to usual anytime soon, and the "existing basis of society" will be overturned.

The same is true for Italy, although Italians may have a much easier time of it given the size of their economy and export sector. It is certainly difficult to predict the exact developments that will unfold for the residents of these countries, and what dynamic will come to exist within its borders and between its international neighbors/partners. No one can ignore the fact, though, that whatever happens will be very painful.

Why, then, do the Greek and Italian people still show up in the streets just about every day to express their disdain for the current path of never-ending bailouts and austerity? It's not a simple question, but here's a simple answer - they believe only chaos is certain from this path.

They look around and see that "austerity" is not reducing their country's debt burden, increasing its economic growth or promoting stability and peace among its people. For Greece, the bailout money goes in one public bank account, and out the privatized other, and for Italy, there isn't even any bailout money. In fact, there never will be, and everyone knows it.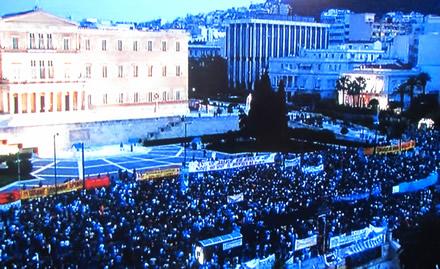 We can repeatedly tell those people above, from a distance, how little they know about economic and financial history, or the extreme outcomes that have resulted from monetary hyperinflation, but I suspect we wouldn't really be telling them anything they didn't already know in the recesses of their minds.
It takes courage to understand the inevitable socioeconomic pain that will result from any and all political outcomes, but still assemble with others, stand out there in the cold and express yourself. We should not doubt for a second that these people are informed and are simply doing what they believe is best, materially or spiritually, for themselves, their families, their communities and their country.
It is also clear that some level of transmission from these people to their representatives in Parliament, however slight, still exists. By and large it has been through interviews, protests, riots and strikes that the peoples' voices have been heard, but the possibility of meaningful elections still looms around every dark corner in Europe.
Down every dark alley, there is a Parliamentarian that simply won't play along anymore, for whatever reason, and is eagerly awaiting his/her moment to strike. So, despite the best efforts of the Troika, its cronies and their pursuit of a pan-European nightmare, democracy in the developed world isn't dead yet. 
"Democracy... is a charming form of government, full of variety and disorder; and dispensing a sort of equality to equals and unequals alike."
-Plato

Ashvin Pandurangi, third year law student at George Mason University
Website: http://theautomaticearth.blogspot.com (provides unique analysis of economics, finance, politics and social dynamics in the context of Complexity Theory)
© 2011 Copyright Ashvin Pandurangi to - All Rights Reserved Disclaimer: The above is a matter of opinion provided for general information purposes only and is not intended as investment advice. Information and analysis above are derived from sources and utilising methods believed to be reliable, but we cannot accept responsibility for any losses you may incur as a result of this analysis. Individuals should consult with their personal financial advisors.
© 2005-2019 http://www.MarketOracle.co.uk - The Market Oracle is a FREE Daily Financial Markets Analysis & Forecasting online publication.

Only logged in users are allowed to post comments.
Register/ Log in