Gold 2008 - Increasing Appeal as Inflation Hedge
Commodities
/
Gold & Silver
Dec 27, 2007 - 10:44 AM GMT

Gold continues to do best what gold does…keep people in suspense.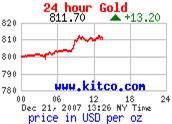 Up and down and even sideways it seems so goes the price. But it is really not the price that is important. It is the message it portrays that is the most important. Gold is a pillar in financial society. I thought I would include a graph the last trading day before Christmas. I am bringing it to attention because so many disappointingly try to predict the direction of the gold price.
It was expected by some that gold would trade lower going into the holidays and instead it spikes up. As I said it is not the price that is so important, but what gold represents that is essential. Has anyone noticed the new headlights passing in the street at dark? LED technology as I understand. They never burn out or some such miracle.
"…the advantage of LEDs is as clear as night and day. The average life span of LEDs is approximately 15 years without any reduction in the light beam's intensity or color. They are also very reliable, maintenance free, and the light response time is very quick, taking just 0.1 of second to reach full intensity. Their best feature, however, is the ultra-low power usage, which in turn leads to less fuel consumption and carbon-dioxide emissions." Mototorauthority.com
I'm impressed. It gets harder and harder for the older generation to keep up with this new technology. The data below should remind all the true story which is the continual fall of the US dollar.
"Gold gains as dollar remains weak…12-21-2007" "Gold rose above 810 USD as profit taking continued to weigh on the dollar, increasing the appeal of the precious metal as an alternative asset to the US currency." "…gold, increasing its appeal as an inflation hedge…" "At 3.11 pm, spot gold was trading up at 811.10 usd per ounce against 798.80 usd in late New York trades yesterday." "Longer term, however, most participants believe gold, which rose to a 28-year high of 845.40 usd in November, is set to scale new peaks as early as the first quarter of next year." "…the outlook for gold remains strong, especially as mine supply is still falling while safe haven buying is expected to pick up next year as tightening credit conditions the world [over] start to impact economic growth." forbes.com.
How best can we describe gold investors today? I think a quote from the Bible best describes their fickleness and lack of understanding.
"To what can I compare this generation? They are like children sitting in the marketplaces and calling out to others" 'We played the flute for you, and you did not dance; we sang a dirge and you did not mourn."
Everyone wants gold to rise to their occasion and gold instead fluctuates and remains volatile. Anyway, get the picture? I lived when gold was falling to the low 250s. I lived when gold was predicted to fall eventually to 50 dollars an ounce. To me what it has achieved and where it is today remains very impressive. And 800 dollars an ounce is a figure much to be respected and appreciated.
"Fasten your seatbelts, experts warn" "They're forecasting a bumpy ride for investors in 2008" USA Today, 12-17-2007
The following below is an email from a reader lamenting the passing of the percolator.
"Hi David, I read your work and sympathize with you on the sad state of events. Thought I'd send you this card in memoriam of the dead coffee maker. Cuppa by Maldroah (allpoetry.com)."
"There, on the ancient sideboard, the percolator lurks
and rumbles, grumbles, mumbles, burps, to prove that it still works.
And then a rude Vesuvius (preceded by a snore)
proclaims that Dame Ambrosia waits, her dark delights in store."
"Let's fill the cup and raise a toast to all our friends today.
Be your boots of elfin leather and your cap of faerie wool.
Be your coffee bitter never and your cup forever full."
But while the ancient percolator has become a historical footnote our bureaucracy marches on at an exciting pace.
"One day you'll realize that the only thing that keeps any state running is the number of bureaucrats who are prepared to eat &#@! to keep it going. That is the measure of commitment. And the fact that they are never mentioned by historians is the measure of their success." Simon Scarrow, Under The Eagle.
I read the above statement and thought of our present government and bureaucracy and how much we take it for granted. Politicians come and go but an entrenched bureaucracy running the wheels and gears keeps our fragile civilization running. Of course it is eventually this same bureaucracy that eventually becomes so enlarged that it destroys what it previously ran.
Still, this system provides the grease that maintains roads, cities and all that makes life endurable. We have order for a time. And it is that order we seek every day as we go about the repetition of our daily lives.
Well, in preparation for Christmas soon among us it is raining and the temperature hangs in the low 40s here in the Deep South . In Montréal this morning the snow is so thick that it is burying cars making them difficult to find. The weather in the south and the north truly are different. Can't even imagine what Santa must be enduring in the extreme temperatures of the North Pole.
I would like to say that gold was taking a well deserved break right before the holidays, but not with that last spike Friday afternoon. Personally, I believe gold to be preparing for 2008. And I think 2008 will be a doozy. The subprime mess is expected to really explode big time next year. And getting back to the subprime mess?
"We are led to believe that the sub-prime [SP] mortgage market is "worth" about USD 1.3 billion. But that figure is misleading: it is only the tip of the iceberg. Here is how such mortgages have been chopped and diced:"
1. The SP mortgages have been combined into Mortgage Backed Securities [MBSs];
2. These MBSs, in turn, have been packaged into Collateralized Debt Obligations [CDOs];
3. These CDOs have then been divided into tranches, whereby 80% are rated "AAA" and so on, with 4% being parked in the "BBB" lot;
4. These "BBB" CDOs have been re-packaged into CDOs to the power of 2 [CDO2s] instruments;
5. These CDO2s, in turn, have been carved into various tranches: 75% of them are designated as being of "AAA" quality, and 4% have been rated as "BBB".
"If you are not yet confused, re-read the above alphabet spaghetti and get confused!" "All that this means is that nobody can measure just how deep this dormant volcano is." "…we do maintain that America will fall strongly…" Seekingalpha.com
And another very real reason why gold is growing as an international capstone among the nations? Tom Holland - "The reader must first be conversant with a bit of political science theory. Shortly after the end of the Cold War, a Harvard political scientist by the name of Samuel Huntington predicted a coming "clash of civilizations." The fault lines of future conflict, he declared, would not be economic in nature but cultural. The line between Western Civilization and Islam would prove in particular a contentious one. While his theory initially met plenty of naysayers, after 9/11/2001 some found it prophetic in retrospect." "Before the twentieth century, the East-West dichotomy had been construed as a clash between Christianity and Islam, culminating in the medieval crusades and the fall of Constantinople . The present now embraces the past, as East vs. West is once again a contest between citizens of Christian (and post-Christian) cultures, and those of the Dar-Islam." "All of my personal forays into history since have led me to the conclusion that somewhere just beyond the Western coast of modern Turkey is a flash point between civilizations. It has simmered frequently for 2500 years and shows no sign of abating." UNRV.COM Let's go back to the subprime mess and this single circumstance all by itself seems to have the capability to draw us down. Christmas is upon us and for a few short days the financial world is numb. But the problems are still there just waiting to be addressed again. There is fire in the wind and it is blowing our way. " The tentacles of the subprime mortgage mess in America are reaching from the once-red hot real estate markets to the cold canyons on Wall Street." Forbes.com
And who is this subprime mess affecting?
" America 's riskiest mortgages are crumbling. How far will the damage spread?" "…the 24-year old web designer from Sacramento bought seven houses in five months. He lied about his income on "no document" loans and was not asked for anything so old-fashioned as a deposit. Today Mr Serin has debts of $2.2m. Three of his houses have been repossessed; others could share that fate." "It also matters to investment banks, which packaged the securities and often own subsidiaries that originate mortgages. It may determine whether America 's economy falls into recession. It could even affect the outcome of next year's elections." "The worst effects may not be felt until the mortgage payments of many borrowers with no equity in their homes rise sharply." "Is this a mere irritant in America 's vast economy, or the start of something much worse?" "…the subprime squeeze marks the start of a broader credit crunch that could drag the economy into recession." Economist.com
But who needs gold as insurance as this scandal grows, huh?
"The troubled U.S. subprime lending sector has sent a shudder through Wall Street and may further cloud an already souring outlook for corporate earnings this year." reuters.com
It's not too late to invest in gold related equities to take advantage of their wealth preserving attributes. We are living in the last days of cheap resources and commodities. Recognizing these facts Gold Letter, Inc. reviews undervalued gold and other resource stocks under valued and poised to rise in this time of increased demand for resources. Gold will only continue to escalate in value.
Click here to review Gold Letter
Email me if you have the time.
By David Vaughn
Gold Letter, Inc.
David4054@charter.net
© Copyright 2007, Gold Letter Inc.
"The Worldwatch Institute, an organization that focuses on environmental, social and economic trends, says the current rate of global demand for resources is unsustainable."
The publisher and its affiliates, officers, directors and owner may actively trade in investments discussed in this newsletter. They may have positions in the securities recommended and may increase or decrease such positions without notice. The publisher is not a registered investment advisor. Subscribers should not view this publication as offering personalized legal, tax, accounting or investment-related advice. The news and editorial viewpoints, and other information on the investments discussed herein are obtained from sources deemed reliable, but their accuracy is not guaranteed. © Copyright 2007, Gold Letter Inc.
© 2005-2019 http://www.MarketOracle.co.uk - The Market Oracle is a FREE Daily Financial Markets Analysis & Forecasting online publication.

Only logged in users are allowed to post comments.
Register/ Log in