Smokescreen Europe : Germany-Versus-Britain Or Something Much Worse?
Politics
/
Eurozone Debt Crisis
Dec 10, 2011 - 02:47 PM GMT


The Germany-versus-Britain theme does not hold up and is perhaps not meant to stand any scrutiny. Editorial hand wringing and head scratching on "how to sell the story" face a really basic problem: there is no story. Nothing has changed with Europe's debt, Germany's economic decline, Britain's even faster economic decline, European decline facing the global economy, the deficit of democracy, decisional inertia on all major themes outside debt and deficits - and a long, dangerous list of others.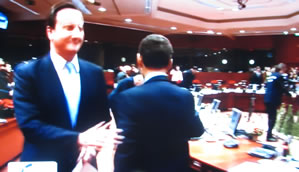 As a sure proof that nothing has happened, editorialists in mainstream government-friendly media across Europe gave heavy prominence to stock market reactions. Following a ritual slump on Thursday 8 December, showing "concern", this was followed by a ritual rebound with a rather weak showing by London's Footsie, the next day. This proves everything is OK with the economy and is under careful management. Rejoice.
Most important and in the space of scarcely 3 months, the Merkel-Sarkozy duo have extended the purposeful obfuscation of the European Union and Commission, a smokescreen for now absurdly outdated geopolitical notions, to something else which nobody can define. The main reason for the mystery is that nothing hides behind the Cheshire Cat smile, or occasional grimace of the Duo's Directoire when Great Britain and at first a few other, and then no other peripheral and small countries stopped playing the game. "The New Europe" is at least one clear thing: a continued and surely more complex game of denying reality and playing for time, even after time ran out.
NATIONAL POLITICS NO LONGER COUNT
London-based 'Financial Times' is reported to have had an editorial nervous breakdown on what headline to put to the Brussels talks which ended in "Cameron slamming the door", or being shut out. In the space of a few hours, the FT tried and rejected headlines ranging from 'EU Fails to Reach an Agreement', through 'Eurozone Countries Sign Up to Closer Ties', before simply saying 'Eurozone Deal Leaves Britain Isolated'. Nowhere in the articles which followed, in any European media either inside or outside the new sort-of Federal Debt Union for 26 countries, and outsider UK, did we learn the obvious: 'Eurozone Panic Leaves Europe Isolated' - more isolated than ever.
Whether Britain is isolated and outside the debt union, which it is ideally suited to join by its fantastic budget deficits and huge sovereign debt (even if this debt is pushed a little further into the future than debt of the PIIGS, France, Germany and other Eurozone countries), this question is in fact very small beer. But newspapers have to sell newsprint and TV stations have to get viewers. The game is to shift public attention to party political conflict on "the New Europe" and keep it at fever pitch. Panic is a great way to sell news - even if the news does not really exist and the panic either never existed or was gone in a few hours.
Mainstream media in Europe, including offshore Britain, have made an heroic effort to "translate" the perfectly normal opposition, by the public, to the Merkel-Sarkozy "plan", however hard it is to interpret on how much more austerity it will unleash across Europe, how much more unemployment and company bankruptcies (but not bank failures) it will cause, as only and simply a party political issue. The media tells us to see things this way: pro-Europeans are for it, while anti-Europeans are against it. In the UK case, the FT is held by pro-Europeans as being too soft on the Conservative Party who are said to be playing nationalist, with its hardliners demanding a simple and straight referendum on Britain staying in the Union or not, at a moment when the FT and similar media thinks there "is No Alternative" to playing federal European, Merkel-Sarkozy style, whatever it means.
Exactly the same music is found in other European countries: only the extreme left and extreme right political parties are "allowed" to be anti-European. Any talk about referendums is treated with the ultimate in Stalin-type brainwashing: referendums are "anti-democratic", especially when they could or might (and probably would) go against the Merkel-Sarkozy "plan". The political extremes are by definition minor and small, therefore to be shunned and avoided. Therefore anti-European is bad. Therefore there is no choice.
DANGEROUS DEMOCRACY
Interestingly, current party voting intentions for the vast majority of major legislative elections coming up in Europe through 2012-2013 only show one thing: voters intend to vote against any incumbent dominant party, whatever its supposed colour. Witness Ireland, Spain or Portugal, where incumbent governments were first totally discredited, then bundled out with election-type trappings, or Greece and Italy, where it wasn't even necessary, anymore, to waste time with elections.
Referendum talk, in all 5 cases was treated with near-panic by government friendly media, both inside and outside the victim countries.
What happens is that supposedly right wing parties will be voted out, if they are presently in power. Supposedly left wing parties in power will suffer exactly the same result. Voter intentions - if they are allowed to vote - are clear from opinion polls. There is no pity for the incumbents, and no respect for the incumbent parties. These, whether rose-tinted or not are pro-Europe - if we exclude a growing slice of Offshore England's so-called ruling Tory party - in fact the major partner in a coalition government with a minor partner party that is rock solid "federalist and European". As Mrs Thatcher would have said: you really have no choice. At all.
Probably by intention and design, but possibly not, mainstream media in Europe have so totally hidden the realities of "globalized Europe" in a global economy, that some readers, viewers and voters could or might imagine that national politics - even European politics - have some residual hold on events. They might even think things can change for the better, not worse. Above all, party politics and official media hide the reality of vastly accelerating economic decline (using conventional definitions of "decline and success") inside Europe. The blunted and confused perception of this, by majority consumers of pap media and packaged ideas, is already a fantastic success story for a brainwashing system, that Stalin would have been proud of.
Most average members of the public think this decline is "only relative". They therefore buy the packaged notion that a liberal-federal Europe can drag them back to prosperity. Maybe in 10 years, maybe in 20 years. Who knows ?
REACTIONARY FORCES
Another fantastic success for selling Federal Europe, or the United States of Europe with US-style uncontrollable debt growth, is that any rejection of this one-only "solution" can be labelled "reactionary and anti-progress" by government friendly media. Saving the euro, in the Happy Band of 26 countries who (supposedly) signed up to the Merkel-Sarkozy train ride to nowhere is probably one of the most far-out propaganda successes in the history of manipulating mass opinion. PM Cameron of the UK may or may not have perceived this, probably not, but the Soviet model of Europe - or Nazi model of Europe for diehard British Tories and Greek, Spanish and Portuguese anti-austerity riot mobs - has marched forward with incredible speed.
To be sure it has a "neo capitalist" outer crust, but the glitter dust hides a model for European "integration" that stretches way back to the postwar agonies of ruined Europe and the beginnings of the Union. Then as now, austerity was the rule - but the difference was that Europe was moving up and out from austerity, not collapsing into it.
This started with the European Coal and Steel Community, to increase European steel output and keep coal mines running, and the Euratom Treaty, to promote nuclear energy when the coal mines were closed, some far-off day in the future. These treaties came even before the first European Treaty of 1957 (the Rome treaty) saw the light of day, a political-type treaty promoting "economic integration". The backdrop was lurid: Europe was hemmed in by hostile powers, needed coal and nuclear power to lever itself out of war damage, which itself was caused by Europeans, and achieving all this made it necessary to run a tight ship of controlled austerity and mass obedience. The Technocrats ruled, OK.
How this paranoid model can be related to the market frenzied start-ups, hedge funds, 24/7 trading and Silicon Valley-type neo capitalist model is an interesting study in mass schizophrenia. The two models are about as far apart as the Merkel coalition's 10-year total exit strategy for nuclear power, and the Sarkozy UMP's portrayal of French nuclear power as a sacred hand-me-down from the great General de Gaulle that must remain untouched for all time. Above all, neither of these nuclear "plans" is workable or serious - but try explaining that to interested political parties - or government friendly media.
NEXT, THE CLASH
Like any Sarkozy-initiated, Merkel-decided one day miracle played out on 24/7 TV news shows since summer 2011, the present miracle is only bigger and even emptier, inside. Its best by date expired in the minutes following its breathlessly sincere initial showing, leaving nothing behind except continued harassment by European debt traders and their equity colleagues, hunched over their playstation trading consoles. All they want is simple: the European Central Bank should print a lot more money, really fast, and hand it to them or at least to their high street banking friends who are in a bad way. After that ? Well, frankly speaking, nothing at all.
Otherwise, the trading "fraternity" says, they will pull the plug on the great experiment. This menace, laughable as it is, is taken very seriously by Europe's political deciders. They have a duty to ask their central banks to print money for debt-strangled Club Med (and other) countries, who will hand it over to the bond traders and their hedge fund partners, and above all to the banks - who will then lose it.
This is neo capitalist reality or normality. Above all the Merkel-Sarkozy "plan' will do nothing able to hamper the lifestyle of bankers and traders. Some things are sacred, like Genral de Gaulle's creaking reactors of the 1960s. This might be an interestingly different route to economic ruin than the Soviet model, but the Sovs already crashed and disappeared, over 20 years ago. One reason for this, probably the only reason was that it was a total economic failure, notably featuring debt as the nicest, best way to get ahead.
Like the Soviet Union, today's Europe has absolutely no alternative (whatever its political players imagine) but to live in the real world. The real and globalising economy does not have too much time, and less and less place, for the European Union. Whatever designer issue or elite fantasy theme - for example Europe's "crusade against global warming" - this plays out with less and less airtime, worldwide. The world has other interests, issues and problems - plenty of them. Whether Europe goes down the tube because it wants to, or not, is not the main issue.
The coming clash is above all economic and the result is known in advance: Europe will lose. Pussyfooting around with 1950s and 1960s-type themes like "Federal Europe", changing it to the "Federal Debt Union" cuts no ice with the rest of the world. For Europe itself, it is harmful if not noxious - the blowback will start very soon and be very heavy. The Merkel-Sarkozy "plan" is a pure waste of time.
By Andrew McKillop
Contact: xtran9@gmail.com
Former chief policy analyst, Division A Policy, DG XVII Energy, European Commission. Andrew McKillop Biographic Highlights
Andrew McKillop has more than 30 years experience in the energy, economic and finance domains. Trained at London UK's University College, he has had specially long experience of energy policy, project administration and the development and financing of alternate energy. This included his role of in-house Expert on Policy and Programming at the DG XVII-Energy of the European Commission, Director of Information of the OAPEC technology transfer subsidiary, AREC and researcher for UN agencies including the ILO.
© 2011 Copyright Andrew McKillop - All Rights Reserved Disclaimer: The above is a matter of opinion provided for general information purposes only and is not intended as investment advice. Information and analysis above are derived from sources and utilising methods believed to be reliable, but we cannot accept responsibility for any losses you may incur as a result of this analysis. Individuals should consult with their personal financial advisors.
© 2005-2019 http://www.MarketOracle.co.uk - The Market Oracle is a FREE Daily Financial Markets Analysis & Forecasting online publication.

Only logged in users are allowed to post comments.
Register/ Log in