Germany's Mindbending Green Energy Plan
Politics
/
Renewable Energy
Dec 22, 2011 - 12:47 PM GMT

PROLIFERATING PLANS
Germany's plans to abandon nuclear power includes worries about nuclear proliferation, but the nuclear exit plan itself only appeared on the radar screen as the Japanese Fukushima reactor complex went down under tsunami storm surges. Until December 2010, Angela Merkel's coalition government was handing out 10-year life extensions for nuclear plant operators like anywhere else in the world of "cheap clean and safe" low carbon nuclear energy. Fukushima only added another strand to Germany's mindbending plans and programmes for achieving huge cuts in CO2 emissions, with the percentage cuts from a 1990 baseline programmed right through to 2075-2085, when Germany should have almost totally quit using fossil fuels - or will have found ways of totally capturing and sequestering carbon emissions from fossil energy.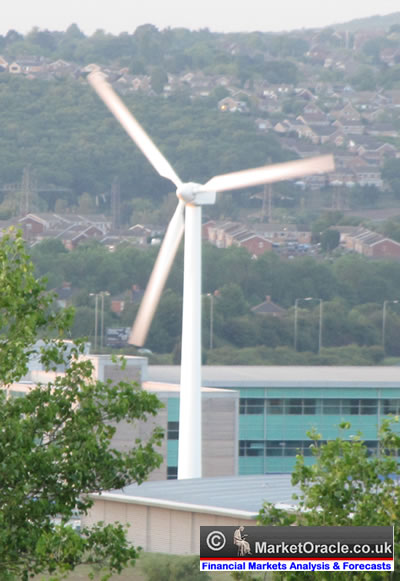 This does not especially concern the short-term. By 2020, that is 8 years from now, massive changes to national energy should have happened. Depending on which one of the proliferating NREAP (national renewable energy action plans) you take as gospel, which target for raising the role of wind and solar energy is taken as definite, and which set of subsidiary and related plans seem most credible, total spneding to 2020 could easily top 500 billion euro.
Defenders of Germany's NREAP and NREAPs in the other EU27 countries can chip in that European sovereign debt makes this number look small and therefore "feasible" but the quick answer is this spending will likely only be a little more productive than throwing it in the debt furnace of fiscal and economic illusion. This negative outlook is specially so because the timeframe for massive energy change is short, the costs and technology challenges are high, the potential for raising energy spending (consumption and investment) as a percentage of GDP to as much as 9 - 10 percent is risky and low, the chance of Europe tilting into recession and making a lot of NREAP goals unrealistic is already high and increasing, and the list of reasons does not end there.
ROAD TO HELL PAVED WITH GOOD INTENTIONS
Germany is among the world's most politically committed nations to the goal of abiding by, or intensifying Kyoto emissions limits, automatically meaning the massive development of renewable "green low carbon" energy sources, but is also committed to staying economically competitive and the fourth-biggest economic power in the world. Reconciling these two goals is an immense challenge.

As we know, attempts at prolonging and extending the Kyoto Protocol, with the European position seeking the application of European-type climate and energy policies worldwide with global and uniform emissions reduction standards by 2017 - is at best on hold. More likely, the Protocol is a dead letter treaty, now. European application of aviation CO2 taxes to all airlines operating in and out of Europe is, as we know, controversial but is being applied, possibly as a last-ditch European attempt to "show its convictions", or at least take a few billion euro-per-year in extra taxes.
The role of global warming related financial, fiscal and economic action stays critical for the political, financial and technical support to "green" energy development in Europe, and especially in Germany. Despite the huge setback for proposals from Europe at the recent Durban climate talks, the political and social support for "ecology-environment-green energy" themes in German politics stays high, as shown by the power of the German anti-nuclear movement and voter intentions, in opinion polls, supporting the German Green party.
Although Germany may seem ahead of the pack, to some, to others it has engaged a dangerous gamble with its energy system and its economy. Germany is therefore either of two things. It is the role model for global energy transition towards almost complete dependence on renewable energy, or will be a failed political experiment on a massive scale with incalculable economic collateral damage. To be sure, we can also posit a Middle Way, where the bulk of energy transition away from nuclear is through cheap coal-fired and gas-fired power plant development, solar PV electric power is radically shrunk from its present growth (in fact start of recession) path, offshore windfarms are quietly forgotten, neither super grids, smart metering and large scale utility electric power storage are developed, and Germany muddles through intact.
The reasons for believing the Middle Way are increasing. For starters, to understand the scale of present official plans, Germany's energy transition is more than that - it is energy transformation. This explains why, in the event of failure it will be much more than a disappointment: it will be utterly disastrous, perhaps particularly for the economy, but also politically. Calling this transformation "a huge challenge", the senior energy expert at Berlin's DIW economic forecasting institute, Claudia Kemfert said in an interview with Bloomberg New Energy Finance, December 6, that it could be a role model for the entire world but added:
" If it fails, it will be a disaster -- for Germany's politicians, society, and the economy."
EXIT NUCLEAR ENERGY - A POLITICAL DECISION
Making for dispute and and confusion, German NREAP scenarios have proliferated since the Fukushima disaster. At least 3 of these scenarios and the Nature Ministry's NREAP are official, set by German energy regulators and ministry officials, but a much bigger number of other scenarios exist, all of them now including one key target.

The key target - only official since May 31 - concerns Germany's total exit from nuclear power by the end of 2022. Depending which scenario is taken as gospel, Germany should have shut down at least 14 of its 17 nuclear power reactors (with a total capacity of 20 339 MW) by Dec 31, 2021. How many will be shut by Dec 31, 2012 is a key question. This "master target" generates a swarm of related and subsidiary energy goals and needed programmes for energy sector development over different timeframes. Many are very short-term which in turn unerlines the nuclear exit strategy's political component, the political driver for Germany's national energy plan, but this also exhibits the often massive, even extreme funding needs, and awesome near-term infrastructure implications of the plan.
The nuclear exit decision may seem relatively simple, but it hides a complex set of political decisons and electoral calculations at a time of simply massive financial, debt and deficit crisis in Europe.
Not only the coalition government of Angela Merkel, but also the SPD (Social Democrats) - or the Der Grunen party (the Greens) who may replace her coalition, in alliance with and dependent on the SPD in 2013, have all invested massive political capital in German energy transition. This makes backtracking hard - and failure impossible. Upcoming elections, both in France (April 2012) and Germany (between August and October 2013) could however cause a "double shock" to the Merkel-Sarkozy entente cordiale and directoire, presently steering the finances of the Eurozone-17 countries (with major impacts on all EU27 countries, and the global economy). Europe's financial transition to an unknown future is firmly in the hands of the Merkel-Sarkozy duo.
The feared "double shock" might take the form of two cataclysmic announcements on the nights of the French presidential and German legislative elections: namely, that France's Front National (National Front) is ahead of Sarkozy's UMP (Presidential Union Party), and that Germany's Die Grünen are set to beat the SPD. Whether this would unhinge the German energy transition plan is unknown, but political change in Europe would move into overdrive.
Ironically, perhaps, the defeat of France's Sarkozy in his re-election bid of April 2012 would likely, or may increase the role and power of France's hard-line ecology party (Europe Ecologie) in a new government with a new president from the Parti Socialiste (Socialist party), committed to a partial phase out of French nuclear power. Defeat of Merkel by the SPD in her own bid for a new mandate as Chancellor might however weaken Die Grunen party influence, and German commitment to its energy transition plan, making it difficult to answer the question on what impact a "double shock" would have.
In any case, any scenario the German energy sector transformation programme will be at an early and critical period of its presently planned lifetime in 2012-2013.
The likelihood of France suddenly moving to a full nuclear exit strategy is of course laughably minuscule, at present, but political as well as economic pressures are reducing the certainty of France remaining "more than totally" committed to atomic energy. When (rather than if) France moves to cut its dependence on nuclear power, from its current 75% of national electricity supply to perhaps 25%-50% within 15-20 years, the stakes for Germany achieving success with its "role model" transition plan would rise even higher.
POLITICAL ROLE MODEL - ECONOMIC ROLE MODEL
Germany's other key role in Europe, today, is supplying the economic muscle to prevent the euro money from simply disappearing in a financial and political crisis able to rival anything which happened in the crises of the 1930s Great Depression.
Merkel, Sarkozy - and all global finance markets - are acutely aware of this, each day. Very importantly the energy transition plan, and Europe's financial and economic transition towards a federal-type model, or towards a reassertion of national identities and political decision making are closely linked in many ways. In particular, massive financial support is obligatory for energy transition.
So far, progress on the strict energy front has been slow. Since the May decision to shutter about 23%-25% of Germany's present total electricity generating capacity by 2022, but also to cut more than 5 000 MW or a quarter of its nuclear capacity right away, immediately removing reactors built before 1980 from service, the response from Germany's main power utility companies shows deep strategic thinking. The major utilities E.On, RWE, Vattenfall and EnBW (Energie Baden-Wuerttemberg) have to date in December 2011 decided not to build a single coal- or gas- fired plant to replace output from Germany's 17 civil reactors which will all be closed by end 2022. Despite their output being already in decline over recent years, these nuclear plants still provided 23% of Germany's electricity last year.
Raising the stakes even more, both E.On and RWE, and industry analysts argue that well over one-half of Germany's current coal-fired capacity of about 56 GW, using about 40 million tons of coal and 155 million tons of lignite in 2010, must be replaced - simply because of ageing - by about 2030. In turn this has generated a myriad of coal- and lignite-based power development proposals, the vast range of which can be judged from this review:
http://www.sourcewatch.org/index.php?title=Coal_power_plant_proposals_in_Germany
Replacing the nuclear power capacity - the main question is: with what ? - can be costed. The minimum could be as low as 20 billion euro and the maximum could exceed 150 billion euro. The main question of what sources and systems will replace the nuclear capacity is the main determinant of how much it will cost. Concerning the replacement of either coal-fired, or nuclear plant with wind and solar, we can take the average year-round availability of plants, that is annual percent of nameplate capacity availability, in Germany, to get ideas on amounts of replacement capacity that are needed. For coal and nuclear plants, average availability is about 71% (that is a 1000 MW nameplate capacity unit will operate at 710 MW for the 8760 hours in a year), but wind and solar plant availability is nearer 17%.
The cost implications of this, to be sure, are massive.

Various scenarios can be advanced for growth of German energy and electricity demand to 2022, which can start from zero, and in some scenarios posit an absolute decline. These low-growth scenarios for energy and electricity demand growth are aided by Germany's trend rate of population decline or shrinkage, which implies the country can lose about 12 - 15 million population through the period to about 2045. However, when considering the replacement of nuclear power there is also the first costly question of removing nuclear power. Replacement costs are only about one-half of likely total costs, because decommissioning and in US parlance "Safestor" of old nuclear plants, including the entombment option, cost extreme amounts of cash. Initial costs can easily exceed 3 billion euro per reactor in the first 12 months of decommissioning, but this spending can be stretched.
Even worse, decommissioning costs will stretch into the future in a remorseless way, making the open and honest acceptance of realistic cost scenarios for the nuclear exit strategy very difficult. This has already and strongly impacted the response, or rather non-response of German utility companies, all of which ar exposed to the "wall of fear" of decommissioning costs.
THE FINANCING CHALLENGE
For German power companies and their related power sector corporate allies, and for the state and local governments the challenge of financing the nuclear exit strategy is massive. The power companies have made this clear in several ways, since May. In particular, the outgoing CEO of RWE, Juergen Grossman, nicknamed "Nuclear Rambo" in Berlin political circles has railed against Angela Markel's political decision to completely abandon nuclear power. Since May, apart from effectively freezing all decisions to build new coal- and gas-fired plants, plans are either delayed or frozen on at least one-half of projects to expand Germany's national grid of transmission lines, transformer substations, pylons and control infrastructure. This has already pushed Germany's power network to the "edge of its capacity," according to the Bonn-based regulator Bundesnetzagentur in a late November statement.
On December 6, the regulator mapped out three scenarios for Germany's energy mix in 2022, particularly concerning scenarios for setting the now urgent national grid development plan, which has to be decided and published by early next year. This special focus on power transport capacities is no accident: if the problem of getting rid of nuclear power is already massive, power transport capacities also set huge challenges, doubling the headaches when "purely political" decisions hit the ground, and run into trouble with the real world. Very simply, given the very high role presently assigned to windpower, especially offshore windfarms in the North Sea, transporting this power to southern German industrial users sets a massive challenge for German power grids.
Currently available capacities can at most transport 2 GW on a reliable basis, and not primarily north-south. This single cost component of the transition plan, as we note below, will be a major challenge but at present is rarely discussed, due in part to the Europe climate-energy package including the attractive-seeming goal of "fully integrated" European power grids, but with no specific funding mechanism presently defined. When the costs of massively increasing electric power transport capacities are factored-in, we can add several tens of billion euro to the bill.
COSTS AND LIMITS
Movement in the financial sphere in no way aids the already tense and fraught process of achieving massive change of Germany's energy sector within the first 10 years of the transition: while the nuclear exit decision sets Dec 31, 2022 as the date for closing the last 3 reactors, Germany's engagements under the European Union's climate-energy package, for CO2 reductions and oil substitution by 2020, are also part of the policy mix and future energy mix - until and unless a politically humiliating climb-down occurs.
In fact, non-renewal of the Kyoto Treaty would likely be highly beneficial for the German energy transition plan. This is simply because relaxed CO2 limits would enable "clean coal", gas-fired power plants and CHP (combined heat and power) to be utilised more, and the massive, and massively costly growth of windpower, solar electric power and all-year 24/7 electricity transport that is presently predicated or planned, could be trimmed back, pushed into the future, or quietly forgotten.
Germany's power companies, for reasons not only including Merkel's nuclear decision are in bad financial shape and are under heavy attack on global stock exchanges: Essen-based RWE has lost about 45% of its market capitalization in the year to date, has engaged forced asset sales to pay down its accumulated debt of 30 billion euro, and CEO Grossman is now a lame-duck president on his way out. EnBW, which on Dec. 6 reported a first-half loss after mothballing two of its four nuclear reactors, said that its CEO Hans-Peter Villis will "not seek renewal" of his contract that ends in September 2012. E.On, Germany's biggest power company by market capitalization, has since late 2010 engaged asset sales that, like RWE, include the sale of its "crown jewel" natural gas pipeline and gas marketing assets.
Overall, the power companies' allied grid operators, which in most cases are subsidiaries or joint ventures (such as EnBW Transportnetze), will have to immediately spend a combined 10 billion euros to bolster their power transport capacity enough to avert power blackouts in winter 2011/2012, that is now, and throughout the period to 2020. Grid development and reinforcement must start very fast, with a probable or potential need for the power transport operators' (TSOs) to increase Germany-wide power capacities to perhaps 9 GW or more, by about 2025, depending on scenarios. In some cases (underground 320kV DC transmission) these lines can cost around 10 million euro-per-kilometre.
Unfortunately the "global macro" backdrop includes falling power prices as Europe's sovereign-debt crisis and forced austerity programmes erode demand, making it harder for power producers and transporters to find the financing for massive upgrades and changes of their fixed assets.
Europe's last widespread blackout, we can note was in November 2006 when a high-voltage line switched off in northern Germany and briefly knocked out power for 15 million people in seven countries from Austria to Portugal. This underlined the fragility of inter-European power transport capacities, with no part of present interconnected systems having a power exchange capacity bigger than Nord Pool's 4 GW. Given the apparent or maximum possible upper limit for windpower and solar electricity in Germany's power mix - as much as 35 GW by 2025 - the TSOs might be exposed to a program of grid development and related infrastructure spending far exceeding 50 billion euro in the 13 years to 2025: state financial support will be obligatory.

ABRUPT CHANGE
The pace of change set for energy transformation in Germany is easy to summarise. The earlier, and already high target of 30% renewable electricity by 2020 has recently been updated by the official National Renewable Energy Action Plan (NREAP), to a target of 38% of German electricity coming from renewables by 2020. While hydro power, geothermal electricity, and biogas will play an important role in the renewable mix (about 13% in 2020), wind and solar power will expand the most rapidly under the transition plan. It is now projected they will supply 18% and 7%, respectively, of national electricity by 2020, and a combined 35% by around 2025.
While coal- and lignite-fired power plants can be called the 'dark secret" of Germany's transition plan, their real world presence enabling back-up for German power supply when or if the pace of spending and development in renewable-source electricity falters, this ignores a major point made above. A very large slice of German fossil plant, including gas-fired power stations must be replaced by 2030 under any scenario. Csts of this item, alone, would be around 400 billion euro to 2030. In addition, lignite, perhaps the "darkest secret" due to its even higher CO2 emissions per unit kWh output than hard coal, is simply programmed and planned for total disappearance, like nuclear power but on a much longer timeframe (to about 2045).
Further, the extreme high-efficiency coal-fired plants built in Germany today, often able to produce 1 kWh from less than 220 grammes of coal, are also very low emission - and expensive, although nothing like the "ballpark" costs per unit kW capacity of either nuclear power or wind and solar. Coal plants with CO2 scrubbing but not CCS can cost up to 3000 euro-per-kiloWatt. Replacement of Germany's coal-, gas- and lignite-powered power generation capacity is therefore also confronted by financial challenges, as well as the intepretation of the EU climate-energy package, and possible renewal of the Kyoto Protocol. In the current context nothing moves - but the clock ticks on.
Merkel's abrupt policy change on nuclear power firstly risks creating power shortages in Germany's industrial south, which lost about 5 GW of reactor capacity, already placing the region at the limit of back-up from cross-country German power lines, and only able to replace 2.1 GW with power imports from Austria as well as inside Germany. Ironically or not, "nuclear" France is increasingly dependent, in extreme cold conditions as in winter 2010-2011, on power imports from Germany which are likely to be absent by as early as next month, at the start of 2012. In turn, in other European countries dependent on power balancing exchanges of current, the German transition plan may quite rapidly have major electric power system impacts, all negative.
The now rising uncertainty of power supply in Germany - where capacity removals and phase out are better known and publicised than their replacement - has already led major power consumers in Germany's Ruhr and the south to take anticipative action, with both positive and negative implications. Sports-car maker Porsche uses around 8 500 solar panels at its headquarters in Stuttgart, generating about 2 million kWh last year. To plug any gap in supply, Daimler AG intends installing combined heat and power generators in all its major factories, and is reviewing investment in alternate and renewable energy projects while also reducing overall corporate energy consumption. By 2013, its Sindelfingen plant near Stuttgart, the world's biggest car manufacturing plant which produced 460 000 cars in 2010, will be self-sufficient in electricity using a gas turbine at an investment cost of 38 million euro. In time, these corporate shifts to CHP and energy saving may spur local and regional energy development - but like Daimler may focus coal and gas resources in preference to renewables, due to costs and supply security considerations.
Managing rapid change has now become a keyword in corporate strategy throughout Germany, as costs, supply security and politically-driven legislative change threaten an unsure energy future. As noted previously, Germany's major power companies all face hard times, shown for example by EnBW's total investments in year-to-date of 926 million euros, a 43% drop compared with the year-earlier period. RWE firstly has to cut its debt pile and recover from its 73% drop in earnings so far this year, while EON, based in Dusseldorf, is cutting up to 11 000 jobs and has filed a complaint against Merkel's nuclear exit plan at Germany's top constitutional court in Karlsruhe. In this context, massive new investment initiatives are more than somewhat unlikely.
SOME CONCLUSIONS
Germany's energy transition plan and programme is a courageous, risky and high cost initiative to massively change Germany's energy system in a very short period of time.
The success of this plan is uncertain for many reasons. These include the goals, time horizons and costs of various programmes inside the continually evolving policy framework. At the highest level, there is the growing potential for the Kyoto Protocol losing its defining role in setting 'low carbon' energy development goals, and the European Union's interpretations of the climate-and-energy issue.
Another key factor that will affect the success of the plan, and may change its goals, is the very uncertain economic, fiscal, financial and monetary outlook for the European and global economy.
In particular, economic uncertainty weighs on the outlook for all the high-tech and capital intensive 'new and unconventionalrenewable' energy sources and systems, with strong negative impacts on German's nascent solar PV cell industry and to some extent on the German wind energy sector.
Some estimates of possible costs to year 2000 for Germany's energy transition plan extend as high as 500 billion euro. What is certain is that alternate but 'higher carbon' energy development strategies would be of much lower cost.
We can note that an apparently random event - the nuclear disaster at Fukushima in Japan - both accelerated and intensified this already very ambitious plan and programme by radically increasing the political support inside Germany for accelerating the transition away from 'traditional industrial' fossil energy systems. The political context of the transition plan is complex, unstable and evolving.
Also outside Germany, the success of the transition plan is closely related to and dependent on the European Union's 'climate-energy package' of December 2008. The intepretation and application of this package by the European Commission, other EU27 countries, and German political, economic, industrial and corporate decision making entities may quite rapidly change, be reformed, or under some scenarios might be abandoned.
By Andrew McKillop
Contact: xtran9@gmail.com
Former chief policy analyst, Division A Policy, DG XVII Energy, European Commission. Andrew McKillop Biographic Highlights
Andrew McKillop has more than 30 years experience in the energy, economic and finance domains. Trained at London UK's University College, he has had specially long experience of energy policy, project administration and the development and financing of alternate energy. This included his role of in-house Expert on Policy and Programming at the DG XVII-Energy of the European Commission, Director of Information of the OAPEC technology transfer subsidiary, AREC and researcher for UN agencies including the ILO.
© 2011 Copyright Andrew McKillop - All Rights Reserved Disclaimer: The above is a matter of opinion provided for general information purposes only and is not intended as investment advice. Information and analysis above are derived from sources and utilising methods believed to be reliable, but we cannot accept responsibility for any losses you may incur as a result of this analysis. Individuals should consult with their personal financial advisors.
© 2005-2019 http://www.MarketOracle.co.uk - The Market Oracle is a FREE Daily Financial Markets Analysis & Forecasting online publication.
Comments
Brian Thiesen
23 Dec 11, 19:44
Q's For Climate Change Believers


1. Why can't warming alarmists produce a single legitimate example of empirical evidence to support the manmade global-warming hypothesis? 


2. Why has Earth been warming for 300 years when man has only emitted measurable amounts of CO2 into the atmosphere for the last 150 years? 


3. Why did Earth cool for 500 years before the recent 300-year warming and warm for several hundred years before that when even the Intergovernmental Panel on Climate Change says CO2 levels did not change?

4. Why was the Medieval Warm Period, a thousand years ago, warmer than today even though the CO2 level was 38 percent lower than today? 


5. Why did many of Earth's major glaciers in the Alps. Asia, New Zealand and Patagonia begin to retreat nearly half a century before the Industrial Revolution and man's CO2 emissions? 


6. Of the last five interglacials, going back 400,000 years, why is our current interglacial the coolest of the five even though Earth's CO2 level is about 35 percent higher? 


7. Why has our current 10,000-year-long Holocene epoch been warmer than today for 50 percent of the time when CO2 levels were about 35 percent lower than today? 


8. Why are correlations of Earth's temperature with natural factors such as sunspot numbers, solar cycle lengths, solar magnetic variations and changes in major ocean currents all better than the correlation of Earth's temperature with CO2 levels?




Only logged in users are allowed to post comments.
Register/ Log in