US Economy Hits Another Roubini Road-Hump: Is This The End?
Interest-Rates
/
US Economy
Mar 29, 2012 - 08:14 AM GMT


Nouriel Roubini made his name out of a paper he co-authored in 2003 with someone whose name I forget, and everyone else did too. His thesis then was that the U.S. Current Account deficit (basically a long word for the trade deficit in Goods and Services) was unsustainable, so there would be a meltdown.
He was actually wrong for the right reasons; his idea was that the demand for U.S. Treasuries by foreigners was not enough to finance the Trade/Current Account Deficit, that part was right.
Where he went wrong was that he hadn't anticipated how much toxic assets Goldilocks & Co would be able to sell to stupid Norwegian pension funds and megalomaniac idiots running RBS, etc, that's annotated "A" on the chart.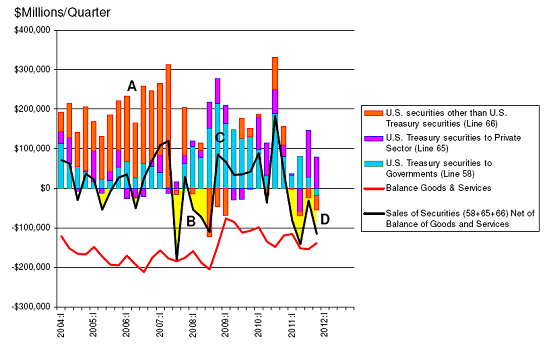 So in 2003 he announced the world was going to end, and in 2004 he said the same thing, and in 2005, and in 2006; that's where he got the name Dr. Doom.
And then, Phew!! In 2007 and 2008 the world, as they knew it then, did end, that's annotated "B" on the chart, the area highlighted in yellow is the amount by which the Trade/Current Account Deficit could not be financed by mortgaging America to what the U.S. Immigration authorities calls "Aliens".
Two big reasons for that, first the Norwegian pension funds and the idiots in RBS realized that a AAA synthetic collateralized debt obligation, lovingly crafted by Goldilocks & Co wasn't worth more than a piece of used toilet paper, so the stopped buying.
Second, in spite of spending a couple of trillion dollars (or perhaps more, it depends on how you do the accounting), on invading an oil rich country, the Achilles Heel of the American Dream (cheap gasoline), was exposed by a spike in oil prices. And yes you guessed, they couldn't borrow enough to finance their dreams.
But anyway, disaster was averted, Phew-Two!! Because somehow, I never really figured out how, they managed to start shifting U.S. Treasuries to the aliens, that's annotated "C" on the chart, and in Q-III 2010 they even managed to shift some (highly discounted) toxic waste.
Another factor there was that oil un-spiked.
Then, all good things come to an end, first the aliens started to have problems of their own, and second there was another oil-spike, and that brings us to "D".
Notice that the sales of U.S. Treasuries to government aliens, has more or less dried up, and the only thing that's keeping the show on the road at the moment is sales to non-government aliens.
Either, (a) oil prices will collapse, and America will scrape past their second Roubini Road-Hump (b) they will figure out something else to mortgage to pay next month's gas bill (I can't imagine what), or (c) Roubini will have his moment of fame, and what nearly happened in 2008/9, will actually happen.
By Andrew Butter
Twenty years doing market analysis and valuations for investors in the Middle East, USA, and Europe. Ex-Toxic-Asset assembly-line worker; lives in Dubai.
© 2012 Copyright Andrew Butter- All Rights Reserved
Disclaimer: The above is a matter of opinion provided for general information purposes only and is not intended as investment advice. Information and analysis above are derived from sources and utilising methods believed to be reliable, but we cannot accept responsibility for any losses you may incur as a result of this analysis. Individuals should consult with their personal financial advisors.
© 2005-2019 http://www.MarketOracle.co.uk - The Market Oracle is a FREE Daily Financial Markets Analysis & Forecasting online publication.
Comments
ernie messerschmidt
29 Mar 12, 12:53
collapse a good thing


"the only thing that's keeping the show on the road at the moment is sales to non-government aliens" Question: is this really the Fed buying from off-shore accounts and the banks buying with free Fed money?

As for what will happen under option c, I'm sure it's not just one scenario, but a range of possibilities. Almost anything will be better than the present worst of all possible worlds of socialism (state support)for the banks and debt-slavery for everybody else. Collapse of the present rotten world financial system will be a good thing. Where's the model for something better? In the BRIC countries that survived 2008 well because their predominantly public banks didn't do derivatives to speak of and acted counter-cyclically and in the public interest.




Only logged in users are allowed to post comments.
Register/ Log in