U.S. Economic Recovery Debate, Still on the Fence?
Politics
/
Economic Recovery
Apr 21, 2012 - 12:09 PM GMT


Lost among never-ending talk in the mainstream media about the 'modest recovery' being experienced in America have been some rather poignant headlines that are telling a completely different story. I've used up many weeks to outline the flaws regarding how our economic growth is measured and suggest more responsible alternatives. I don't expect Washington to change, however. Those suggestions are for 'We the People' as we navigate our own individual situations and seek to do the things necessary in order that we are better prepared to deal with the undeniable consequences of gross mismanagement by our government.
However, at the same time I have noticed that many people who are still on the fence in terms of understanding where we're really at present a unique problem. Most people will believe anything they hear on television or read in a newspaper and accept it at face value. It becomes fact and, in many cases, they will parrot what they've heard or read as their own opinion. To the contrary if one endeavors to challenge the mainstream, we must be armed with facts and arguments that are concise, salient, and provable beyond any reasonable doubt. The good news is we have common sense and facts on our side. The bad news is that common sense is in short supply these days as is a willingness to face reality.
This article is for all you folks who are still on the fence, not quite sure of where we are and where we're headed. In it I will offer two rather important facts about our society that will hopefully help you recognize that we are not better off than we were a few years ago. Things are in fact getting worse – from many different points of view, and this has been going on for much longer than most would even realize.
Food Stamp Use Up 70% Since 2007
There were many of us outside the mainstream who called the recession in mid to late 2007. My alternative measurement of economic output (based on the Cobb-Douglas output model) puts the beginning in mid to late 2006. At the time, the government was running what were already considered to be unsustainable budget deficits and those deficits were nothing compared to what we're seeing now. The point is that government borrowing and spending was able to postpone the recession from hitting Main Street for about a year. Don't forget also that the housing market was in the process of putting in a huge top. People were still using their homes as their own personal ATM machines and running up their credit cards.
However, by 2007, we witnessed a monumental shift of our society. People, now running out of their own ammo, started turning to the government. In the case of food stamps, also known as SNAP, they began to rely on the government for their daily bread in larger and larger numbers. That trend is still intact today. Food stamp use has increased every month for at least the last three years if not even longer. The Congressional Budget Office (CBO) recently released its data through 2011 on food stamp use. 45 million people received food stamp assistance in 2011, a 70% increase over the number receiving assistance in 2007. 45 million doesn't really sound like a huge amount, especially considering that our population is over 300 million. This constitutes about one in 7 people. If you're at work and reading this, pay attention to the next 7 people who walk by your desk. Statistically, one of them is on food stamps.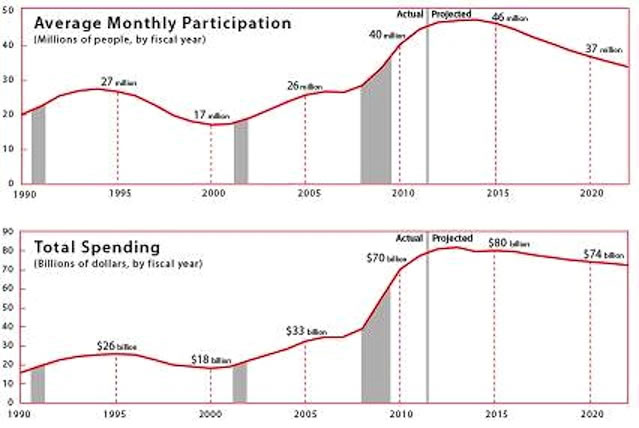 It still might not seem like a big deal, but when you figure that the number has almost doubled in 5 years and is expected to continue to grow until at least 2014 (by the CBO), it suddenly becomes a bigger deal. When you figure that the government borrows almost 50 cents out of every dollar it spends, it makes the reality even more grim. Statistically at least, the government is borrowing money from banks and foreigners to help feed about 20 million people in this country. Still sound like no big deal?
The CBO went on to say that about 2/3 of the increase in total spending on the food stamp program was due to an increase in participants in the program. Another 20% was due to temporarily increased benefit amounts as a result of the 2009 stimulus bill passed by Congress. Many of us told you the stimulus was a joke. It was supposed to stimulate the economy, but buried in there was an increase in food stamp benefits. How is that supposed to stimulate the economy? My personal guess is that the increase was to cover inflation created by the fed to cover all the bailouts and promises made to the banksters. If that is indeed the case, you can forget about the Bureau of Labor Statistics and the fed and their ridiculous assertion that inflation runs at about 2-2.5% per annum in perpetuity.
Anecdotally, the CBO said use of food stamp benefits would decrease after 2014 because the economy would be improving, but it also warned that usage would remain high by historical standards. 2014 huh? What about the ongoing 'modest recovery' we hear about constantly? If nothing else, you'll hopefully be able to see that the left ear has no idea what the right mouth is saying and vice versa. Maybe the CBO and the Commerce Dept. should have a meeting and get their propaganda straight.
Social Security Disability Applications Skyrocket
Social Security Disability or SSDI is a program that pays benefits to workers who have earned 'credits' by paying into the Social Security Ponzi scheme. In many cases, even workers who have not earned credits are eligible for benefits as are their dependents under certain circumstances. People who open a claim for SSDI are also eligible for Medicaid benefits. There have been many documented cases of abuse of all of these support systems, but there has also been a dramatic increase in legitimate claims as well.
Since the beginning of 2009 more than 5.4 million workers have signed up for disability benefits. According to government data, since the recession officially 'ended' (sic) in 2009, the number of applicants for SSDI has been nearly twice the number of jobs created. And remember they are using BLS numbers when they talk about the number of jobs created. Many others, myself included, have repeatedly demonstrated the outright misrepresentation and fraud in the BLS' reporting methodologies. To put it in a nutshell, the odds are overwhelming that there are several SSDI applicants per job 'created' rather than just two. Again, per government data, these are discouraged workers who are dropping off the unemployment rolls and out of the work force and, as they give up looking for work, are turning to the government for assistance.
Here's a synopsis from a quote in Investor's Business Daily:
"As a result, by April there were 10.8 million people on disability, according to Social Security Administration data released this week. Even after accounting for all those who've left the program — mainly because they hit retirement age or died — that's up 53% from a decade ago."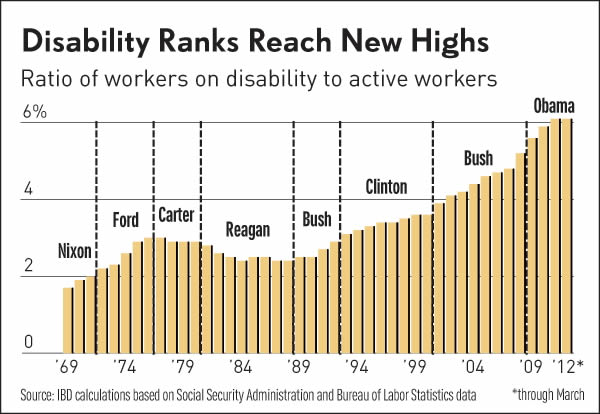 The proportion of those on disability compared to the overall workforce has been steadily increasing since the early 1990s as well (see above graphic). Ironically, if you take a look at when consumer debt burdens really started to accelerate, we're in the same time window. Coincidence? You decide.
There has been no cross-referencing to date that I'm aware of regarding how many SNAP participants are also on SSDI, but the chances are pretty good there is some overlap. It has become a widely accepted fact in economic circles that the number of households completely dependent on government programs is on the rise. Remember, we're only dealing with two programs here. Don't forget there are still Medicare, Medicaid, Medigap, LI-HEAP to be considered and the list goes on and on. This article is only scratching the surface of the increasing dependence on government.
I think that after seeing this information one would be able to construct a rather sound argument that the government is borrowing a good deal of money in order to support an increasingly dependent society, and concurrently, is doing an awful lot of opinion shaping to keep this fact under the radar. Does this sound like a healthy economic environment to you? Reliance on the state might be the 'in' thing right now, but we've already seen the tragic failure of such thinking and policy in Europe. Those who believe we're immune just because we live in America are in for a rude awakening.
By Andy Sutton

http://www.my2centsonline.com
Andy Sutton holds a MBA with Honors in Economics from Moravian College and is a member of Omicron Delta Epsilon International Honor Society in Economics. His firm, Sutton & Associates, LLC currently provides financial planning services to a growing book of clients using a conservative approach aimed at accumulating high quality, income producing assets while providing protection against a falling dollar. For more information visit www.suttonfinance.net
© 2005-2019 http://www.MarketOracle.co.uk - The Market Oracle is a FREE Daily Financial Markets Analysis & Forecasting online publication.

Only logged in users are allowed to post comments.
Register/ Log in