Obama's Veil Of Tears
Politics
/
US Politics
Apr 29, 2012 - 06:02 PM GMT


Has a new leader of a great nation ever held such unlimited potential for his country and for the world?

The celebration in Chicago's Grant Park on election night after the 2008 campaign was by far the highest milestone in the magical Barack Obama movement so far, full of hope and equality, across all boundaries of people, all aimed at ending the special interest blockades in Washington that have stopped effective solutions for far too long. It seemed the nation was united in a rolling tide this young family man had somehow created from pure passion and intellect. Barack Obama had crushed the Republicans and even the Clintons. He was the peace candidate for the world.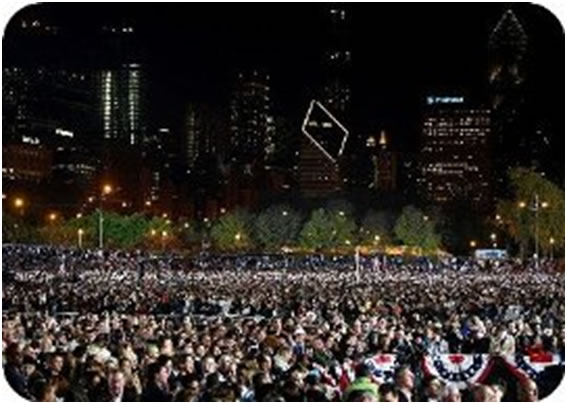 With historic majorities in both Houses of Congress it appeared that night in Grant Park the Obama era had a blank check from the American people to set things right in Washington and therefore in the wider nation.

Indeed, Obama, revered even more in Europe and Africa than in the United States, held the potential to go on to world leadership after two terms in office, possibly in a way unimaginable right now. When elected to the US Presidency, he was by far the most popular major politician in the world already and only now was getting started in his grand works.
So, who would ever have thought the Grant Park election night celebration would prove to be the highest achievement moment of the Obama revolution?

A Wounded President

Now fighting an uphill struggle for re-election, Barack Obama no longer in the public eye stands astride Capitol Hill and Wall Street as a giant. The economy remains hugely distressed for, by far, most Americans. Congress is hopelessly deadlocked in an endless temper tantrum. The masters of the universe in gilded halls across the world have little time for Obama now, a failed olive branch from the top of the 1% to the masses. The troubles for the President are indeed many.

Feeding the fire of general discontent is becoming as much about the accumulation of small outrages as the presence of the glaringly large outrages so fought back by the corporate media.

One need not look beyond this spring's breaking stories to see this trend.

Obama's personal security guards are proven to be drinking and partying with hookers on official time when they are supposed to be preparing for the President's imminent arrival. The visit happened to be to the country in the Americas most ripped by political violence, Columbia. The Columbian hookers were official guests of the United States possibly able to page through Obama's moment to moment movements schedule lying on the table amid all of the fun in the official hotel rooms.

Almost every Secret Service and US military man in the official hotel was in on the party. No one is going to prison over this scandal. The longtime director of this Secret Service culture is still defended by Obama, even though similar past whoring by agents is proving common in the Service.

The federal agency responsible for ferreting out wasteful government spending, the GAO (General Accounting Office), is discovered partying right out in the open in Las Vegas, Hawaii and the South Seas staying at 5-star hotels to award bonuses and freebies to the elated GAO staff, seen dancing and singing in the hallways. The GAO chief in charge of partying always brought his wife or girlfriends along as official visitors with spending privileges applying. His bathtub in Vegas image is one for the ages.

No one of importance is even being fired for all of this waste that occurred over the past many years at the official watchdog agency for all federal spending. For certain kinds of people, official punishment of any sort does not seem to enter the official mind during Obama times.

It also turns out the most recent international thief of billions turns out to be a former US Senator and New Jersey Governor who always held office as a Democrat. That former Goldman-Sachs chief is Jon Corzine, recent head of MF Global.

With the firm's customer watchdog staff of three placed on vacation, just in its last week of business, Corzine's MF Global flat stole $1b in customer deposits required by law to be segregated entirely from bank assets and untouchable. The depositors' money, apparently stolen anew by MF partner JP Morgan in the end, has not and may never be repaid to depositors. Obama's Justice Department has not interviewed Jon Corzine or JP Morgan officials over these events, let alone issue arrest warrants for grand larceny. The corporate media characterizes the money as "vaporized".

By the way, Jon Corzine was the author of the Sarbanes-Oxley Corporate Cover-up Act that was according to popular legend designed to prevent theft and fraud at the top of major corporations. Corzine is locating a new seat in the global syndicate right now, presumably without public relations duties any longer. Corzine's hundreds of millions of ill-gotten net worth remains quite securely in his hands. Many video images show Obama and Corzine as the best of political friends.

Counting numbers is another problem for the administration. Official statistic generation by Washington, D.C. has surpassed the limits of credibility by far under Obama. His BLS (Bureau of Labor Statistics) is now the butt of jokes worldwide for its ever more favorable formulas enhancing official numbers. A favored moniker for the agency is the Bureau of Liars and Swindlers.

The official inflation rate issued by the Federal Reserve is known openly to discount true inflation by at least two-thirds. China characterizes the official US GDP number issued by the Fed as counting mostly paper transactions. The Federal Reserve and its numbers have never been under such general scrutiny thanks to Ron Paul. The Fed is not holding up well at all.

The trend to general disbelief of all federal numbers is becoming viral now, just as Obama and Bernanke are determined to fix the numbers further for the upcoming campaign period.

With recent events like these Obama does not even need the big campaign issues of out of control spending, deficit budgets, increased taxes and a failed war to twist his Presidency into a knot.

The Path to the Present

After giving an Inaugural Address with words of liberty reminiscent of Jefferson and Madison, Obama set about his many tasks in further controlling American lives in fundamental ways. His $900b Stimulus Slush Fund bailed out state and local government spending on a grand scale and launched the Feds into being the master of the green technology business, a new sector of the economy risking taxpayer money almost exclusively. It is the Fannie Mae/Freddie Mac model redux. Obamacare deepened the citizens' bond to socialized medicine and, even worse, to monopolistic pharmaceuticals and health insurance even beyond pillage. Obama tripled down on fighting in Afghanistan pledging to win the "good war". He lowered taxes over and over again even though revenues had crashed. Spending in every federal department has risen sharply under Obama. Total welfare spending has almost doubled. Deficits will never matter to Obama.

Yet, all of these special federal favors to so many millions of freeloaders seems to have left Obama with far, far fewer friends than he started with in January, 2009.

Losing the Left

The Left is exasperated with Obama. Progressivism's greatest chance for massive political change since the days of Woodrow Wilson seems to have gone for naught.

Labor unions have only continued to lose ground in the United States under Obama, going all but extinct in the private sector, excluding Government Motors and Chrysler. Even the auto industry bailout lowered union wages across the board. The secret union elections law so touted by Obama during the last campaign was never seriously taken up in Obama's congress. There are few legislative favors in prospect for private sector labor unions even if Obama is re-elected.

The public unions are embattled like never before. Republican state legislatures are greatly narrowing bargaining rights. Even Obama's Education Department is working towards moderating the smothering of young lives by the adults running the school systems. Now that Obama's flood of stimulus counterfeit is tapering off, the millions of underworked and overpaid state and local worker are facing the prospect of joining the rest of us in tough times.

Leftist true believers in peace and an end to the military empire of the United States have been wholly betrayed by the 2008 peace candidate.

Over three years Obama has directed many hundreds of assassinations by drone attack in at least seven foreign nations, more than doubling George Bush's foreign assassination totals over eight years. Many if not most US drone missions are expected to kill at least some innocent civilians. Many attacks have killed scores of civilians, often only people with no connection to the intended target.

All of this killing is done in utter, absolute defiance of international law going back more than a century. No nation has ever had the legal or moral right to routinely cross international borders to kill foreign nationals, absent a declared war between nations. Few mass killers in peacetime have operated as openly as Obama and Bush before him have. By the way, Presidential foreign assassinations of any kind have been barred by US law since the 1970's as a serious crime.

With the US intelligence agencies in 2010 guessing only a hundred or so Al Qaeda fighters remained in Afghanistan, Obama made his peace with the US Warfare State by sending almost 100,000 additional combat troops to defeat the Taliban, Afghanistan's version of the Republican Party. US military squads now go from village to village in the cover of darkness on their missions of destruction. This off-shored Obama war has further fractured Afghani society into two violent factions, both fueled in their mayhem by narcotics trafficking and US taxpayer money. From all this Obama War Stimulus for Afghanistan for two years, no strategic gains against the Taliban are evident. The Afghani people have begun to erupt into murderous revenge against NATO forces and western civilians. US military troops overseas support Ron Paul for President by a large margin.

Even Obama is now admitting the US war in Afghanistan is lost, pulling most troops back from eastern Afghanistan next year, only to then further encircle Iran with US forces. The next US preemptive war is well along on the drawing board. Kuwait is already bulging with US soldiers and munitions ready for war in Iran. The candidate of peace is ready to attack. Obama can only hope the order to attack Iran does not have to come before November given present circumstances. That kind of ultimate decision is above Obama's pay-grade.

And then there is the greatest disappointment with the Obama Administration on the left. The Messiah of the Left has proven to be a gulping dose of hemlock for the US Bill of Rights.

Obama has expanded and re-enforced PATRIOT Act spying on Americans as vigorously as George Bush ever could. The TSA has been on an absolute spree of bodily invasion. The government relentlessly gathers more and more data on every American. Federal emergency forces and plans are swelling, including implementation of martial law.

The Guantanamo Bay black prison system remains in place world-wide: no criminal charges for detainees necessary. The forcible exporting of suspected terrorism associates for interrogation by torture in Syria has been successfully defended in the US courts by the Obama administration. Not even civil liability applies for the off-shored torture of possible witnesses to terrorist activity.

In an unusual act of bipartisanship by the Congress, Obama has now been empowered by federal law to hold US citizens in custody indefinitely in military prisons without charges being filed or even allowing the suspects any contact with the outside world, no lawyer, no court case. Obama graciously undertook this grant of authority from Congress promising to only imprison terrorists without charges. A terrorist can easily be seen in anyone that sharply challenges the policies of the US government. The names and numbers of silenced prisoners being held at any given time in Obama's gulag will not be known to the American people under the new law.

It is the Democratic Party in US politics that is allegedly committed to preserving fundamental individual liberties. The US Bill of Rights has become a dead letter with the fascist excesses of Barack Obama's time. Defenders of civil liberties have been set adrift, backstabbed by Obama and feeling the pain.

Jihad with the Right

The bad Obama relations with Democratic Party interest groups seems like a love-in when compared to relations with all of those Republicans Obama planned not so long ago to inspire into helping him solve the nation's many problems. The Republicans have not risen to the bait at all.

From the beginning Republican senators have instead abused the filibuster rules to block as much Obama legislation as they can. The new Republican House lives in a world of its own, wholly ineffective. Though there is not enough difference between Obama budgets and tea party budgets to make any real difference with the nation's deficits, one might believe from all the Congressional mud-fighting these political parties joined at the hip are instead polar opposites engaged in a blood feud.

The public in general still accepts the silly, juvenile drama between Democrats and Republicans as meaningful real world entertainment in the end. The constitutional debate over Obamacare's individual mandate for health-insurance is presently center-stage in this recurring script of party conflict, alongside an agreed course of growing corporatism. . Aldous Huxley, author of "1984", would have been challenged to dream up such a permanent public spectacle mollifying the masses, the people left clueless by the State by design.

This embattled national stalemate with Republicans leaves Obama a pitiful giant, unable to actually affect events in the domestic economy where dreamy rhetoric counts for little. There is nothing more politically toxic to the allegedly most powerful man in the world than utter weakness in accomplishing his most important stated goals. Ben Bernanke needs to take note.

The Rest are Alienated

Capitol Hill partisanship amid national economic failure under Obama has rubbed into a general image of an ineffective, corrupt, unchained federal government snuffing out the American dream. With Congress' favorability rating at 8%, both parties appear to have finally made themselves hugely disliked by independent voters during the same election cycle, the swing voters. These voters have been alternating between punishing Democrat incumbents and then Republicans the next cycle. Most independents now by far are looking for a good alternative on the ballot to what amounts to single-party rule. Many with independent thought are realizing the nation has become morally bankrupt as well under the disastrous Republicrat rule.

It would take an entirely new Obama agenda to truly interest many of the voters in this general group of the electorate known as independents, the unattached and frustrated.

Of course, all of the authoritarian mayhem discussed above makes Obama and most Republicans unacceptable ever to freedom fighters committed to the liberty movement and to Ron Paul's vision of government. All of the empty words possible from the President could never affect the absolute opposition of the growing, enlightened army for liberty.

A Lost Love Affair

Even Obama must realize there is a very good reason for his troubles, a kind of justice actually. Failure has consequences.

The number of Americans with a good job continues to plummet under Obama to all-time lows. The old Keynesian counterfeit magic is no longer adding much fuel to the general economy, even when deployed in mindless hyper-drive. The so-often Obama medicated housing market remains in collapse. The nation's official credit rating has been downgraded and looks to fall again. Everyone feels the stronger embrace of big, intrusive government in our lives. The Obama rhetorical goals of hope and change have burned and crashed.

Obama is therefore only being presented by the voters with the bill he has earned.

Yet, it is one thing to greatly disappoint the masses purposely manipulated by the 2008 Obama campaign. That can happen. Votes can be lost. It is quite a different matter though when the public relations Messiah himself is deserted and demonized by the very people he has been feverishly trying to please from the beginning of his sudden ascent. It is quite painful to be cast out even by the ones you have truly loved, your very sponsors to national power.

The problem for Obama with his global masters has not been for lack of tribute and fealty. The 1% has netted 97% of the small alleged gains made in the economy under Obama. Some figure the amount of counterfeit handed by Obama's man, Ben Bernanke, to the treasury, the global banks and foreign governments at 30 trillion dollars. Obama has prosecuted no large figure for Wall Street's many, many crimes for so long. Instead, the financial crime wave is gathering steam like never before.

Obama's federal regulators have moved sharply from unknowing of all wrongdoing to complicity in covering up Corzine-like crime. Federal regulators are becoming one of the key wings of the big money global syndicate.

Under Obama's prime monetary shakedown, zero interest rate policies, every saver in the world is forced to disgorge their investment value to banksters and their brethren in government unless they can see beyond the paper money empire.

The abuse of fiat money and its capture by the power elite by any means possible has been the center of Obama's political universe from Inauguration Day and well before then. The global syndicate should be delighted with Obama.

So, after so much loyalty in every way, how can such a man simply be frozen away from the truly big money donors who carried the day in 2008? How can replacing Obama's presidency become the main reform to be implemented by the world illuminati this year? That is no way to treat the truest of friends, the best pitchman for the modern syndicate ever. Is Obama himself to walk the plank alone as the main reason behind the nation's further sharp decline and even collapse?

There are signs though such Ides of March treatment by his former enablers is actually building some spine in Barack Obama that has been so missing in his time in official office so far. He is the elected President, after all. He is the one so loved still by so many. Obama may refuse to become the fall-guy for world-wide financial collapse without putting up a fight first, his first important fight truly of his own making.

A Radical New Course

But what is a rebel Barack Obama to do? It is an entirely new role.

The first, most obvious choice would be to use the powers of office to attempt a partial coup within the global power syndicate, a reordering of the world's most important people and corporations. Alongside would be a public relations effort with voters to brand vulnerable and Obama hostile syndicate classes as the true cause of economic collapse, especially Wall Street. Such an Obama campaign line is certain to sell like hotcakes to the masses and split the corporate media completely in two. The powerful enemies to be threatened and embittered by this method would be many, but Obama may squeak through the election. Democrats will have to steal votes at least as aggressively as the Republicans to win the national election in this way. Grass roots campaign money would need to be a large reality rather than a media invention in order to win.

The by far better choice for Obama would be to suddenly become a true revolutionary, a game-changer for the first time in his life taking on the risks that apply. It would be simple enough for Democrat candidate Barack Obama to do. It may even deal a devastating blow to the global syndicate, a true step back from the prospect of national chaotic implosion at some point soon.

All Obama need do is revive way beyond rhetoric the forgotten parts of the 20th Century ideology of the Democratic Party, a return to civil liberties and the ending of the American warfare state: the party of Bill Clinton returned to the party of George McGovern: or maybe given to George McGovern on steroids.

Bring all US troops home finally and save a trillion a year in spending. Largely get out of running the affairs of other nations, along with ending foreign subsidies. Reverse the loss of sovereignty to institutions like the IMF, the World Bank and the United Nations. Open America's borders to the world's young and bright with a promise of a more civil America. Propose a new kind of US citizenship. Nationalize insolvent banks.

Bring the unnecessary US police state largely to an end, starting with the TSA. Empty the prisons of people who can be monitored and maybe able to be a successful citizen instead. Give the federal government a trillion dollar windfall from the legalization of some drugs and the decriminalization of drug abuse. Spare the states their trillions in drug war spending, too.

With the trillions adding up, Washington D.C. under a new kind of Obama may actually be able to continue to keep all oldsters on the US payment rolls and keep public schools in business, and not just through lies about the future.

It would be a daring course to take. Most political analysts Obama listens to may reject the course of greater liberty out of hand as too risky, too much sudden change, and too many damaged interest groups. Reliance on counterfeit spending along with the big money campaign contributions Obama can get is far better under conventional political thought. A search for something better is simply too dangerous for Obama. What if the entire syndicate turned on Obama at once?

Sadly, all this matters little. Obama is never going to take the side of citizens against the privileged class in a big way. Obama is only about people, important people, not about ideas, never about true leadership on issues. Obama is about how to congeal the most people in power possible to fancy him the most. Nothing could be more obvious. Obama has always been that way since the Harvard law school faculty picked him for great things.

To Barack Obama political power is seldom to be lost for any reason. The accumulation and expression of power for the powerful is Obama's main passion. The Bill of Rights is an obstruction, not a requirement, not a subject for expansion. If it is war with Iran that the people who count want, it is war with Iran they will have from Barack Obama.

So expect in this campaign for the first course to be followed, if Obama can bear even that much spite to the powerful. Otherwise, Barack Obama will certainly dip below the waves of history forever and the new man for the illuminati will take his office.

Therefore, a few Wall Streeters may actually face criminal justice for fraud and theft this year. Even Jon Corzine may be arrested. The investigations and accusations over Wall Street fraud, fresher crimes, will multiply from Obama with the deepening of the depression. Big business moving jobs overseas will be demonized by Obama, a subject for new legislation. Even bathtub Jeff in Vegas may find himself in hot water. But at best the Obama formula will be a reshuffling of the same toxic mix of privileged people, counterfeit for the rich and eventual collapse soon.

But the heinous part of the likely Obama campaign solution will be in the matters of killing and in controlling social chaos.

Obama Unhinged

The greatest risk arising from Obama's first term is the one area of bipartisan approval he has received, broad approval from the powerful, the approval he so, so craves.

Obama is lauded by all for killing Osama Bin Laden and for killing Somali pirates holding hostages at sea. His drone missions are seen as sexy and effective enough. His fatal takedown of Mohamar Khadafy netted mega-tons in Libyan gold bullion for the Western power elite without that much cost involved. Obama is thoroughly trusted even by Republicans to protect the privileged against chaos and to squelch with spying and prisons and theft any attempts at planning revolution against the single-party state, even at the ballot box.

So, it is in the excess of killing, spying, imprisonment, vote-fixing and crime facilitation that the new Obama may find his new bargains with the dark powers, maybe satisfying with secret methods many of those threatened by his self-serving campaign tactics this year.

Such is the Obama brave new future.

Stephen Merrill is a trial lawyer practicing in Anchorage, Alaska and a past Navy Intelligence Officer. He was a founder of the Tidewater Virginia Libertarian Party in 2001, the most successful Libertarian Party affiliate in the nation. He is now a founder of the Anchorage Tea Party, Occupy Anchorage and an officer with the Alaska Libertarian Party. He is a longtime defender of the Bill of Rights.

Mr. Merrill is the editor of the Alaska Freedom News. http://FreedomNews.US
© 2012 Copyright Stephen Merrill,- All Rights Reserved Disclaimer: The above is a matter of opinion provided for general information purposes only and is not intended as investment advice. Information and analysis above are derived from sources and utilising methods believed to be reliable, but we cannot accept responsibility for any losses you may incur as a result of this analysis. Individuals should consult with their personal financial advisors.
© 2005-2019 http://www.MarketOracle.co.uk - The Market Oracle is a FREE Daily Financial Markets Analysis & Forecasting online publication.
Comments
Jerry Haar
30 Apr 12, 09:21
Obama's Veil of Tears


Great article...but PLEASE spell "Colombia" correctly, rather than "Columbia"--the university



End The Illusion
30 Apr 12, 10:25
Bankers will get off because of statute of limitations


With the lack of any prosecution by Obama's administration and his lackey Eric Holder, pretty soon the statute of limitations will kick in and the bankers will be free of any threats of prosecution and will get to keep all the money they stole.



Aziz Meshiea
30 Apr 12, 10:39
1984 by Orwell


Aldous Huxley, author of "1984", It was Orwell, Huxley wrote Brave New World...

I agree, I would not count on Obama doing any of those things you suggest he should do.

Better to just get behind Ron Paul.




Only logged in users are allowed to post comments.
Register/ Log in