UK Long-Term Fixed Rate Mortgage Advantage Over Short-term Interest Rates
Personal_Finance
/
Mortgages
Feb 15, 2008 - 06:52 AM GMT


As the year goes on, an increasing number of borrowers will be facing the dilemma of what to do once they come to the end of their fixed rate mortgage deals. Julia Harris, mortgage analyst at moneyfacts.co.uk, looks at the options available.
Trackers without penalties
"If you think rates are going to drop further and want to hold out for lower rates, before committing to a new fixed rate deal, there is an alternative to simply reverting to your current lenders SVR. A fee free tracker for term without a penalty could be the ideal solution. There are plenty of these available today, many offering additional incentives of free legal fees and free valuation for remortgage cases.
"Here is just a taster of the most competitive fee free tracker deals currently available.

"Taking into account that the average SVR is currently 7.41%, these rates are well worth the effort of switching your mortgage deal, especially if it doesn't involve you paying any set-up fees. The key benefit of these deals is that they are linked to base rate, so if rates continue to fall, as many are still predicting, so will your monthly repayments.
"The only factor to be aware of is exit fees, both coming out of your existing deal and then coming off these variable rates. Even if you do not have to pay a penalty, exit fees are still charged so make sure you are aware how much the lender charges, if it does at all.
Long term fixed rates
"Alternatively, if you want the stability of knowing what your monthly repayments will be and to prevent any anxiety over which direction rates are going to go next, fixed rates, especially over a longer initial period, are still very competitive.
"Not only are initial rates and fees on ten year deals cheaper than two year rates, but also the deals may also work out less expensive in the long run. Imagine after every couple of years having to pay another round of set-up fees (the average at the moment is around £1K and still rising) – and that's without factoring exit fees into the equation.
"Below are some examples of larger lenders offering lower 10 year rates and the true cost of a 10 year rate, compared with the cost over 10 years of the two year rates as they are today.
2 year fixed rates vs 10 year fixed rates 2008

"The automatic reaction for any prospective borrower looking at fixed rates is to fix in for two or three years. But Moneyfacts' research shows that we are currently seeing a larger drop in longer term fixed rates. Unusually, 10 year fixed rates deals available today are cheaper than those over two years.
"Compared with a decade ago, 10 year fixed rates have become a lot more competitive. Then a long term fixed rate mortgage was an unpopular specialist vehicle – which meant that rates were comparatively high; a very different case to today.
2 year fixed rates vs 10 year fixed rates 1998

25 year fixed rates
"After announcing his support to these deals, Alistair Darling will be pleased to see seven lenders offering 25 year fixed rate mortgages. Although 25 years may seem a step too far for some, the majority come with a 10 year tie-in. In other words if you want to come out of it after a decade, you can. Then again, if in 10 years' time, rates are higher and you want to stay on the same rate, you also have the option of doing so.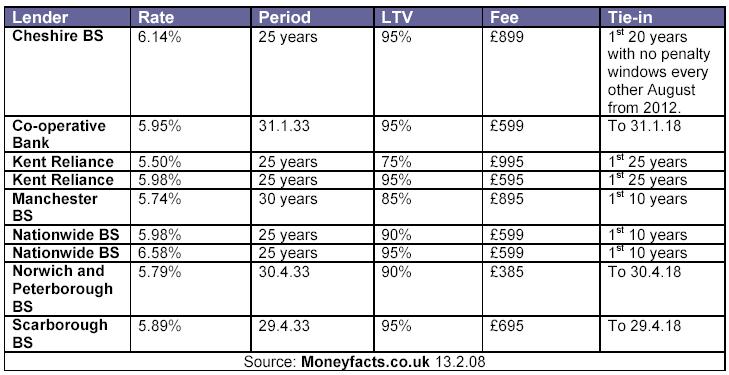 "What may also put people off is thinking they will not only be tied to the same mortgage lender for quarter of a century but also to the same house. This is not the case; all these mortgages are portable, meaning that you can change the property they are secured against. Many lenders, especially the larger ones, will have a specialist team to deal with the move so it should not involve a great deal of hassle.
To fix or not to fix – your financial position may help determine the best option for you
"Anyone with even one eye on the financial markets will be seeing rates drop. So the decision to fix now or wait is up to the individual. If you want the stability of knowing where you stand in terms of monthly repayments, there are some competitive deals out there, especially if you are prepared to fix over a longer term than has traditionally been the norm. At this point it is also interesting to note that current rates are historically low, with Bank base rate having risen to a high of 7.50% in the last decade. If you want to wait a little longer and take the risk that rates will drop further, a fee free, no penalty tracker won't tie you down."
Moneyfacts.co.uk is the UK's leading independent provider of personal finance information. For the last 20 years, Moneyfacts' information has been the key driver behind many personal finance decisions, from the Treasury to the high street.
www.moneyfacts.co.uk - The Money Search Engine
© 2005-2019 http://www.MarketOracle.co.uk - The Market Oracle is a FREE Daily Financial Markets Analysis & Forecasting online publication.
Comments
Giles Hannah
05 Apr 09, 14:17
UK Long-Term Fixed Rate Mortgage Advantage Over Short-term Interest Rates, Feb 15th 2008


Are 10 and 25 year fixed rate mortgatges still available by any providers?




Only logged in users are allowed to post comments.
Register/ Log in