US Presidential Election Too Close to Call Causing Stock Market Uncertainty
Stock-Markets
/
Stock Markets 2012
Oct 22, 2012 - 06:43 AM GMT


The charts below clearly show that the Dow Transport and the Dow Industrial indices continue to exhibit divergent modalities. Since November 2009 the charts indicate that the Industrials have reached higher highs but the Transports have failed this test and have been range bound for nearly all of 2012. The direction and the momentum with which the Trannies break from this range will be most significant. I believe the market is awaiting with trepidation the results of the November presidential election. As we speak the polls are indicating that either candidate can win and this is bringing a fair degree of uncertainty into price action. The major concern is the position of Mr. Romney with regard to Iran given his predisposition to quickly consider war as a policy option. A new Middle Eastern conflagration is the last thing the world economy needs right now but unfortunately he has been boxed in by powerful interests. It is hard to see how he can march himself down the hill of imminent warfare, formal or covert, should the hand of destiny finally fall upon him.
The forward looking indications from Google, Microsoft, IBM, Intel, UPS and FedEx are negative. I think this is due to the contraction in world demand caused by European austerity. However the results from financials, banks, brokers and real estate are more positive. This is due to the low interest and quantitative easing policies being imposed by the FED. Short term earnings disappointments aside, should the issue of the war with Iran be taken off the table quickly and if American real estate and banks continue to gain strength then the scenario could be set for solid future American economic growth. Such a recovery would help Europe stabilise its sovereign debt problem and allow national economies to end austerity and invest again in expansion initiatives. This action would save the Euro from a catastrophic demise and allow another uncertainty to be cancelled from market calculation. Such a situation would consolidate the grounds for a sustainable US recovery over the next decade.
Thus I reckon a lot will be decided in the next few months, not least of which what type of administration will be entrusted to attempt to finally end the greatest structural recession since the great depression. The stakes could not be higher.
Dow Transport: Weekly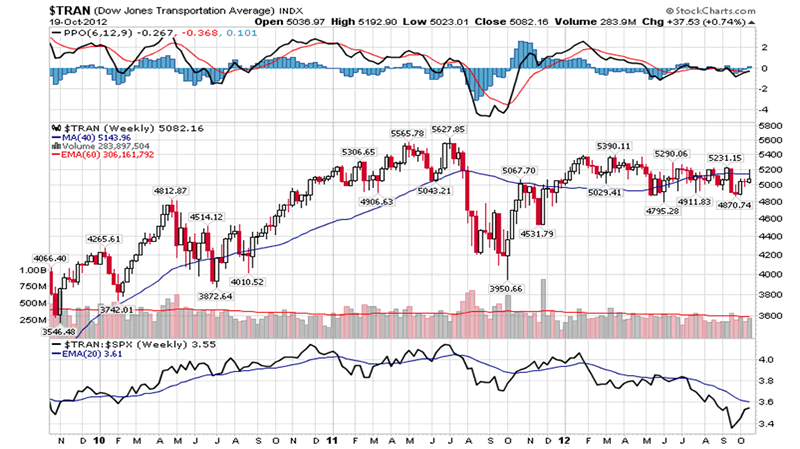 Dow Industrials: Weekly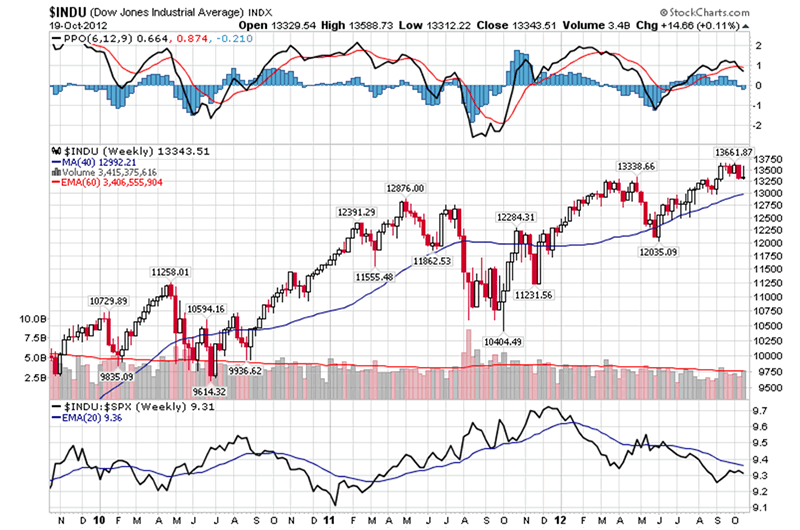 European déjà vu:
Irish Times, Saturday 20th. October 2012:

"GERMAN CHANCELLOR Angela Merkel has upended a carefully crafted plan to resolve Europe's banking crisis, delivering a sharp setback to Taoiseach (Irish Prime Minister) Enda Kenny as he battles for a debt relief deal.

Moments after Mr. Kenny declared in Brussels that he had achieved solid progress overnight at a tense EU summit, Dr Merkel moved abruptly to curtail the scope of the effort to break the link between bank and sovereign debt.

The chancellor's intervention, which took high-level EU figures by surprise, has cast a new cloud of uncertainty over the feasibility of Mr. Kenny's demands.

For the first time in public, she backed her finance minister Wolfgang Schäuble in his assertion that national bodies must remain responsible for most banking debts.

This is markedly at odds with the push from Mr. Kenny and the leaders of France, Italy and Spain for the European Stability Mechanism bailout fund to pay for historic banking losses".
As the above quote clearly indicates the Euro crisis is far from over. In fact all I see is a political civil war breaking out. In addition to the problems being experienced by Mr. Kenny David Cameron, the British Prime Minister, announced at his recent party conference that he wished to totally renegotiate the terms of Britain's membership of the European Union. Should he not get want he wants he has indicated that he may consider withdrawing Britain completely from Euroland. Such an outcome would be a disaster for Europe in general and Ireland in particular. Where England goes Ireland may be forced to follow given the close relationship between the Dublin Financial Services Centre and the City of London. What is at stake here is the future of the "City" itself. Frankfurt wants to be the pre-eminent financial centre in Europe. However London refuses to give up its pole position. This is why Cameron is against the imposition of greater banking regulation based in Europe and is totally opposed to the financial transaction tax proposed by the European Commission. London quite rightly fears that if it starts applying this imposition business will flee from the "City" to more liberal destinations like New York and Hong Kong.
"No job no money, no money no life:"

This statement made by a youth in Greece last week sums up the general frustration of young European graduates living not only in Athens but in Dublin, Madrid, Lisbon and Rome. Nearly 50% of youths under the age of 25 are unemployed in these capitals. For this abandoned generation the European Stability Mechanism offers no solution. This is because the central issue is not banking recapitalization and sovereign debt support but jobs and growth and hope. To achieve real growth Europe needs to become more competitive. It requires debt write off. It demands investment not draconian austerity. It needs real leadership.
For many observers the 500 billion Euro ESM is a diversion that is mis-guided and conceptually flawed. It will not achieve the objectives of banking recapitalization and sovereign debt stabilization for two main reasons. Firstly it is being partly funded by those countries needing funding, which is going to play havoc with its S & P ratings down the road. Secondly it is too small for the task at hand. The task will require in the region of 4-5 trillion Euro to adequately do the job, yet the federal courts in Germany have put a limit on Germany's contribution. This renders the fund's potentiality suspect from the get-go. Even though the ESM is inadequate and problematic all political energy is currently going into its gestation. There is no other political game in town even though national economies and concomitant institutions are collapsing due to rapidly falling money circulation. This situation cannot continue indefinitely without serious consequences. That which cannot continue, won't.
Currently, as we speak, the main fascist party in Greece "Golden Dawn" is growing at an alarming rate. This development is due to the fact that people are desperate for solutions to their social and economic problems. However, solutions are not forthcoming from mainstream political parties. This is worrying. Peter Drucker in his 1939 classic: "The End of Economic Man the Origins of Totalitarianism" spelt out the consequences of such failure. The end result was the horror of the Second World War. Unfortunately Angela Merkel is ignoring the lessons of history and is making the same mistakes again. I think Dr. Merkel will go down in history as the worst chancellor of Germany since you know who. To alter this perception she must strive to lead her nation in a new direction. She must help her people understand that Germany is the main beneficiary of the Euro currency in that it allows cheap German goods flood into France, Portugal Spain, Italy, England, Ireland, Poland, Russia and Turkey. Should the Euro fail, any new Deutschmark would be so over valued that German exports would quickly collapse, contracting its economy to the level of its austerity bound neighbours. Thus the type of political leadership desperately needed in Germany now is not the style that focuses on narrow national party politics but one that values a shared European vision for the future, a vision that is creative not destructive. What is sorely needed now more than ever is statesmanship not political cunning. Let us hope that Dr. Merkel will have such an epiphany soon, very soon.
By Christopher M. Quigley
B.Sc., M.M.I.I. Grad., M.A.
http://www.wealthbuilder.ie
Mr. Quigley was born in 1958 in Dublin, Ireland. He holds a Bachelor Degree in Accounting and Management from Trinity College Dublin and is a graduate of the Marketing Institute of Ireland. He commenced investing in the stock market in 1989 in Belmont, California where he lived for 6 years. He has developed the Wealthbuilder investment and trading course over the last two decades as a result of research, study and experience. This system marries fundamental analysis with technical analysis and focuses on momentum, value and pension strategies.
Since 2007 Mr. Quigley has written over 80 articles which have been published on popular web sites based in California, New York, London and Dublin.
Mr. Quigley is now lives in Dublin, Ireland and Tampa Bay, Florida.
© 2012 Copyright Christopher M. Quigley - All Rights Reserved
Disclaimer: The above is a matter of opinion provided for general information purposes only and is not intended as investment advice. Information and analysis above are derived from sources and utilising methods believed to be reliable, but we cannot accept responsibility for any trading losses you may incur as a result of this analysis. Individuals should consult with their personal financial advisors before engaging in any trading activities.
© 2005-2019 http://www.MarketOracle.co.uk - The Market Oracle is a FREE Daily Financial Markets Analysis & Forecasting online publication.

Only logged in users are allowed to post comments.
Register/ Log in