Royal Canadian Mint's Tungsten Gold Twostep?
Commodities
/
Gold and Silver 2012
Nov 28, 2012 - 09:27 AM GMT


Back in 2009, the Royal Canadian Mint [RCM] claimed that it had lost $15 million worth of gold bullion. What ensued from the time the loss was made "public" can best be described as a 'fumbling exercise' where – initially - different accounts were put forward as to the reason for the loss. Finally, public catcalls regarding this loss at one of the world's most renowned Mints led to an official investigation by the Royal Canadian Mounted Police [RCMP].
In the end, we were all told that this loss was due to honest miscalculations and blunders, or in other words – LAX CONTROLS.
Lax Internal Controls at the Royal Canadian Mint?
It's elementary(?), Watson -- (December 21, 2009) A series of miscalculations and blunders in its gold refinery dating back to 2005 were responsible for 17,500 troy ounces of gold going missing from the mint's Sussex Drive inventory count last October, the mint announced in a 12-page report. That's the equivalent of almost forty-four 400-ounce bars and worth more than $20 million in today's prices.
More than $3 million in government gold was unwittingly sold off at a fraction of its value as refinery slag, while $8 million more was miscounted and never left the Royal Canadian Mint, the Crown corporation revealed today in a full accounting of how it lost track of a fortune in gold for a year.
The mint said a 14-month hunt to find out what happened to the precious metal now "fully accounts" for the missing gold, though it admits almost 3,500 ounces unwittingly sold off in slag to U.S. re-refiners will never be recovered.
"These reviews have bolstered our reputation by strengthening the mint's accounting practices, vindicating our security systems and confirming that our technical procedures and expertise in other areas are superior to industry standards."
-end-
As evidenced from the Royal Canadian Mint's 2009 Annual Report – the mint has been an ISO member since 1999. Furthermore, the mint "upgraded" it's Ottawa operation's ISO designation to the ISO 9001: 2008 standard - IN 2009. Achieving this standard requires a rigorous 3rd party audit.

Also worthy of note, the 2009 RCM Annual Report contained NO REFERENCE to AN investigation by the RCMP – its conclusion or its results - nor ANY mention what-so-ever of the $15 million loss in the bullion department. It's like it never happened.
Contents of ISO 9001
….Before the certification body can issue or renew a certificate, the auditor must be satisfied that the company being assessed has implemented the requirements of sections 4 to 8. Sections 1 to 3 are not directly audited against, but because they provide context and definitions for the rest of the standard, their contents must be taken into account.
The standard specifies that the organization shall issue and maintain the following six documented procedures:
Control of Documents (4.2.3)

Control of Records (4.2.4)

Internal Audits (8.2.2)

Control of Nonconforming Product / Service (8.3)

Corrective Action (8.5.2)

Preventive Action (8.5.3)
In addition to these procedures, ISO 9001:2008 requires the organization to document any other procedures required for its effective operation. The standard also requires the organization to issue and communicate a documented quality policy, a Quality Manual (which may or may not include the documented procedures) and numerous records, as specified throughout the standard.
The picture below would suggest that the ISO 9001 designation really means something to the folks who run the RCM – since they have proudly sewn its facsimile into the garments worn by the folks who handle their bullion – as evidenced in both their 2009 and 2010 Annual Reports:
If the RCM had internal controls "lax enough for the accidental discarding of $15 million worth of gold" – dating back to 2005 - they would have been UNCOVERED IN THEIR 2009 ISO AUDIT and they would never have received their ISO 9001: 2008 designation.
So What Does Make Sense?
The tungsten gold thing has recently been back in the news. Reports of 10 oz "salted bars" in N.Y. have surfaced, but, to date….no one has admitted to finding a large bar – like a 400 oz "good delivery" bar.
My research and contacts in the international bullion business tell me they do exist and these bars are "silo-d" around the world.
The story offered for public consumption by the Royal Canadian Mint about how they "lost" $15 million bucks worth of gold bullion back in 2009 – put simply - is a DOG THAT DOES NOT HUNT - unless you believe that dogs can and really do eat homework.
FACT:
The Royal Canadian Mint At A Glance
The Royal Canadian Mint functions as a commercial Crown corporation, directed to conduct its affairs "in anticipation of profit", as mandated by s. 3(2) of the Royal Canadian Mint Act. As a result, the Mint does not rely on any taxpayer support to fund its operations.
Although the Mints stores large quantities of gold within its high-security facility in Ottawa, on behalf of customers and for its own operational needs, the Mint does not store any gold constituting reserves of the "national treasury" or the Bank of Canada.
Back in 2009 there were widespread reports of physical stocks of gold bullion being "very tight" as evidenced by the suspension / curtailment of U.S. Gold Eagle Production by the U.S. Mint: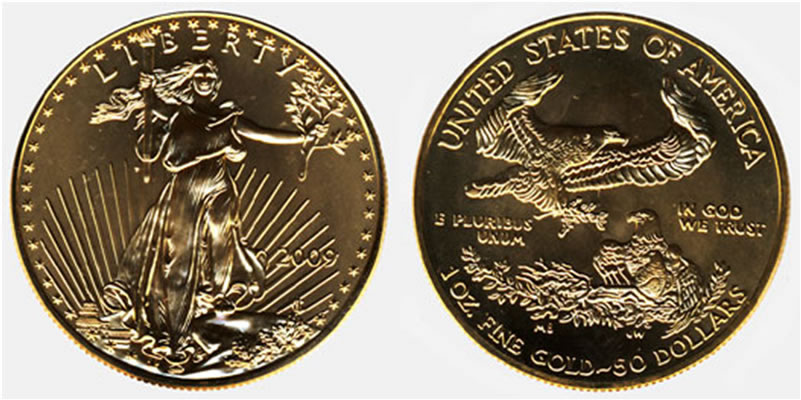 2009 American Gold Eagle
The 2009 Gold Eagle had its product options significantly curtailed from the previous year. Strong worldwide demand for precious metals created sourcing problems for the United States Mint that impacted both bullion and collectible coin offerings.
The United States Mint offered the one ounce version of the bullion coin throughout most of the year. The offering was subject to order rationing from the beginning of year until June 15, and then once again from December 15 through the end of the year following a brief suspension. The fractional weight 2009 Gold Eagle coins were available briefly during the month of December when the US Mint offered a limited quantity of 1/2 oz, 1/4 oz, and 1/10 oz coins.
In October, the US Mint announced the cancellation of the the planned collectible versions of the 2009 American Gold Eagle. Collectors had been expecting one ounce 2009-W Uncirculated Gold Eagles and a full range of 2009 Proof Gold Eagles. In the same announcement, the US Mint also cancelled the collector versions of the 2009 Silver Eagle….
Back in 2009, Royal Canadian Mint was facing unprecedented demand for gold Maple coins with little to zero "working stock" of gold bullion to make them. At the time, the Mint's ability to access gold bullion was impaired due to the fact that the Canadian Government had previously sold all of its 660 metric tonnes of sovereign gold bullion.
Here's where we deduce why the Royal Canadian Mint circulated a "false, incredulous story" about how they lost $15 million worth of gold bullion:
"In the face of unprecedented demand for gold maple coins and with physical supplies of gold being tight in 2009 – it makes sense that the RCM would have "borrowed" gold bullion from one of their customers whom they store bullion for. I have been told by industry insiders that the RCM does not assay gold bars when they take them in for storage. When the RCM tried to melt these bars, they were revealed to be tungsten – which melts at a much higher temperature than gold. This created a very awkward situation for the RCM – having to tell one of their customers that they had stored salted [tungsten] bricks of gold. Can any of you imagine what would have happened if the offending counterparty simply stated, "they were pure gold bricks when we gave them to you for safe keeping"? To prevent a scandal of all scandals from ensuing, the RCM simply says, "We'll eat the loss on the bars we tried to melt".
This makes sense. This is ALSO consistent with the RCM's later action – in 2011 – when they launched a gold ETF - as a means of securing dependable working stock [or monetization of additional tungsten, perhaps?] for its gold maple coin program:
Royal Canadian Mint's gold-backed ETF alternative raises $600 million
November 24, 2011
The Royal Canadian Mint has a hit on its hands after raising $600 million from the sale of its exchange traded fund alternative, exchange traded receipts backed by physical gold bullion held in the mint's facilities in Ottawa, Ontario……
There no doubt will be charlatans in both the mainstream as well as the alternative press who will claim that none of this constitutes evidence to ANYTHING.
Everyone is free to come to their own conclusion[s] whether or not tales involving officialdom's accounting of gold constitute evidence of wrongdoing or not.
Got physical gold yet?
By Rob Kirby

http://www.kirbyanalytics.com/
Rob Kirby is proprietor of Kirbyanalytics.com and sales agent for Bullion Custodial Services. Subscribers to the Kirbyanalytics newsletter can look forward to a weekend publication analyzing many recent global geo-political events and more. Subscribe to Kirbyanalytics news letter here. Buy physical gold, silver or platinum bullion here.
Copyright © 2012 Rob Kirby - All rights reserved.
Disclaimer: The above is a matter of opinion provided for general information purposes only and is not intended as investment advice. Information and analysis above are derived from sources and utilising methods believed to be reliable, but we cannot accept responsibility for any trading losses you may incur as a result of this analysis. Individuals should consult with their personal financial advisors before engaging in any trading activities.
© 2005-2019 http://www.MarketOracle.co.uk - The Market Oracle is a FREE Daily Financial Markets Analysis & Forecasting online publication.

Only logged in users are allowed to post comments.
Register/ Log in