Are Your Savings and Investments Safe From Bank Failures?
Personal_Finance
/
Credit Crisis 2008
Feb 28, 2008 - 01:01 PM GMT


Time to ask a few good questions about your Interest rates - I think its time to start asking some basic questions about what we all think we are doing financially. Is what we do appropriate for the times? Or, more to the point, do we view risk appropriately?
Do we live in a time where we might just see our personal banks, or financial institutions such as money market funds, MMFs, fail?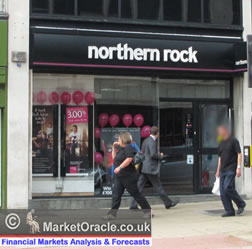 We might want to start asking questions about our financial reality, times, and our own assumptions about what is safe or not safe. Interest rates are one key.
Many of us have some gold. Gold is considered money par excellence, has no particular guarantees on it, other than its atomic weight. People world wide have a basic instinct that considers gold and silver money. The trait is so deeply ingrained that it has survived over thousands of years, even as nations failed, currencies failed, and people lost all their savings. But gold offers no interest. So, for our accounts that do offer interest, how should we look at that?
I think that the time is right to start asking ourselves if the financial world we live in is as safe as we might think. Let me make the point like this….
Suppose that you found out that your financial account was on the verge of being locked – like we hear some money market funds have had to do – to stop people from fleeing headlong and then the fund has to sell assets at fire sale prices. What would you do? Well, I'm sure that you would drop everything and move that money out before the account was frozen. But how can one find out before that happens, or is imminent?
It's a basic example, but, rather poignant today. Poignant now. I drove by a small bank recently and they were offering over 6% on a checking account! With a sign out front.
That is so high, that one has to ask himself how that bank can offer that interest rate, when that is about what 30 year fixed rate mortgages are at?
Or, more to the point, doesn't that show how urgent that bank is to get deposits?
We just put out an alert about this phenomenon to our readers. We suggested that, if you are being offered a rather high interest rate by your financial institution, that maybe you should consider that a warning sign. This applies to banks, broker accounts, and MMFs.

We lament the fact that a person needs to be able to 'read tea leaves' to ascertain if his money is in a safe financial account.
I really think this issue, of whether your financial institution has to offer high interest to attract deposits, is more about how urgent their needs are. The issue becomes one where we all need to reassess risk – become risk averse, and yes, if we see some high interest rate like that – to read the tea leaves.
This is all obvious of course. But, it's the obvious things that kill.
One needs to be able to ask questions at the right time. One cannot just blithely go forward oblivions of what is happening around him, and expect to keep his savings.
I remember reading about the Great Depression in the 1930's in the US, and there was a cartoon out. A 'prudent squirrel' asked a man in a park why he had lost his savings. He asked the man, 'why didn't you save for a rainy day?'
The man replied 'I did.'
This cartoon was put out when there was a rash of bank failures in the 1930's before there was deposit insurance like the FDIC. That cartoon was one reason we chose the name PrudentSquirrel for our newsletter.
But, in any case, I just read on a gold forum about a guy who said that he had been a customer in two bank failures in the last 40 years, one in the S and L crisis in the 90s, and had to do the FDIC thingy and what a pain that was, to get his money back.
Ok
So, now, we read about the FDIC is on a hiring binge. And also there are various news comments hither and yon, where it's expected that we are going to be seeing a good number of bank failures as the credit crisis expands, and eventually drags them under. This will affect not only banks but money market funds and many financial accounts.
If you are following the bank crisis of late, and realize that the Fed and the ECB alone have pumped out an astounding $2 trillion of help to financial institutions since August 07, that maybe we all ought to be double checking the status of our financial accounts, and if – I think this is particularly important – our accounts are offering a bit higher interest than the norm, to consider this a risk profile.
If your bank, (I would say this applies to most countries right now) offers something like 6% on mere checking accounts, or CDs even, maybe you ought to consider that a risk profile.
In any case, we ought to all be asking questions about how safe we think our financial accounts are, and if they offer higher interest than the norm, to consider looking around for saver havens. You need to find out what the going interest rates are for your area.
Now, I would consider 4% a maximum interest rate for a sound institution, and that is just a general observation based on 30 year fixed rates being about 6%. I think you might find that to be the case in many countries right now, ie 4% max.
I think this level would be a high rate of return for just about any country in the world now, because money is so fluid. But the key issue is that you need to find what interest rates are in your nation, and what is competitive. If you find that your accounts have higher interest than that norm, you ought to consider that a fairly high risk profile.
By Christopher Laird
PrudentSquirrel.com
Copyright © 2008 Christopher Laird
Chris Laird has been an Oracle systems engineer, database administrator, and math teacher. He has a BS in mathematics from UCLA and is a certified Oracle database administrator. He has been an avid follower of financial news since childhood. His father is Jere Laird, former business editor of KNX news AM 1070, Los Angeles (ret). He has grown up immersed in financial news. His Grandmother was Alice Widener, publisher of USA magazine in the 60's to 80's, a newsletter that covered many of the topics you find today at the preeminent gold sites. Chris is the publisher of the Prudent Squirrel newsletter, an economic and gold commentary.
© 2005-2019 http://www.MarketOracle.co.uk - The Market Oracle is a FREE Daily Financial Markets Analysis & Forecasting online publication.
Comments
Nell Graham
12 Jan 09, 18:02
FDIC


Does anyone know how long would it take to get your money from FDIC if a bank went under?




Only logged in users are allowed to post comments.
Register/ Log in