Investing in China - Oodles More Money to Be Made!
Stock-Markets
/
Chinese Stock Market
Feb 29, 2008 - 08:01 AM GMT


Larry Edelson writes: Is China's boom over? Ha! Not by a long shot! China's economic rocket ride higher is far from over, and I think there are oodles of money to be made playing this giant as it awakens — and shakes the world!
First, let's look at some of the recent economic stats coming out of China ...
#1. While the rest of the world is in the midst of a severe credit contraction, bank lending in China grew last month by a whopping 22% — the same rate of loan growth at this time last year, when the Chinese economy grew 12%.
#2. In contrast to past brisk lending, much of the bank lending this time is not going toward overinvestment. Rather, up to 60% of it is going to small business enterprises and consumers. This indicates that domestic consumption in China is on the rise, a precondition for an even stronger economy.
#3. Retail sales during the Chinese New Year holiday (earlier this month) soared 16.8%, and that was in the midst of the coldest, nastiest winter weather in 54 years!
The booming sales weren't just in the major, east coast cities like Shanghai, either. Retail sales soared 35% in both Chongqing and Anhui provinces, proving that China's boom is beginning to spread westward to the rural areas.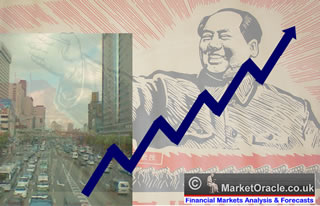 Chongqing's port is bustling and retail sales are soaring!
#4. China has overtaken the United States to become the world's second-largest consumer of gold jewelry, with sales jumping 34% in 2007. That's even more impressive when you consider that only about 10% of the country's population is currently able to afford gold.
#5. China's trade surplus with the world is expected to jump 22.2% in 2008. But even so, the role of exports in China's economy is shrinking as domestic consumer demand ramps up, accounting for as much as 80% of recent gross domestic product growth.
#6. Capital investment continues to surge in China, despite six interest rate hikes last year and 11 jumps in bank reserve requirements since the beginning of 2007.
I could keep going, but I think you get the picture. There is no slowdown in China. And when you consider what they have planned next, you'll see why I'm convinced that the boom is going to spread throughout ALL of mainland China ...
The World's Largest Infrastructure Projects Are Now Underway In China
So far, China's record-shattering growth has largely been concentrated on its east coast. Some 40 million rural residents migrate to the east coast cities each year, creating a boom never before seen in the history of the world.
But there are still some 800 million Chinese residents living in rural areas. And while the east coast cities are now some of the largest in the world, with extensive infrastructure, the rural countryside remains largely undeveloped.
Over the next five years, Beijing will ...

Spend up to $200 billion on railways stretching west — four times more investment in railroads than has been made in the past four years.
The maglev train linking Beijing and Shanghai is a $30-billion project ...

Spend $30 billion to connect Beijing with Shanghai via a maglev bullet train that can travel at speeds of up to 300 mph, cutting the travel time between the two cities in half.

Build more than 10,000 miles of new expressways, reaching west into rural China.

Build 97 regional airports at an estimated cost of $62.5 billion.

Invest roughly $40 billion in 15 cities to construct subway systems.
All told, I figure some $400 billion will be spent on new infrastructure projects in China in the next five to seven years ...
That $400 billion will turn into more than $2.8 trillion of economic production by the time it multiplies through the banking system via additional lending ...
And not one yuan of this includes the hotels, convenience shops, gas stations, or toll road pit stops that will spring up along these new routes!
Slowdown in China? Heck no! The boom continues in the major cities, and now, the boom will spread through the rest of China!
Look ...
China's Economy Is Unlike Any Other in World History
There has never, I repeat, never been an economic phenomenon like China. The sheer size of the population, currently at 1.4 billion, makes it unlike any other economy the world has ever seen.
But it's not just sheer numbers. It's also the Chinese people and their culture. China has intense nationalistic pride ... fanatic devotion to the concept of family ... and one the toughest work ethics you'll find anywhere.
Think about it. When was the last time you saw a local neighborhood Chinese restaurant or dry cleaner go out of business?
Probably never. They don't go out of business. No matter how tough things get, they hang in there, often calling in more family members to help, until the business bounces back. The failure rate of Chinese businesses is among the lowest of any culture or economy on the planet.
As for the pundits on Wall Street who believe China's economic growth has peaked? Don't believe them for one minute. Most of these armchair analysts have never even stepped foot in China.
My view: China will shock the world again in 2008, with stronger than expected growth of near 11%, if not higher.
So if you haven't already gotten a stake in this economic juggernaut, consider doing so now!
Two of my favorite China plays are the iShares FTSE Index (FXI), which tracks China's Shanghai stock market, and the U.S. Global Investors China Regional Opportunities Fund (USCOX).
Both offer incredible profit potential, are easy to buy, and are great ways to play China without having to open a foreign brokerage account or buy stocks overseas.
One other thing ...
Natural Resources Prices Should Continue Soaring, Largely Because of China!
Take a look at commodities prices ...
Gold, on fire, preparing to blast to $1,000 an ounce ... then even higher ...
Copper also preparing to hit new all-time record highs ...
Wheat, corn, sugar, coffee, and cocoa all busting out to the upside like rockets ...
Oil surging, preparing to head toward $120 a barrel ...
Iron ore prices up 65% just this year ...
And steel, cement and coal prices soaring to record highs.
Think the rocket rides you're witnessing in natural resources are over, or near a top? Think again!
While there are certainly bound to be normal, healthy price dips, natural resource prices are in a very powerful long-term bull market that has much more to go, and much higher prices to come.
One of the primary reasons is the boom in China that I just told you about. Not to mention strengthening demand from other areas such as India, the rest of Southeast Asia, and emerging economies in Latin America.
That demand, along with severely limited supplies and a U.S. Federal Reserve that is determined to pump inflation through the ceiling, virtually guarantee even higher prices in the future.
So don't miss the chance to profit from this unprecedented economic boom in China. I suggest targeting both the Chinese investments I mentioned earlier and natural resources.
Best wishes,
Larry
P.S. If you want a terrific new way to profit from soaring commodity prices, my colleague Sean Brodrick is about to recommend a round of natural resource investments that carry tremendous profit potential without futures, options or even stocks! Stay tuned for the details!
This investment news is brought to you by Money and Markets . Money and Markets is a free daily investment newsletter from Martin D. Weiss and Weiss Research analysts offering the latest investing news and financial insights for the stock market, including tips and advice on investing in gold, energy and oil. Dr. Weiss is a leader in the fields of investing, interest rates, financial safety and economic forecasting. To view archives or subscribe, visit http://www.moneyandmarkets.com .
© 2005-2019 http://www.MarketOracle.co.uk - The Market Oracle is a FREE Daily Financial Markets Analysis & Forecasting online publication.

Only logged in users are allowed to post comments.
Register/ Log in