The Hidden Crisis in the Gold Business
Commodities
/
Gold and Silver 2013
May 13, 2013 - 03:52 PM GMT

Barrick CEO Jamie Sokalsky has some things to say about the gold mining business that will come as a revelation to many gold owners. In a speech at the London Bullion Market Association's conference in Hong Kong last November, Sokalsky wades into a largely hidden crisis in the gold business — static mine production that has not responded positively to the rising prices over the last several years, and is unlikely to ramp up even if prices go higher from here.
"There are very few mega-sized gold mines currently in production in the world," said Sokalsky. "In terms of a cross-section of total gold mines by size, there are about 400 gold mines producing. Only 156 of these, or about 40%, produce over 100,000 ounces per year. . .Twenty-one mines produce over 500,000 ounces per year. . .Only six mines produce over 1 million ounces. . .It is also interesting to note that although there have been some gold discoveries, none can be described as a super giant — that 20-million-plus ounce deposit. They are harder to find and that is directly impacting production growth because those super-giant discoveries are really the ones that can have a material impact on supply."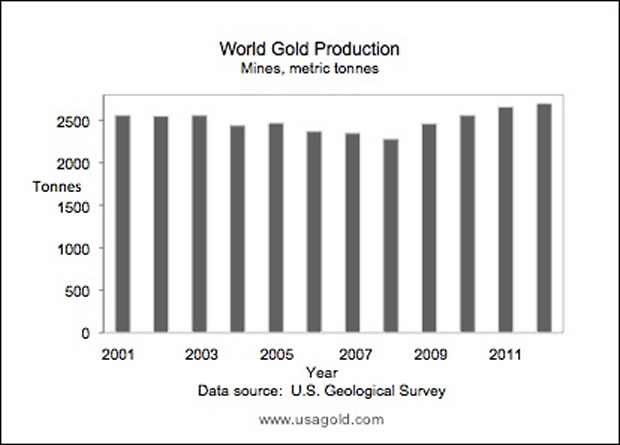 Mine supply, according to the U.S. Geological Survey, is pretty much unchanged over the past 12 years — from 2560 metric tonnes in 2001 to 2700 metric tonnes in 2012. There was a dip in 2008 to 2280 metric tonnes.
Parenthetically, Barrick got some bad news in late April, when its Pascua Lama project — a 17.9 million ounce deposit (a near "giant" in Sokalsky terms) that straddles the Chile-Argentina border — was ordered closed by Chilean courts for environmental reasons. The trouble came after Sokalsky's speech to the LBMA, so the outlook for global gold production is even tighter now than it was then. Work continues on the Argentina side, but Barrick says it might be forced to suspend spending on the mine if the regulatory issues "remain unclear," according to a Reuters report.
Though there is always a possibility that the court decision might be reversed, Barrick's problems at the Chile-Argentina border underscore the high risks in the mining business as pointed out by Sokalsky in his speech. Even strategically important mega-projects like the Pascua Lama can be derailed unexpectedly by exogenous events.
When you weigh the static global gold production against the growing global demand, you get a sense that something has to give somewhere. The supply fundamentals are one often overlooked by gold advocates who tend to concentrate on the monetary reasons for gold ownership. Sooner or later though, the tension between supply and demand will assert itself.
Sokalsky ends his speech with this:
"This industry is like a supertanker. It takes a long time to stop or change directions. You cannot turn on a dime. Most projects that are built right now, or are in advanced construction, will not be affected. However, the outlook for growth in supply in a few years looks more and more under threat. Thus, the supply of gold is likely to be lower going forward. We are not going to see huge growth, even if the gold price goes up considerably."
It sounds like he was blind-sided by the Chilean court decision. The Pascua Lama was in "advanced construction" at the time of the closure. Barrick had spent "up to $8.5 billion" on the project, according to that same Reuters report. Creamer Media's Mining Weekly reports that Barrick has made reactivating the project its number one priority, but that "many experts say the unpopular project faces an uphill battle."
______________
If you like this kind of in-depth commentary, you will probably like our newsletter. It's free, arrives by e-mail link, and you can opt out at any time.
By Michael J. Kosares
Michael J. Kosares , founder and president
USAGOLD - Centennial Precious Metals, Denver
Michael Kosares has over 30 years experience in the gold business, and is the author of The ABCs of Gold Investing: How to Protect and Build Your Wealth with Gold, and numerous magazine and internet articles and essays. He is frequently interviewed in the financial press and is well-known for his on-going commentary on the gold market and its economic, political and financial underpinnings.
Disclaimer: Opinions expressed in commentary e do not constitute an offer to buy or sell, or the solicitation of an offer to buy or sell any precious metals product, nor should they be viewed in any way as investment advice or advice to buy, sell or hold. Centennial Precious Metals, Inc. recommends the purchase of physical precious metals for asset preservation purposes, not speculation. Utilization of these opinions for speculative purposes is neither suggested nor advised. Commentary is strictly for educational purposes, and as such USAGOLD - Centennial Precious Metals does not warrant or guarantee the accuracy, timeliness or completeness of the information found here.
© 2005-2019 http://www.MarketOracle.co.uk - The Market Oracle is a FREE Daily Financial Markets Analysis & Forecasting online publication.

Only logged in users are allowed to post comments.
Register/ Log in