The Cult Of Economic Propaganda
Economics
/
Economic Statistics
Aug 12, 2013 - 04:39 AM GMT


COMPULSIVE LYING
Modern economic communication can be called a degenerate art. For the Nazi regime 'entartete Kunst' meant degenerate art and described virtually all modern art – which was banned as anti-German. Today, economic propaganda has reached a high point of degeneracy, falsifying all and any information with a very simple goal. The information available to anybody – whether specialists or ordinary citizens – is no longer sure. Consequently we do not know what is really happening, but more important, almost nobody cares. This is one key goal of any propaganda campaign – to produce a confused, disoriented, fearful and childish-minded public craving for reassurance.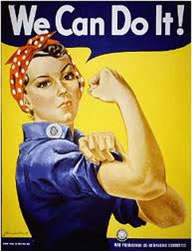 US Federal wartime poster (W War II)
YES WE (S)CAN!
Not the bar codes, but the e-mails of all and everybody. Public security now needs mass interception of all communications, at least by US security agencies, but when we do look at bar codes we find that 'real' price information is upstaged and replaced by Official Price data. Almost any developed country officially sets inflation at around 1% - 2% these days. Whatever we find in the real world of the shops and supermarket shelves and on their bar codes, the official inflation rate is fixed. More stupefying than the cynical manipulation of price data needed to keep the official rate credible, we are also told that absence of inflation must be prevented, excuse the pun, "at any price".
This propaganda comes from the same political sources which for decades lectured us about the horrors of inflation. An economic war hero (or criminal) of the early 1980s, US Fed chief Paul Volker was lauded to the point of hysteria for raising interest rates to 20% - even higher than official inflation of the time. Today we need 0 % interest rates and in Japan, a bizarre and clumsy monetary experiment is underway to try raising inflation while trying to devalue the JPY, using zero interest rates.
As we know today, anybody who has to buy anything as "uninteresting" as food and energy is well aware that prices, compared with 2, 3 or 5 years ago are always higher. When it concerns food they also notice the relentless standardisation of fruits and vegetable, eliminating "unwanted" taste, as package sizes and weights have declined. In other words higher prices for fewer goods of lower quality.
In certain specific cases – notably Europe – the excuse provided by the propaganda themes of Low carbon and Sustainable development have "justified" electricity price rises that will run at 5% - 10% each year, for years ahead. This of course "is for the good of everybody". Whatever the market traded price of oil, the pump price is always high, or very high. Again this is for our own good.
When we move on to economic growth – we mean the absence of it – this is a favoured target for outright propaganda. France's Minister of the Economy, Pierre Moscovici, August 10, announced firstly that the recession is now over in France, then he revised down his ministry's estimate of economic growth for the year ahead. Formerly set at a princely 0.8% it was "trimmed" to a maximum of 0.1% and a minimum of -0.2%, to which he added a new hit of 6 billion euros of additional State taxes. Proving the end of the recession is not only nigh, but already here!
If we cared to carefully look at the insane deluge of money printing, called QE or "fiscal easing" and made a guess as to what it means for future inflation, or hyperinflation, or simply what it means for how much government spending will have to be compressed to pay off debt, we can literally be terrified. Instead, official propaganda tells us fiscal easing is the best invention since Michael Jackson and sliced bread, because it ensures ever-rising equity indexes which means prosperity. What could be more sustainable, to use an often-bandied-around slogan of the propagandists and manipulators?
Whenever the subject gets on to employment – we mean the lack of it – the propaganda becomes even more hysterical, even more lying. Truth about the ultimate cases of economic collapse, such as Greece and its lurid, shameful and fantastic jobless rates is very, very rarely beamed out on government-friendly TV stations. In any case the Greek public is well beaten, downtrodden, confused and apathetic – or "courageous and stoic" as it should be! Any trick is used by the propagandists to deflect our attention from how bad things are for jobs, and to prevent us from accusing the real culprits – them.
In the US for example, its employment picture is dismal at best. One favoured trick is to compare this with wartime, when virtually every American had a family member or a friend who had been hurt or killed, with the bottom line that "social solidarity" can solve the mess. Younger persons, to the age of 35 or 40 that is, can go live with their parents. Every month in the US, as in other hobbled and degenerate economies which have been impoverished and sucked to the marrow, the propaganda machine makes a heroic effort to bend the job numbers. Well-paid liars in the propaganda apparatus jump through multiple hoops to find any way that makes US unemployment seem a maximum of 7.5%. In France for example, the magic number is 10%. In Spain (this week) it is about 25%.
A simple and clear example of rustic, incompetent and clumsily obvious economic propaganda presently operating in Europe, is the Angela Merkel re-election campaign. To an unbiased observer it would be surprising that everything is starting to look so much better in Europe now that Angela Merkel is up for re-election, but Merkel is the "only possible candidate". We are told Europe's worst crisis since 1945 suddenly went away because All Powerful Angela is almost certain to be re-elected. We are instantly more confident in the future! All across Europe as well as inside Germany everybody knows she's doing a really great job. Even Spain "could be pulling through", now, meaning that the corrupt no-alternative regime of Mariano Rajoy will be kept credible a little longer. Out in the real world (as if that mattered!) we find many awkward facts:

Since 2008 ECB fiscal easing or QE has grown at up to 44% a year;
· Italy's non-performing bank loans rose 22% year in May '12-May '13;
Its Monte Paschi bank 'permanent bailout' scam lumbers on;
· Spain' real non-performing loans grew by 17% in the year to June '13;
· The IMF predicts Spain's unemployment will be stuck at over 25% to 2018;
· Youth unemployment across the EU only grows, to the present average 25%.
IT CERTAINLY HAPPENED BEFORE
Even the slightest bit of effort and a little research will tell us the numbers simply do not add up. But when the gap between reality, and the official pastiche of "reality" is too big for too long, things will snap and the mask will come off.
From Spring 1930 this was the situation in Germany. The rapid and steady growth of the National Socialist or Nazi party was, to be sure, a surprise for outsiders but the catastrophic worsening of the economic condition for large segments of the population surely helped the Nazis. Its propagandists therefore concocted the worst type of economic propaganda, one we have more and more examples of today – the Fantasy Future. Only a fundamentally different political system and economic base could save Germany. To a certain dangerous extent what is called "Abenomics" in Japan, today, includes this fantasy theme. In Zimbabwe today we have an almost pure Fantasy Future economy.
Looking into the economic reasons why so many Germans rallied to the Nazi party throws up lurid differences with our crisis-wracked Western economies and societies of today. For example, the Nazi party promised to slash the cost of loans and credit to small businesses, farmers and homeowners – while our supposed problem, today, is interest rates at anything above 0% . As we know, the fiscal easing does not, repeat not "trickle through" to the real economy, for one reason because the bankster fraternity needs plenty to keep the stock and commodity market roulette wheels spinning.
For the Germans of the 1930s there was also the "lost war of 1914-18" and reparations, seen as unjust and greedy by many Germans. Today, our downsized leaderships are so shrunken that the "great leader" of the West, Mr Obama is only able to petulantly cancel a meeting with Mr Putin because the whistleblower Edward Snowden was not handed over trussed up like a baking chicken!
Our great leaders and liars of today may believe that the Good News information concocted and presented by the "unbiased media", and an occasional 8pm TV news show interview, will suffice to keep the stupid public stupid, but the Nazi party in the 1930s applied much more method. Selected city districts were veritably inundated with propaganda operations, using thousands of mostly volunteers. Methodically and skillfully prepared written and verbal material was constantly updated and circulated.
FRACTAL HAZE AROUND OUR BRAINS - THE FANTASY FUTURE
The reasons why the economic propaganda effort of our great leaders, today, is so tacky and shot through with clearly bogus numbers may include their lack of experience in running one-party or fascist states. Mr Obama's great leap forward with the NSA, DHS and terror hysteria however show the leaders and liars of the West, today, are catching up on their true vocation.
The entirely fake economy and the guided make-believe democracy are two of the surest and most logical outcomes. The retreat to the ultimate fake economy – of pure fantasy - is almost certainly coming, shown by the near-total nakedness of propaganda dished out today.
Since the so-called "neoliberal revolution" of the early 1980s the Western consumer democracies and Japan have pursued a "reform agenda" to supposedly redynamise capitalism. In 30 years they have:
*Created a fragile, inert, stagnant and fearful "couched potato" society
and
*Created a stagnant debt-riddled economy able to implode, literally at a moment's notice
To be sure, the subject of political degeneracy and "whither and whence goes our Western democracy" is a heavily gargled TV talkshow theme, also used on party political platforms. In the US, John Adams is occasionally cited saying with characteristic bluntness: "Democracy never lasts long. It soon wastes, exhausts, and murders itself. There was never a democracy that did not commit suicide".
We are at a point where it is rational to argue that firstly, democracy should be suppressed for reasons include it already being suppressed by several processes operating in the economy and society. Democracy is a question of choice, but the best, most-useful consumer cipher is the zombie who trots out to buy the right product, every time, without a doubt or qualm. To be sure, the zombie will choose between a few almost identical products – Apple or Samsung – but it is certain the zombie will buy and use. Introducing too much choice into the process is a timewaster, and could result in the most awful of things happening – the zombie starts thinking and doesn't consume at all!
Our guided democracy of today is a logical step towards suppressing democracy. Our fake democracy already has at most two or very occasionally three Me-Too parties available for the zombies to vote for – Germany's present "Merkel only" political propaganda is a good example – because no other parties are in fact needed. Each party offers an almost-identical platform, called "converging", dedicated to maintaining crony capitalism in the driver's seat. Why duplicate and replicate?
The second mega-reform needed concerns the crony capitalist corporations, so close to power that chiefs, CEOs and leaders of the political parties and of the crony corporations float effortlessly in-and-out of each others' boardrooms and halls of power. This is a clear case of redundancy and duplication. The radical reform needed, here, is the complete State control of the crony corporations, stripping away the relic features of so-called liberal capitalism along with relic democracy.
This may be achievable, for example, using the pretext and propaganda plank of Sustainable development. Alternately, creating a sufficiently-intense global scale currency crisis linked to the unpayable and extreme national debts of the "player nations" may provide the right excuse to move forward to suppressing democracy and suppressing the last vestiges of a so-called 'normal' economy. Other pretexts can of course be manufactured – for Hitler and Stalin permanent war threat and war readiness were utilised as the excuse for totalitarianism. To be sure this would offer the prospect of the ultimate "managed economy" being a radioactive wasteland, but this may in fact be one of the few reasons we have not yet had the full-scope "managed economy" rammed down our throats. We can hope!
By Andrew McKillop
Contact: xtran9@gmail.com
Former chief policy analyst, Division A Policy, DG XVII Energy, European Commission. Andrew McKillop Biographic Highlights
Co-author 'The Doomsday Machine', Palgrave Macmillan USA, 2012
Andrew McKillop has more than 30 years experience in the energy, economic and finance domains. Trained at London UK's University College, he has had specially long experience of energy policy, project administration and the development and financing of alternate energy. This included his role of in-house Expert on Policy and Programming at the DG XVII-Energy of the European Commission, Director of Information of the OAPEC technology transfer subsidiary, AREC and researcher for UN agencies including the ILO.
© 2013 Copyright Andrew McKillop - All Rights Reserved Disclaimer: The above is a matter of opinion provided for general information purposes only and is not intended as investment advice. Information and analysis above are derived from sources and utilising methods believed to be reliable, but we cannot accept responsibility for any losses you may incur as a result of this analysis. Individuals should consult with their personal financial advisor.
© 2005-2019 http://www.MarketOracle.co.uk - The Market Oracle is a FREE Daily Financial Markets Analysis & Forecasting online publication.

Only logged in users are allowed to post comments.
Register/ Log in