Credit Crisis SCOOP- LIBOR Is Now Irrelevant to Derivatives Pricing
Interest-Rates
/
Credit Crisis 2008
Apr 17, 2008 - 04:16 PM GMT

In the latest Office of the Comptroller of the Currency – Quarterly Derivatives Report [Q4/07], we learn that outstanding notionals for reporting banks declined by 8 Trillion. Furthermore, we are told that the overall decline was "driven by a 9.2 Trillion reduction in interest rate contracts – mostly swaps with maturities of less than one year ."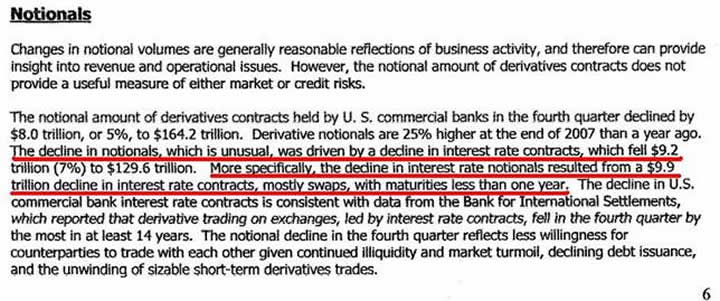 What everyone needs to understand is that short term interest rate swaps are ALL hedged against 3 month Eurodollar futures – a Libor based product. But look at what is revealed here: http://www.telegraph.co.uk/money...
Libor credibility questioned as credit crunch deepens
By Peter Taylor
Last Updated: 12:49am BST 17/04/2008
The British Bankers' Association has brought forward a review into how it sets the pivotal London Interbank Offered Rate amid mounting concerns over the credibility of the measurement.
The association yesterday revealed it was re-assessing how it calculates Libor - a benchmark measurement that filters through the economy, affecting mortgage and other interest rates across the lending system.
Despite widespread concerns that Libor has blown out to levels significantly above base rates, economists fear banks are understating the rates at which they are prepared to lend to each other, downplaying liquidity problems.
Pressure for an overhaul of the Libor calculation process is escalating after a report last week, Is Libor Broken?, by Citigroup interest rate strategist Scott Peng, who said the inter-bank rate "touches everyone". "We believe the current liquidity crisis has damaged the inter-bank market, resulting in Libor sets that at times deviate significantly from real inter-bank lending rates," he said.
• The financial crisis in full
Paul Calello, chief executive of investment banking at Credit Suisse, yesterday joined a growing chorus questioning Libor reliability.
"Continuing to base an enormous amount of derivative contracts on an index with credibility problems is a serious issue we must address," he told a banking conference.
Credit Suisse rate strategist William Porter said Libor had a "huge incumbent advantage" the British Bankers' Association (BBA) was in danger of losing. "There's no underlying transaction actually done at Libor, so it is inherently subjective, and yet it fixes the interest rates on a large proportion of the world's interest-rate contracts."…….
The Decline Was All J.P. Morgan
This explains why the "contraction" in interest rate derivatives in Q4/07 was restricted to the short end of the curve – the buggers have corrupted the benchmark which these trades are hedged against. Short term interest rate swaps are all hedged against 3 month Eurodollar futures – a Libor based product. This is evidenced by the reduction in interest rate derivatives, maturing in less than one year, at J.P. Morgan in the aggregate amount of 8 Trillion from Q3/07 to Q4/07.

So let's just say that J.P. Morgan is ALREADY WELL AWARE that Libor became irrelevant. Their derivatives book emphatically states as much.
By Rob Kirby
http://www.kirbyanalytics.com/
Rob Kirby is the editor of the Kirby Analytics Bi-weekly Online Newsletter, which provides proprietry Macroeconomic Research.
Many of Rob's published articles are archived at http://www.financialsense.com/fsu/editorials/kirby/archive.html , and edited by Mary Puplava of http://www.financialsense.com
© 2005-2019 http://www.MarketOracle.co.uk - The Market Oracle is a FREE Daily Financial Markets Analysis & Forecasting online publication.
Comments
A. Culzac
20 Apr 08, 20:43
LIBOR SCOOP


This article is amazing! I don't know how yall find these things but thanks for letting us average folk (I'm a college student) on this type of info!

A. Culzac




Only logged in users are allowed to post comments.
Register/ Log in