Stock Market Elliott Wave Primary III or Just a Correction
Stock-Markets
/
Stock Markets 2014
Feb 02, 2014 - 11:39 AM GMT


Another volatile week. While the range for the week was not that wide, (SPX 1770-1799), the wild swings every day, and sometimes intraday, were. For the week the SPX/DOW were -0.75%, the NDX/NAZ were -0.60%, and the DJ World index was down 1.20%. Economic reports for the week were about two to one on the positive side. On the uptick: Q4 GDP, Case-Shiller, consumer confidence/sentiment, personal spending, PCE prices, Chicago PMI, monetary base, and the WLEI. On the downtick: new/pending home sales, durable goods orders, the M1-multiplier, and weekly jobless claims rose. Next week will be highlighted by Payrolls, ISM and Auto sales.
LONG TERM: bull market
In the wonderful world of Elliott Wave analysis there are now, and have been before, counts floating around suggesting this bull market ended with an ABC up from 2009 at the recent DOW 16,588 high. Two comments on this count with historical references. First. For the past 90 years there has not been one ABC bull market that has made all time new highs. This bull market has already reached nearly 17% above its previous all time high. Second. For the past 90 years there has not been one ABC bull market that has unfolded in a clear 5-3-5 wave pattern. So the probability of this occurring now are slim to none. A review of the typical bearish Secular cycle may be in order.
An approximate 16 year deflationary Secular cycle started in the year 2000. Historically there is a similar stock market pattern to this type of cycle, and the inflationary Secular cycle as well. Stocks hit a bull market high at the start of the cycle. This is followed by a 2-4 year bear market. Then another bull market follows, reaching all time new highs about midway through the 16 year cycle. After that the real damage of the bearish cycle unfolds with a 2-3 year bear market. Then with the damage done, and the actual stock market low for the cycle in place, the stock market launches a new bull market lasting 2-5 years. This is followed by the last bear market of the cycle, ending at a higher low. Then an approximate 16 year bullish Secular cycle begins. This is one of the main reasons we have called the 2009 low the end of Super cycle 2, and the current bull market the start of Super cycle 3.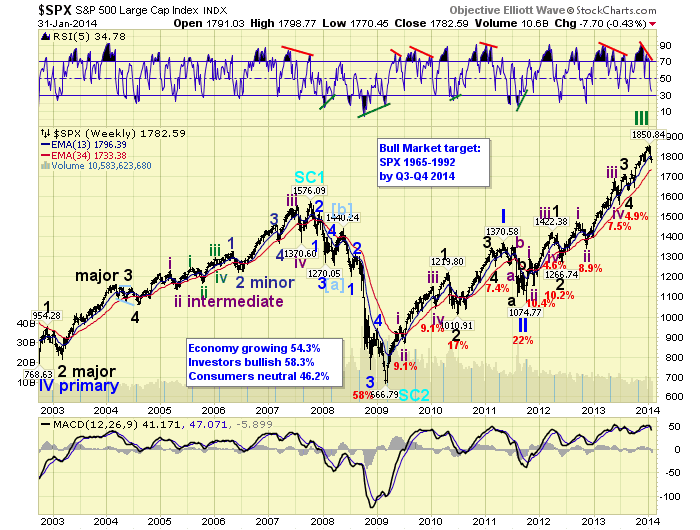 We have been counting this bull market from the March 2009 low at SPX 667 as Cycle wave [1] of the new Super cycle 3 bull market. Cycle wave bull markets unfold in five Primary waves. Primary waves I and II completed in 2011, and Primary wave III may have just completed this month. Primary I divided into five Major waves, and only Major wave 1 subdivided into five Intermediate wave trends. Primary III has also divided into five Major waves. Yet, both Major waves 1 and 3 subdivided into five Intermediate waves. As a result of these additional subdivisions it is too early to determine if Major wave 5 will subdivide, or be simple like Major wave 5 of Primary I. More on this later.
When Primary III concludes, if it not has already, Primary IV should display the biggest market correction since 2012. Then Primary V will kick in, taking the market to all time highs. Ending the entire bull market some time in Q3/Q4, or sooner, of this year. After the nearly 30% gain in 2013, 2014 should be quite a volatile year.
MEDIUM TERM: downtrend
We have been tracking the recent uptrend in the SPX since Aug., and the DOW since Oct. Two weeks ago we offered an alternate count to the main count we had been tracking. We again discussed the alternate count in last weekend's report. Then on Monday it appeared the alternate count was gaining in probability. By mid-week downtrend confirmations were triggered in both the SPX/DOW eliminating the main count in favor of the alternate.
The SPX 1851 high and the DOW 16,588 high were both important highs. Now the question arises, as noted above; "Where these highs the end of Major wave 5 and Primary III? Or, just Intermediate wave I in a subdividing Major wave 5?" We will attempt to address this question.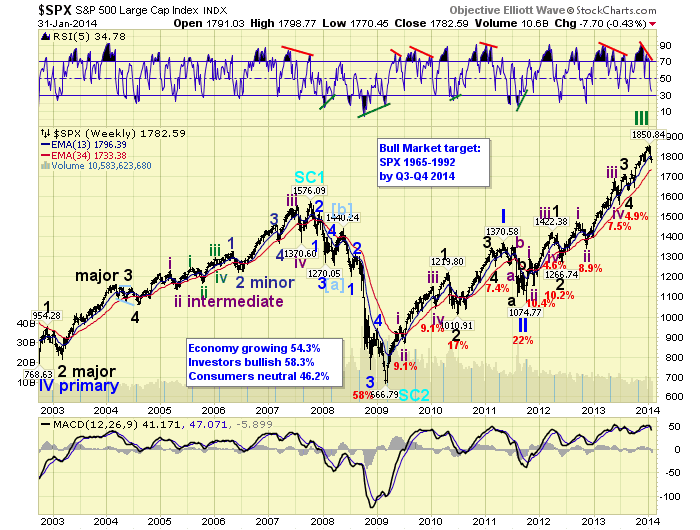 Historically, important second and fourth wave corrections are usually similar in time and magnitude of market decline. With sometimes the fourth wave being the worse of the two. One does not have to go back too far historically to uncover this: 1982 and 2002, 1984 and 1987, 1990 and 1998, 2003 and 2004. All four pairs of second and fourth waves display corrections that were similar in time and depth of market decline. The big exception, of course, was 1987. If we then apply this observation to our current market. Keeping in mind Primary wave II took five months and the market declined 20%. A Primary wave IV decline should be expected to be somewhat similar. Let's say a 15% to 20% decline, taking about 3 to 5 months. But what if Primary III has not ended yet?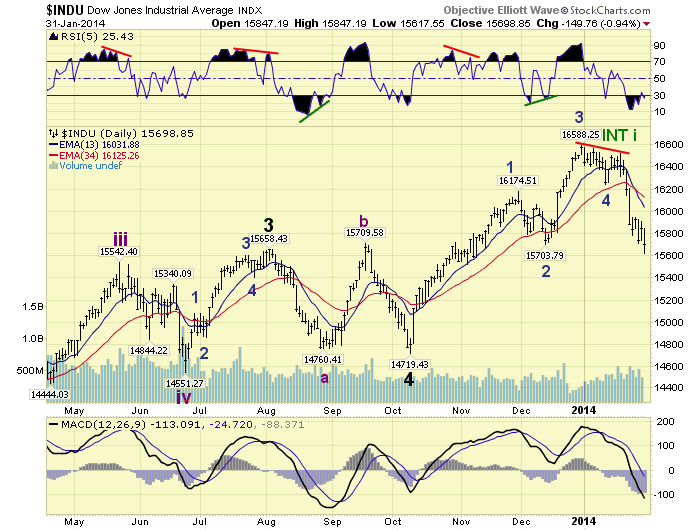 If the current downtrend is only Intermediate wave ii of Major wave 5 we have different parameters to consider. Every Intermediate wave correction, during this bull market, and there have been six, have ranged between 4.6% and 10.4%. With the mean between 7.5% to 10.2%. And, they have all taken between one and two months to unfold. This would suggest a downtrend low into February/March in the neighborhood of the OEW 1680 and 1699 pivots. This, we would think would be the minimum for this correction.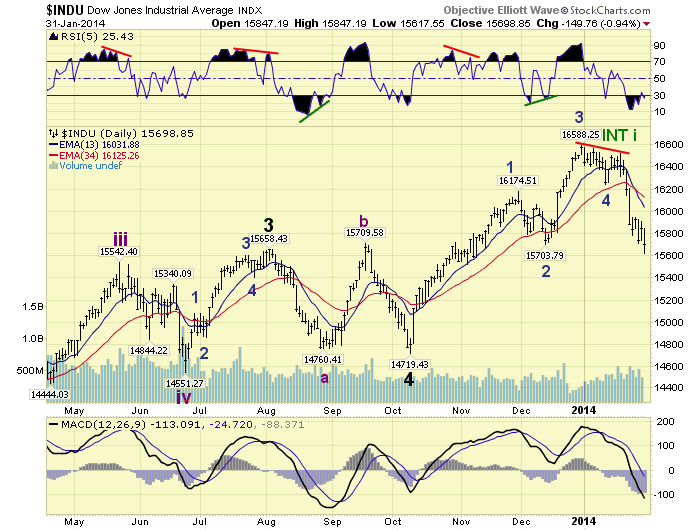 When we apply these lighter parameters to the DOW we uncover something quite interesting. The SPX 1699 pivot is equivalent to about DOW 15,250. The 1680 pivot is equivalent to about DOW 15,100. Since the DOW rose, during its last uptrend, from 14,719 to 16,588, this is quite a steep correction. So steep in fact, that the DOW would come within 3% of retracing its entire uptrend. Confirming a Primary wave III high.
In summary, we would expect this downtrend/correction to last until at least February/March and the SPX to decline to the 1680 to 1699 pivots. Should it break the 1680 pivot range. There would then be a high probability Primary IV could last until April/May/June and hit the OEW 1499 pivot. Medium term support is at the 1779 and 1699 pivots, with resistance at the 1828 and 1841 pivots.
SHORT TERM
Short term support is at the 1779 pivot and SPX 1768, with resistance at SPX 1800 and SPX 1814. Short term momentum ended the week around neutral. The short term OEW charts remain negative with the reversal level now SPX 1793.
After the market started gathering some momentum to the downside a week ago Friday. We noticed there were three waves down into Monday's SPX 1773 low. At first it looked like two sets of threes. But later revealed itself to be a 1-2-3 down. This was followed by a fourth wave triangle to SPX 1794 on Tuesday. Then a fifth wave diagonal triangle to SPX 1771 by Wednesday to end what appears wave A. Thursday's gap up opening, and spike up rally, helped confirm that terminating diagonal. Friday's gap down-then rally, looks similar to the market action right around the actual high. And notice Friday's rally stopped at the triangular SPX 1794 before declining into the close. As a result we are labeling Thursday's SPX 1799 high with a tentative B wave. This suggests a C wave is already underway. Quite a volatile market this week. Best to your trading in February!
FOREIGN MARKETS
The Asian markets were mostly lower for a net loss of 1.3%.
The European markets were also mostly lower for a net loss of 0.4%.
The Commodity equity group were all lower for a net loss of 1.7%.
The DJ World index lost 1.2%.
COMMODITIES
Bonds are up trending, as expected, and gained 0.7% on the week.
Crude is trying to confirm an uptrend, and gained 0.6% on the week.
Gold is up trending, but lost 1.9% on the week.
The USD is up trending and gained 1.0% on the week.
NEXT WEEK
Monday: ISM manufacturing and Construction spending at 10am, also monthly Auto sales during the day. Tuesday: Factory orders. Wednesday: ADP index and ISM services. Thursday: weekly Jobless claims and the Trade deficit. Friday: monthly Payrolls and Consumer credit. As for the Bernanke-less FED. Tuesday: FED governor Tarullo gives Congressional testimony on the Volcker rule. Wednesday: FED governor Tarullo gives Senate testimony on Dodd-Frank. Should be an interesting defensive week.
CHARTS: http://stockcharts.com/public/1269446/tenpp
http://caldaroew.spaces.live.com
After about 40 years of investing in the markets one learns that the markets are constantly changing, not only in price, but in what drives the markets. In the 1960s, the Nifty Fifty were the leaders of the stock market. In the 1970s, stock selection using Technical Analysis was important, as the market stayed with a trading range for the entire decade. In the 1980s, the market finally broke out of it doldrums, as the DOW broke through 1100 in 1982, and launched the greatest bull market on record.
Sharing is an important aspect of a life. Over 100 people have joined our group, from all walks of life, covering twenty three countries across the globe. It's been the most fun I have ever had in the market. Sharing uncommon knowledge, with investors. In hope of aiding them in finding their financial independence.
Copyright © 2014 Tony Caldaro - All Rights Reserved Disclaimer: The above is a matter of opinion provided for general information purposes only and is not intended as investment advice. Information and analysis above are derived from sources and utilising methods believed to be reliable, but we cannot accept responsibility for any losses you may incur as a result of this analysis. Individuals should consult with their personal financial advisors.
© 2005-2019 http://www.MarketOracle.co.uk - The Market Oracle is a FREE Daily Financial Markets Analysis & Forecasting online publication.

Only logged in users are allowed to post comments.
Register/ Log in