How to Teach Your Children Financial Independence
Personal_Finance
/
Educating Children
May 02, 2008 - 04:32 AM GMT

Nilus Mattive writes; My daughter is only 10 months old, but my wife and I are already anticipating the day she comes asking us for money to buy the latest designer handbag. Disha is making a list of her favorite stores. Me? I'm envisioning how I'll use the request as a way to talk about the importance of money and sound spending habits.
Last time I checked, very few elementary schools — or even high schools, for that matter — were teaching kids anything about finance. And that's a real shame.
Few students will ever use their knowledge of frog anatomy. But every single student will have to make major financial decisions for the rest of their days!
So, if you have a child or grandchild in your life, I encourage you to do all you can to help set them along a path of financial independence. Today, I want to give you ...
Six Ways to Teach Children About Money and the Financial Markets
#1. Get them started on an allowance early.
When it comes to money, I think it's important that kids get their hands dirty. They need to receive a set amount of cash to call their "own." Heck, it's easy to ask Grandpa to buy something for them. It's a little different when Grandpa gives them the money and makes them spend it on their own. The personal connection with the exchange becomes far more real.
Depending on the child's age and inclination, you may even let them direct many of their own basic purchases (for example, school clothes) as long as they stay within predetermined criteria.
#2. Help them establish a budget.
This dovetails with the idea of an allowance. Children, even at a fairly young age, are perfectly capable of keeping a little notebook that tracks how much money they've been given and what they've spent it on. Have them write down a future purchasing goal, and then help them track their progress toward that end.
#3. Open up a savings account ... and let them see the progress.
If you've established some sort of savings account — whether a tax-sheltered college plan or a regular passbook account — that's terrific! But I think it's equally important that you show the beneficiary the account's progress. Nothing brings home the power of compounding interest like seeing it in action. You might even consider doing a simple chart that shows how the account is increasing, and what it will likely become a few years down the road.
#4. Explain your own choices and purchasing decisions.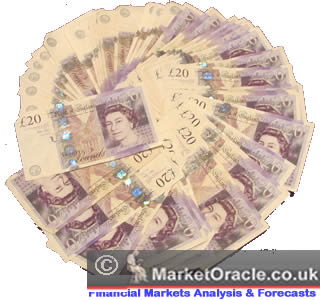 Every child should be taught the importance of money and sound financial habits!
Is it time to shop for a new car or dishwasher? Major purchases are a great way to teach the importance of research, comparison shopping, discounts and negotiation. Ideally, you can have them help you read through reviews, calculate price discrepancies, or even accompany you on the actual purchase day.
I'll never forget sitting with my dad during a particularly tense negotiation with a car salesman. It was a real lesson in holding out for the very best deal.
#5. Show them how the markets work.
When I was young, I was fascinated with the business section of the newspaper. I would watch the prices of various stocks every day. These days, it's easier than ever to teach children about the markets. They can create dummy portfolios through various websites, check real-time prices online, or use the old-fashioned route of looking up prices in newspapers just as I did. Having some adult guidance to explain the various moves would be a terrific learning experience.
#6. Give them an investment of their own.
Watching those stock prices got even more exciting once I owned a few shares of IBM. Sure, when the value fell, I was upset. But it also taught me a great deal about risk and volatility. Heck, model portfolios only go so far ... and that's why, if you have the means, I suggest giving a child a few shares of a major brand-name stock.
Plenty of kids know about Disney, Nike, and Coca-Cola. So why not let them "own" a little piece of the firm, and explain the benefits, especially the importance of dividends !
Don't know how to give a child some stock?
If it comes from your own portfolio and you have the physical certificate — you'll have to sign the certificate over in front of a guarantor (such as a bank or brokerage). There may also be a form to fill out that declares the transfer of ownership ... look on the back of the stock certificate.
If you currently own the shares, but they're held electronically by your broker — you'll have to notify your broker of the transfer and provide them with details on the account receiving the shares.
Keep in mind that gifting stock you've owned for a long time can also offer you significant tax advantages. For example, you may be able to pass along appreciated shares and avoid paying substantial taxes in the process. Talk about a win-win!
Lastly, if you want to give a share (or more) that you don't currently own — plenty of websites specialize in this kind of thing. They'll register the share in the proper name, and even send a nicely mounted stock certificate right to the person's home. Three sites that I came across are www.giveashare.com, www.oneshare.com, and www.giftsofstock.com. Those are good places to start.
Would you prefer to give a bond instead? Then you might consider a Series EE or Series I savings bond. They don't quite foster the same level of excitement as a stock certificate, but they are nice little investments that can be held for long periods of time. To buy them online, or for more information, visit treasurydirect.gov. Alternatively, you can buy paper bonds from your local financial institution.
Those are just six ways to get a child started down the path to prosperity, and surely there are plenty of others. You may have your own approach or various ways to tweak my suggestions. That's great — every child is different and every person has their own teaching methods.
The important part is showing our kids how to make sound financial decisions before they come asking to borrow our credit cards!
Best wishes,
Nilus
This investment news is brought to you by Money and Markets . Money and Markets is a free daily investment newsletter from Martin D. Weiss and Weiss Research analysts offering the latest investing news and financial insights for the stock market, including tips and advice on investing in gold, energy and oil. Dr. Weiss is a leader in the fields of investing, interest rates, financial safety and economic forecasting. To view archives or subscribe, visit http://www.moneyandmarkets.com .
© 2005-2019 http://www.MarketOracle.co.uk - The Market Oracle is a FREE Daily Financial Markets Analysis & Forecasting online publication.
Comments
Barbara Shaughnessy
02 May 08, 18:57
stock for grandchildren


I have been trying to find a way to give one share of stock to my four grandchildren - I found E-Trade, but have not used the service yet but then thanks to my son I read all the places I can go to check my desires out. I thank you for the info and will check them out.



Sarah Jones
03 May 08, 07:13
One Stock


There are quite a few online stores from where you can purchase a single stock in a frame with accompanying literatire to get your child interested in finance.

One such site is www.oneshare.com

SJ



reality check
08 May 08, 13:12
School of Hard Knocks


Don't forget to factor into the equation the strong desire to rebel. Many of us who had parents who were thrifty saw blowing cash as rebellion. Teaching your child not to be a sucker is rocket science. It took going through the proverbial school of hard knocks for me to learn that being cashless turns you into the invisible man.



debtdoctorsfoundation
22 Apr 10, 08:07
children's saving literacy


We are 'debt doctors foundation' based in Uk and really enjoyed reading your article about how to teach children financial independence. We are trying to raise awareness in child from 4 years old through meetings in large number of private and public schools in London. Our first book ' The Lost Money Box' is a funny story about one girl becoming aware of the value of the money while taking care about one money box that contains her money collected in her birthday and from previous familiar events.

It's a delicated way to teach children how important is money in the life.

Link us:

http://www.ddukonline.org/moneypenny.html

and buy the first of the 10 books that will be published very soon.




Only logged in users are allowed to post comments.
Register/ Log in