If U.S. Consumers are so Confident Why aren't They Spending?
Economics
/
US Economy
Aug 31, 2014 - 12:39 PM GMT


The sheep have been told their confidence is at a 7 year high by the propaganda peddlers working at the behest of the oligarchy. The sheep are also told that 10 million jobs have been added since the GOTUS played his first round back in 2009. The sheep have been told the record highs in the stock market prove that all is well. If the .1% are doing fantastic, some of the wealth must be trickling down.
The sheep are told that QE and ZIRP were really to save Main Street and not the bonuses of Wall Street (at record highs by the way). The sheep are told to fear ISIS, Iran, Assad, Putin, and China. The sheep are told U.S. energy independence is just around the corner and to ignore the fact that gas prices have tripled in the last ten years. The sheep are told drones will keep them safe and the DHS militarizing the police is just for their safety and security. The sheep are told guns are dangerous in their hands, but not in the hands of the government. The sheep passively eat their iGadgets and barely bleat while being led to the slaughter house.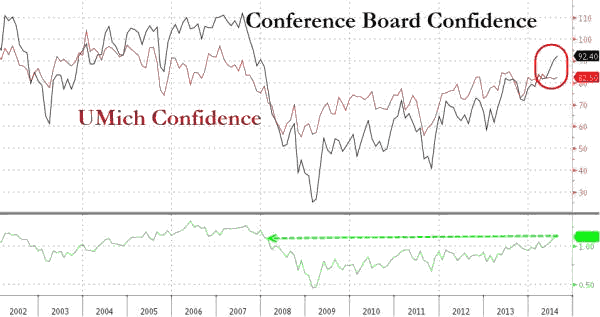 The propaganda machine is working at hyper speed as the wheels fall off this out of control bus. But all the messaging, packaging, and lies can't change the facts. Ignorance about the facts doesn't change the facts. The oligarchs are getting pissed. You mindless consumers simply won't consume as much as you used to, even with 7 year 0% interest subprime auto loans, $1 trillion of government loans to generate consumption disguised as student loans, and five credit card offers per week from the Too Big To Trust Wall Street cabal. WTF is wrong with you?
You've ruined the storyline used for months about horrific winter weather being the cause of non-spending in the 1st quarter. Once it stopped being cold you were supposed to spend like drunken sailors again. Just like the old days. How could you spend less in July than you did in June? You've only increased your spending by a mere 1.8% so far this year. With real inflation on stuff you need to live running above 5%, you're actually spending far less than last year. No wonder confidence is skyrocketing.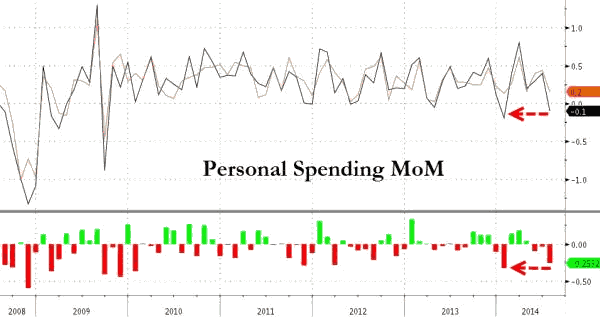 A little examination into the facts behind the Commerce Department report might shed a little light on the truth about the good old American consumer:
25% of all personal income in the country is either a transfer from the government to someone or from a government job. That is $3.7 trillion taken from producers and given to takers. In 2000 this figure was 21%. The relentless increase in Social Security, Medicare, Medicaid, Veterans Benefits and Other will drive this percentage to 30% by 2020.
Real personal income (excluding government transfers) has gone up 2.6% over the last year and this is using the false CPI figure of 1.6% to reach that pitiful number. Using a true inflation figure of 5% yields lower real personal income than last year.
These numbers also fail to recognize the 2.2 million increase in population. On a per capita basis, real personal income is up 1.9% in the last year.
Senior citizens and conservative savers are earning $120 billion less today than they did seven years ago. All the grandmothers eating cat food thank you Ben and Janet. If interest rates were allowed to adjust to market levels consistent with inflation, savers would be generating $500 billion to $700 billion more interest income that could be used to propel economic growth. Per capita real disposable income was $37,582 in May of 2008. It is currently $37,553. Again, this is using the fake BLS inflation numbers, so it is even far worse.
Is it really a shocker that Americans are spending less? The MSM is so captured by the organizations providing their advertising revenue that their faux journalists don't even attempt to examine the facts and reach logical conclusions. Their job is to cheer lead and make excuses for why their storyline of improvement never plays out. The snow storyline is history. The surge in consumer confidence storyline has been proven false by the actual spending data. Now we move onto the surge in jobs storyline that is proven false by the personal income data. I'm sure back to school season will be a resounding success. Just wait until the holidays. The consumer will surely be back this year. And the beat goes on.
The chart below tells you all you need to know about why this recovery is false. The people who are supposed to be in their peak earnings and spending years have seen their real household incomes decline dramatically since the END of the recession in June 2009. Think about that for a moment. The only people who've seen their real incomes rise are those who no longer spend. I wonder if it is a coincidence that government transfers since June 2009 are up 18% and the grey hairs have seen their incomes rise?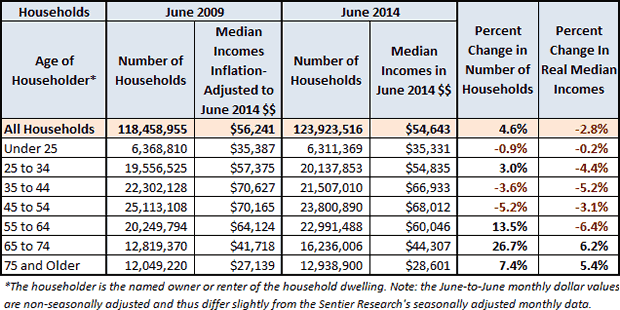 The consumer is not back. They are not coming back. The decades long debt fueled orgy of consumption has long since peaked and we are on the long road to perdition. Confidence can't cure our disease. More debt to cure a disease caused by too much debt will not save the patient. Our disease is terminal.
Join me at www.TheBurningPlatform.com to discuss truth and the future of our country.
By James Quinn
James Quinn is a senior director of strategic planning for a major university. James has held financial positions with a retailer, homebuilder and university in his 22-year career. Those positions included treasurer, controller, and head of strategic planning. He is married with three boys and is writing these articles because he cares about their future. He earned a BS in accounting from Drexel University and an MBA from Villanova University. He is a certified public accountant and a certified cash manager.
These articles reflect the personal views of James Quinn. They do not necessarily represent the views of his employer, and are not sponsored or endorsed by his employer.
© 2014 Copyright James Quinn - All Rights Reserved
Disclaimer: The above is a matter of opinion provided for general information purposes only and is not intended as investment advice. Information and analysis above are derived from sources and utilising methods believed to be reliable, but we cannot accept responsibility for any losses you may incur as a result of this analysis. Individuals should consult with their personal financial advisors.
© 2005-2019 http://www.MarketOracle.co.uk - The Market Oracle is a FREE Daily Financial Markets Analysis & Forecasting online publication.

Only logged in users are allowed to post comments.
Register/ Log in