US Jobs Table 9 BLS Data Dump
Economics
/
Employment
Jun 05, 2015 - 04:46 PM GMT


It seems the mainstream media is giddy with excitement over the 280,000 jobs supposedly created in May. The markets aren't so happy, as good news is actually bad news. What excuse will Yellen and her fellow Wall Street puppets at the Federal Reserve use to not increase interest rates from emergency levels of 0.25%? The ten year Treasury rate immediately skyrocketed to 2.43% in seconds. It was at 1.64% in February. That's a 46% decline in price in four months. Do you still think bonds are a safe investment? Guess what is tied to the 10 Year Treasury rate? Mortgage rates. There goes the fake housing recovery. Artificially high prices, higher mortgage rates, and young people unable to buy sounds like a perfect recipe for collapse.
The MSM is cackling about the 280,000 new jobs, but you won't hear them mentioning that the number of unemployed people went up by 125,000 as 208,000 people the BLS classified as not in the labor force last month decided they were in the labor force this month. What a crock. At least 20 million of the 93 million classified as not in the labor force can or will work, therefore they are unemployed.
One month does not make a recovery. Let's see what the YTD numbers show:
Since January, 594,000 more Americans are employed, an average of 149k per month. Considering the working age population has gone up by 732,000 since January, why is anyone crowing?
The BLS drones actually expect you to believe the unemployment rate has fallen from 5.7% in January to 5.5% today, because 442,000 Americans decided to voluntarily exit the labor force. That's a hoot.
The really good stuff is buried in Table A-9 of the BLS data dump. See for yourself:
http://www.bls.gov/news.release/empsit.t09.htm
As the MSM hacks and government apparatchiks try to convince you the jobs market is booming, Table A-9 tells a different story. Here is what is revealed:
The number of working age Americans went up by 2.8 million in the last year, or 236k per month. The number of new jobs must average 236k per month just to stay even. In the last year the economy added 2.9 million jobs, slightly above the workforce growth, but the BLS expects you to believe the unemployment rate plunged from 6.3% to 5.5%. Hilarious!!!
It's the breakdown of jobs by age that really screams out. It is a known fact that people in the 45 to 54 age bracket are in their prime earning and spending years. In the last year the number of employed 45 to 54 year olds has DECLINED by 67,000. It DECLINED in May by 51,000. It has DECLINED by 187,000 since February.
It is a known fact that people over 55 dramatically reduce their spending as they approach and enter their retirement years. The Boomers have added 824,000 jobs in the last year, or 28% of all the new jobs added.
Only 117,000 jobs were added in the 35 to 44 year old bracket in the last year. So the age brackets that do the most spending in the country (35 to 54) have a net increase of 50k jobs in the last year. That is 1.7% of the total jobs added.
The remainder of the new low paying jobs are going to young people who are in debt up to their eyeballs. Now you should understand why there is no real recovery. The people who normally spend the most aren't getting jobs. The people who don't spend or can't spend are getting the bulk of the low paying service jobs.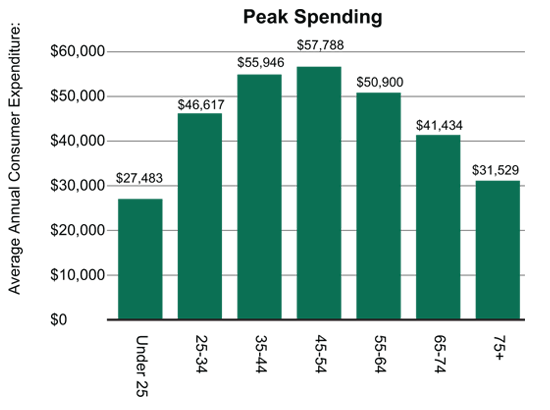 Of the 2.9 new jobs created in the last year, guess how many are classified as self-employment jobs? How about 935,000. That's right. Your new job selling shit on Ebay or cutting three lawns per week is counted as a new job by the BLS drones. What a load of bull.
There are also 7 million people who hold multiple jobs. That is a sure sign of economic progress.
Almost 300k of the new jobs added in the last year were part-time shit jobs. 205k of the 464k jobs added since March are part-time jobs.
Sorry to be a buzzkill, but today's jobs numbers are not great. The job market sucks. Wages suck. The BLS will lie and obfuscate until morale improves. The MSM will regurgitate the lies. So it goes.
Join me at www.TheBurningPlatform.com to discuss truth and the future of our country.
By James Quinn
James Quinn is a senior director of strategic planning for a major university. James has held financial positions with a retailer, homebuilder and university in his 22-year career. Those positions included treasurer, controller, and head of strategic planning. He is married with three boys and is writing these articles because he cares about their future. He earned a BS in accounting from Drexel University and an MBA from Villanova University. He is a certified public accountant and a certified cash manager.
These articles reflect the personal views of James Quinn. They do not necessarily represent the views of his employer, and are not sponsored or endorsed by his employer.
© 2015 Copyright James Quinn - All Rights Reserved
Disclaimer: The above is a matter of opinion provided for general information purposes only and is not intended as investment advice. Information and analysis above are derived from sources and utilising methods believed to be reliable, but we cannot accept responsibility for any losses you may incur as a result of this analysis. Individuals should consult with their personal financial advisors.
© 2005-2019 http://www.MarketOracle.co.uk - The Market Oracle is a FREE Daily Financial Markets Analysis & Forecasting online publication.

Only logged in users are allowed to post comments.
Register/ Log in