China Raises Fuel Prices: Is this the End of the Oil boom?
Commodities
/
Energy Resources
Jun 23, 2008 - 11:42 AM GMT


Last Thursday, China roiled the oil market, announcing it would raise gas and diesel prices by about 46 cents per gallon in order to reduce demand. In a matter of minutes, oil prices skidded lower.
Before you knew it, America's TV news and finance channels were all over the story. They asked the burning question, "Will higher prices and lower demand in China kill this great bull market in oil?" And they presented a seemingly endless parade of oil bears and stock bulls who almost unanimously proclaimed that oil prices were about to crater.
I hope those experts can live with disappointment, because by Friday morning, investors were buying the pullback like crazy and the oil price was already recovering nicely.
Why?
Well for one thing, savvy oil investors know that this price hike is likely to actually increase demand!
Look: If you were told gas prices were going up 18%, wouldn't you run out and fill every gas tank you own to beat the price increase? And once prices jumped, wouldn't you expect more price hikes in the future — and look for opportunities to buy sooner rather than later?
I sure would — and I'll bet you dollars to donuts that millions of Chinese consumers will, too!
Plus, even if this modest price increase did cause some Chinese drivers to fill up less often, any reduction in demand would be dwarfed by the legions of new vehicles on Chinese assembly lines right now.
China will see AT LEAST 6.6 million new cars, trucks and vans hit their roads this year. And I'm not even counting scooters and motorcycles. Some estimates go as high as 10 million new vehicles hitting Chinese roads in 2008!
Last year, Chinese bought 5.5 million cars, minivans and SUVs plus 3 million commercial vehicles, up from just 1.6 million vehicles sold in 1997. This year alone, sales are expected to grow another 15% to 20%.
Plus, a huge percentage of China's oil demand comes from its massive manufacturing sector: Companies that make and sell trillions of dollars worth of Chinese products to the rest of the world.
Since energy represents only a small fraction of most of these companies' manufacturing costs, it's unlikely that marginally higher prices will reduce their thirst for fuel one iota.
In fact, the opposite is more likely the case. With The World Bank recently raising its forecast of Chinese GDP growth for 2008 to 9.8%, China's industrial sector is likely to consume more fuel than projected this year!
The fact is, this is a massive, global, long-term mega-trend driven by soaring global demand and shrinking global supplies. A modest fuel price increase in China or anywhere else isn't going to put more oil in the ground or make it cheaper to extract. Nor are higher Chinese fuel prices likely to reduce demand among the other 78% of the world's energy consumers.
Heck, it's not even clear that Thursday's fuel price hike will soften demand in China — especially with armies of tourists from around the world about to descend on that country for the Olympic Games!
This isn't the first time I've predicted surging energy prices.
In January, for example, I recommended a portfolio of stocks and funds in my oil report, Running on Fumes .
Already, those stocks have gone ballistic, delivering rapid and robust gains to investors who followed my recommendations.
Bottom line: Every indicator I study is still telling me that oil, gasoline and natural gas are headed for the moon ... key energy stocks are about to leave the oil bears licking their wounds ... and that you have a historic opportunity to go for windfall profits in the months ahead.
Why? Because I count no fewer than nine global triggers that are now turning this energy crisis into a full-fledged energy PANIC ...
Energy Panic Trigger#1: The Saudis couldn't solve this crisis if they wanted to ... and they do NOT want to!
Saudi Arabia is the biggest exporter of oil in the world, and it is the only OPEC producer with any significant spare production capacity. It's also the #2 supplier of U.S. imported oil.
Problem: It supplies mostly the heavy oil that, regardless of any production increases, will have little impact on the market that matters the most for U.S. consumers.
I'm talking about gasoline, which is refined mostly from light crude: And light crude supplies are not only tight; the premiums over heavy crude are soaring to their highest levels of all time.
Most important: The Saudis aren't motivated to pump enough oil to bring down prices even if they could! Why should they? They're making money hand over fist — hauling in huge, historic profits — with each new surge in oil prices!
Energy Panic Trigger#2: The higher oil prices climb, the more America imports!
Sure, we've seen gasoline demand drop a tiny bit as energy prices rise — and some say that the drop in demand will drive prices lower.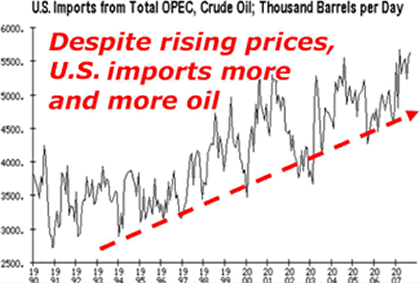 But the facts say something very different:
Look: In 1990, oil was at $23 a barrel. Today, it's flirting with $140 — a 509% increase.
If the oil bears were right, you'd expect U.S. oil imports to have dropped dramatically — right? But U.S. oil imports are up a staggering 70% since 1990 — even as oil doubled to over $50 per barrel ... doubled again to over $100 per barrel ... and continues going ballistic right now!
Energy Panic Trigger #3: Massive new oil demand from emerging markets is now eclipsing U.S. demand!
Better brace yourself: Did you know that this year — 2008 — will be the first year that emerging markets will consume more oil than the U.S.?
It's true: I'm talking about countries like China, India, Russia, and parts of the Middle East. According to the International Energy Agency (IEA), those countries are expected to consume 20.67 million barrels a day this year — more than the United States will.
China is the giant mover and shaker in the energy markets, as its gasoline and diesel demand has soared. But now, India is poised to zoom past China as the world's fastest-growing car market, with sales of passenger cars in India increasing 12.17% to 1.5 million this past year!
Energy Panic Trigger #4: Production is cratering in not one, but TWO major oil-exporting countries!
Mexico is our #3 source of imported oil — 1.2 million barrels per day (bpd), or 12.6% of our imports — and the decline in production from its super-giant Cantarell oil field can only be described as catastrophic.
Even as global demand for oil continued to explode last year, Mexico's oil production fell 5.3% — and then fell faster in the first quarter of this year, by 7.8%.
And what's worse, Mexico's crude oil exports dropped even more sharply, down 12.5% to 1.49 million barrels per day in the first quarter!
Worst of all, Mexico's production crisis is deepening: In April, Mexico's oil output fell to a nine-year low of 2.8 million barrels a day, mostly because of a decline in the Cantarell field.
Think that's scary? Consider this: At current rates of decline, Mexico will become a net oil importer by 2016, and maybe sooner, according to Mexico's Energy Ministry!
And it's not just Mexico. Venezuela, another big supplier of U.S. imported oil, is hemorrhaging oil production due to the slipshod management by its deluded president, Hugo Chavez.
Result: The combined net oil exports from Venezuela and Mexico to the U.S. dropped by 414,000 bpd in just five months recently. That's an astounding annual decline rate of 32% a year!
Energy Panic Trigger #5: Meteorologists' Red Alert: Devastating hurricane season ahead in the oil-rich Gulf of Mexico!
When La Niña is strong, hurricanes are also more powerful than normal. Well, batten down the hatches, because a strong La Niña is expected to last through the summer, delivering worse-than-average storm activity THIS season.
The Gulf of Mexico provides 20% of the natural gas and 30% of the oil produced in the U.S. Some of the oil and gas production knocked out by hurricanes Rita and Katrina in 2005 have never come back. While the industry has worked to harden its platforms and facilities in the Gulf, a monster hurricane could create huge spikes in oil and natural gas prices this summer and fall.
And while offshore platforms have been reinforced since hurricanes wreaked havoc in the Gulf of Mexico's "Energy Alley," all it would take is one bad storm in the wrong place to knock out the Louisiana Offshore Oil Port (LOOP) which supplies 13% of the nation's oil — not to mention the fleets of U.S. and Mexican rigs in the Gulf of Mexico.
Energy Panic Trigger #6: The era of cheap, easily recoverable oil is OVER!
Today, fully half of the world's oil production comes from less than 120 giant fields. But the majority of these fields are more than a half-century old and some are running on fumes: We're getting between 4% and 5% less oil out of the world's existing oilfields every year.
Quite simply, the Earth is running out of oil. Prior to the first exploration by man, estimated crude oil reserves on the planet totaled roughly one trillion barrels. Today, about one-third of that oil has been drilled, refined and consumed.
Worse: Even with today's high-tech drilling methods, only about 35% of the world's remaining oil reserves can be extracted from the ground — and it costs more to recover than ever before!
Energy Panic Trigger #7: Peak Oil is dead ahead!
"Peak Oil" is a simple concept with complex — and potentially catastrophic — implications. It means that the world's oil production is not only peaking, but also that, regardless of how many new wells are drilled, total production will continue to decline.
It's important to understand that Peak Oil does NOT mean that oil prices have peaked. To the contrary: It means that production has peaked — while demand and prices continue to soar. And frankly, every statistic I study tells me that we are at, or very close to, Peak Oil right now.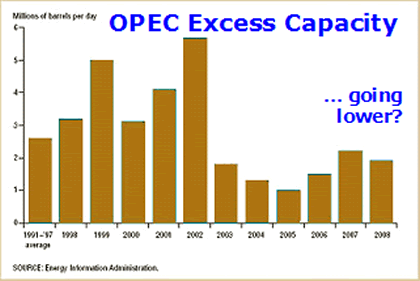 According to government data, the top five oil exporting countries — Saudi Arabia, Russia, Iran, United Arab Emirates and Norway — responsible for half of world net oil exports, are using more and more of their own oil. At the same time, their production is flat or falling, driving their exports into an accelerated decline.
Sure enough, according to the U.S. Department of Energy, the volume of petroleum products shipped by the world's top oil exporters fell 2.5% last year, despite a 57% increase in prices, and the same trend is holding this year.
In other words, it doesn't matter if we pay more — they just don't have more oil to give!
As for smaller exporters, as I told you, Mexico, the #3 source of imported crude for the U.S., will hit zero in net exports in just eight years. And Venezuela is leading most other oil exporters down the slippery slope of production cutbacks.
At the same time, Indonesia and Great Britain, both exporting oil as recently as two years ago, are now importing oil, competing with the U.S. for scarce energy resources.
THE BOTTOM LINE: If current trends continue, the top five oil exporters will approach zero net oil exports around 2031!
But you don't have to wait to see the impact of Peak Oil on oil prices or on the stock of key energy companies. According to a report from CIBC World Markets, soaring internal rates of oil consumption in oil producing nations will cut crude exports by as much as 2.5 million barrels a day by the end of the decade.
That's about 3% of global oil demand. In fact, that decline is actually more than the total current spare capacity in the oil markets!
Energy Panic Trigger #8: Peak natural gas is coming, too!
Even as everyone fixates on high oil prices, there is an equally dramatic crisis quietly building in the world of natural gas.
Natural gas production in the U.S. is flat, despite many more wells being drilled. Production in Canada, which supplies over 80% of our imported natural gas, has peaked.
America is building facilities to import liquid natural gas (LNG), but with demand rising rapidly in other nations, it remains to be seen if we can import nearly enough. The fact is, U.S. LNG imports dropped a whopping 31% in 2007 as higher-priced markets in Asia and Europe outbid us.
As a result, America's natural gas reserves are dangerously low. A long, hot summer that pumps up demand for natural gas at power stations could easily drive prices through the roof before the first frost.
By the end of October, America will likely have only 3.1 trillion cubic feet of gas in storage — almost 1 trillion cubic feet below full storage, just as we go into prime heating season. Another important reason why I see much, much higher natural gas prices ahead.
Energy Panic Trigger #9: Many alternative energy schemes are nothing more than a pipe dream!
Right now, pretty much every politician on Capitol Hill and every fly-by-night energy entrepreneur on the planet is claiming that ethanol, coal-to-gas, solar, wind, fuel cells and other alternatives are the solution.
Sounds great when you say it fast — right? But the cold, hard truth is, many of these technologies are still in their infancy ... they'll take hundreds of billions of dollars to fully develop ... and it will take years — possibly decades — for these technologies to make even a small dent in global demand for oil and natural gas.
My Forecast: $200 oil ... $20 natural gas ... and windfall profits for you— IF you buy these stocks NOW!
I'm just putting the finishing touches on a new, hot-off-the-presses 51-page white paper to help you harness the next great phase of this energy bull market to the hilt ...
Energy Panic — The Next Profit Bonanza gives you the unvarnished truth that almost nobody in Washington, on Wall Street, or in the media is telling you ...
The irrefutable reason why even a slowing global economy will still generate enough energy demand to drive prices ever-higher ...
Why Saudi jawboning about how their production increase will lower prices is nothing more than a big, fat lie ...
The reason why political pressure to deplete the U.S. Petroleum Reserve — and even Bush's demand that Congress allow drilling in Anwar and the Gulf of Mexico — can't lower energy prices in the near-term ...
Why U.S. crude oil, natural gas and gasoline stockpiles — all of which are already falling off a cliff — are likely to go into absolute freefall later this year ...
The factor that should drive both gasoline and natural gas prices much higher, much faster than crude oil in the months ahead ...
Why I'm convinced that this great bull market in oil and natural gas stocks still has years (and possibly even decades) to run ...
Why I'm crawling out on a limb and publicly forecasting $200 oil and $20 natural gas sooner than almost anyone suspects today ...
Why key energy stocks are likely to soar as much as 100% or even more with each 10% uptick in energy prices ...
And much more!

PLUS, I name seven stocks and three ETFs I'm counting on to multiply your money as energy prices continue to soar!
These are hands-down, my ten favorite energy plays now — from large, mainstream companies best positioned to profit from rising energy prices to often overlooked, leading-edge energy firms, AND my three favorite funds to give you broad diversification.
Here is a sneak preview ...
Pick #1. A major oil company, little-known in America, that is a partner in some of the biggest oil discoveries in recent memory.
Pick #2. The can-do oil services company that is riding a gusher of profits.
Pick #3. An oil and gas driller that also builds its own rigs — putting it in the catbird seat for the next generation of oil exploration.
Pick #4. A company with state-of-the-art, proven technology that can vastly increase the flow of oil from old wells. As the price of crude skyrockets, I think this stock is going to become very popular.
Pick #5. A deepwater driller that is signing big-money, multi-year contracts — with no end in sight to its flood of business.
Pick #6. An unconventional natural gas play that is tapping into a veritable Fort Knox of underground treasure.
Pick #7: A solar stock that is a jewel in the dustbin ... and could far outshine its competition.
Picks #8, #9 and #10: Three red-hot energy funds. I think these are THE best of the best in the energy arena. One fund is loaded with stocks in the industry that will likely reap a mother lode of profits as oil companies ramp up their search for crude. The other two are commodity funds focused on oil and natural gas.
Of course, market conditions are volatile, and because I want to make sure you get the very best recommendations available, I may substitute some picks when I publish this report.
Are profits guaranteed? Of course not. Stock investments are risky by nature. And as with any investment, you CAN lose money. But, I'm convinced each of these is loaded with value and on the verge of blast-off.
You also get a full year of continuing updates on every stock and fund I recommend — FREE!
Leading you to the stocks and funds that I'm convinced will hand you the greatest profits in the months ahead could make you substantially richer. But I don't want to stop there.
I don't want you to have to go through the next 12 to 18 months alone, as oil zigzags its way to $150 ... $170 ... $200 ... perhaps higher. And I especially don't want you to buy these investments, and then have to guess what to do next!
That's why I'm going to stick with you throughout the next year, sending you at least three follow-up bulletins.
When I think the time is right, I'll update you on your positions, give you my latest signals, and help keep you on course. I'll tell you when to take profits, when to buy more, and in case I'm wrong about some of them, when and how to cut any losses.
My $100 gift to you ...
On Tuesday, July 1, Energy Panic — The Next Profit Bonanza will be available worldwide at the regular price of $195 per copy.
But because you are a valued member of our Money and Markets family, I want you to have the opportunity to read this unprecedented, eye-opening report and to get a head start on the stocks and funds I recommend in it.
So I've arranged for you to pre-order your copy now to make sure you'll be on-board to download it the minute it's released.
And, when you order now, you won't have to pay the regular $195 price: You'll be among the first to get a PDF of my Energy Panic — The Next Profit Bonanza white paper PLUS a full year of follow-up bulletins to keep you on top of the investments I recommend for just $95 ...
That's right: By pre-ordering my Energy Panic white paper now, not only will you be among the first investors anywhere to get these timely recos, you'll also save $100!
To pre-order your copy of Energy Panic now, just click this link or, if you prefer, call toll-free at 1-800-291-8545 and we'll make sure you're among the first to receive your copy when it's released July 1.
Energy Panic will either multiply your money or it's FREE!
Anyone who tells you he can guarantee you profits is either a scoundrel or a fool — or both. It's never possible to guarantee profits with any investment. But I can guarantee you this:
You will be thrilled with the money my seven stocks and three energy funds make you, or my Energy Panic white paper won't cost you a single, solitary penny.
Just pre-order your copy now by clicking this link or by calling toll-free 1-800-291-8545 — and USE the seven stocks and three energy funds I recommend to go for all the profit potential you want for three full months.
Then, you decide: You must be excited about the money you're making or simply let me know anytime within 90 days and I'll cheerfully refund the entire $95 you paid.
In other words, either Energy Panic makes you a bundle, or I don't make a penny. Fair enough?
The next, explosive phase of the
greatest energy bull market in history
isn't going to wait for you, me, or anybody else ...
In this bulletin, I've shown you how global supplies of oil and natural gas are dwindling — and why the remaining reserves are becoming more costly to extract with each passing day ...
I've shown you how U.S. and global demand is still surging despite soaring prices ...
I've offered you the opportunity to be the first to receive Energy Panic and my ten favorite energy plays to buy now — PLUS a full year of follow-up bulletins on my recos ...
I've given you the opportunity to save $100 on your copy of this highly detailed, 51-page white paper by pre-ordering now ...
And I'm even giving you the opportunity to read it — USE it — for up to 90 days without risking a penny you paid for it.
Now the ball is squarely in your court.
I'm fully convinced that energy prices will continue to soar and that the seven stocks and three funds I name in Energy Panic will skyrocket in value whether you own them or not.
I want to make sure you have the chance to own them before energy prices shoot for the moon again: Take a moment right now to secure your copy of Energy Panic — The Next Profit Bonanza and a full year of follow-up bulletins by clicking this link or by calling toll-free 1-800-291-8545 now!
The forces lined up to push energy prices higher are both powerful and immediate, and I believe an energy panic is inevitable. So please — get in early, buy my best picks now, and be among the first to grab your opportunity to reap rewards.
Yours for trading profits,
Sean
P.S. Don't forget: The publication date is July 1. So your deadline to save $100 by buying the report at the special, pre-publication price is the night before — June 30.
Just click this link or call toll-free 1-800-291-8545 to secure your copy now!
This investment news is brought to you by Money and Markets . Money and Markets is a free daily investment newsletter from Martin D. Weiss and Weiss Research analysts offering the latest investing news and financial insights for the stock market, including tips and advice on investing in gold, energy and oil. Dr. Weiss is a leader in the fields of investing, interest rates, financial safety and economic forecasting. To view archives or subscribe, visit http://www.moneyandmarkets.com .
© 2005-2019 http://www.MarketOracle.co.uk - The Market Oracle is a FREE Daily Financial Markets Analysis & Forecasting online publication.

Only logged in users are allowed to post comments.
Register/ Log in