Gold, No Interest!
Commodities
/
Gold and Silver 2015
Aug 18, 2015 - 04:34 PM GMT


Stronger than expected US retail sales data undercut some of the recent safe haven trades ( buying bonds, the yen and gold) sending all three lower in today's session.
For the first two weeks of August, retails sales are up 1.7% versus a year ago and up 0.3% from July.
That got the "Fed is going to hike in September" talk starting up once more which of course send the Dollar higher and most commodities lower.
Gold was no exception to the selling pressure across much of the complex.
Gold ran out of short covering based buying near $1124. It will thus take a new push through that level to force any additional short covering of the size needed to take it to $1130 and higher. Downside support currently is near the session low of $1108. Below that is $1104 and then psychological round number support at $1100.
Getting hit particularly hard are both copper and silver. Platinum and palladium are also getting murdered. The simple truth is that no large investors want to tie up capital in metals with China seemingly getting worse and worse with the passing of each new week.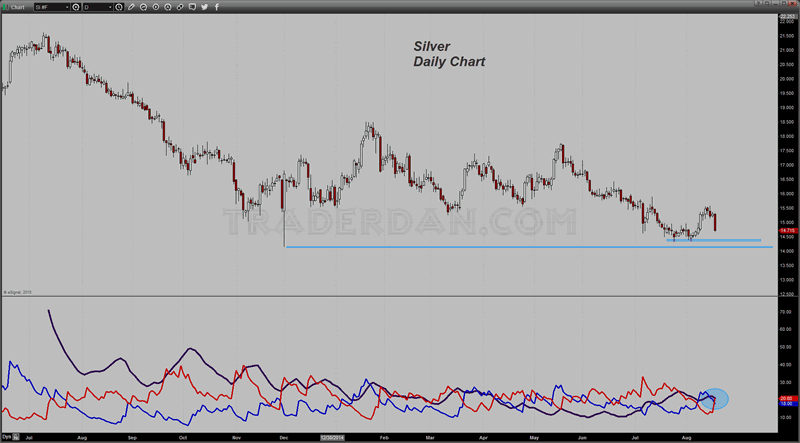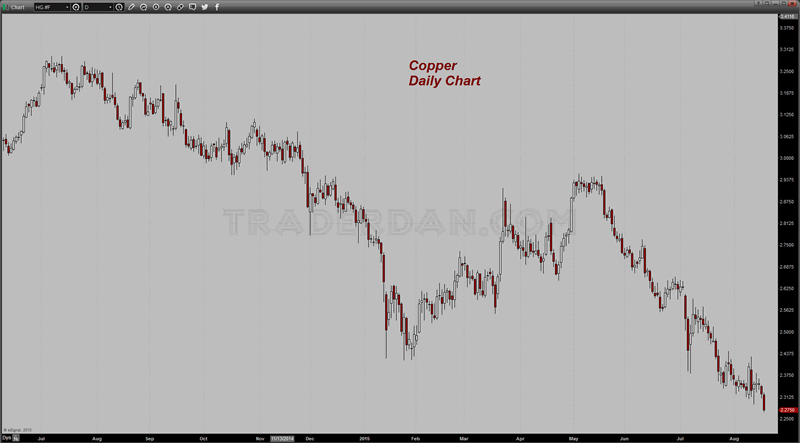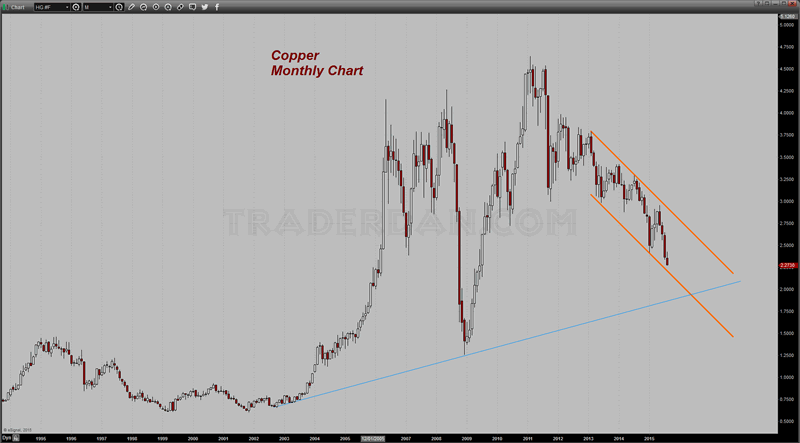 In looking across the entire commodity sector this morning, the only commodity futures market that I see higher at this time are the feeder cattle and WTI ( the latter only just barely higher). Most everything else is in the red.
The problem for gold is very simple – in a deflationary environment, one in which REAL interest rates are positive, there is no incentive to hold gold. It throws off NO YIELD and therefore is not income producing. The only way the average investor can profit off of gold is if it rises in value; in other words, capital appreciation. Why should it do so given the carnage being seen across the commodity sector?
Yes, Yes, we all know about currency devaluation and the Yuan, etc., but the facts are that in the West, there is not much, if any appetite for gold.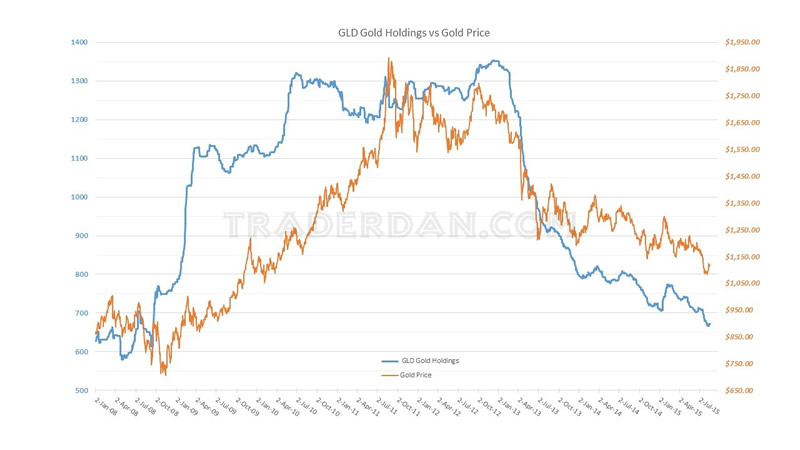 Despite all the fanfare and hysteria being raised by the gold cult sites over the Chinese yuan, look at reported holdings of GLD. They have barely budged. It is a FACT that they remain near SEVEN YEAR LOWS. That is hardly a ringing endorsement by the West for the yellow metal.
We have seen this drill many, many times before – something happens that startles the shorts in the gold market, we get a burst of short covering and IMMEDIATELY, the gold chorus starts singing about "THIS IS IT!", or "Gold is getting ready to skyrocket with a short covering squeeze of historic proportions about to commence". The excitement then fades and the price then resumes its downward slide as the LONGER TERM BEAR MARKET in gold asserts itself once more.
I have no idea at what price gold will finally forge a bottom. Frankly, I do not care. The reason I do not care is just because it finally bottoms, does not mean that it is immediately then going to do an about face and surge higher to new heights unknown. It could grind sideways for a long, long time, especially in the absence of any sort of strong inflationary pressure both globally and domestically.
The two big things that I look for when looking for inflationary pressures are food prices and energy prices. Which way have those been going of late?
I might add a third here and note that WAGES remain relatively flat to stagnant. In that sort of environment, most consumers are very happy to see food and energy prices remaining low.
Also, consider that bellwether copper prices are predicting much slower growth ahead. Given the backdrop of all these things, large Western-based investors are passing over gold in favor of other asset classes.
When or if that changes, it will be noticeable in the GLD reported holdings and in the price chart of the metal. Until then, all of the breathless predictions of the gold cult are just empty noise, "Full of sound and fury, signifying nothing".
Dan Norcini
Dan Norcini is a professional off-the-floor commodities trader bringing more than 25 years experience in the markets to provide a trader's insight and commentary on the day's price action. His editorial contributions and supporting technical analysis charts cover a broad range of tradable entities including the precious metals and foreign exchange markets as well as the broader commodity world including the grain and livestock markets. He is a frequent contributor to both Reuters and Dow Jones as a market analyst for the livestock sector and can be on occasion be found as a source in the Wall Street Journal's commodities section. Trader Dan has also been a regular contributor in the past at Jim Sinclair's JS Mineset and King News World as well as may other Precious Metals oriented websites.
Copyright © 2015 Dan Norcini - All Rights Reserved
All ideas, opinions, and/or forecasts, expressed or implied herein, are for informational purposes only and should not be construed as a recommendation to invest, trade, and/or speculate in the markets. Any investments, trades, and/or speculations made in light of the ideas, opinions, and/or forecasts, expressed or implied herein, are committed at your own risk, financial or otherwise. The information on this site has been prepared without regard to any particular investor's investment objectives, financial situation, and needs. Accordingly, investors should not act on any information on this site without obtaining specific advice from their financial advisor. Past performance is no guarantee of future results.
© 2005-2019 http://www.MarketOracle.co.uk - The Market Oracle is a FREE Daily Financial Markets Analysis & Forecasting online publication.

Only logged in users are allowed to post comments.
Register/ Log in