Another Poor Year for UK Annuity Rates
Personal_Finance
/
Pensions & Retirement
Jan 11, 2016 - 04:00 PM GMT


New research from Moneyfacts has revealed that 2015 was another poor year for annuity rates as low gilts, uncertainty created by the new pension freedoms and preparations for Solvency II took their toll.
Annuity rates have more than halved since 1994
The research found that annuity rates in 2015 fell for the second year running, and have now declined in 17 out of the 21 calendar years since Moneyfacts started surveying the annuity market in 1994. During this period the average annual income payable from a standard level without guarantee annuity has fallen by a considerable 56%.
Annuity rates made the worst possible start to 2015 – January saw providers respond to all-time low 15-year gilt yields, leading to the biggest monthly fall in standard annuity rates that we have ever recorded. The average annual income payable on our benchmark annuity (standard, level without guarantee) for a 65-year-old with a pension pot of £10K therefore fell by 4.5% in January 2015 (and by 4.8% for a £50K pension pot).
Further rate reductions during March and April 2015 saw annuity rates fall to record lows just 17 days into the new pension freedoms regime, which was unfortunate timing for those individuals who may have deferred making a choice until the introduction of the new options and subsequently decided that an annuity was the most suitable product for them after all.
Rising gilt yields during the second quarter of 2015 sparked a recovery in annuity rates before a period of relative calm during quarter three 2015. However, annuity rates ended the year just as they had begun it with some sharp reductions during the last quarter.
As a result, the average annual income payable from a standard level without guarantee annuity for a 65-year-old fell by 3.1% at the £10K purchase point and by 5.6% at the £50K purchase point during 2015. Joint life standard annuities saw even bigger reductions, with rates dropping by as much as 7.7% in some cases.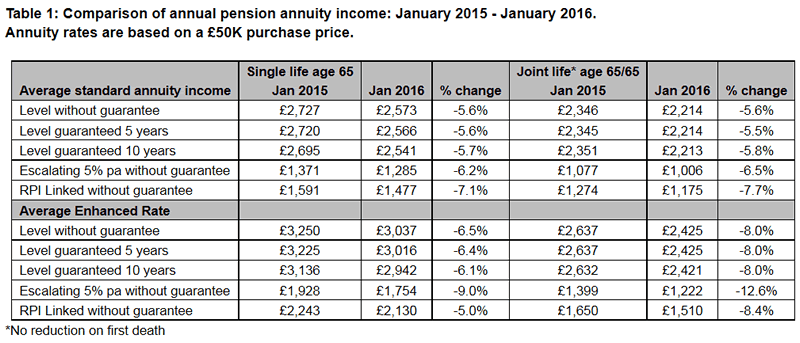 Enhanced annuities see biggest falls
2015 was a particularly tough year for enhanced annuity pricing, with enhanced annuity rates being cut more severely than their standard annuity counterparts. The average annual income payable on an enhanced level without guarantee annuity for a 65-year-old fell by between 5.5% and 6.5%, depending upon the purchase price. As with standard annuity rates, joint life enhanced annuity incomes have seen even heavier falls, ranging from 7.5% to 12.6%, depending upon the escalation option chosen.
Gilt yields
Low gilt yields have once again been instrumental in driving down annuity rates during 2015. The ability of annuity providers to withstand the pricing pressures of lower gilt yields has been hampered by the reduced demand for annuities since the introduction of the new pension freedoms.
Factoring in Solvency II
As well as the monumental change delivered by the new pension freedoms, annuity providers have also had to prepare for the implementation of Solvency II, the new European-wide rules that set out the levels of capital that insurance companies must hold. These came into effect from 1 January 2016.
Richard Eagling, Head of Pensions at Moneyfacts, said:
"Although Solvency II has been in the pipeline for 10 years, delays in the final set of rules and to the approval of the 'internal models', which allow insurers to modify the standard rules to better fit their own circumstances, meant that most annuity providers were not able to fully factor Solvency II requirements into their rates until the final months of the year.
"Unfortunately, just as annuity providers began to price in their Solvency II requirements, gilt yields fell, a combination of events that saw average standard annuity income fall by between 2.7% and 3.3% during November and December, while average enhanced annuity income reduced by between 2.7% and 3.5%. Echoing the trend we saw in the annuity market ahead of the switch to gender neutral pricing in December 2012, annuity providers have once again erred on the side of caution with their pricing, with providers reluctant to price too far ahead of the competition.
"2015 proved to be another difficult year for annuity rates with providers forced to stay on their toes and cut rates in order to react to low gilt yields, the reduced business volumes brought about by pension freedoms and the need to fully factor in the new Solvency II requirements. The fact that annuity rates have more than halved over the last two decades shows the challenge that will continue to face retirees looking for a retirement income in the year ahead."
www.moneyfacts.co.uk - The Money Search Engine
Moneyfacts.co.uk is the UK's leading independent provider of personal finance information. For the last 20 years, Moneyfacts' information has been the key driver behind many personal finance decisions, from the Treasury to the high street.
© 2005-2019 http://www.MarketOracle.co.uk - The Market Oracle is a FREE Daily Financial Markets Analysis & Forecasting online publication.

Only logged in users are allowed to post comments.
Register/ Log in