GP Annual Reviews to Weed Out Incompetent Doctors
Politics
/
NHS
Jul 23, 2008 - 08:30 AM GMT


The government announced today an initiative that would remove licenses from incompetent GP's. In recognition of the size of the problem of incompetent doctors practicing in GP surgeries across Britain which has lead to a loss of confidence by patients in the rigid NHS GP system that treats patients virtually as ATM cards to swipe in and out of surgeries has resulted in hundreds of thousands of patients abandoning the NHS in favour of private competent diagnoses services such as those offered by BUPA. Many more patients have given up altogether on visiting their GP's after being repeatedly met by literally worthless shoulder shrug diagnoses.


The Chief Medical Officer Sir Liam Donaldson has proposed plans published today that GP's, hospital consultants and private practitioners would have to renew their licence's every five years. With annual assessments of GP's that will include 'some' input from the patient, with a view to identifying poor performers who will under extreme conditions be stripped of their licence's.
The changes have been a long time coming following the blanket of silence as doctors tend to watch each others backs by ganging up against complaining patients which results in near vendettas against the most vocal of patients resulting no real accountability and perpetual cascading trend towards the delivery of substandard healthcare services. This was most clearly made evident by Doctor Shipmans 23 year murderous campaign that despite patient complaints FAILED to result in any earlier action that finally resulted in the deaths of more than 215 patients. Now 10 years later the government is attempting to address the failures of the GP system by what appears to be a luke warm measures. Still the report has yet to be implemented and it remains to be seen which elements will be reduced or removed from the proposal, especially where patient feed back is concerned as doctors being assessed annually by colleagues in perhaps a fire side chat would be more or less be a worthless exercise with regards the quality of service actually experienced by patients on a day to day basis.
Rather than doctors be subject to an annual review, a much better and useful exercise would be if patients were able to rate every GP consultation immediately afterwards in an online portal accessed at the GP surgery, thereby the Primary Healthcare trust and Department of Health would immediately be aware in real time as to which surgeries are failing and need immediate attention, rather than to wait for annual reviews that lack proper patient feedback.
This is not the first shot across GP's bowes as GP's have been consistently warned to provide more competent diagnoses and referral service, the lack of which ends up costing the NHS several billions of pounds.
The NHS has seen its budget nearly triple over the last 10 years from £39 billion in 1996 to £110 billion today. However more than 70% of this huge amount of extra spending has been wasted, this is most clearly evident by what has transpired in GP surgeries across the country where money meant for improving patient healthcare has been pocketed by GP's in the form of tripling in salaries which has resulted in GP salaries now more then double what they should be in terms of average earnings.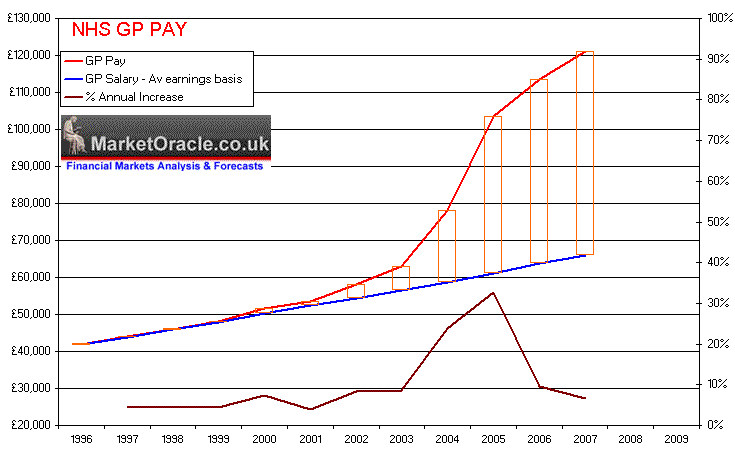 The above graph clearly illustrates the impact of the incompetent Labour government GP contracts that came into force for the year 2003-04, which saw GP Pay soar during the following 3 years. If GP Pay had grown in line with average earnings, then the current average GP salary should be £65,900, against the actual average of over £121,000.
According to the National Audit Office, the number of NHS GP's has increased by 15% from 26,833 to 30,931 since 2003, this is as a consequence of the GP contracts debacle, at the same time GP's are working on average 7 hours per week less, therefore a cut in productivity of 18% on a normal working week and thus on balance resulting in little improvement in patient healthcare despite a tripling in costs.
The approximate amount of extra real terms spending per year is put at £45 billion, of which 50% has gone on pay rises and of the remaining, 20% on a series of wasted initiatives and projects such as the billions spent on a computer system that still does not work. This means that the more money that has been spent on the NHS the less productive it has become as staff (primarily doctors) lose the incentive to work more and hence cut back hours. Afterall if your pay was tripled for the same work, would you opt to work more or less ?
Lack of Uniform Competent Healthcare
Currently the NHS and GP Surgeries discriminate against men and those living within deprived wards which comprises more than 60% of the UK population. The Equality and Human Rights Commission (EHRC) has warned health authorities to stop discriminating against men, which has resulted in men being more than twice as likely to die from the same cancers as women.
Typically GP services that have cut back on hours available despite a tripling in pay tend to make it difficult for working men to arrange an appointment as the appointment systems are designed to be erratic to suit increasingly part-time GP's.
The consequences of this discrimination is that men die some 5 years before women. The House of Commons health select committee inquiry will hear evidence of the discrimination against men by the NHS next month.
Therefore barely 40% of the UK population is receiving what could be termed competent GP surgery services and NHS hospital healthcare. This despite a tripling in the NHS budget which is increasingly seen by the voters as money wasted.
The current system is designed so that many patients have to visit their GP between 5 and 10 times before they are likely to receive a competent diagnoses and referral made, this means life threatening diagnoses such as cancer can be delayed from anywhere from a few months to a few years. The Governments top cancer expert recently warned that GP's are failing to diagnose cancer symptoms in an interview with the Observer.
"Patients are dying of cancer because GP's are failing to identify their symptoms, the government's top cancer expert has warned. Professor Mike Richards said botched diagnoses were now 'a significant concern'. 'Ultimately it can mean that the cancer has progressed to a stage where it can't be cured,' he said. Failed diagnoses also meant that, when cancers were eventually spotted, particularly aggressive treatments, such as chemotherapy or surgery, had to be used. 'That could be a mastectomy rather than perhaps a breast conserving operation, ' http://www.guardian.co.uk/society/....
The research group "Breakthrough Breast Cancer" reported that as many as a third of GP's are failing to refer patients with suspected breast cancer as urgent cases. Which is one of the core reasons why Britain lags behind most of Europe in terms of cancer deaths. Even behind many poorer eastern european countries that spend less than 1/3rd the amount the UK spends on the National health Service.GP's failure to properly understand the procedures for urgent referral of suspected breast cancer cases costs thousands of lives every year.
The other group discriminated against are those living within deprived wards. The primary reason for this is that poor performing GP's tend to cluster together within these surgeries and hence provide substandard healthcare to those that are the least able to complain against poor healthcare services. This has lead to a near third world level of life expectancy amongst many deprived wards of as much as 17 years less. This was recently highlighted by the Liberal Democrats Leader Nick Clegg who voiced the shocking difference in life expectancy within his own city of Sheffield between affluent wards such as Fullwood and deprived wards such as Darnall.
The BMA suggests that patients can change their GP's in 24 hours, this is not so, as it can take up to a month to change ones GP, that is if the new GP agrees to take the patient. Health minster, Ben Bradshaw said that the current system "dampened the incentive" to attract and accept new patients.
Mr Bradshaw told the BBC: "There is no doubt there are some areas where gentleman's agreements operate that mitigate against lists being open to new patients and therefore work against real patient choice."
A recent Market Oracle poll reveals that more than 15% of patients considered their GP's to be incompetent in diagnoses and treatment.
Poly clinics / Super Surgeries and GP Contracts
The government has tried to address the shortfall in frontline GP services which resulted in patients receiving delayed diagnoses that tend to prove more costly for the NHS in the long run through the 2003/2004 GP contracts, unfortunately this did not work and instead funding meant for patient healthcare was pocketed by GP's in the form of exuberant pay hikes in excess of 30% per annum , whilst at the same time cutting back on hours worked and therefore wholly negating the impact of new GP's joining the profession.
The first step on the path to Super Surgeries was taken in 2000 with the implementation of NHS walk in centre's which offered out of hours basic GP services usually situated at a designated local hospitals. The GP contracts having proved an unmitigated disaster for all but the GP's themselves prompted the government to again attempt to by-pass traditional GP surgeries that have proved inflexible and resistant to change by means of delivering health care through Poly Clinics or Super Surgeries that aim to provide all in one centre's with better management of GP's so as to deliver an improved standard of diagnoses and preventative care which is lacking under the existing system. An additional major improvement will be in the offering of longer opening times so as to meet the needs of the working population that tends to be ignored by the present GP system where working patients are required to usually take half a day or a full day off work.
Super Surgeries will give the patients the real choice of GP's amongst a number of professionals under strong management guidance, rather than the current system where the GP's are left to their own devices which usually results in diffusion of responsibility amongst GP's within small family surgeries and therefore putting of competent diagnoses to the next GP, with firm management procedures in place to prevent a lax working environment from developing.
The British Medical Association (BMA) (Representing GP's) has gone so far as compiling and presenting a petition of more than 1 million signatures to Downing Street against the implementation of 150 'Super Surgeries' and for existing GP Surgeries to be protected.
The Health Minister, Ben Bradshaw lashed out at the scare tactics accusing the BMA of "misleading and mendacious" behaviour in getting patients to sign up to the petition.
"I am not surprised the BMA has collected so many signatures, given the misleading and mendacious nature of its campaign.
"If I were to run a campaign making false claims that something terrible was about to happen, a lot of people would sign my petition too.
"We have received widespread anecdotal evidence of patients feeling pressurised to sign the petition as well as practices telling their patients blatant inaccuracies about local plans." he said.
Earlier Proposed Government Reforms
Spurred on by the 60th anniversary, the labour government has revealed a string of reforms and initiates proposed by Lord Darzi which include -
Hospitals and GP's to be partly paid as a result of patient feedback
Legal right to to chose a GP. - The current system is designed to be inflexible as GP's do not tend to take on other GP's patients, nor are they usually willing to take patients from outside catchment areas.
Book GP appointments online and to change your GP online through the NHS Choices web site as that would give an incentive to GP's to improve patient healthcare so as to prevent patients moving to better run surgeries.
Force hospitals to publish "quality accounts"
End Postcode lottery - Where basically those that live within deprived wards are denied life saving and prolonging drugs and treatment hence contributing to a 17 year life expectancy gap between areas of Britain.
The proposed reforms have immediately been met by an angry backlash from GP's, especially the right to chose their GP as the GP's are seen to operate a cartel that restricts patient choice. The BMA warned that GP's would refuse to compete for patients, and therefore defeat the aim of the reforms of improving patient healthcare.
However, the problem that the Labour government faces is that the NHS workers and families are more likely to vote Labour and therefore real reforms that could make a difference with regards addressing NHS productivity are likely to be watered down and prove ineffective. Real reform can only come about via a government that does not rely on the 1.3 million NHS workers for their votes.
Free at the Point of Deliver Does Not Work
The mantra of "Free at the Point of Delivery" implies that the NHS is FREE, it is not, the NHS will cost the tax payer £110 billion this year, but what free at the point of delivery does impact upon is in the way patients are treated. The difference between an NHS GP consultation and the private consultation is the difference between the Sun and the Moon, for instance as soon as a patient walks through the door of a NHS GP, they are swiped in as though they are an ATM card earning the practice the requisite fee associated with the consultation and now the GP wants you out ASAP so that the next patient can be swiped in and out, hence why it can take between 5 and 10 visits before a patient receives a proper accurate diagnoses. Many a time the patient can be made to feel that they are wasting the GP's time, until perhaps after the 10th visit when the patient is finally referred to a consultant that makes the diagnoses for better or worse that should have occurred months earlier.
Whereas a private GP in recognition of the fact that the patient is directly PAYING for the consultation ensures that both sides seek value for money. The private GP gives far more time to the patient and actually listens to what the patient is saying. The patient is fully prepared to ensure that they receive value for money so under no circumstances would be brushed off with a 2 minute diagnoses as NHS patients can be. Nor is there any question of the patient made to feel that they are wasting the GP's time for the patient has PAID for the consultation and therefore BOUGHT the GP's time.
The same could be applied to hospital consultations. There exists an pervading doubt amongst the patient, and in the doctors mind that the GP's time is valuable and thus the patient must put up with whatever the doctor says, even if this delivers worthless 2 minute shoulder shrug diagnoses.
The conclusion therefore is that "Free at the Point of Delivery" is increasingly seen as "Free and Worthless at the Point of Delivery". This suggests that the actual consultations should be paid for by the patient in some manner with a view to claiming back, much as many private health schemes function. The French successfully operate a similar pay and claim back system which contributes to the much more effective healthcare system in France.
NHS Needs Market Forces
A BBC opinion poll on the NHS revealed that 66% of the population fears deadly NHS infections which claims thousands of lives every year because of failure of basic hygiene measures. As many as 1/3rd of people polled would avoid surgery in an NHS hospital for fear of getting an infection. The NHS routinely KILLs tens of thousands unnecessarily every year, with the number estimated for 2007 put at 35,000 with many more thousands disabled.
It may now be lost in the mists of time, but there was a missed opportunity during the Thatcher years with regards market orientated reforms of the NHS with a view to putting the patient first, unfortunately of the two remaining objectives for reform during Margaret Thatcher's third term of either reform of the NHS or local government taxation, Margaret Thatcher sought to reform local government taxation by means of the community charge which became to be known as the poll tax and resulted in the downfall of her premiership. Had she chosen reform of the NHS then how things may have turned out differently for both her premiership and for the healthcare of Britain.
It is a fundamental truth of today's NHS that the patient does NOT come first, this was made clear in a recent opinion poll amongst 156,000 NHS staff that found that patient care is not a top priority for the NHS.
The government has so far only paid lip service to market orientated reforms and that mostly on the supply side rather than demand side. True market reforms have never been an real option as that would in effect put the power in the patients hands rather than the doctors / consultants. The NHS needs to resemble the private market place where the GP or hospital have to compete to attract patients through a record of delivering good competent healthcare. The medical profession in response to such suggestions state that the patient is incapable of making t7he decision of choosing who is best to treat them. Instead today patients with serious illnesses have to do far, far more than consult a few league tables and GP / hospital reviews to get competent healthcare, routinely patients have to fight tooth and nail to get effective medical treatment that is denied to all but those with the loudest voices and persistence despite their serious illnesses.
Patients are demanding of a more competent and professional health service as the patient is more or less left out of the decision making loop. The key to successful reform of the NHS is to introduce market forces into the NHS, where the money follows the patient right from GP surgeries to hospitals. Thus the healthcare provider is forced to provide competent / good healthcare otherwise the patient will go elsewhere. More so in that GP surgeries / medical institutions reviews and rankings will funnel patients and therefore money towards the better providers of healthcare, and that in essence is the benefit of patient driven market forces. Rather than the present day system where GP surgeries and facilities are maintained whether or not they provide effective healthcare.
The NHS in its present form is a funding black hole with falling productivity that is sucking in ever increasing amounts of cash in real terms. Real reforms are urgently required otherwise Britain will be heading for a health service crisis as the GDP share of health spending continues to expand from 3.5% in 1948 to 8% today to above 11% by 2020, all without any real improvement in patient healthcare.
In conclusion the money MUST walk with the patient to ensure the patient receives competent healthcare. Otherwise the system is maximized to yield the most money for the least amount of work as we have witnessed with the GP contracts. Unless money walks with the patients than today's proposed reforms are just a publicity stunt that will not produce meaningful change in the provision of competent GP diagnoses services. One way for money to walk with the patients is via resources linked to patient feedback following each and every consultation via a centralised online portal that could be accessed by patients from within GP surgeries.
The Market Oracle in the interests of public health is investigating the creation of such an independent portal on a non profit making basis.
By Nadeem Walayat
http://www.marketoracle.co.uk
Copyright © 2005-08 Marketoracle.co.uk (Market Oracle Ltd). All rights reserved.
Nadeem Walayat has over 20 years experience of trading, analysing and forecasting the financial markets, including one of few who both anticipated and Beat the 1987 Crash. Nadeem is the Editor of The Market Oracle, a FREE Daily Financial Markets Analysis & Forecasting online publication. We present in-depth analysis from over 150 experienced analysts on a range of views of the probable direction of the financial markets. Thus enabling our readers to arrive at an informed opinion on future market direction. http://www.marketoracle.co.uk
Disclaimer: The above is a matter of opinion provided for general information purposes only and is not intended as investment advice. Information and analysis above are derived from sources and utilising methods believed to be reliable, but we cannot accept responsibility for any trading losses you may incur as a result of this analysis. Individuals should consult with their personal financial advisors before engaging in any trading activities.
© 2005-2022 http://www.MarketOracle.co.uk - The Market Oracle is a FREE Daily Financial Markets Analysis & Forecasting online publication.

Only logged in users are allowed to post comments.
Register/ Log in