Here's How Millennials Can Weather the Perfect Storm
Politics
/
Pensions & Retirement
Aug 15, 2016 - 12:41 PM GMT


BY PATRICK COX : Millennials are struggling. We see it in the media every day. About 45% of Millennial college grads are working low-wage, dead-end jobs and have record levels of student debt. The number of young people making less than $25,000 per year is higher now than at any time in the last 25 years.
Boomers and Gen-Xers like to pile on, too. They say young people should be out on their own instead of living at home. They agree that Millennials don't work serious jobs (if they work at all) and wonder why they put off marriage longer than any generation before them.
But the big question is, why are Millennials struggling so much?
Shifting demographics is a unique problem for Millennials
The answer is simple. While every generation feels it is unique, the Millennial generation actually is. This group must face the challenge of the biggest macroeconomic event in human history, the flipping of the demographic pyramid.
Throughout the ages, the number of children has far exceeded the number of very old people. But that trend has changed. Birth rates have fallen well below replacement rates in most of the world. This means that every succeeding generation will be smaller than the last. At the same time, the increase in life spans has created the largest aged population ever.
The chart below from Child Trends shows a drop in birth rates during the early 70s. At that point, births in the US fell below the number needed to replace the existing population. This holds true even during the so-called economic recovery when birth rates were expected to rise.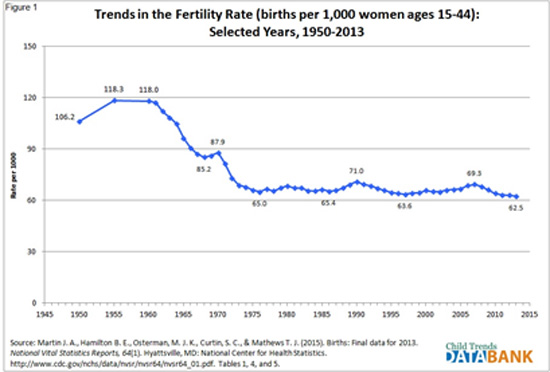 The second chart is from the report by the Federal Interagency Forum on Aging. It shows dramatic growth in the aged population. Since the early 70s, the percentage of Americans who are 65 or older has more than doubled (from less than 20% to about 40%).
Now, look at the projected numbers (the dotted lines). They show that the population of older Americans will increase even faster over the next 40 years.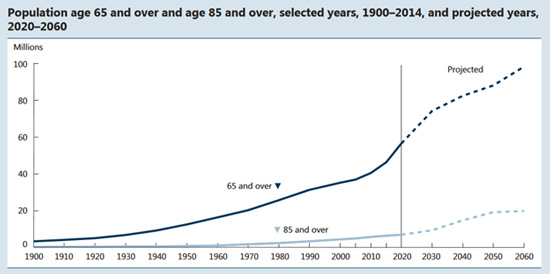 This trend started in the developed world with the advent of modern medicine and other biotechnologies, but it is now global. According to a report by the NIH, there may already be more human beings over the age of 65 than under five. This is a dramatic change from standard demographic patterns. The implications are profound.
The financial burden of demographic change
Healthcare costs increase exponentially as we age. People aged 65 or older spend about seven times more on health care than those under the age of 25. Because the population is aging, total healthcare costs will rise.
The Congressional Budget Office has shown that age-related disease is the main driver of deficit spending and debt. The single largest part of government spending is transfer payments to older people. That cost will increase as the population ages, and young people will be asked to pay for it.
Some costs are direct transfers from poorer young people to older wealthier people through payments into Social Security and healthcare programs. The Affordable Care Act, for example, charges young people about five times the cost justified by actuarial risk tables. Older people pay less than full cost.
The current federal debt of about $20 trillion is an even bigger burden. Debt entails spending money now that must be repaid later. Younger people repay this debt in the form of future taxes.
For the first time, this deficit-spending bill is not being sent to a larger future generation. It's being sent to a smaller one. And Millennials are already hobbled by personal and government debt.
A major problem with government debt is that it hinders economic growth by soaking up capital needed for new businesses. Look at the passage of the massive debt-financed stimulus packages under Bush and Obama. It's no coincidence that a drop in the rate of business startups followed each. For the first time in modern history, more jobs are now being lost than created.
So, Millennials, you're hosed. The Affordable Care Act is already coming apart at the seams as are America's public pension programs. You are expected to rescue them, and there's no way you can as things stand now.
Here's how Millennials can save themselves
Biotechnological sciences helped create this problem by increasing life spans, but they could also solve it. Gerontologists believe we could extend health spans and delay retirement by as much as two decades. Longer working careers could save these programs while freeing the capital needed for new businesses and jobs.
But here's the irony. Pew polls show that 61% of Millennials oppose cuts in Social Security benefits. This is despite the fact that more than half of Millennials believe the program will be insolvent before they're old enough to collect. No group opposes delayed retirement as strongly, with only about one in five favoring longer working careers.
Millennials may want to cling to the status quo, but their economic future depends on their ability to change.
Subscribe to Patrick Cox's Tech Digest
Read about breakthrough treatments, life-saving technologies, and other biotech transformations that promise longer, more fulfilling lives, and also the potential for outsized market returns. Sign up for the Transformational Technologies publication now.
© 2005-2019 http://www.MarketOracle.co.uk - The Market Oracle is a FREE Daily Financial Markets Analysis & Forecasting online publication.

Only logged in users are allowed to post comments.
Register/ Log in