Have You Taken These 4 Simple Steps to Improve Your Trading?
InvestorEducation
/
Learn to Trade
Oct 21, 2016 - 12:22 AM GMT

4 Simple Steps to Improve Your Trading
Jeffrey Kennedy is a 20-plus year Elliott wave market veteran. In this new interview, he walks you through his 4-step process of how to find high-confidence, low-risk trade setups.
[Editor's note: The text version of this interview is below.]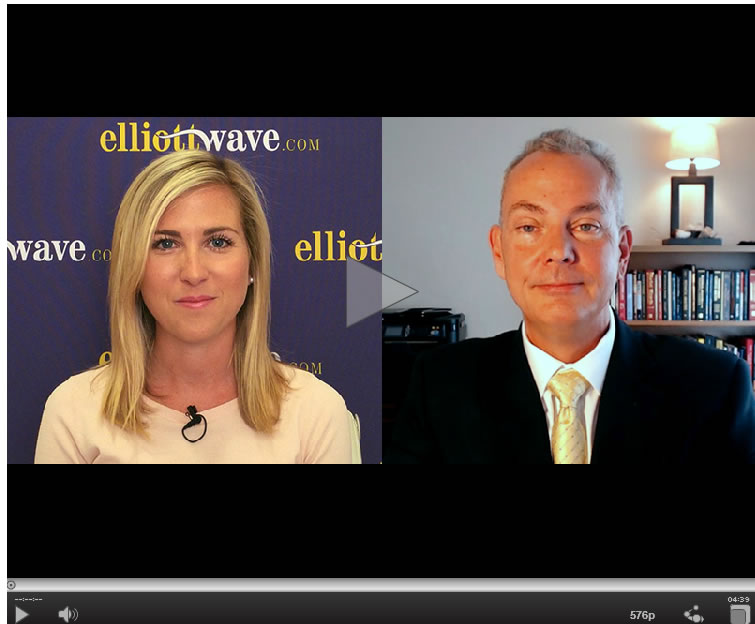 ********
Alexandra Lienhard: Jeffrey Kennedy is the Chief Commodity Analyst at Elliott Wave International. He has 20-plus years worth of experience as a trader, analyst and teacher. He's joining me today on ElliottWaveTV to talk a bit about how to spot high-confidence trade setups using wave analysis.
Now, Jeff, thanks for talking today. I know it's been a while.
Jeffrey Kennedy: Hello, Alex. Good to see you.
Alexandra: So, I know from reading your analysis over the years that you use a four-step process to evaluate whether to enter a trade or not. It's actually the basis of the 6-session intensive course that you teach, the 4 Elements of High-Confidence Trading. Now, without getting into too much, because you cover it in quite a lot of detail in your course, can you briefly summarize what those four steps are?
Jeffrey: Of course, Alex. The steps are quite simple. Number one, I focus on trend. What's the trend of the market? Number two, I focus on pattern, specifically Elliott wave pattern -- because I'm an Elliottician. Number three, I like to bring in momentum indicators and oscillators -- for example, RSI or stochastic. And the fourth critical element is Japanese Candlestick Analysis. I find it a great compliment to the overall process.
Alexandra: And, talking about all of those steps, it sounds like going through each one of them is a lot like building a case in order to make a trade. You mention a couple of other technical indicators that you employ in addition to wave analysis. Do you have a favorite indicator or oscillator that you use?
Jeffrey: Well, actually, let's go back to your first point, building a case. That's exactly what the 4 Critical Elements course I teach is designed to do. The field of technical analysis is very rich and very diverse; there are a lot of different disciplines under that term "technical analysis," under that umbrella term. For example, you have point-and-figure analysis;, you have sector rotation; you have traditional chart reading -- say, for example, Edwards and McGee type work; and, of course, the Elliott Wave Principle. What I've found over the years is that it's actually best to pull from many different schools of thought of technical analysis and actually build a case. That actually gives you the high-confidence, or the high-probability trade setups that I know analysts and traders are actually looking for.
Now, as far as the second part of your question -- my favorite indicators and oscillators -- I would probably say my go-to technical page for momentum is a combination of RSI, Relative Strength Index, and stochastic.
Alexandra: Now, once you find a high-confidence trade setup, does that mean it's time to jump in?
Jeffrey: Actually, no. It doesn't. All that means is you have potential. You have the potential opportunity. What I then like to look for, and I discuss this in greater detail in the book The Visual Guide to Elliott Wave Trading written by my colleague Wayne Gorman and myself. One of the key concepts, or one of the key principles of my approach to trading, is always to wait for confirming price action.
Then, once you have all the pieces of the puzzle in place, if the overall trend of the market is up and you're playing the buy side -- in other words, you're focusing on countertrend moves or pullbacks within a larger up-trending market and that pattern is in place (whether it's an Elliott wave zigzag, flat or triangle), and then you have your momentum patterns, or momentum signatures in place (for example, a bullish divergence), and then on top of that you have your candlestick analysis -- that's what I like to look for. In other words, that builds the framework for the setup.
Now, what comes next is the confirming price action. I want the market to commit to me before I commit to the market.
Alexandra: Do you have any advice for analysts and traders in terms of improving their chances of spotting winning trades?
Jeffrey: Absolutely. I would probably say, the single best piece of advice I can offer traders is to focus on quality, not quantity. Just because you trade more doesn't mean you're going to be more successful. Over the years, I've come to realize that I would much rather focus on a high-quality trade setup than one that maybe barely meets the standard of what I would consider to be a high-quality trade setup. So, simply put, focus on the quality. If you focus on quality, what will happen is you'll find that you trade less, and the attention that you do spend with the market will be focused on those higher-probability opportunities.
Alexandra: Well, Jeff, I know we're just touching on the surface of how to spot high confidence setup, so I appreciate you taking a couple of minutes to summarize it all for us.
Jeffrey: My pleasure, Alex, any time.
Alexandra: Thanks.
---
| | |
| --- | --- |
| | Get Jeffrey Kennedy's free resource, 3 Lessons: Learn to Spot Trade Setups on Your Charts. You'll learn the 5 core Elliott wave patterns as well as a method Jeffrey developed to add clarity to his wave analysis. Then you'll see how he combines Elliott wave with technicals such as RSI, MACD (Moving Average Convergence Divergence) and Japanese candlesticks to build a case using a chart of Las Vegas Sands Corp (LVS). |
This article was syndicated by Elliott Wave International and was originally published under the headline Have You Taken These 4 Simple Steps to Improve Your Trading?. EWI is the world's largest market forecasting firm. Its staff of full-time analysts led by Chartered Market Technician Robert Prechter provides 24-hour-a-day market analysis to institutional and private investors around the world.
About the Publisher, Elliott Wave International
Founded in 1979 by Robert R. Prechter Jr., Elliott Wave International (EWI) is the world's largest market forecasting firm. Its staff of full-time analysts provides 24-hour-a-day market analysis to institutional and private investors around the world.
© 2005-2019 http://www.MarketOracle.co.uk - The Market Oracle is a FREE Daily Financial Markets Analysis & Forecasting online publication.

Only logged in users are allowed to post comments.
Register/ Log in