Dow Futures Down 777 Points As Trump Is Selected During Jubilee Time Period
Stock-Markets
/
Stock Markets 2016
Nov 09, 2016 - 04:42 PM GMT


Donald Trump was selected as the new President of the US tonight and, just as we warned, markets are crashing.
As I write, Dow futures are currently down 777 points, the Japanese Nikkei is currently down 5%, bitcoin is up 3% to $730, gold is up 4% to near $1330 and silver is up 3% to nearly $19.
We have been saying all year to prepare for massive chaos and volatility to occur in the fall of 2016 – and this is why. The trends we watch are all pointing us in very specific directions. And those are not good ones.
The Biblical Jubilee year (an extension of the Shemitah year) ended in early October and the Catholic Jubilee year ends on November 20th. And, within that time period, a LOT has changed!
I stated earlier in the year that Killary had been selected. But, I've been outspoken that something shifted in the last month. It became clear the elites had decided to throw Killary under the bus and allow Trump to win.
I even stated it right here: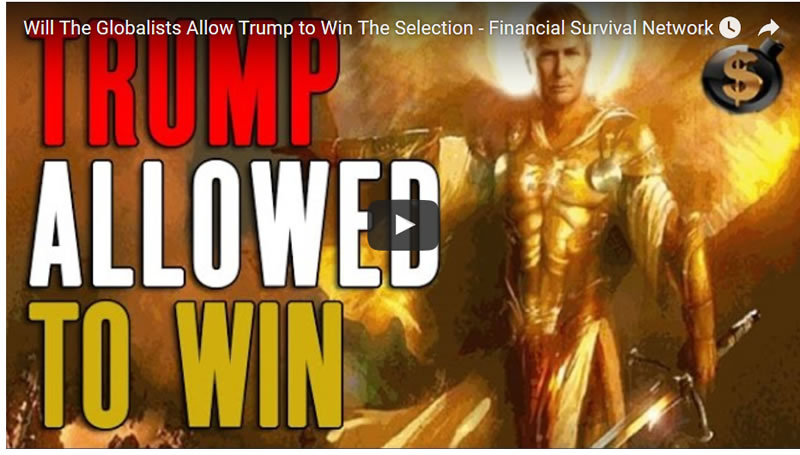 As with Brexit, the globalists have realized that too many people have caught on to their scams, false flags and vote rigging and they decided putting someone like Hillary in power might have created an unstoppable, public uprising.
Killary, after all, was speaking in front of half full school gyms while Trump was speaking in front of stadiums full of people.
Some, likely, are elated tonight that Trump has won. Just as many were elated that Brexit went through. But remember, Brexit is struggling and it looks like the British didn't win much after all, or not yet. That's the elite game: Make you think you won, when you didn't.
Make you think you came out on top, while at the very top nothing changes.
And so … Wars in the Middle East will still rage as Trump "fights ISIS." The Federal Reserve will continue to destroy the economy via money printing and interest rate manipulation. The War on Drugs will continue and even increase as Trump likely moves the US toward a bigger police state (with popular approval).
Nothing of importance to salvaging the US will occur… and it's bankrupt anyway. And authoritarian measures that people would have fought against under Hillary, will take place smoothly and quietly under Trump. He's already mentioned some of them.
You may not believe us but it's true. I said the same thing in 2008 after O'Bomber was elected to many catcalls as so many were excited about all this "hope & change". And what happened? O'Bomber started more wars than Bush could dream of, black people are now being shot on the street for sport and the US national debt doubled in just eight years!
Obama won the Nobel Peace Prize, but that didn't make him any less bloodthirsty. Don't expect Trump to suddenly emerge as the "people's champion."
You don't know what Trump will do as president. No one does. But chances are the world will continue as it is or grow worse. And the US will continue as it is or grow worse. You don't get to the top political office of the US on your own. And you damn well don't stay there unless you're willing to go along with larger plans already in action.
Just look at how Trump has flip flopped on every major issue just in the last few years. Like any politician, he just says whatever people want to hear.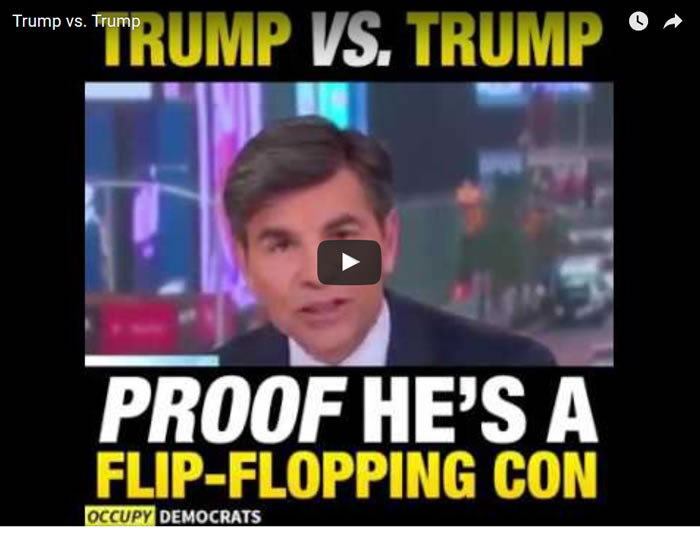 In fact, Trump is nearly as much of an insider as Hillary. And, consider this …
Trump is reportedly a high degree Freemason, one related to the royal family of UK. His father and grandfather were high-level Freemasons… and as we pointed out recently, he is Jesuit trained. The Jesuits are near the highest level of the proverbial pyramid.
He is also a very good friend to the Clinton family and to other Illuminati families as well. Do you really think he would have gotten so far without connections to the ruling class at every level? He is most likely a Trojan Horse.
Watch his speeches. He makes all the possible Masonic hand signs. He flashes the 666 sign almost every few seconds.
The number 33 is the most important number in Freemasonry and recall, Hillary's first email investigation was for 33,000 emails!
Also, of interest: He was supposedly born on the lunar eclipse day 70 years ago; his date of birth apparently hides the Satanic symbolism 11911, 14.6.1946: 1+4+6/9/1+4+6. His selection will be officially announced on 9.11.2016. 9/11, as we know, is also a very important masonic number.
Could this all just be coincidence? Yes, it is possible. But probably … no. We have stated in the past that, as with Brexit, this "Trump Shock" will be used as an excuse for the massive financial crash blowout we have been warning about all year.
We fully expect that between now and inauguration day anything can happen including a massive false flag terrorist attack, full blown war and/or financial collapse. The election of Trump may not make things better no matter how much we want to hope it will. Unfortunately, it will probably make things worse.
If you want to celebrate tonight go ahead. I can't say I don't enjoy watching all the Hillary supporters drowning themselves in tears. And, if we are totally wrong on Trump and he is actually a good guy who tries to dismantle the globalist control of the US we'll be the first to cheer him on.
But, it is much more likely, this is all part of the elite game plan which I outlined in my book Shemitah Trends. People have no idea just how embedded the shadow government and globalists are in virtually everything. Someone like Trump wouldn't get anywhere near where he is unless he, like Obama, wasn't already managed. FDR himself summed it up when he said, "Presidents aren't elected, they're selected."
In the meantime, though, it looks like dollar vigilantes are set to make another fortune tomorrow. Markets might rebound a bit after, but we expect ongoing chaos, volatility and crises ongoing through to inauguration day and well beyond.
We've picked and forecasted it all because we understand the elite game plan. TDV's Senior Analyst will be sending out an alert shortly to advise on how to trade the coming volatility and we'll continue to give subscribers the best financial and personal information to survive and prosper on the march towards globalism. Subscribe to TDV here to get the best inside information.
In fact, during election day, something massive happened in India to move the New World Order forward that likely no one, outside of India, noticed. We'll try to cover that here tomorrow and more specifically in the newsletter as to how to protect yourself and profit.
This Trump Presidency brings with it a whole raft of new dimensions to the globalist plans. Stick with us here as we uncover and expose it.
Anarcho-Capitalist. Libertarian. Freedom fighter against mankind's two biggest enemies, the State and the Central Banks. Jeff Berwick is the founder of The Dollar Vigilante, CEO of TDV Media & Services and host of the popular video podcast, Anarchast. Jeff is a prominent speaker at many of the world's freedom, investment and gold conferences as well as regularly in the media.
© 2016 Copyright Jeff Berwick - All Rights Reserved Disclaimer: The above is a matter of opinion provided for general information purposes only and is not intended as investment advice. Information and analysis above are derived from sources and utilising methods believed to be reliable, but we cannot accept responsibility for any losses you may incur as a result of this analysis. Individuals should consult with their personal financial advisors.
© 2005-2019 http://www.MarketOracle.co.uk - The Market Oracle is a FREE Daily Financial Markets Analysis & Forecasting online publication.

Only logged in users are allowed to post comments.
Register/ Log in