Urgent: "Double Play" Energy Profit Scenario Is Now Rapidly Unfolding
Commodities
/
Lithium
Aug 24, 2017 - 10:12 AM GMT

Fast-Moving Bull Market Combined with One Company's Extraordinary Property Combine for the Highest-Upside Energy Play Seen in Years!
The global shift to electric vehicles has triggered a fast-moving profit opportunity. The lithium needed to power hundreds of thousands of new electric vehicles is in dangerously short supply. Here's why that could bring life-altering returns for early investors in one high-upside exploration play.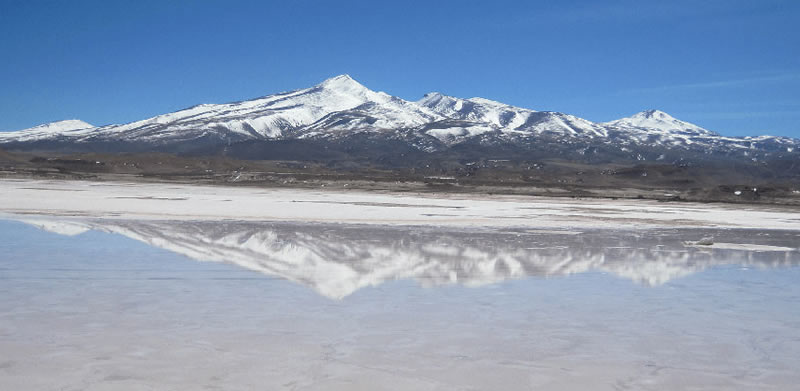 A rare – and potentially explosive – "Double Play" profit scenario is unfolding right now.
Thanks to a unique combination of a scorching-hot lithium bull market…and a little-known company's "prime location" property – early investors could cash in on one of the highest-upside energy investments to come along in years.
Southern Lithium Corp. (TSX-V:SNL) (FSE:SL5) (OTC:SLLTF) is right now perfectly positioned to deliver life-altering profit potential as it continues exploration for the world's hottest commodity…at an extraordinary property.
Here's what I mean:
"Double Play" Part One: Soaring Electric Vehicle Demand is Pushing The World's Hottest Commodity Even Higher
The recent surge in worldwide demand for electric vehicles has helped trigger a potentially historic bull market for lithium…with prices more than tripling since 2015 alone.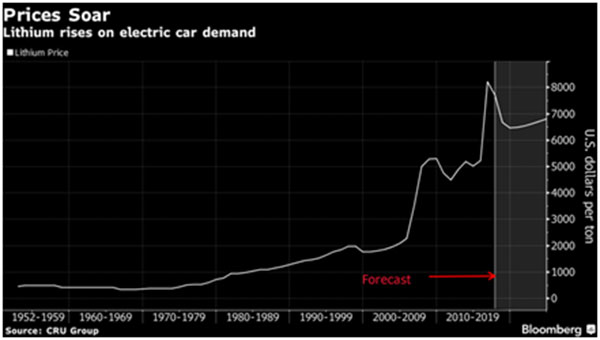 After all, lithium is essential to the batteries that power those electric vehicles – as well as the batteries that power many of our most sought-after consumer electronics, including smartphones.
And make no mistake…the world is now in the early stages of a historic shift to electric vehicles.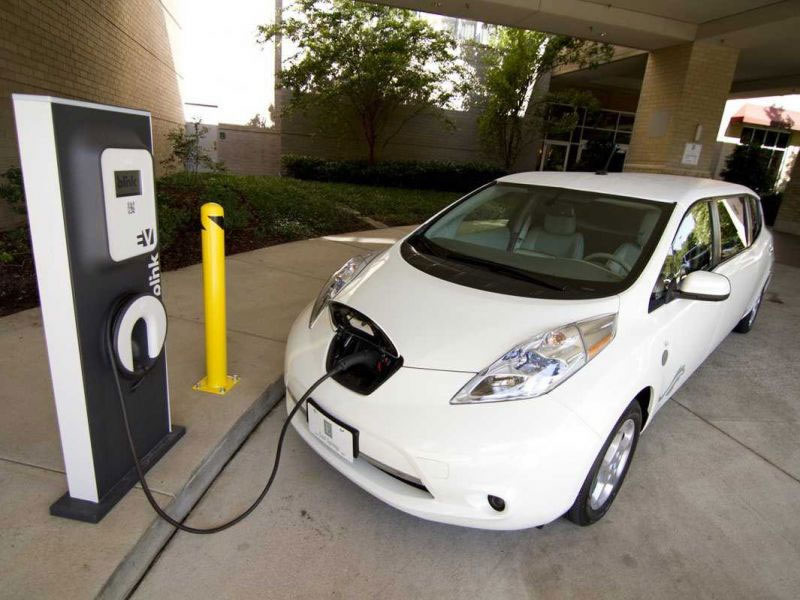 Earlier this summer, Volvo announced that all new models it introduces beginning in 2019 will be either hybrids or electric vehicles. And Tesla has set a target of selling 500,000 new electric vehicles by 2020.
Experts now predict that by 2030, electric cars will make up 58% of the light vehicle market…a massive increase from the 7% market share for EVs today.
And while demand for lithium continues to increase…worldwide supply is nowhere enough to meet growing demand because of how difficult lithium production can be.
Consider these facts:
Morningstar projects that worldwide demand for lithium is projected to continue rising by as much as 16% per year…over the next ten years – faster than any other commodity over the past century!
According to industry expert Macquarie Group, the share of lithium demand from electric and hybrid vehicles alone is expected to surge from 10 percent in 2015 to 33 percent by 2021.
Goldman Sachs reports that for every 1% uptake in electric vehicle use, the increase in battery demand will require 70,000 tons of lithium production per year.
But lithium does not occur as a pure element in nature. Instead it is contained within mineral deposits or salts, and must be extracted.
The Financial Times reports that, "concern is growing among analysts and carmakers that (lithium) supply will not be able to keep pace with demand" thanks to increased demand for electric vehicles.
This all adds up to a continued scorching-hot bull market for lithium.
Worldwide demand for smartphone batteries is not expected to decrease any time soon…and demand for lithium-ion batteries to power the hundreds of thousands of new electric vehicles in production will continue to push prices higher.
What this means is that the market is demanding that new lithium production be brought online.
Any lithium exploration company that is able to make this a reality could see its share price skyrocket virtually overnight.
That's where Southern Lithium Corp. (TSX-V:SNL) (FSE:SL5) (OTC:SLLTF) comes into play…
"Double Play" Part Two: Southern Lithium Corp's Argentina Property is in a Prime Location for Exploration Success
For investors looking to cash in on this extreme supply-demand imbalance for lithium, there's absolutely one place they should look first.
South America's "Lithium Triangle" is home to more than half of the world's identified lithium resources.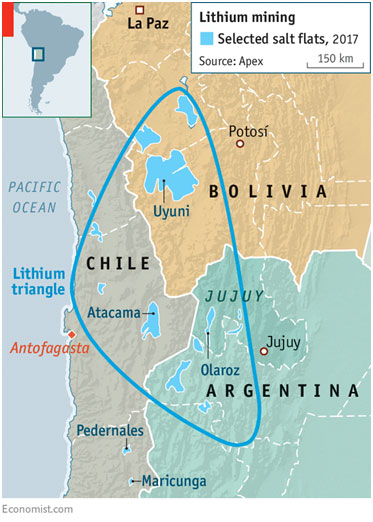 This "Lithium Triangle" – which straddles Argentina, Chile and Bolivia – has explosive investment potential because of the soaring value of the lithium in the ground.
But two-thirds of this "triangle" is off-limits to investors.
That's because Bolivia and Chile are not currently issuing mining licenses.
"Hidden within the salt flats high in the Andes mountains of South America are vast deposits of the lithium that Elon Musk may need for his electric-car revolution."
Argentina, however, is a very pro-business nation with a mining-friendly government. And that's precisely where Southern Lithium Corp's largest project is located.
Excellent mining related infrastructure is available to the company – with easy access to railroads, hydroelectric power and highways.
But access and infrastructure is just a small part of the Southern Lithium Corp. (TSX-V:SNL) (FSE:SL5) (OTC:SLLTF) story in Argentina…
Southern Lithium Corp's Cruz Project is Located at the Base of a Volcano Presumed to be the Source of the Basin's Lithium
Southern Lithium Corp's Cruz Property checks in at just over 22,000 acres.
And it's located on the untapped south side of the chain of a volcano thought to have produced the lithium mineralization in the area.
On the north side of this volcano chain, a private company – ADY Resources – has produced a positive feasibility study indicating a net present value of $1.4 Billion –at its Salar del Rincon property.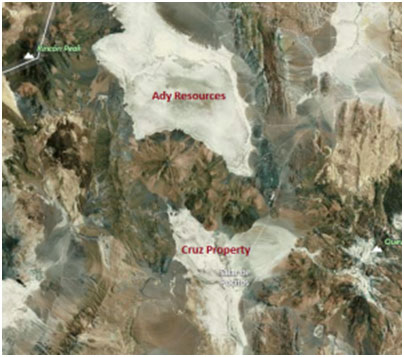 When it comes to a resource exploration play, location is absolutely critical…and Southern Lithium Corp. (TSX-V:SNL) (FSE:SL5) (OTC:SLLTF) has an extraordinary property in a great location.
Not only is the Cruz property located in the middle of the "Lithium Triangle" – where more than half the world's proven lithium reserves can be found – it has ideal infrastructure allowing for potential mine development.
Contiguous to this property, a private company – ADY Resources – has begun pilot production on reserves that are estimated to be $1.4 billion…
And Southern Lithium Corp. (TSX-V:SNL) (FSE:SL5) (OTC:SLLTF) is now executing exploration of their property.
That fast movement – combined with the scorching-hot lithium bull market we're seeing right now – makes this investment a potential fast-mover.
Recently the company received its permit to drill the property…and within just a few days, commenced drilling.
On August 8 – the company announced that it had completed the drilling of the first of two holes as part of Phase One of its exploration program.
An Additional Property in Nevada Offers Even More High-Upside Potential for Southern Lithium Corp. (TSX-V:SNL) (FSE:SL5) (OTC:SLLTF)
No question, Southern Lithium Corp's Cruz property in Argentina offers the potential for massive upside.
But it's not the company's only property.
In fact, Southern Lithium Corp's East Fault project – measuring 2,100 acres – is located in lithium-rich Clayton Valley, Nevada.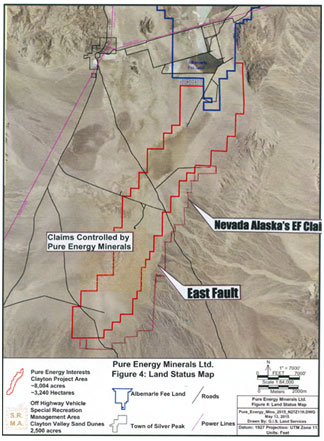 This property is only a 3 ½ hour drive from Tesla's new Gigafactory, and is virtually next door to two lithium producers: Pure Energy and Albemarle.
In fact, Southern Lithium Corp's East Fault property is directly south of Albemarle's mine, the only current active producing lithium mine in North America.
So not only does Southern Lithium Corp. (TSX-V:SNL) (FSE:SL5) (OTC:SLLTF) have well-positioned property in Argentina…it also has a great property in North America offering more potential upside for investors.
Investors looking to take advantage of the global shift toward electric vehicles – and the scorching-hot lithium bull market – should consider moving quickly on Southern Lithium Corp. (TSX: SNL.V)…a company with extraordinary properties and tremendous upside potential.
7 Reasons Why Smart Investors Should Consider Southern Lithium Corp. Today
1.

This "New Gasoline" is Now the World's Hottest Commodity: Lithium is right now the world's hottest commodity… with prices for this "super-metal" – dubbed "The New Gasoline" by Goldman Sachs – nearly quadrupling over the past four years.

2.

Location, Location, Location: Southern Lithium's Cruz Property is a massive, 22,000-acre project in the middle of South America's "Lithium Triangle" – where more than half of the world's identified lithium resources are found.

3.

Soaring Lithium Demand: Demand for lithium is expected to skyrocket

thanks to the surge in popularity of electric vehicles and continued strong demand from consumer electronics. According to Goldman Sachs,

lithium demand could triple

by 2025 to 570,000 tons per year thanks to electric vehicle demand alone.

4.

Extraordinary Profit Potential:

ADY Resources – a private company – has a net present value of $1.4 billion on the north side of this volcano.

Southern Lithium Corp. (TSX-V:SNL) (FSE:SL5) (OTC:SLLTF)

, Cruz property is just 11 kilometers to the south of ADY, hoping to discover lithium reserves on the south side of the volcano…and offer early investors extraordinary profit potential.

5.

Drilling is Already Underway! Southern Lithium Corp. (TSX-V:SNL) (FSE:SL5) (OTC:SLLTF)

is already drilling its second of two holes on the Cruz Property. After receiving permits to drill on July 4, the company began drilling just days later – and on August 8 announced that drilling for the first hole of the Phase One exploration program was complete.

6.

Lithium Millionaires Already Being Minted:

Investors have already begun to cash in on lithium stocks – with Shares of ORO.TO traded at $1.47 on 11/1/15 and closed at $3.25 on 8/21/17. … Shares of FMC traded at $33.04 on 9/1/15 and closed at $83.46 on 8/21/17. …and Shares of ALB traded at $42.59 on 9/1/15 and closed at $113.48 on 8/21/17.

Southern Lithium Corp. (TSX-V:SNL) (FSE:SL5) (OTC:SLLTF)

is now offering investors another chance to get in ahead of potential triple-digit gains.

7.

Prime North American Property:

In addition to the Cruz Property in Argentina,

Southern Lithium Corp. (TSX-V:SNL) (FSE:SL5) (OTC:SLLTF)

also has a 2,100-acre project in lithium-rich Nevada…placing the company right next door to Elon Musk and Tesla and also next-door to the only producing lithium mine in all of North America.
Disclaimer: This release/advertorial is a commercial advertisement and is for general information purposes only. This is a Native Advertisement, meaning it is an informational paid marketing piece. Wallstreetnation.com makes no recommendation that the securities of the companies profiled or discussed on this website should be purchased, sold or held by viewers that learn of the profiled companies through our website. Please review all investment decisions with a licensed investment advisor. This Advertorial was paid for a third party, Winning Media LLC in an effort to enhance public awareness of Southern Lithium Corp. and its securities. Winning Media LLC has or expects to receive one hundred seventy five thousand dollars by the issuer, Southern Lithium Corp. for this advertising effort. Neither WallStreetNation nor Winning Media LLC currently holds the securities of Southern Lithium Corp. and does not currently intend to purchase such securities. This Advertorial contains forward-looking statements that involve risks and uncertainties. This Advertorial contains or incorporates by reference forward-looking statements, including certain information with respect to plans and strategies of the featured Company. As such, any statements contained herein or incorporated herein by reference that are not statements of historical fact may be deemed to be forward-looking statements. Without limiting the foregoing, the words "believe(s)" "anticipate(s)", "plan(s)" "expect(s)" "project(s)" "will" "make" "told" and similar expressions are intended to identify forward-looking statements. There are a number of important factors that could cau se actual events or actual results of the Company to differ materially from these indicated by such forward-looking statements. Certain statements contained herein constitute forward-looking statements within the meaning of Section 27A of the Securities Act of 1933 and 21E of the Exchange Act of 1934. Such statements include, without limitation, statements regarding business, financing, business trends, future operating revenues and expenses. There can be no assurance that such expectations will prove to be correct. Investors are cautioned that any forward-looking statements made by the Company, or contained in this advertorial are not guarantees of future performance, and that the Issuer's actual results may differ materially from those set forth in the forward-looking statements. Difference in results can be caused by various factors including, but not limited to, the Company's ability to be able to successfully complete planned funding agreements, to successfully market its products in competitive industries or to effectively implement its business plan or strategies. To reiterate, information presented in this advertorial contains "forward-looking statements". Any statements that express or involve discussions with respect to predictions, expectations, beliefs, plans, projections, objectives, goals, assumptions, or future events or performance are not statements of historical fact and may be "forward-looking statements." Forward-looking statements are based on expectations, estimates, and projections at the time the statements are made that involve a number of risks and uncertainties which could cause actual results or events to differ materially from those presently anticipated. Forward-looking statements in this advertorial may be identified through the use of words such as "expects," "will," "anticipates," "estimates," "believes," "may," or by statements indicating certain actions "may," "could," or "might" occur. More information on the Company may be found at www.sec.gov readers can review all public filings by the Company at the SEC's EDGAR page. Wallstreetnation.com is not a certified financial analyst or licensed in the securities industry in any manner. The information in this Advertorial is subjective opinion and may not be complete, accurate or current and was paid for, so this could create a conflict of interest.
© 2005-2018 http://www.MarketOracle.co.uk - The Market Oracle is a FREE Daily Financial Markets Analysis & Forecasting online publication.

Only logged in users are allowed to post comments.
Register/ Log in