How Gold Bullion Protects From Conflict And War
Commodities
/
Gold and Silver 2017
Oct 19, 2017 - 02:34 PM GMT


– Gold and silver's historical role in conflict shaped the world today and the modern financial system
– Gold played an important function in the great conflicts up to and throughout the 20th century
– Gold and the effective use of bullion played a crucial role in the outcome of the American Civil War
– Gold was an important economic agent in both World Wars, conferring a huge advantage on the allies
– In a world beset with risks of war both in the Middle East and with North Korea, Russia and China … gold will protect
Editor Mark O'Byrne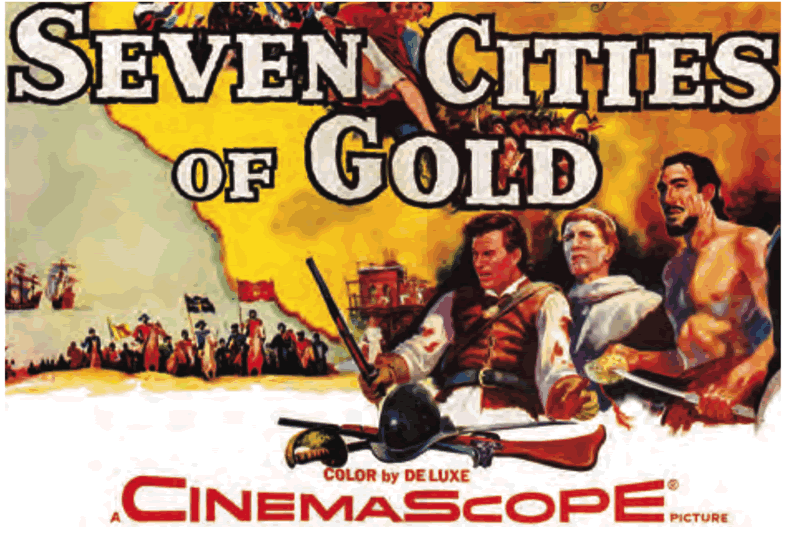 Gold and silver have played important roles during periods of conflict and have protected people but also protected nations and conferred power. HSBC Chief Precious Metals analyst James Steel has written a fascinating piece for this month's Alchemist about this.
The article takes us through the major wars and conflicts from the 15th century to modern times. Each major war serves as a reminder that success is as much down to the management of bullion and finance as it is about the role of gold and silver.
…the way bullion was used, moved, stored and shifted had profound effects on long-term economic or military success. Indeed, the role of gold and silver in wars not only in influenced the shape of the world today, but laid the foundations for the modern financial system.
When managed effectively we see how important gold and silver were for victorious countries. Central bankers and politicians of today should use the following historical examples of military successes to appreciate the importance of a strong source of bullion and conservative financial planning both in and out of peacetime.
Though not a guarantor of victory, gold played an important function in the great European rivalries and struggles up to and throughout the 20th century, as well as in civil wars and revolutions, notably the American Civil War, and the Spanish and Russian Revolutions.
Below we bring some of our favourite examples from Steel's article.
How Spain showed you can mismanage too much gold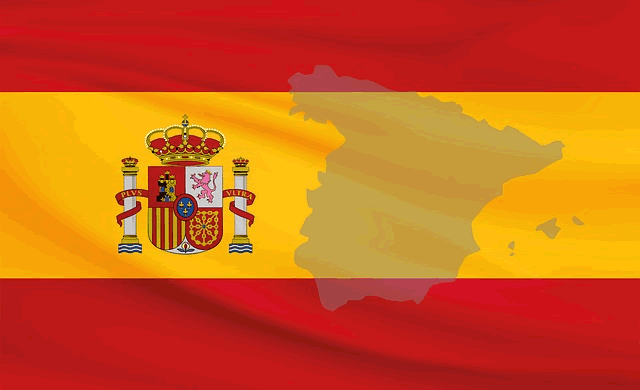 Spain's conquering of the New World brought the country immense wealth thanks to the 'massive influx' of precious metals. Spain became a super power after the 15th Century, funnelling much of the wealth into military endeavours and troops.
However, as Steel explains the new found wealth was not utilised enough in the domestic economy:
The influx of bullion effectively buoyed the money supply without stimulating additional production of goods and services. The result: domestic in ation. Most of it ended up simply 'passing through' Spain. That is to say the bullion headed into the more productive economies of England or the Netherlands, where goods were produced and sold to Spain. So much bullion was imported that it devalued those precious metals already in the European economy for decades afterward.
Steel hypothesises that this had both a domestic and external effect. It hindered the domestic development of Spain and externally, weakened the Spanish Empire's position in future conflicts with other powers. Thus, ironically, Spain's vast bullion wealth strengthened her enemies. This was down to serious financial mismanagement on the part of the Spanish Crown and government.
In Economic Possibilities for our Grandchildren, economist John Maynard Keynes dates the development of Britain's capital account directly to the capture of Spanish treasure by Sir Francis Drake in the 1570s. Queen Elizabeth I was able to pay off the existing national debt and invest an additional £40,000 with the crown's share of the proceeds from Drake's raids of
Spanish commerce.
One could perhaps draw parallels with the Spanish Empire's financial downfall and the countries today that choose to channel so much of their wealth into a global military presence. Their efforts to take military action in continents far from their own whilst their domestic economies suffer are an echo back to the misdirected efforts of the Spanish Empire.
The American Civil War: the best example of gold's power
Steel believes the American Civil War 'may be one of the best examples of a conflict where one side, the Union, had access to considerable gold, while the other, the Confederacy, was effectively starved of bullion.'
Gold was key to financing the Union's victory and helped them maintain a strong position throughout the war. This was mainly thanks to their access to California's gold (thought to have financed 10% of the Union's war effort), financing from the West and purchase of the gold by the Bank of England.
General Grant said in regard to California's support to the war effort: "I do not know what we would do in this great national emergency if it were not for the gold sent from California." Although not paid directly to the troops, the gold was used to raise cash, and most of the Union government's gold was sold to the Bank of England at a price of US$16/oz.
World Wars: he who controls the gold wins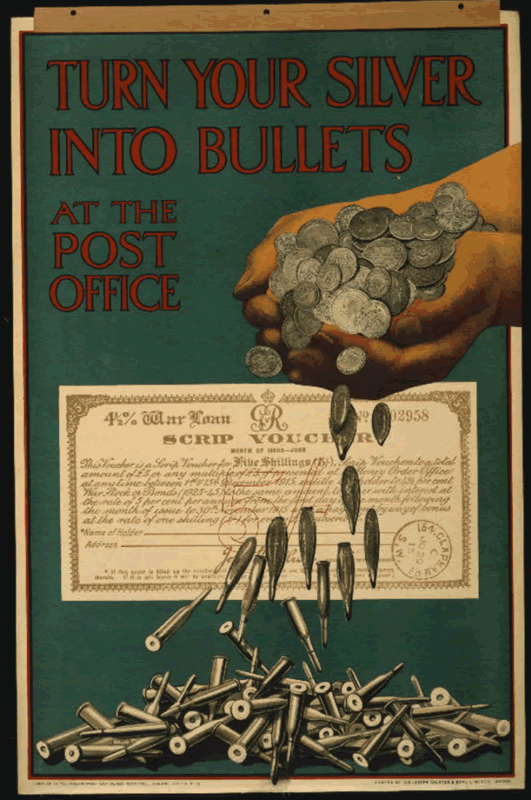 During both World Wars the British had an excellent network and source of supply for their bullion requirements.
During the First World War this was largely thanks to the British Empire, namely South Africa's mining output and the Empire's reputation as a country that pays her debts.
South Africa provided two-thirds of all the gold production in the British Empire. In addition to supplying the UK, the South African government, in collaboration with the Bank of England, effectively blocked gold shipments to Germany. Mine owners were also compelled to sell bullion exclusively to the UK Treasury. This provided a ready source of capital to pay for wartime imports, mostly from the US. Being cut off from fresh gold supplies crimped Germany's ability to import goods needed for the war effort.
Whilst Britain's gold reserves were a level of concern for the country it was Great Britian's ability to control supply and flow of gold that helped to support it during the war.
The UK did not hold particularly large gold reserves at the start of the conflict. Even before the war, City of London banks had argued that the Bank of England's gold stocks should be higher. The war would put further strain on bullion reserves. As during the war years in
the late 1700s, the UK abandoned the gold standard with the Currency and Bank Notes Act of 1914. This was issued just one day after Britain declared war on Germany and allowed the government to print notes as legal tender in place of gold sovereigns and half-sovereigns…
…The UK authorities required at least some payment in gold for credits and imports. France shipped nearly £117 million worth of gold to the UK, while Russia sent nearly £68 million during the war.

…France held the largest gold reserves in Europe and Britain had the best public credit in the world. Both worked to finance the war.
Of course, in World War II similar tactics were used by the Allies in order to finance fighting and protect economies. German's efforts to take gold from occupied countries were limited in their success and the reputation of the Reich mark prevented the Nazi regime from receiving much finance.
The strain on Nazi gold reserves was always severe and by the end of the war, as had happened during WWI, virtually all of the few imports that could get into Germany were paid for by gold. The Allies went off what can best be described as a modified gold standard but had access to immense gold reserves in the many parts of the British Empire and the US. Japan also looted gold, but to a lesser extent than Germany, and an increasingly effective Allied naval blockade inhibited the use of gold, with much of it kept out of the Japanese home islands until late in the conflict.
Conclusion: Use gold wisely
Steel brings his study of seven major conflicts to a conclusion that is as relevant today as it has been throughout history:
Gold and silver are not just spoils of war, they have been the means by which wars and conflicts can be financed and prosecuted. Gold has played a central role in conflicts ancient and modern. However, it is not simply a question of which side has the most gold, but which sides utilises it most judiciously.
What Steel's study shows is that, as with any monetary force, it is how it is managed rather than what it is that carries responsibility for conflicts and the resulting financial situation.
Steel's work also demonstrates the strength and protection access to gold will give a country or army during times of conflict. Allies are able to have faith in countries that have managed their gold supply and economy responsibly, helping to finance conflicts and maintain crucial trading relationships.
We are at an unprecedented time in our global history. Countries have far larger weapons and armies than we have previously known. The financial system is also more connected than ever before. In the background super powers such as China and Russia are accumulating gold, whilst preparing their militaries.
Meanwhile the likes of Britain no longer has quite the same access to either based gold reserves or the Empire, as she once did.
Steel reminds us that it is not who has the most gold, but who is able to best utilise it. Central bankers should take note of this, but so too should investors. A judiciously managed, well-balanced portfolio with an allocation to gold is a prudent way to secure your wealth in these uncertain times.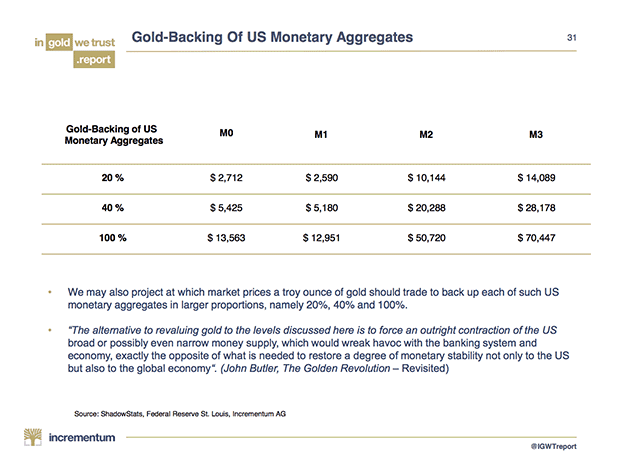 Gold Prices (LBMA AM)
19 Oct: USD 1,283.40, GBP 975.64 & EUR 1,087.42 per ounce
18 Oct: USD 1,280.65, GBP 972.53 & EUR 1,090.47 per ounce
17 Oct: USD 1,289.70, GBP 973.47 & EUR 1,097.02 per ounce
16 Oct: USD 1,305.15, GBP 981.08 & EUR 1,107.03 per ounce
13 Oct: USD 1,293.90, GBP 972.88 & EUR 1,093.73 per ounce
12 Oct: USD 1,294.45, GBP 977.96 & EUR 1,092.26 per ounce
11 Oct: USD 1,290.20, GBP 978.62 & EUR 1,091.90 per ounce
Silver Prices (LBMA)
19 Oct: USD 17.03, GBP 12.93 & EUR 14.40 per ounce
18 Oct: USD 16.95, GBP 12.86 & EUR 14.42 per ounce
17 Oct: USD 17.11, GBP 12.96 & EUR 14.55 per ounce
16 Oct: USD 17.41, GBP 13.09 & EUR 14.75 per ounce
13 Oct: USD 17.20, GBP 12.94 & EUR 14.55 per ounce
12 Oct: USD 17.20, GBP 13.06 & EUR 14.50 per ounce
11 Oct: USD 17.15, GBP 13.00 & EUR 14.51 per ounce
Mark O'Byrne
Executive Director
This update can be found on the GoldCore blog here.
IRL
63
FITZWILLIAM SQUARE
DUBLIN 2

UK
NO. 1 CORNHILL
LONDON 2
EC3V 3ND

IRL +353 (0)1 632 5010
UK +44 (0)203 086 9200
US +1 (302)635 1160
WINNERS MoneyMate and Investor Magazine Financial Analysts 2006
Disclaimer: The information in this document has been obtained from sources, which we believe to be reliable. We cannot guarantee its accuracy or completeness. It does not constitute a solicitation for the purchase or sale of any investment. Any person acting on the information containd in this document does so at their own risk. Recommendations in this document may not be suitable for all investors. Individual circumstances should be considered before a decision to invest is taken. Investors should note the following: Past experience is not necessarily a guide to future performance. The value of investments may fall or rise against investors' interests. Income levels from investments may fluctuate. Changes in exchange rates may have an adverse effect on the value of, or income from, investments denominated in foreign currencies. GoldCore Limited, trading as GoldCore is a Multi-Agency Intermediary regulated by the Irish Financial Regulator.
GoldCore is committed to complying with the requirements of the Data Protection Act. This means that in the provision of our services, appropriate personal information is processed and kept securely. It also means that we will never sell your details to a third party. The information you provide will remain confidential and may be used for the provision of related services. Such information may be disclosed in confidence to agents or service providers, regulatory bodies and group companies. You have the right to ask for a copy of certain information held by us in our records in return for payment of a small fee. You also have the right to require us to correct any inaccuracies in your information. The details you are being asked to supply may be used to provide you with information about other products and services either from GoldCore or other group companies or to provide services which any member of the group has arranged for you with a third party. If you do not wish to receive such contact, please write to the Marketing Manager GoldCore, 63 Fitzwilliam Square, Dublin 2 marking the envelope 'data protection'
© 2005-2019 http://www.MarketOracle.co.uk - The Market Oracle is a FREE Daily Financial Markets Analysis & Forecasting online publication.

Only logged in users are allowed to post comments.
Register/ Log in