Stock Market Plunge Protection Team Spotted Atop Mount Everest!
Stock-Markets
/
Stock Markets 2018
Feb 03, 2018 - 08:56 AM GMT


Many market observers would agree that the current stock market is either in a bubble or at least richly valued by historical standards. Not that it matters. The Dow's ascent looks like Mount Everest complete with a lack of oxygen at the top. All that has mattered when it comes to stocks for thirty years now is the Federal Reserve and their 'Plunge Protection Team (PPT)' activities.
When stocks needed a boost, they were there to buy market indices back up when no one else would dare. Since the election of President Donald Trump, market indices have been moving straight up. The PPT has not been needed. There have been no sell-offs. That is, until the very end of January, 2018. Even then, the Dow dipped just a couple of percentage points.
Why? As I mentioned, everyone agrees the current market is a bit pricey or perhaps even bubbly. Maybe the stock indices are due for a pullback. But mainly, investors are gauging the Fed's anticipated moves. The Fed is raising their fed funds interest rates and in turn, the US 10-year Treasury yield has risen to over 2.7%. That doesn't sound like much but yields haven't been this high in four years and the stock plunge of '08 was triggered in part by yields in the upper 4% range. One or two more bumps from the Fed and US 10-year Treasuries might well yield north of 3%. Since we have been living in an economy propagated by near-free money, maybe a rising cost trajectory of money will trigger the next bear in stocks? The future of stock indices really is in the hands of the Fed.
So we finally got not one but two days of selling in the US stock indices largely due to Fed worries. Alas, the Fed met on January 31 and took no action.
Selling intensified after the Fed's announcement on the 31st and then the clock struck 3PM. And out they popped. I could hear the sirens sounding the alarm from my office! Suddenly, from nowhere, buying programs kicked in. On Donar and Blitzen and…, oh wait a minute -that's a different Santa Claus! I personally measure PPT activity when the Dow experiences at least a 100-point upside move in an hour. By the end of the trading day, the Dow had recovered nearly half of the days 300-plus point intraday loss. All in less than an hour!
The green circles on the chart below show suspect buying activity that is likely PPT action as previously defined. The next morning (February 1) Dow futures were down over 200 points. Ding-a-ling-ling the Dow opened for trading. The next green circle shows a quick 200 point recovery in about thirty minutes. Yeah, that's normal. A little more selling pushed the Dow lower and then a third PPT program kicked in. More selling threatened to send the Dow down for the day but that was not allowed. The fourth green circle shows an end-of-the-day buying spree reminiscent of the previous day. This is a 10-minute interval chart so check out the trading volume at the bottom bar particularly at the end of the day Feb. 1.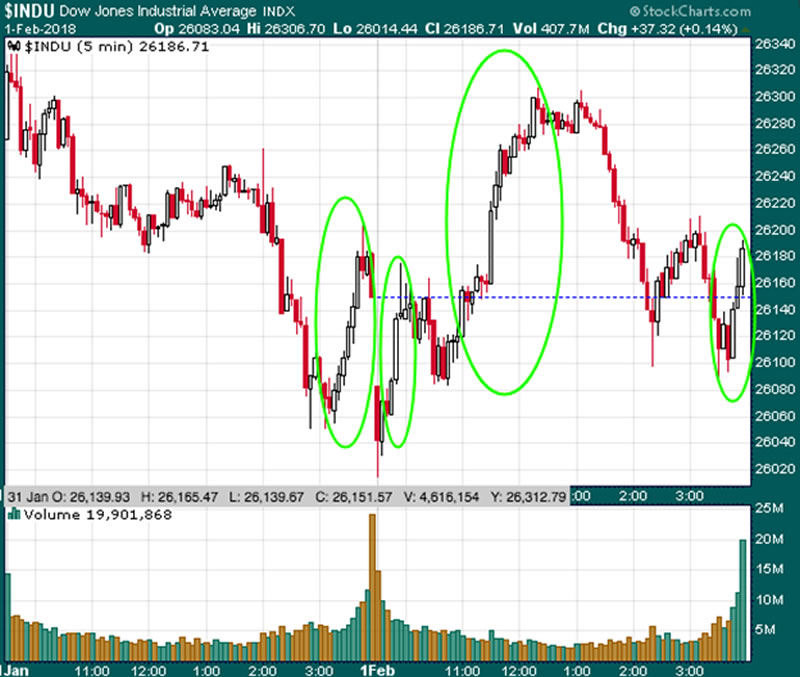 DJIA - 2-day, 10-minute interval 1/31/18 - 2/1/18
Chart courtesy StockCharts.com
What does this tell us? What does the Fed want us to believe?
One - Even though Dow valuations are very high, the Fed does not care if they are standing atop Mount Everest. They are going to grow the mountain higher. All they care about is their evil luciferian control over all of us.
Two - The Fed is willing to support stock prices as they raise interest rates.
Three - The Fed is perfectly willing to blow bubbles as long as they get to search all partiers for sharp objects.
Four - The mood suddenly feels like early 2009 again as the Fed signals for us to don the oxygen masks. We are about to do some climbing. They will not let us fall.
Five - The Fed now realizes that the party is almost over. They must once again assume full control of stock price direction.
Six - A fall from atop Mount Everest will certainly result in death.
We may have a million good reasons to sell stocks and wait for the crash, but we only need one good reason to ignore risks and buy our brains out. That is, we can see the PPT standing atop Mount Everest with buy orders in their hand. But is this action prudent and will the Fed again find success?
If the Fed fails now, we are likely going to experience a very different world on the other side of the QE - PPT door.
Barry M. Ferguson, RFC
President, BMF Investments, Inc.
Primary Tel: 704.563.2960
Other Tel: 866.264.4980
Industry: Investment Advisory
barry@bmfinvest.com
www.bmfinvest.com
www.bmfinvest.blogspot.com
Barry M. Ferguson, RFC is President and founder of BMF Investments, Inc. - a fee-based Investment Advisor in Charlotte, NC. He manages several different portfolios that are designed to be market driven and actively managed. Barry shares his unique perspective through his irreverent and very popular newsletter, Barry's Bulls, authored the book, Navigating the Mind Fields of Investing Money, lectures on investing, and contributes investment articles to various professional publications. He is a member of the International Association of Registered Financial Consultants, the International Speakers Network, and was presented with the prestigious Cato Award for Distinguished Journalism in the Field of Financial Services in 2009.
© 2018 Copyright BMF Investments, Inc. - All Rights Reserved
Disclaimer: The views discussed in this article are solely the opinion of the writer and have been presented for educational purposes. They are not meant to serve as individual investment advice and should not be taken as such. This is not a solicitation to buy or sell anything. Readers should consult their registered financial representative to determine the suitability of any investment strategies undertaken or implemented.
© 2005-2019 http://www.MarketOracle.co.uk - The Market Oracle is a FREE Daily Financial Markets Analysis & Forecasting online publication.

Only logged in users are allowed to post comments.
Register/ Log in