Bailout Secret- To Prevent $68 Trillion Derivatives Collapse Chain Reaction
Stock-Markets
/
Credit Crisis 2008
Sep 27, 2008 - 12:00 PM GMT


Paulson doesn't give a toss about the balance sheets. It's what's OFF them that's frightening him to death. When I read Shah Gilani's excellent analysis How to End the Credit Crisis at No Cost to US Taxpayers which was much better than the analysis that I wrote a few days previously "How to save the US Taxpayer $700 Billion and the Failure of "Mark to Market" the penny finally dropped.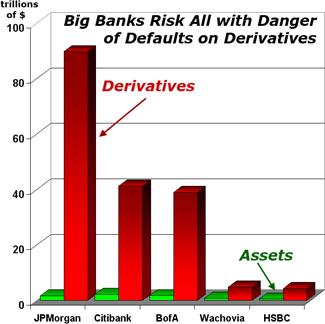 I'm just a simple moderately dumb real estate analyst, I had always assumed this was all about house prices and RMBS's. Now I realize I was duped, that's just a side-show. But I don't think I'm the only one.
Why did Paulson jump in to save some, and not others? Now I got it, it's all about how much CDS's they were exposed to.
I believed Mr. Paulson when he said that the $700 billion was to clean up balance sheets. Why shouldn't I? That's what he said clear as crystal, I wrote it down.
What's on the balance sheets is the RMBS's, but why now and why $700 billion? I couldn't understand it.
But it's nothing to do with the balance sheets.
I wouldn't be surprised if on average those RMBS are worth 80 to 90 cents on the dollar if they are valued properly (i.e. not Market to Market). I mean OK that's lot of money, but we all lost 20% on deals in our time, you just dust yourself off and get on trucking.
But this crisis is not about accounting rules, I couldn't understand how they were all being so dumb saying "Oh woe is me…Mark to Market all these banks are insolvent, and it's all because the market is stalled". No I was stupid, I under-estimated the intelligence of those guys, they know exactly that they can value those assets using income capitalization, and nothing much has changed for the past three months. How could I have been so stupid to think they were SOoo stupid?
So why now?
It's what's not on the balance sheets that matters. Because as Shah Gilani explained, chances are the bets that were placed via CDS's dramatically geared the potential losses, in just the same way they dramatically geared profits when house prices were rising.
I always thought that it was illegal to take out insurance on your next-door neighbor's house in case it burnt down. What CDS's allowed the banks to do was to write a hundred policies, and now one house in fifty is in danger of burning down, and the guys that wrote a hundred policies on each house are in danger of defaulting. And the way the system is structured that could set of a domino meltdown of CDS's,
The reason it's $700 billion is that Mr. Paulson knows that he can't afford any more RMBS's to fail.
Not because some poor people might lose their homes, and oh wasn't Georgie such a sweetie-pie, "you won't be able to send your kids to college and the "farmers" (why the farmers they are only 2% of the population), "won't be able to plant their crops – could this be the end of the American Dream, just agree $700 billion, it's not much, I spent that much on my faith inspired crusade to protect all the Americans in Iraq, and find those weapons which we are still looking for and I PROMISE we will find them, and protect our oil supplies (pity about the price of oil but my saviour works in mysterious ways)".
That's just "collateral damage".
It's because if they do, the $68 Trillion chain reaction could start.
What does this mean?
• The $700 billion WILL be approved, there is no question about that.
• The Fed will keep interest rates far below the rate of inflation, to stimulate an increase in house prices.
• House prices will rise.
• The US Government will effectively guarantee all RBMS's against default.
• So, no more defaults on RMBS's.
• The dollar will fall
• Disaster will have been avoided.
What you do with your money depends on if you think he will pull it off or not.
And Bye Bye Miss American Pie.
By Andrew Butter
Andrew Butter is managing partner of ABMC, an investment advisory firm, based in Dubai ( hbutter@eim.ae ), that he setup in 1999, and is has been involved advising on large scale real estate investments, mainly in Dubai.
© 2005-2019 http://www.MarketOracle.co.uk - The Market Oracle is a FREE Daily Financial Markets Analysis & Forecasting online publication.
Comments
Robert Brown
27 Sep 08, 16:20
Derivatives, $68 Trillion+.


Please consider UNIFIEDMARKETS.



joe six pack
28 Sep 08, 19:55
houses prices will rise LOL in 4-5 years? fine not this year or next


good points made

house prices will rise , ya but when not in the next couple year's mate!




Only logged in users are allowed to post comments.
Register/ Log in