Why China is likely to remain the 'world's factory' for some time to come
Economics
/
China Economy
Nov 13, 2019 - 11:04 AM GMT

US tariffs have hit the manufacturing giant to the tune of $35 billion, says a recent UN report. But companies have found that China's rivals are a poor replacement.
In December 2018, about five months after US President Donald Trump imposed tariffs on China to correct the US trade deficit with Beijing that stood at $419 billion (2018), analysts at the Boston Consulting Group said that despite challenges such as rising wages and escalating trade tensions with its trading partners such as the US and Japan, "it is reasonable to assume that China will remain manufacturing's center of gravity for the foreseeable future".

It was easy to be sceptical of this assessment given the number of companies that announced plans to move manufacturing out of China following the imposition of Trump's tariffs. One of them was the world's largest bicycle manufacturer, Giant. "We started moving before he [Trump] shut his mouth," said its chairwoman in an interview to Bloomberg in June 2019.
As the tariff war escalated over the next few months, with Beijing retaliating by imposing tit-for-tat tariffs,
several other companies were forced to shift US-bound production
out of China.
Vietnam, Thailand, India and Mexico were seen as alternatives.
But slowly, a realisation dawned. Companies found it was certainly possible to move manufacturing out of China, but it wouldn't be easy and it certainly wouldn't come cheap.
Manufacturers Want to Quit China for Vietnam. They're Finding It Impossible
,
announced a
Wall Street Journal
news report in August 2019. The article detailed how Vietnam was a poor substitute for China because it didn't have the ability to manufacture to scale and neither did it have a skilled labour force of the kind taken for granted in China. "The reordering of supply chains is likely to leave China with a diminished but still significant share of the pie," the article said.
On November 5, a report by the UN trade agency, UNCTAD (United Nations Conference on Trade and Development), said though US tariffs resulted in a $35 billion hit for China, US-bound trade doesn't seem to have completely moved out of that country. Chinese firms have "
maintained 75 per cent of their exports to the US
, despite the substantial tariffs imposed", it said.
The report also found that
the business that China lost because of the US tariffs had not moved to America.
The biggest beneficiaries were Taiwan ($4.2 billion), Mexico ($3.5 billion), the European Union ($2.7 billion) and Vietnam ($2.6 billion).
Most of the costs of higher US tariffs on Chinese goods had been passed down to American consumers and companies, the report found, citing data from January-June 2019.
So
was the Boston Consulting Group's China forecast right after all?
Punitive tariffs or not, is China likely to remain the world's factory for a few more years? Here's why that is quite the possibility.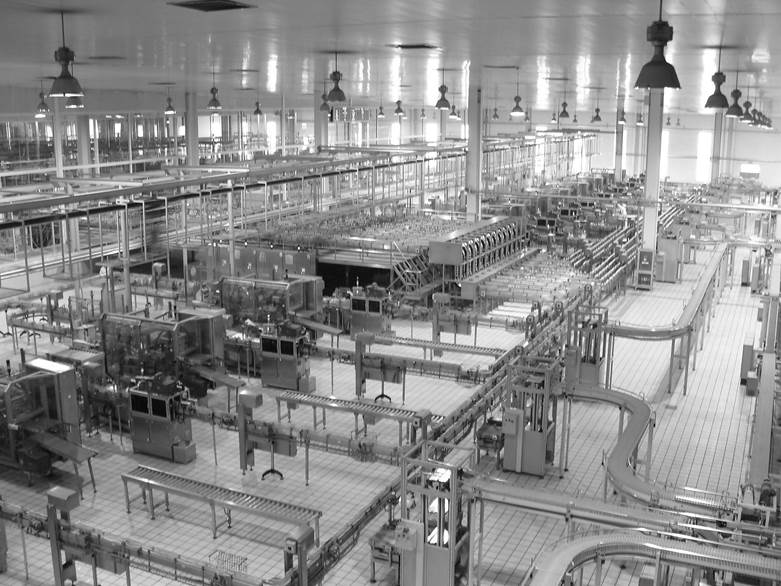 Pic 1: The inside of a factory in China. Photo credit:Cory M Grenier/Flickr (Licensed under: CC BY-SA 2.0).
China's cost competitiveness
China has a manufacturing output of around $2 trillion – the world's largest – according to a Brookings Institution report of July 2018. The US followed with $1.867 trillion, Japan ($1.063 trillion), Germany ($700 billion), and South Korea ($372 billion).

"China has a 15-year head start – whatever you want, someone's doing it…You can't just shift your business to Vietnam and expect to find what you're looking for," the operations director of a company that had moved some US-bound production to Vietnam following the trade war told the WSJ. The company, which makes large pumps, was facing problems in Vietnam such as finding qualified foundries and raw material.

The WSJ's report focused on Vietnam, but the stories of production problems companies faced there could well be narrated by foreign manufacturers parked in any other developing nation looking to fill China's shoes.

China sourcing is popular for manufacturers because China is cheap. Your injection mold or die cast component can also be manufactured in your home country, but China offers competitive prices, which businesses and end customers always find attractive.

It is a common misconception that Chinese manufacturing is competitive because of cheap labour. That may have been true when the country started its journey to become the world's factory about 15 years ago, but as economic growth has pulled more and more Chinese citizens out of poverty, and the standard of living has increased, labour costs in China have gone up steadily.

Despite this, China has managed to retain its manufacturing competitiveness mainly due to its supply chain efficiency, which lowers costs. There are two main factors that facilitate this efficiency.

1. China's industrial clusters.

2. Its export-oriented transport infrastructure.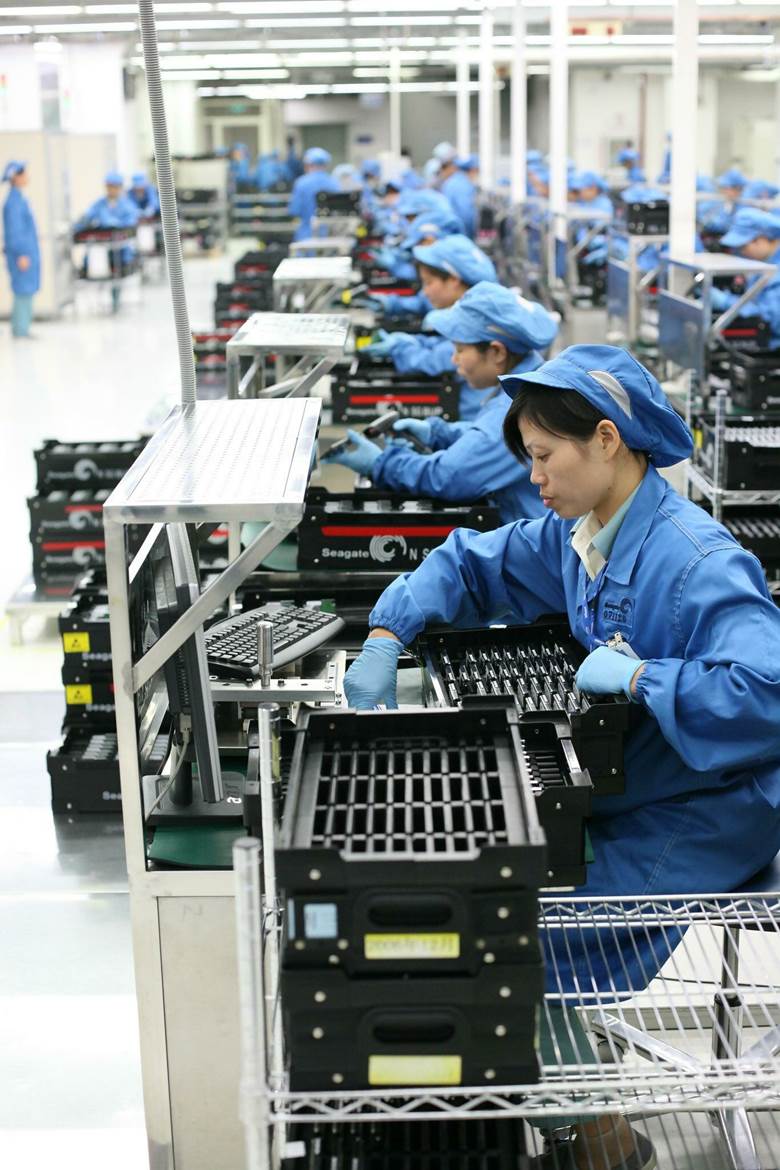 Pic 2: Workers in a Chinese factory. Photo credit: Robert Scoble/Flickr (Licensed under: CC BY 2.0)
China's industrial clusters
Let's take a quick look at China's industrial clusters through the example of an assembly line.

In an assembly line, the production process is broken into many small steps that each worker, trained specifically for that task, completes in a particular sequence. It allows factories to hire lower-skilled workers who are cheaper, and because all inputs are within arm's reach, the product is assembled faster. Increased productivity and lower wages lead to increased profits or cost competitiveness.

This is how Henry T Ford did it.

The pioneering American industrialist's decision to introduce the moving assembly line in his Ford factories in 1913 revolutionised the automobile industry. In doing so, Ford managed to cut the price of his Model T from $850 to less than $300. It paid off. By 1927, Ford had sold more than 15 million cars worldwide; they accounted for 50% of all automobiles sold.

China has perfected the assembly line on a massive scale in its industrial clusters. These are huge zones that operate as giant assembly lines that feed one particular industry. The clusters contain an array of linked factories each of which contribute one component to that industry.

Factories in China's Socks City, for instance, offer everything to do with socks – from machines to threads and packaging material. Located in Zhejiang Province, it makes 30% of the world's socks.

There are similar industrial clusters for shoes, toys, plastics, electronics and so on. The clusters give these industries a supply-chain related efficiency that other countries are yet to match.

At the micro level, the massive production capacity of Chinese factories allow them to achieve economies of scale that factories in other countries find it difficult to match.

All this gives China a cost competitiveness over its competitors.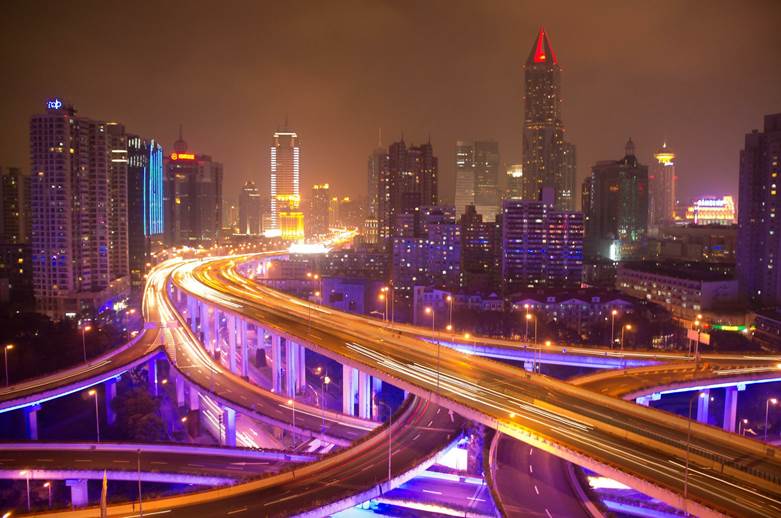 Pic 3: An elevated expressway in Shanghai, China. Photo credit: David Leo Veksler/Flickr (Licensed under: CC BY 2.0).
Export-oriented transport infrastructure
The other advantage China has over its potential competitors in South Asia is its massive export-oriented logistics infrastructure. A web of highways and ports allow raw materials to reach factories, and completed goods to be ferried out swiftly. All this leads to production efficiency and lower costs.

The infrastructure of countries such as India and Vietnam are yet to catch up even as Beijing continues to spend on infrastructure and China has started investing in higher-end manufacturing. Their factories do not have the production capability, skilled labour force or logistics infrastructure that companies take for granted with Chinese manufacturers.Bottlenecks in logistics lead to costly delays, which is why their manufactured goods struggle to match the price competitiveness that China offers.

This is why though it is not impossible for these countries to challenge China's dominance in manufacturing, it may be a few years and a lot of effort before they can do so.
By Alizay Mark
© 2019 Copyright Alizay Mark - All Rights Reserved
Disclaimer: The above is a matter of opinion provided for general information purposes only and is not intended as investment advice. Information and analysis above are derived from sources and utilising methods believed to be reliable, but we cannot accept responsibility for any losses you may incur as a result of this analysis. Individuals should consult with their personal financial advisors.
© 2005-2019 http://www.MarketOracle.co.uk - The Market Oracle is a FREE Daily Financial Markets Analysis & Forecasting online publication.

Only logged in users are allowed to post comments.
Register/ Log in