The U.S. Housing Market Economic Double Negative Feedback Loop
Economics
/
Recession 2008 - 2010
Oct 15, 2008 - 09:47 AM GMT

Perhaps the time for self-delusion is passed. The grand new plan, just replaced the $700 billion plan, that replaced the $80 billion plan to bail out AIG, that replaced the Bear Stearns bailout which was just pocket change.
Forgive me for being skittish but it seems like every time you blink the number goes up by a factor of ten. The way it looks now is that combined USA , Europe and UK , the damage could easily be $7 trillion.
And there still isn't a plan to neutralize all those Credit Default Swaps. Not even, so far, a coherent estimate of how many there are at risk; some say $70 trillion, some say more.
Nouriel Roubini's speech on 10th October is worth watching. He was one of the few guys who foresaw all this in Technicolor in 2004 (no disrespect intended for the guys on Market Oracle, but Roubini was first by a long shot).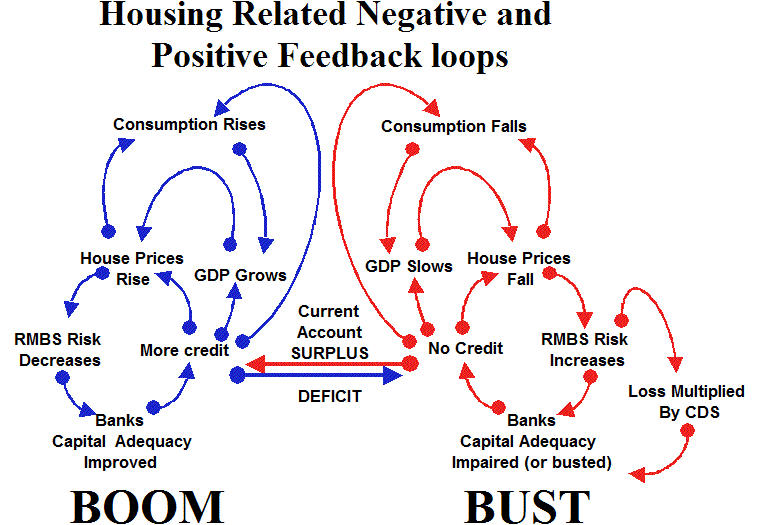 His idea right now is that a "V" shaped recession is "outta ze window " and the choice is between a "U" shaped one and an "L" shaped one. I for one believe him; he also spoke about the "Negative Feedback Loop", this is (I think) what he was talking about:
My point: It's a Double perhaps a triple Loop , not a single one
So they neutralized the RMBS risks (perhaps), they propped up the banks, they are making credit directly available to corporations (and states?), and Fannie and Freddie have a mandate to write $40 billion of new mortgages a month. And they are going to give AIG another $38 billion so they can honor the latest round of CDS calls, (is that going to be a regular thing in the future, when the "time of the month" comes around?)
To "switch" from Bust to Boom the current account deficit will have to fall, and that will require fixing the economy; which will be harder than just printing money.
The option was to let more banks fail, and let new ones grow up from the ashes (or the manure). That's the way of nature, but the bozos who created this mess could not contemplate such a thing; Roubini's idea was to sort the bad apples from the half-bad ones, but it was not to be. Wait until the CDS's kick in!!
What's happening now is that prudent people who only borrowed to finance an economically viable endeavor are being punished at the expense of people who borrowed to live the high-life. Sadly Free Market doesn't mean Free Bailout any more than Free Love means Free Sex.
Que sera sera, what's next?
It's STILL all about housing
To fix housing the economy has to grow, if housing isn't fixed then the exposure on RMBS will go up and so will the number of CDS that get called. So more money rather than less will be required to patch up the system, which means that there will be less money around to grow the economy - that's the secondary loop.
"The Value of Housing in USA and UK " , showed how for one hundred years of history the price of housing oscillates around an equilibrium that is determined only by GDP per house PLUS (and this is something new) trend-line long term interest rates.
Sure GDP correlates with disposable income but GDP is better because this measure is dimensionally correct (expenditure per house) and it gives a valuation rather than an economic theory which doesn't explain the effect of long-term interest rates.
The analysis showed that since the start of the great experiment in Free Sex, house prices oscillate around the equilibrium determined by GDP and long-term interest rates, with increasing amplitude and frequency. Right now housing is priced less than the equilibrium, but that doesn't mean it will recover until the forces driving the oscillation are eliminated.
The key marker an investor is nominal GDP growth; and leading indicators of this marker are the ones to watch.
Forget about inflation, Roubini pointed out this is set to fall in the short term (although the cost of printing the bail-out funds will presumably push it up later), and anyway since they changed the estimation system in 1987 it's not measured correctly in the first place, so watching that index is pointless - not that this deterred Greenspan or Bernake.
The importance of GDP can be illustrated by comparing current foreclosure rates compared to GDP growth by US States: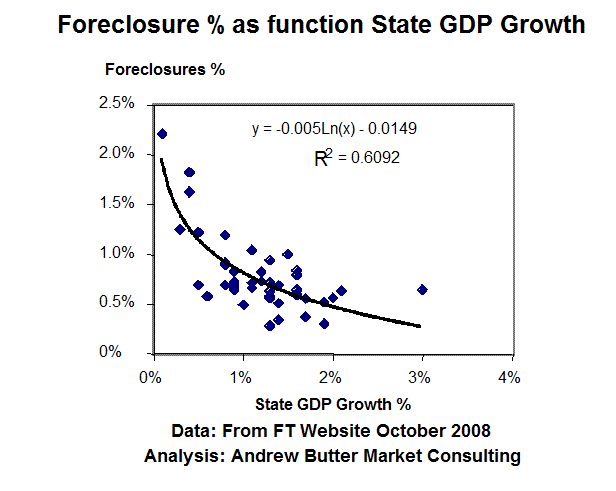 Sure this correlation may be spurious, it may be that foreclosures are causing GDP growth to slow, certainly the "bust" has affected the contribution of GDP made by home-builders and related industries, on top of that wiping out of big parts of the financial services industry (if you can call that a "service", this sector had started to represent 30% of GDP, up from about 15% in 1975).
It's a loop, but imagine what will happen if (when) GDP growth shifts a point to the left!
Key to a recovery of the housing market is fundamentally about a recovery of GDP (nominal or real, it doesn't really matter which, nominal easier in the short term because it's easier to inflate than to facilitate real growth).
If there is not to be another 15% drop in house prices (if GDP grows) or 25% (if it doesn't), more has to be done than bailing out the crony capitalists on Wall Street.
Four thoughts :-
Follow the money (i.e. GDP).
Last week I ran the numbers on my model of US house prices (Fixing the USA Housing Crisis) . I used 3% nominal GDP growth over the next two years as the worst-case, that gave a bottom for the S&P Case-Shiller Index 15% below June 08.
It didn't occurred to me that nominal GDP growth might be negative, but after listening to Roubini I'm starting to believe that negative nominal GDP is a possible scenario.
If the worst case is assumed to be 1% (nominal) that gives a 20% fall to the bottom from June 2008. Put in minus 1% and the model spits out 25% (i.e. the Index would fall from 168 in June 08 to less than 130 by June 2010). Roubini said 20% in June now he's revised that to 15% - perhaps he's tired of people calling him "Dr. Gloom".
A criticism of Roubini is that "a stopped clock is right twice a day", well I don't know how he came up with 15% to 20%, but my clock was right 98% of the time for a hundred years.
Every percentage point drop increases the incentive for homeowners to send the keys back. On top of that, falling GDP increases the proportion that simply can't keep up with payments (rather than the ones that just look at their options and decide that they won't).
Keynes
Here are some sign's to watch for before letting go of any cash that's left (these are Roubini's ideas not mine, I think I got them straight).
1): IF: The US Government starts working on "Nationalizing" housing and debt reduction.
2): IF they start weeding out the bad apples from the half-bad ones.
3): IF: They decide to re-read Keynes, monetarism didn't work - the evidence is everywhere.
Take a big part of the money that was going to be thrown in a panic at crooked and incompetent bankers, and invest it in bridges, levees, roads, cities that don't need cars to work (or so many).
Invest in nuclear energy (get the French to build the plants - theirs don't blow up or cause environmental hazards), and wind energy, and drill for oil (at least George got one thing right, do it in Central Park if you have to).
The quickest way to make sure that the USA is not in danger from raggedy bandits with long beards, is to reduce dependence on foreign oil.
Valuations of assets and liabilities
Currently assets and liabilities are not valued correctly (if at all), at least not according to International Valuation Standards (nor is CPI). Talk about driving blind!!
The lunatic way that accounting standards allow assets and liabilities to be valued is just another reason why bean counters should stick to counting beans and be prohibited by law from using long words they don't understand like "value" and "markets".
This is the logic of current accounting standards (IFRS and FASB).
"My audit client has borrowed $500 billion dollars and has gone down to the casino and placed a bet of the whole amount on Number 16".
But the wheel is still spinning so I can't "recognize" that on the balance sheet because I don't know if he will win or lose, and I'm too stupid to work out the probability, or even to imagine what will happen if he does lose.
In any case my client met a very nice man called Richard at the bar who told him that he could cover the bet in case it lost, if he bought him a drink. And Richard looked like an honorable person, so in my professional opinion that's OK. And in any case the ratings agencies who know all about "probability" are quite "comfortable".
So I'm going to make a small comment in the footnotes of page 56 of my 121 page audit report that there are some potential "off balance sheet liabilities" but these are covered and so there is nothing to worry about (just like I did when I was doing audits for Enron when I worked for Andersen)."
Read the small print. That's what is says in plain English on every single set of audited accounts of every single "shadow bank", signed-off by a Big Four accounting firm and submitted to, and approved by the banking regulators and the SEC.
Good idea before making an investment to find out how the assets and liabilities both current (on the balance sheet) and contingent (off the balance sheet) are valued. And if transparent information is not provided, steer clear. If there is one long term investment strategy that could work, it is looking for companies with really transparent accounts.
The point insofar as the economy is concerned is that having a system of valuation that values things too high when they are over-priced and too low when they are under-priced, i.e. a valuation methodology that consistently gives the wrong answer, is fundamentally de-stabilizing.
It's hard to explain this to a rocket-scientist banker (don't even try and explain it to an accountant), but the time to write 110% mortgages with teaser rates is when the assets are under-priced, not over-priced. Paradoxically, now is the right time to start relaxing LTV levels not tightening them.
Disband the Military Industrial Complex
No I'm not a hippy, a communist or an apologist for bandits.
Quite a large chunk of the "plans" could be paid for if the US Government realize that they can no longer afford their grand illusion of super-cop or that the might of the military will protect the American people from unseen dangers. And if it fails to do that, well logically all you have to do is spend more.
Sorry to spoil the fairy-tale, but the real terrorists all lived on Wall Street and they caused more damage to ordinary Americans than Osama bin Ladin could possibly have dreamed of, and that's just so far, wait until this all unfolds.
Perhaps the time has come for Rambo to stop acting out his Hollywood Joan of Arc fantasies. If Iraq and the Middle East oil states (and Israel and NATO) want to go on getting "protection" then they should pay for it. They can afford it.
The fantasy is like a script for a James Bond movie that some bad man might take over the oil supplies and then, out of spite cut off USA . The logic of why is mysterious; a more likely outcome is that the bad man would increase the price...umm, but "bad men" already did that didn't they?
The "evidence" for that happening in reality is about as solid as those blurred pictures that Colin Powell was touting. It is pointless spending trillions of dollars, just in case this happens. Let the "bad men" take over the oil, and in the unlikely event that they start acting silly, well, Nuke the bastards.
If the US Government cuts their budget for defense in half, and then cuts it in half again, and uses the trillions of dollars that are saved on repairing the economy, that will be a sign to ordinary Americans that their government is really interested in protecting them and putting their best interests above the interests of the lobbyists and crony capitalists that currently run the show.
And a sign to the world that what's in store is a "U" not an "L".
By Andrew Butter
Andrew Butter is managing partner of ABMC, an investment advisory firm, based in Dubai ( hbutter@eim.ae ), that he setup in 1999, and is has been involved advising on large scale real estate investments, mainly in Dubai.
Copyright © 2008 Andrew Butter
© 2005-2019 http://www.MarketOracle.co.uk - The Market Oracle is a FREE Daily Financial Markets Analysis & Forecasting online publication.
Comments
aghadilbar
16 Aug 10, 05:27
peace and prosperity


Peace & Prosperity (Global Peace Campaign)

Agha Dilbar

My Open Letter (Blog) has been sent one Million (1000000) to

International Community for the welfare of Humanity till today. I Agha Dilbar authorize Newspapers, Magazines, Internet, to Publish and Radio, T.V. Channels to broadcast this letter all round the World.

Website: http://aghadilbar.webs.com/

(See 500 latest pictures of Obama in Photo Gallery)

Dear President Barrack Obama

The Great Leader of the World

I Agha Dilbar have sent Mr. President Barack Bobama100 registered research Letters

(1000 new ideas to develop America and to Change the World for Peace and prosperity)

Through Embassy of USA Islamabad till today and also direct sent

These registered Letters to Whitehouse Washington DC 20500.These

Letters have been written on the guidelines of CHANGE WE NEED. And

These letters are about the Common Men Problems of respected American

Peoples and their Solutions. To end, Economic Recession, Unemployment

And to Finish War, all round the World for Peace and Prosperity. In

These letters I have sent one thousand new scientific Planning

/Suggestions, about every walk of life for Peace through Friendship

Progress and Prosperity all over the World.

My dear President Barack Obama, the great leader of the world, my friend, my

Brother, provide an opportunity to Agha Dilbar to pay an official

Visit to America, that we two brothers sit together and by halt this

Horrible war. If this war continues for 10, 20 or 50 years it will never end.

In this war 1-million people have died from 9/11 till today, if this

War continues, it will become the 111- World War.200-Million people

Would die, if 111-World War is triggered) can take out 6.5 billion

People of the World from abyss of destruction .We two brothers Barack

Obama+ Agha Dillbar can put them on the road to Progress and

Prosperity through Peace.

Dear President Barrack Obama considers, from 9/11 till today, America

Has conducted many war operations in connection with War on Terror,

Resulting the circle of war has spread hundred times. Millions

Innocent persons have died.

In this war. Many have been rendered homeless. One Lak (10000) war

Affected youth joined the army of Al-Qaida and Talban by the help of

Anti American countries have begun gorilla war in a horrible manner.

It is the result of wrong war strategy. I Agha Dilbar desire to solve

All above mentioned problems in a meeting with President Barrack Obama

By adopting new revolutionary planning by bringing an end to present

Gorilla war in Iraq, Afghanistan and Pakistan. As a result the World

Can enter in a peaceful, advanced and progressive World, May it be so!

I Agha Dilbar have a new War Strategy to achieve success through Table

Talk between Talban, Pakistan and American Gov. 90% of Talban that are

Fighting against Pak Army belong to Swat and Tribal Areas of NWFP. I

Can provide America all realistic facts in such manner that their

Implementation could convert these Talban into Patriotic Citizens of

Pakistan.

In this War Strategy Pakistan Gov will never send his Heavy

Artillery, Tanks, Cannons and Air craft in war. In this way 5-Million

Persons will never Displaced. In the end Talban by their will

Handover, their Weapons to Pakistan Gov, they will come to Table Talk

And Suicide Bombing will come to an end in Pakistan. Through this War

Strategy Pakistani and American Gov can save expenses on war. Through

This planning American and Pakistani Gov can utilize their saving on

War budgets for development of Schools, Hospitals, Colonies, Markets,

Industry, Roads, Bridges, Dams, Canals of Swat and Tribal Areas of

NWFP that are war affected.

Due to wrong war strategies of the American and NATO forces.

War on terror is getting worst mainly due to use of air craft, tanks and cannons

Because nine innocent people are killed for a single terrorist this

Way in these circumstances thousands

Of innocent people lose their life or properties and any other source of income.

In the result many people join terrorist or become suicide bomber. As

They think there is no other way to take revenge of the innocents

Killing of their relatives these are the basic reasons that hundreds

Of suicides are generated very quickly and easily in Pakistan,

Afghanistan, Iraq particularly who further kill thousands of other

Innocent public.

On account of present war strategy, Billion Dollars are being wasted yearly.

This war can cause fall of America instead of continuation of war; my

Best suggestion for America must keep his Supper Power on the World

And should conquer the World instead of war, but by his No-1

Scientific technology spending on agriculture, industry, trade,

Education, scientific development and tourism, all round the World.

Making an end to Economic Crisis in America.

PLAN NO. 1

A new Global Package is being offered for your kind consideration

America will have to make complete and final announcement that in

Future all Multinational American Companies will get free land on

20-years lease and will set up under the BOOT agreement (in

Undeveloped and poor countries) factories, mills five star hotels,

Schools, colleges, universities, hospitals, air companies, shipping

Companies, latest railway, bus transport and steel mills. All these

Companies will be bound to handover without any cost to under

Developed and poor countries well as their machinery and transport

After 20-years.

PLAN NO. 2

A new suggestion in connection with Global Peace is offered that in

Return of export American Agriculture and Industrial Products will

Give his 50% profit to the exporting countries and utilize as Aid on

The development of agriculture, industry, trade, education and

Tourism. This suggestion, making an end to American Economic Crisis

And get full support to enhance his Foreign Public Relation

. May it be so!

PLAN NO. 3

To make successful American Foreign Policy at Global Level the

Following planning is put before:

a) America will have to provide free scholar ships at least to ten top

Master students (in each country) of medical and science in

Underdeveloped and poor countries of the world.

b) Highly educated and well trained one hundred cultural groups (each

Group contains 100 persons) will have to arrange one hundred cultural

Shows for three months in big cities of underdeveloped and poor

Countries.

c) America will have to arrange exhibitions through his Embassies for

His latest products, in the underdeveloped and poor countries .All

These mentioned above industrial exhibitions will be arranged

Continuously for two months. In the above mentioned exhibitions

Present products will be sold except export order booking. In these

Exhibitions, American Cultural Programs will have to arrange and

American Traditional Dishes will be kept for sale. In these

Exhibitions American Tourism Stalls will also be put-up.

PLAN NO. 4

Following rules and regulations will be undertaken for the progress

And prosperity of American students.

a) Among metric, Fsc, Bsc, (eng} .Mbbs, Llb, Ca and diploma holders in

All institutions, all those receiving degrees at the state level, ten

Each from girls and boys by cash prizes will be announced on behalf of

The gov during invitation on lunch.

b) For above mentioned top ten intelligent students boys and girls

Each, tours for different historical and healthy sites will be

Arranged free of cast.

c) Sport Talent Schools of international level will be set up over the

Country at the district level, in which students of extra-ordinary

Sports talent taught from class one to Fsc level.

d) American states gov will announce free transport, free medical

Facilities and free lunch during education to all school, college and

University students.

PLAN NO. 5

Minimize the aforesaid differences, which I will deliver to president

The increasing distress and hatred between the Muslim world and

America is the major cause of weak relationship on public and

Government level.

As a sincere friend I have practical suggestions to President Barack Obama in

My official visit to America.

I request the government of America to allow me to describe (first of

All my briefing with president's advisors). My one thousand plans &

Ideas for changing the world before one to one meeting with the

President Barack obama.thanks

PLAN NO. 6

Today we are presenting a new planning in America for the rapid

Progress in industry.

American government will allow to 50% relief in the following things.

Petrol, Diesel, Electricity,

Gas and Water bills

For the establishment of new industries in industrial zone American

Government will allow 25%relief in Taxes.

1) Sugar mills, Textile mills, Garment Industry

2) Shoes and Tire Tube Factory.

3) Milk Powder Industry, Tin pack Fruit Industry, Ornament Industry,

Carpet Industry.

4) Frozen fish, Chicken Beef, and Meat industry.

6) Dairy farming, poultry farming, fish farming, cattle farming, fruit farming.

7) Vegetable farming biscuit, sweet and Hotel Industry.

8) Electronic industry, sanitary industry paint industry.

9) Furniture Industry.

10) Steel mill Industry.

11) Engine Industry.

12) Aero plane Industry and Shipping Industry.

13) Computer and Mobile Industry.

14) Medicine industry fertilizer industry and insecticide industry.

15) Car, Bus Truck, Tractor, loader, Harvester Industry.

16) Soap, Oil and Ghee Industry.

PLAN NO. 7

I Agha Dilbar have sent Ten Million research Peace Letters to

International Community from 9/11 incident till today. This letter is

My Great Peace Mission Plan which is continued. Present Global

Economic Crisis is the result of War on Terror. This Crisis if further

Accelerates could initiate a 111-World War. Please hear my Voice of

Truth; I can save the World, for my Great Peace Mission, with the help

Of President Barrack Obama, Peace and Prosperity.

PLAN NO. 8

The Government of America will announce to provide free home facility

To employees after 20 year of service as per following rules and

Regulations.

1. for providing free home facility to their employees after

Retirement the Government will deduct 2 ½% amounts for their monthly

Salaries.

2. The government of America will deduct 2 ½% amounts of salaries to

The employee and will deposit the same in Government Treasury which

Shall be paid to the housing company on allotment of plots.

3. The housing company shall provide beautiful home to the government

Or non government employee after 20 year of service.

4. The people not acquiring home after 20 year of service shall be

Paid in whole by deducted total amount from their salaries during

Their employment.

PLAN NO. 9

The government of America should follow the below regulations

Immediately. For giving facilities to the Government and

Private employees.

The employees working in America shall be given pension from the

Government treasury equivalent to 50%

Of their salaries.

Such employees who suffer from disabilities shall be given insurance

Benefits for their whole lives for the Government Treasury.

And their children of the employees who face death also be

Paid insurance to their parent's salary.

All the employees working in America shall given free transportation,

Medical facility, lunch, and living during their tenure.

Employees leaving their jobs in America shall be paid given 3 months

Advance salary.

President Barack Obama will become more popular by taking above

Action, and industry wills also prosper more in America.

PLAN NO. 10

Ten thousand small dams planning during seven years in USA as a result

Of this planning ten million

People shall obtain employment. Other than doubling the electricity

Shall also benefit fish farming, tourism, agriculture

And trading.

To obtain the subjective following rules and regulation shall be observed.

Government and private institutes of America shall pay 5%share of their income

In the new international development of corporation (IDC).

2. IDC shall invest to build ten thousand new hydro electric dams

Adjacent to all the rivers

With 100 km.

3. From these small dames network of rivers shall be obtained

This benefit fish farming and tourism spot.

4.1500 hundred Dams shall be built each year at every cost.

5. to speed up the progress of IDC government state government,

Arms forces and semi government

Organizations shall help and support the implementation of

These small dams.

PLAN NO. 11

The following regulations would be implanted to install American

Institutions of International Standard for progress and construction

in all the backward countries of the world.

In the suggested institutions, the 50% investment would be done by

American Government and these institutions would work private

Autonomous bodies.

In the underdeveloped countries, the developmental institutions would

Sell these services privately in the following fields, in

Collaborations with the suggested institutions.

Roads and Bridges

Industrial zones

Housing projects

Car, Bus and Truck industries

Agriculture projects

Schools, Colleges and Universities

Hospitals and nursing training institutes

Poultry fish and cattle farm training institutes

Paper sugar and furniture industries

Textile and garment industries

Milk powder and tin pack fruit industries

Ghee oil and soap industries

Electronic and electric industries

Engineering industries and Chemical Industries

Steel Railway Aero plane and Shipping industries

PLAN NO. 12

To bring an agriculture and industrial revolution, the following

Regulations would be implemented

a) In America, all the agricultural and technical institutions would

Be given following concessions instantly.

1) All the new and old agriculture and technical institutes would be

From all kind of taxes i-e income Tex, sales tax and property tax

2) In America, all technical and agricultural training institutes

Would get 50% investment from federal and states governments

3) Free books would be provided to students studying in these

Institutes of international stand red.

4) All the expenses of students studying in these institutes would be

Borne by the federal and states governments.

5) New courses of International stand red would be planned to teach in

these agricultural and technical institutes.

PLAN NO. 13

During the next seven years in America, the foiling rules and

Regulations would be observed to install one million wind mills and

One million off shore tide tribunes.

In the result of implanting the suggested plan, besides a large scale

Of production of pollution free electrical energy, there will be great

Development in employment, agriculture and industry

1) Federal and states government would announce no tax on wind mills

And off shore tide tribunes.

2) To install wind mills and off shore tide tribunes the federal and

States Governments provide free land near off shore.

3) To act upon the above mentioned plan, the federal and states

Governments America would announce to provide 50% capital to initiate

The business.

During the next seven years in America, the following rules and regulations would be observed to install One Million Wind mills and One Million off shore Tide Tribunes.

In the result of implanting the suggested plan, besides a large scale of production of pollution free electrical energy, there will be great development in employment, agriculture and industry

Federal and States Government would announce no tax on Wind Mills and off shore Tide Tribunes.

To install wind mills and off shore tide tribunes the Federal and States Governments provide free land near off shore.

To act upon the above mentioned plan, the federal and states governments America would announce to provide 50% capital to initiate the business.

Plan no 14

To develop agriculture, industry and business to increase production and to provide employment resources, the following rules and regulations would be implemented.

There would be a 50% tax relief to all factories, mills, schools, colleges and universities and commercial institutions, which are working in double shifts. The number of workers the second shift would be equal to the workers in the first shift.

In America , all Federal and State Government Factories, Mills, Schools, Colleges Universities and all commercial institutions would be given 100% tax relief , which are running on triple shifts i.e. 24-hours,in such cases, the number of workers in second and third shifts should be equal to the number of first shift.

All the exporters in America, increase their exports in comparison to last year by 50%, would get 50%tax relief.

Those exporters who would double their exports 100% in comparison to last year would get 100% tax relief by the government.

Plan no 15

To develop Agriculture Industry Trade and Export and Tourism in America, I recommend the following implementations.

1) For building new industries the federal and states governments shall provide free land to the local and foreign industrialists.

2) after the acquisition of land the industrialists shall have to start production within the first year, and till 20 years the industrialists shall have to start production within first year., and till 20 years the industrialists shall not be able to either close or sell their industries. And after that they will become the complete Owners.

3) Similarly for building Agro Industries, Federal and States Governments shall provide Free Land.

A)Dairy farms (b)Poultry Farms(c) Cattle Farms(d)Fish Farms (e)Feed industries(f)fruit farms (g)tin pack fruit industry(h)milk powder industry (I )Ghee Oil and Soap Industry(j)Biscuit and Sweet Industry(k)Cold drink and Juices Industry(l)Fertilizer Industry(m)Insecticide Industry

4) Government of America under new policy should provide counter trade (barter) facility for import and export to the rest of the world

Plan no 16

To promote agriculture industry, trade, tourism and employment in America 50- thousand latest Super Stores with following rules and regulations would be installed.

1) in America, in the private sector, the federal and States Governments would provide free land of 4- canals 8-kanals,16-kanals and 32-kanals area to install these Super Stores in different motor ways linking big and small cities.

In these latest super stores, all the necessities of life should be sold in whole sale and retail sale with 10% prophet only.

A) Vegtables, Fruit and Grains, Flour, Rice, Ghee , Oil and Spices.

b) Mutton, Beef Poultry Eggs and Fish.

c) Cold drinks, milk shakes, juices and milk.

D) Medicines, fertilizer and Insecticide.

e) Cloth, readymade garments, shoes, handbags and purses.

f) Books, Stationary and Watches.

g) Furniture.Friges Freezers, Air Conditioners and computers.

H) Utensils and crockery, makeup items and paints.

i) Electrical appliances wires and sanitary material.

j) Cycles motor cycles, cars and tractors.

2) In latest super stores, the following services of International Stand red would be provided to people.

A) Hotel and Restaurants

. Parks, Play land, Gymnasium and Swimming tanks.

b) Petrol pumps, gas station service station and car repairing

c) Clinics, Marriage and Meeting Halls

Plan no 17

To impose the conditions of employment in America, and to give boost to industry, agriculture, business, tourism and export, the following rules and regulations would be implemented immediately.

1) To install new industry in America, the local and International Investors would be provided loan on 2%mark up for ten years period from Federal and States Governments.

2) To boost export in America, the federal government would issue bonus vouchers to all exporters equaling to the money invested. The government would issue two years short term loan against these bonus vouchers, with 2%mark up only. This money would be returned after one year in easy installments.

3) The investors of such industries would be exempted from all taxes in the next five years by federal and states governments.

Plan no 18

In America to build private Welfare Hospitals, the Federal and States Governments would provide following Facilities.

1) To build privateWelfere Hospitals with latest technology and along with Medical Colleges, the Federal and State Governments would provide Free Land to American and Foreign investors.

2) In these Welfare Hospitals, along with Medical Colleges, the Outdoor Patients would get Treatment, Tests, Medicines and Operation Facilities Free of Cost.

3) In these Welfare Hospitals along with Medical Colleges, 10% of Poor Students would get Free Education and Training.

4) In these Welfare Hospitals "Nursing Training Institutes" would be built.

5) These private Welfare Hospitals would be exempted from all kind of tax by the Federal and State Governments.

6) In these private Welfare Hospitals and Medical Colleges, besieges the treatment of Outdoor Patients free of cost, the other departments of Welfare Hospitals would charge Fee for all kind of Treatment on Business Bases.

Mr. Barack Obama you are not only the Leader of America, you are great

Leader of the World. In this connection I am waiting for your Email

Response, dated 2.10.2009.

Please Confirm.

Thank you, God blesses you and God bless America.

Agha Dilbar (founder)

International Revolution Movement

64-neelum block ait Lahore (Pakistan)

Phone: 0092427830084

Cell 03224628349

Email aghadilbar4@gmail.com

Website http://aghadilbar.webs.com

(See 500 latest pictures of Obama in Photo Gallery)

This Open Letter has been sent one Million (1000000) to International

Community for the welfare of Humanity till today. I Agha Dilbar

Authorize Newspapers, Magazines, Internet to publish and Radio, T.V.

Channels to broadcast this letter all round the World.

I Agha Dilbar challenge with 100% trust that own result of my meeting

With President Barack Obama war on terror and suicide attacks in PAKISTAN,

AFGHANISTAN, IRAQ And all over the WORLD could be put to an end and

Due to this great success President Barack Obama would be able to rule the

America till 2016. And on my return of my official visit from America

The World will be set on the way of implementing the CHANGE WE NEED.

Live with Dignity and Die with Grace.

It has been extraordinary to read and hear, some of the things I did

My decision alone by the voice of God, who called me in my heart.

Mystery of success to rule the World

Peace through friendship progress and prosperity.

With greetings and best wishes.

Thanks

AGHADILBAR




Only logged in users are allowed to post comments.
Register/ Log in