Battered Global Markets End October With Worst Losses in History
Stock-Markets
/
Financial Crash
Nov 02, 2008 - 06:11 AM GMT


October lived up to its reputation as being a torrid month. The following extraordinary performances tell the story:
• MSCI Word Index: -19.1% (largest monthly decline since the Index started in 1969, beating October 1987's -17.1%)
• MSCI Emerging Markets Index: -27.1% (worst monthly loss since Russia's debt default in August 1998)
• Dow Jones Industrial Index: -14.1% (15th worst monthly decline since 1900 and the biggest drop since October 1987)
• S&P 500 Index: -16.9% (8th worst one-month decline since 1930)
• US Dollar Index: +7.8% (4th best one-month improvement since 1967)
• Reuters/Jeffries CRB Index: -22.3% (worst monthly decline since the Index started in 1956)
• Crude-oil futures: -32.6% (worst one-month drop since oil futures started trading on the New York Mercantile Exchange in 1983)
• Reuters/Jeffries CRB Industrials Index: -26.5% (sharpest monthly decline since the series started in 1971)
• Gold futures: -18.5% (biggest monthly loss since 1983)
But the last week of the month witnessed a strong rebound in global stock markets as investors brushed aside discouraging economic reports and took heart from central banks cutting key lending rates and positive developments in the credit markets. This resulted in investors scooping up beaten-down stocks around the globe, and particularly emerging-market stocks, government bonds and currencies, mending some of the damage done earlier in October.
Further evidence of just how tough October has been was provided by Thursday and Friday's stock market improvement producing the first back-to-back days of gains for the S&P 500 Index and the Dow Jones Industrial Index since September 25 and 26.
In the spirit of Halloween, one can rightfully ask: trick or treat? (By the way, the masks below, according to FT Alphaville , are not accompanied by suitcases of money.)
The FOMC lowered the Fed funds target rate from 1.5% to 1.0% on Wednesday. This action followed an emergency 50 basis point cut in the benchmark rate on October 8. The committee's statement said economic activity has "slowed markedly" and cited weakness in consumer spending, business investment and exports. It also noted tight credit. The statement furthermore said that "downside risks to growth remain", an indication that more rate cuts could follow. The target rate was last at 1.0% in 2004 and has not been below this level since 1958.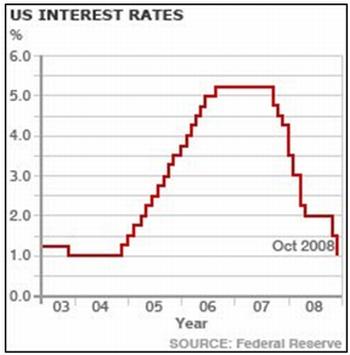 The Fed followed up its rate-cutting action with an announcement that it was setting up dollar swap lines with Brazil, Mexico, South Korea and Singapore, contributing to the sharp turnaround in emerging-market assets.
Next, a tag cloud of the text of the large number of articles I have devoured during the past week. This is a way of visualizing word frequencies at a glance. Unsurprisingly, the key words included the following: "market", "bank", financial", "fund" and "credit".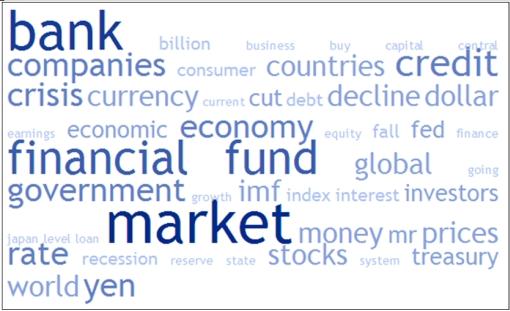 Where do we go from here? One bit of cheer is that the stock market is now entering what has historically been the strongest half of the year. "… investing in the S&P 500 Index from the last trading day in October (therefore referred to as the Halloween indicator) through the end of April accounted for the vast majority of S&P 500's gains since 1950. While there are some noteworthy periods in which the Halloween indicator didn't produce (i.e. 1973-74 and 2000-01), the overall outperformance is compelling," reported Chart of the Day .
To which Jeffrey Hirsch ( Stock Trader's Almanac ) added: "… November is much better in election years when the incumbent party is ousted – usually because of dissatisfaction with the status quo. Traders and investors often celebrate a change of the guard when the economy and stock market are on the ropes as they are now."
Here is Richard Russell's ( Dow Theory Letters ) take on matters: "Things are looking better. After a series of 90% down-days , we had a 90% up-day on Tuesday, October 28. Since then, the market action has been fairly good. With bonds appearing to have topped out, I'm beginning to think that there's a fairly good chance the market has bottomed. On Thursday's statistics, Lowry's Selling Pressure Index (supply) finally dropped substantially, giving evidence of an important drop in supply. At the same time their Buying Power Index surged, finally showing an increased willingness to buy. So far, so good."
I summarized my viewpoint in a post on Friday: "I give the current rally the benefit of the doubt provided the recent lows (8,176 on the Dow Jones Industrial Index and 849 on the S&P 500 Index) do not get taken out. However, it remains difficult to say whether a secular low has been reached in an environment of economic and profit recession. At least, the extent to which central banks, governments and the IMF are becoming involved to fend off a total economic meltdown is a sign that we could be in a bottoming-out phase of the bear market."
The last word goes to Laszlo Birinyi ( Birinyi Associates ) who cautioned as follows: "We believe the markets are in uncharted territory with developments and characteristics that are unique in our experience and we can only guess at what might transpire over the next several months. Frankly we don't know, history provides no clues and anyone who claims to have some insight or strategy cannot do so on the basis of fact and historical evidence."
Before highlighting some thought-provoking news items and quotes from market commentators, let's briefly review the financial markets' movements on the basis of economic statistics and a performance round-up.
Economic reports
"Sentiment is extraordinarily negative in North America and Europe and measurably weaker in Asia and South America," according to the Survey of Business Confidence of the World conducted by Moody's Economy.com . The financial panic that began in early September has been a body blow to global business confidence and thus the global economy which, according to the survey, is now in recession.
Economic reports released in the US during the past week were mostly negative. The most important of these was the announcement that real GDP fell by 0.3% in the third quarter. Weakness was driven by consumer spending, down 3.1% (i.e. subtracting 2.2 percentage points from the GDP calculation), as higher gas prices, housing weakness and job losses created huge headwinds for the consumer. Business equipment spending declined while strength was added by exports and government spending.
Summarizing the US economic situation, Asha Bangalore ( Northern Trust ) said: "The National Bureau of Economic Research (NBER) will eventually announce the onset of a recession. Based on the NBER's methodology, the recession appears to have commenced in the fourth quarter of 2007/first quarter of 2008.
"The question now is about the depth and duration of the recession. In the post-war period, the median duration of a recession has been 10 months and median drop in real GDP from the peak to trough is a 1.9% annualized decline.
"How will the current recession compare with prior history? In our estimation, the depth and duration will err on the side of being slightly higher than the historical median given the nature of the credit crisis that is under way. Congress is supposedly working on a second stimulus package that could moderate the weakness in economic activity."
Elsewhere in the world, the Bank of Japan cut interest rates on Friday for the first time in seven years, reducing the target overnight call rate by 20 basis points to 0.30%. Earlier last week, South Korea, Hong Kong, China, Taiwan and Norway also cut benchmark rates (in the case of China, the third cut in six weeks). It is expected that the European Central Bank, the Bank of England and the Reserve Bank of Australia will ease monetary policy during the coming week.
Week's economic reports
Click here for the week's economy in pictures, courtesy of Jake of EconomPic Data .
| | | | | | | | |
| --- | --- | --- | --- | --- | --- | --- | --- |
| Date | Time (ET) | Statistic | For | Actual | Briefing Forecast | Market Expects | Prior |
| Oct 27 | 10:00 AM | New Home Sales | Sep | - | 445K | 450K | 460K |
| Oct 28 | 10:00 AM | Consumer Confidence | Oct | 38.0 | 52.0 | 52.0 | 59.8 |
| Oct 29 | 8:30 AM | Durable Orders | Sep | - | -1.0% | -1.0% | -4.5% |
| Oct 29 | 10:35 AM | Crude Inventories | 10/25 | - | NA | NA | NA |
| Oct 29 | 2:15 PM | FOMC Policy Statement | - | - | - | - | - |
| Oct 30 | 8:30 AM | Chain Deflator-Adv. | Q3 | 4.2% | 4.2% | 4.0% | 1.1% |
| Oct 30 | 8:30 AM | GDP -Adv. | Q3 | -0.3% | +0.3% | -0.5% | 2.8% |
| Oct 30 | 8:30 AM | Initial Claims | 10/25 | 479K | 470K | 473K | 479K |
| Oct 31 | 8:30 AM | Employment Cost Index | Q3 | 0.7% | 0.7% | 0.7% | 0.7% |
| Oct 31 | 8:30 AM | Personal Income | Sep | 0.2% | 0.1% | 0.1% | 0.5% |
| Oct 31 | 8:30 AM | Personal Spending | Sep | -0.3% | -0.3% | -0.2% | 0.0% |
| Oct 31 | 9:45 AM | Chicago PMI | Oct | 37.8 | 50.0 | 48.0 | 56.7 |
| Oct 31 | 10:00 AM | Mich Sentiment-Rev. | Oct | 57.6 | 52.0 | 57.5 | 57.5 |
Source: Yahoo Finance , October 31, 2008.
In addition to interest rate announcements by the Bank of England and the European Central Bank on Thursday, November 6, next week's US economic highlights, courtesy of Northern Trust , include the following:
1. ISM Manufacturing Survey (November 3): The consensus for the manufacturing ISM composite index is 41.5 versus 43.5 in September.
2. Employment Situation (November 7): Payroll employment in October is predicted to have dropped by 200,000 following a decline of 159,000 in the prior month. The jobless rate is predicted to have risen to 6.2% from 6.1% in September. Consensus : Payrolls: -200,000 versus -159,000 in September, unemployment rate: 6.3% versus 6.1% in September.
3. Other reports : Construction spending, auto sales (November 3), factory orders (November 4), ISM Non-manufacturing (November 5).
Click here for a summary of Wachovia's weekly economic and financial commentary.
A summary of the release dates of economic reports in the UK, Eurozone, Japan and China is provided here . It is important to keep an eye on growth trends in these economies for clues on, among others, the direction of the US dollar.
Markets
The performance chart obtained from the Wall Street Journal Online shows how different global markets performed during the past week.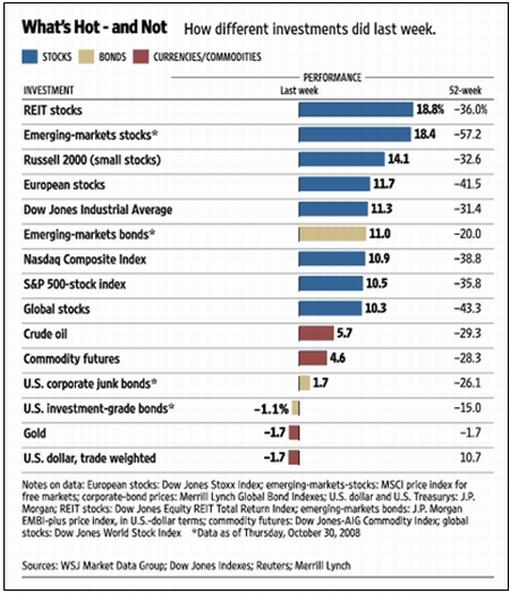 Source: Wall Street Journal Online , October 31, 2008.
Equities
Stock markets throughout the world closed the week with excellent gains, spurred on by a combination of interest rate cuts, an improvement in short-term lending rates, short covering and bottom-picking buying. The MSCI World Index improved by 9.8%, but still leaving the Index 39.8% down for the year to date. Leading the pack among developed markets were Germany (+16.1%), the UK (+12.7%) and Japan (+12.1%).
A dramatic reversal of fortune hit emerging markets on the back of the Fed's dollar swap lines for a number of key developing economies, resulting in the MSCI Emerging Markets Index surging by 20.4% (YTD -54.2%). The week's largest increases were recorded by Russia (+40.8%), Mexico (+19.3%), Brazil (+17.4%), South Korea (+18.6%) and Turkey (+15.1%).
The performance of the Dow Jones World Index (green line) and the MSCI Emerging Markets Index (red line) during October is shown by the graph below.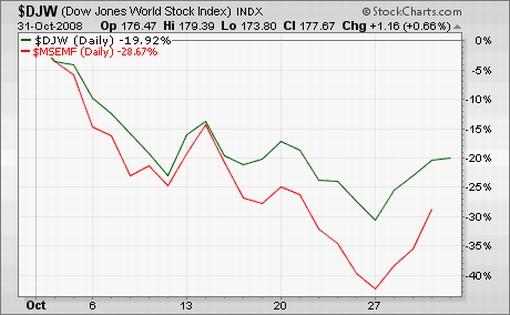 The table below by Finviz summarizes the past week's performances (in US dollar terms, whereas all the gains/losses referred to elsewhere in this post are in local currency terms) for various stock markets. Click here or on the thumbnail for a large table.
The US stock markets all improved strongly over the week as shown by the major index movements: Dow Jones Industrial Index +11.3% (YTD -29.7%), S&P 500 Index +10.5% (YTD -34.0%), Nasdaq Composite Index +10.9% (YTD -35.1%) and Russell 2000 Index +14.1% (YTD 29.8%).
The Dow needs to rise to 9,810 – 5.2% higher than its current level of 9,325 – in order to be "officially" classified as being in a bull market again. The Index will be required to increase by 10.2% to reach its 50-day moving average and 25.4% to get to the key 200-day line.

Click here or on the thumbnail below for a (delightfully green) market map, obtained from Finviz.com, providing a quick overview of the performance of the various segments of the S&P 500 Index over the week.
The bar chart below, also from Finviz , shows the US sector performance for last week, and specifically how defensive sectors such as utilities and healthcare underperformed on a relative basis.

Putting the stock market outlook in perspective, Eoin Treacy ( Fullermoney ) said: "… the current environment is extraordinary in terms of how overextended markets have become relative to their long-term averages. Statistically, a reversion to the mean (i.e. 200-day moving average) remains the most likely scenario in the short to medium term. Where markets consolidate subsequent to that move will be an important marker for the shape of any potential recovery."
Fixed-interest instruments
Yields on short-dated government bonds were mostly lower during the past week, whereas yields on long-term paper moved up. Long bonds appear to be topping out, either because investors are switching from bonds to stocks, or because the bond market is starting to discount better economic times in the months ahead.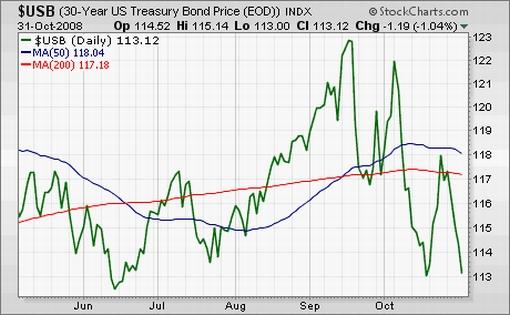 US mortgage rates increased, with the 30-year fixed rate jumping by 44 basis points to 6.56% (in line with the 30-year US Treasury Note rising by 29 basis points) and the 5-year ARM by 9 basis points to 5.99%.
The cost of buying credit insurance for US and European companies eased as shown by the narrower spreads for both the CDX (North American, investment grade) Index (down from 227 to 200) and the Markit iTraxx Europe Crossover Index (down from 920 to 765).
Money-market rates declined as a result of rate cuts by a number of central banks and the ongoing provision of liquidity. The three-month dollar Libor rate declined by 49 basis points to 3.03% during the week, but remained 203 basis points above the Fed's target rate of 1.0%. The spread was 43 basis points at the start of the year.
Currencies
A statement by the G7 warning about the dangers of the excessive gains in the Japanese yen caused investors to fear currency intervention. This concern, together with a rate cut of 20 basis points to 0.30% by the Bank of Japan, helped to cool the yen against all major currencies.
Also on center stage was a strong turnaround in a number of emerging-market currencies as investors were comforted by (1) the Fed establishing dollar swap lines with Brazil, South Korea, Singapore and Mexico, and (2) aid programs from the IMF and other organizations reducing the risk of defaults.
Over the week the US dollar gained against the Japanese yen (+4.2%), but lost ground against the euro (-0.9%), the British pound (-0.9%), the Swiss franc (-0.9%), the Canadian dollar (-5.5%), the Australian dollar (-7.4%), the New Zealand dollar (-4.8%) and a host of emerging-market currencies.
Has the greenback made its high for the current cycle? Paul Kedrosky ( Infectious Greed ) argued in a recent guest post on my blog site that the US dollar's surge won't last. "Down is up, and up is down? How is it that a growing US economy was bad for the US dollar, but a potentially calamitous collapse in the same US economy has the US dollar up double-digit percentages?," asked Kedrosky.
BCA Research outlined its currency strategy as follows: "First, the euro and pound will be 'trading buys' against the dollar and yen, but no more than that. The European economies and financial systems will be soggy for some time, and their central banks are still behind the curve. Second, the trade-weighted dollar is close to a three-year high, which will not make economic sense even after the US economy and banking system turn the corner. Most likely, the dollar will lose ground against emerging and commodity currencies with good fundamentals, but will hold its own against the euro. Finally, the yen is a tougher call and we recommend standing aside."
Commodities
Fears that the deteriorating global economic situation was causing demand destruction resulted in strong selling pressure for all commodities during October, resulting in the Reuters/Jeffries CRB Index plunging by 22.3% for the month – its sharpest monthly decline since the Index started in 1956.
However, commodities reversed course during the past week as dollar weakness resulted in an improvement for most commodities (with the exception of gold), as shown by the following chart: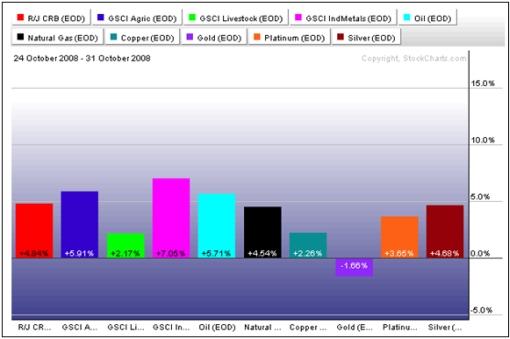 Now for a few news items and some words and charts from the investment wise that will hopefully assist in keeping our investment portfolios on a profitable course. Let's hope that after the volatile trading that characterized most of October, conditions will calm down – as always happens after a storm. And if this is part of the change to be brought about by a new US president after Tuesday's election, nobody will be complaining.
That's the way it looks from Cape Town.
The American consumer – R.I.P.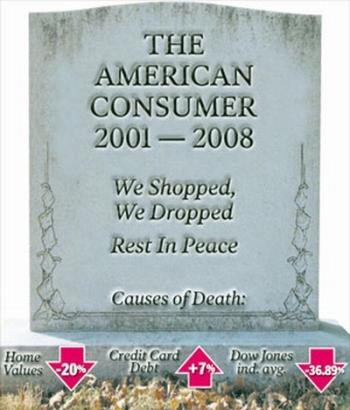 "The great American consumer – much like the Norwegian Blue parrot of Monty Python fame – is dead. A stiff. Bereft of life. He rests in peace."
Source: New York Post , October 26, 2008.
BBC News: Steve Forbes – Credit crisis: "The worst is over"
"Steve Forbes, the publisher of Forbes magazine, is one of the few people remaining optimistic despite gloomy predictions about the global economy. He talked to Matt Frei about how an economic recovery could be underway."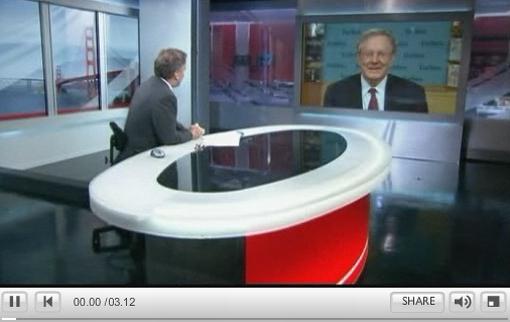 Source: BBC News , October 29, 2008.
CNBC: Recovery Could Take 20 Years – Hugh Hendry
"The ongoing financial turmoil and economic gloom will take 10 or 20 years to heal, Hugh Hendry, partner at hedge fund Eclectica, told CNBC."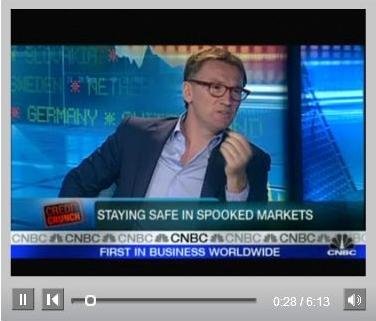 Source: CNBC , October 22, 2008.
Sovereign Society: Felix Zulauf – world is entering a "soft depression"
"Zulauf believes we're entering a soft economic depression. If not for the government's backstops on October 13 to prevent further stock and credit market seizures, a depression would have followed. Zulauf is convinced the markets would have crashed.
"His prediction of a severe recession will take the S&P 500 Index down all the way to 550, possibly 500. Stocks have already plunged 40% from their October 2007 highs. Zulauf is adamant: 'US stocks are still not cheap. The S&P 500 Index trades at 1.7 times book-value and the Dow more than 3.5 times book. This is still expensive.'
"The Swiss advisor now predicts a very different world will emerge as a result of widespread government nationalization of banking. These efforts – started in the West – will send the wrong message to emerging markets, also likely to follow the same course of full or partial nationalization.
"This will also mark the end (at least temporarily) of the globalization theme, as markets will gradually be closed to foreign competition amid a marked increase in government regulation of financial markets. He also expects foreign currency controls as economic distress accelerates.
"According to Zulauf, a 'soft depression' lies ahead. And Europe might be the focal point because the banking system there is worse than in the United States.
"'There's a disaster unfolding in Eastern and Central Europe. These countries are now unwinding leverage, namely Hungary, Romania and Bulgaria. They've borrowed heavily in foreign currencies and now have to pay those funds back as bank liquidity dries.'
"Zulauf also believes Italy, Greece and Spain will eventually exit the single European currency, or the euro.
"He seriously doubts the euro – in its current form – will survive beyond 10 years as government deficit ceilings are breached amid a bulging credit crisis. The 15 members comprising the Eurozone must keep budget deficits at 3% of GDP or lower in accordance with the Maastricht Treaty.
"Despite his bearish tone, Zulauf believes global equities will offer one of the best buying opportunities in a generation sometime over the next 24 months. This includes real estate. He's expecting stocks to stage a powerful bear market rally off the October lows.
"But beyond a big move, he thinks the economic landscape is still deteriorating and earnings forecasts are too aggressive. Still, after the next big drop, he does believe stocks will be trading at incredibly low levels."
Source: Sovereign Society , October 27, 2008.
BBC News: Financial crisis – world round-up
"A look at the regions of the world most affected by the financial crisis, and what governments are doing to try to alleviate the financial turmoil."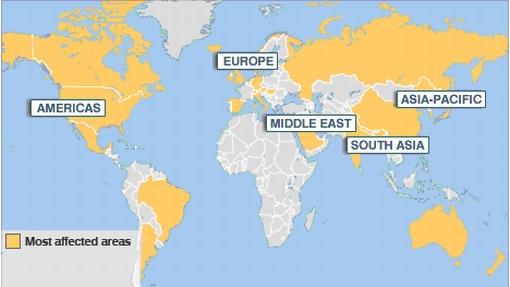 Click here for the full article.
Source: BBC News , October 29, 2008.
Financial Times: IMF to speed lending to select countries
"The International Monetary Fund on Wednesday unveiled a new emergency lending programme that will get money to well-run countries quickly and with almost no conditions attached if they are hit by financial volatility.
"The new liquidity facility is the culmination of a decade of attempts at the IMF, after the Asian financial crisis of 1997-98, to come up with a way of protecting big emerging markets from financial contagion.
"The IMF's executive board on Wednesday agreed to allow countries with sustainable debt and a good policy track record to borrow up to five times their 'quota', or financial contribution to the IMF, with almost no conditions.
"'This fills a gap in the fund's toolkit of financial support,' said Dominique Strauss-Kahn, the IMF's managing director. 'It shows the fund can act quickly and decisively.'
"An IMF official said that a 'discrete and not particularly large group" of nations would likely qualify. With the exception of Argentina, which Mr Strauss-Kahn ruled out as a participant, the fund declined to name them. But fund officials said it should be fairly easy for market participants to identify eligible countries from the IMF's annual assessments of debt sustainability and fiscal and monetary policy.
"Independent economists said that the four emerging markets to which the US Federal Reserve offered currency swap lines on Wednesday – Brazil, South Korea, Mexico and Singapore – would certainly qualify, though they would probably choose Fed money first over IMF money. Other countries likely to meet the fund's criteria included the Czech Republic, Chile and possibly Poland, while economies with large current account deficits such as South Africa and Turkey would probably not, they said.
"Lending will be for three months at the fund's standard interest rates, renewable up to twice within a twelve-month period. IMF officials said that money could be available within 72 hours."
Source: Alan Beattie, Financial Times , October 29, 2008.
Financial Times: IMF firepower could soon run short
"With its $2 billion rescue loan to Iceland and $16.5 billion to Ukraine, the International Monetary Fund has started to dip into an arsenal that is full to the brim. Yet the IMF could soon run short of firepower.
"In spite of the period of relative peace in recent years among emerging markets, the private armies of global finance have grown much faster than the fund's store of ammunition.
"The IMF, headed by Dominique Strauss-Kahn, has about $200 billion in easily reachable money and another $50 billion or so it can access rapidly. But Simon Johnson, a former IMF chief economist now at the Massachusetts Institute of Technology, says that is relatively small. 'Maybe if the IMF had two trillion dollars it could be a serious global player,' he says. 'But $200 billion can go very quickly. There are a lot of countries in the same position as Ukraine, and you only need to add one or two of the really big countries to use it up.' Mr Johnson reckons that with other countries also in trouble, the IMF has probably already had to pencil in committing about a quarter of its $200 billion over the next few months."
Source: Alan Beattie, Financial Times , October 27, 2008.
Bloomberg: Ryan says treasury to need "unprecedented" financing
"The US Treasury faces historic financing demands from a weakening economy and the added costs of a $700 billion Wall Street rescue program, the department's top domestic finance official said today.
"'This year's financing needs will be unprecedented,' said Anthony Ryan, the Treasury's acting undersecretary for domestic finance, at a Securities Industry and Financial Markets Association conference in New York.
"Ryan's borrowing outlook comes after Treasury officials spent much of the past month publicly praising the rescue plan's virtues. The Treasury needs to sell debt to raise money for the new initiatives and also cope with a weaker economy, two factors analysts say may push the country's budget deficit to more than $1 trillion for the current fiscal year.
"As part of the rescue effort, the Treasury aims to boost the economy by pushing $250 billion in new capital to US banks. Half of that money has been set aside for large banks, which hold about half of all US deposits, in hopes of stimulating more lending to businesses and consumers. The rest will go to regional banks and smaller institutions.
"Analysts say the 2009 budget deficit could be more than double the White House projections. In fiscal year 2008, which ended September 30, the deficit was a record $455 billion."
Source: Rebecca Christie and Robert Schmidt, Bloomberg , October 28, 2008.
Bloomberg: Fed spurs record surge in longer-term commercial paper issuance
"Sales of longer-term commercial paper soared 10-fold after the Federal Reserve began buying the corporate IOUs, a sign that the central bank's efforts toward unlocking the market may be working.
"Companies yesterday sold 1,511 issues totaling a record $67.1 billion of the debt due in more than 80 days, compared with a daily average of 340 issues valued at $6.7 billion last week, according to Fed data. The central bank probably absorbed about $60 billion of the total, said Adolfo Laurenti, a senior economist at Mesirow Financial.
"'That's the very first really good news in quite some time,' said Laurenti. 'It's probably something the government can do and the normal investor would not otherwise do.'
"The Fed began buying commercial paper from companies yesterday to reduce rates, lure back investors and unlock the market, which seized up last month following the bankruptcy of Lehman Brothers."
Source: Bryan Keogh, Bloomberg , October 28, 2008.
The Wall Street Journal: US mulls widening bailout to insurers
"The Treasury Department is considering buying equity stakes in insurance companies, a sign of how the government's $700 billion rescue program could turn into a piggy bank for a range of beleaguered industries.
"The availability of US government cash in the middle of a global credit squeeze is drawing requests from insurance firms, auto makers, state governments and transit agencies. While Treasury intended for the program to apply broadly, the growing requests could put a strain on the $700 billion, a sum that only last month stunned lawmakers.
"Insurers are critical to market stability. Signs of eroding confidence at life insurers could further dent fragile business and consumer confidence. Insurers are among the biggest holders of the nation's corporate debt, with $1.3 trillion on their books."
Source: Deborah Solomon and Leslie Scism, The Wall Street Journal , October 25, 2008.
Associated Press: Treasury set to dish out financial rescue funds
"The US government will start doling out $125 billion to nine major banks this week to get credit flowing again, but Monday's announcement offered cold comfort to investors as rising anxiety about a worldwide recession drove stocks down sharply around the globe.
"Assistant Treasury Secretary David Nason said the deals with the nine banks were signed Sunday, and the government will make the stock purchases this week. The deals are designed to bolster the banks' balance sheets so they will begin more normal lending.
"The action will mark the first deployment of resources from the government's $700 billion financial rescue package passed by Congress on October 3.
"The bailout package has undergone a major change in emphasis since it was passed by Congress. Treasury Secretary Henry Paulson decided to use $250 billion of the $700 billion to make direct purchases of bank stock, partially nationalizing the country's banking system, as a way to get money into the financial system more quickly.
"The plan is also aimed at clearing banks' balance sheets of bad assets. That effort has yet to begin although the administration expects to use $100 billion to purchase bad assets in coming months.
"Treasury is also starting to give approval to major regional banks with the goal of getting another $125 billion in stock purchases made by the end of this year."
Source: Martin Crutsinger, Associated Press (via Breitbart ), October 27, 2008.
Did you enjoy this post? If so, click here to subscribe to updates to Investment Postcards from Cape Town by e-mail.
By Dr Prieur du Plessis
Dr Prieur du Plessis is an investment professional with 25 years' experience in investment research and portfolio management.
More than 1200 of his articles on investment-related topics have been published in various regular newspaper, journal and Internet columns (including his blog, Investment Postcards from Cape Town : www.investmentpostcards.com ). He has also published a book, Financial Basics: Investment.
Prieur is chairman and principal shareholder of South African-based Plexus Asset Management , which he founded in 1995. The group conducts investment management, investment consulting, private equity and real estate activities in South Africa and other African countries.
Plexus is the South African partner of John Mauldin , Dallas-based author of the popular Thoughts from the Frontline newsletter, and also has an exclusive licensing agreement with California-based Research Affiliates for managing and distributing its enhanced Fundamental Index™ methodology in the Pan-African area.
Prieur is 53 years old and live with his wife, television producer and presenter Isabel Verwey, and two children in Cape Town , South Africa . His leisure activities include long-distance running, traveling, reading and motor-cycling.
Copyright © 2008 by Prieur du Plessis - All rights reserved.
Disclaimer: The above is a matter of opinion and is not intended as investment advice. Information and analysis above are derived from sources and utilizing methods believed reliable, but we cannot accept responsibility for any trading losses you may incur as a result of this analysis. Do your own due diligence.
© 2005-2019 http://www.MarketOracle.co.uk - The Market Oracle is a FREE Daily Financial Markets Analysis & Forecasting online publication.

Only logged in users are allowed to post comments.
Register/ Log in