Financial Markets Wrap - US Economy, Bonds, Currencies and Stock Market
Stock-Markets
/
Financial Markets
Apr 09, 2007 - 07:12 PM GMT

March ISM's factory gauge came in at 50.9 down from 52.3 the previous month. It remains just barely above the important 50 level. Most of the internal figures were weak as well.
The new orders index fell to 51.6 from 54.9. The Production Index fell to 53 from 54.1 and the Employment Index fell to 48.7 from 51.1. Even the Prices Paid Index fell to 65.5 from 69.
The ISM's non-manufacturing index fell to 52.4 in March, the lowest level in almost four years. Not the best of reports.
The Labor Department reported the jobless rate fell to 4.4%. Employment increased 180,000 that followed an 113,000 rise in February.
Average weekly hours increased to 33.9 from 33.8. Worker's earnings rose 6 cents or 0.3% after a 0.4% increase the month before.
The Commerce Department reported that sales at U.S. wholesalers increased 1.2% compared to a 0.5% rise in inventories. Last month the numbers were 0.9% versus 0.6%.
The Fed reported that consumer credit increased $2.973 billion to $2.410 trillion in January, and that consumer debt increased $6.61 billion.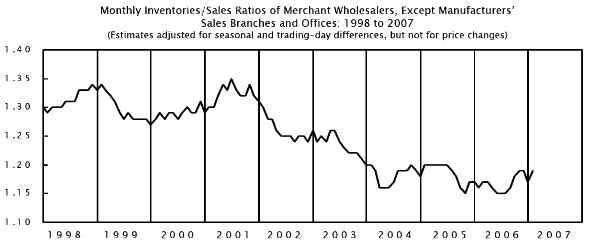 China's Central bank Governor Zhou Xiaochuan ordered banks to raise the deposit-reserve ratio by 0.5% to 10.5%. This is the sixth time in less than a year that the PBOC has raised reserve ratios in an effort to slow down inflation.
The latest report had China's M2 money supply growing at 17.8% in February, which is enough reason to make anyone pause. Can't say they aren't trying to slow things down.
Iran has outlawed the US Dollar and will put anyone in jail that uses it. Euros are the currency of preference for international transactions, as in paying for oil.
Fannie and Freddie - the ma & pa of mortgages, have $79 Billion in capital, yet they have guaranteed $3.8 TRILLION in mortgage loans. Try that with your business some day and see where you end up. Must be nice to be subsidized by the government - but wait a minute - who subsidizes the government? That's right - we do.
In 2006, subprime lending in the US housing market totaled 22.3% of all mortgages. Not to worry says the Fed; the damage seems to be under control.
The $64 dollar question of the day is whether the subprime mortgage debacle is behind us or not, along with its attendant thugs: carry trades, derivatives, and market swoons.
I remain unconvinced that all is well in paper fiat land; there is just too much debt and no money to pay for it all. Every credit boom ends in a bust, and this one will as well.
The Fed no longer has its coveted inverted yield curve, as long term rates have begun to rise. One day the Fed is perceived to be going to lower rates; and the next (as today after the employment figures) they can't possibly lower them, and may have to raise them.
It appears that the Fed is stuck between a rock and a hard place. They're damned if they do and damned if they don't. Either the dollar goes or bonds go - or perhaps both. Gold is picking up the scent.
Those who squeal about commodities being down and out for the count are obviously looking at weighted indexes that skew the picture. The CCI Index shows the trend is up.
Oil has had a nice rally back up and the industrial metals are once more on a tear. Gold and silver are performing well, as are the gold and silver stocks.
Will May bring a low or a high or perhaps neither - perhaps we just keep on keeping on. We wait for the market to show its hand. We are long the pm stocks and will add more on weakness that holds above previous lows.
For now all appears quiet on the eastern front, as Iran has returned the British marines. Still there are rumors out of Russia of a U.S. attack in mid-April. We hope and pray that none occurs, but hope with this regime is like hope with investing - it's a no no.
Iran no longer accepts U.S. dollars in payment for oil or anything else; as a matter of fact they will throw anyone using the U.S. currency in jail.
The non-existent cold war seems to be getting hotter. Something about a star wars scenario in Europe in favor of the U.S. against Russia. Somehow the mid-east is said to be the target.
Australia has vowed to protect Japan from encroachment from China, which is more then a bit odd.
But Easter is upon us with a 3 day respite - so may April showers bring May flowers that can replace the bullets and bombs.
Don't take out any debt. Get debt free as soon as you can. It's the best investment there is - bar known. Then buy those shiny yellow bars.
Invitation
Stop by our website and check out the complete market wrap, which covers most major markets. There is also a lot of information on gold and silver, not only from an investment point of view, but also from its position as being the mandated monetary system of our Constitution - Silver and Gold Coins as in Honest Weights and Measures.
There is also a live bulletin board where you can discuss the markets with people from around the world and many other resources too numerous to list. Drop by and check it out.
Good luck. Good trading. Good health. And be careful out there - things are getting a bit whacky. And that's a wrap.
Douglas V. Gnazzo
Honest Money Gold & Silver Report
Douglas V. Gnazzo is the retired CEO of New England Renovation LLC, a historical restoration contractor that specialized in the restoration of older buildings and vintage historic landmarks. Mr. Gnazzo writes for numerous websites, and his work appears both here and abroad. Just recently, he was honored by being chosen as a Foundation Scholar for the Foundation of Monetary Education (FAME).
Disclaimer: The contents of this article represent the opinions of Douglas V. Gnazzo. Nothing contained herein is intended as investment advice or recommendations for specific investment decisions, and you should not rely on it as such. Douglas V. Gnazzo is not a registered investment advisor. Information and analysis above are derived from sources and using methods believed to be reliable, but Douglas. V. Gnazzo cannot accept responsibility for any trading losses you may incur as a result of your reliance on this analysis and will not be held liable for the consequence of reliance upon any opinion or statement contained herein or any omission. Individuals should consult with their broker and personal financial advisors before engaging in any trading activities. Do your own due diligence regarding personal investment decisions. This article may contain information that is confidential and/or protected by law. The purpose of this article is intended to be used as an educational discussion of the issues involved. Douglas V. Gnazzo is not a lawyer or a legal scholar. Information and analysis derived from the quoted sources are believed to be reliable and are offered in good faith. Only a highly trained and certified and registered legal professional should be regarded as an authority on the issues involved; and all those seeking such an authoritative opinion should do their own due diligence and seek out the advice of a legal professional. Lastly, Douglas V. Gnazzo believes that The United States of America is the greatest country on Earth, but that it can yet become greater. This article is written to help facilitate that greater becoming. God Bless America.
© 2005-2019 http://www.MarketOracle.co.uk - The Market Oracle is a FREE Daily Financial Markets Analysis & Forecasting online publication.

Only logged in users are allowed to post comments.
Register/ Log in