Stock Market Caution, Caution, and More Caution
Stock-Markets
/
Volatility
Dec 03, 2008 - 11:43 AM GMT


Just when you think you have this figured out in this impossible environment, you recognize you don't -- and thus the reason to be either all cash or very close to it. Getting aggressive in any way, shape or form is incredibly inappropriate. Two days ago things looked good. Monday made things look bad, but Tuesday not so bad as those daily Macd's hung in there very well -- but of course could totally collapse tomorrow out of no where.


This market is not playing the way it has for the past many years technically. I have never witnessed so many set ups on so many levels -- from patterns to oscillators -- get made null and void in a moments notice. Now we can look at Tuesday from two perspectives. You can make the case that after being up 300 points and then going red, the Dow was able to finish back near the highs. With one hour to go the market truly looked doomed. A close near the lows would have printed a very nasty candle that would have set up a gap down tomorrow that likely would have blown through 775 on the S&P 500. Losing this level would be devastating. Retests need to hold and that would have been in huge jeopardy if we had closed badly. We didn't and thus the bulls can say way to go.
On the other hand, all Tuesday was from a purely technical perspective was an inside day. Down 700 yesterday. Up 300 today. Bearish for sure. Volume was light on both days so nothing to gain from looking at that. This market keeps us guessing. The daily charts are the one place the bulls can try to have hope. They aren't bad but have looked like this many times only to fail badly. This bear has destroyed many good looking Macd's on all time frame charts. Extreme caution is the only way to play here. 10% exposure is pushing it either way. Capital preservation is the ONLY way to move along in this environment until we can break out of the current range: 775 up to 900 on the SPX and 1400 up to 1500 on Nasdaq. If we get a break with the right overall action then we can get far more aggressive -- but for now, like it or not, hate it or not, that's not the way to play. The vast majority of folks I know who are day trading or making a lot of trades overall are getting their heads handed to them by a high VIX that scream volatility. It's just too difficult.
-------------------------------------------------
JOIN SWINGTRADEONLINE WITH JACK STEIMAN!

Going into the market crash, Jack was 100% cash, and told his subscribers the morning of Monday Sept 15: "We're not feeling a drop of pain this morning. We are proud of that. Not one long!!!"
Since inception in May, Jack's SwingTradeOnline Scoreboard is in the plus column, outperforming the S&P 500 by 36.14%!
We invite you to sign up for our Free 30-Day Trial to Jack's SwingTradeOnline and see for yourself how his technical market analysis and stock picking can help you profit -- and preserve wealth -- in this bear market.
-------------------------------------------------
Some beaten down stocks had nice bounces Tuesday such as General Electric (GE). Others like Research in Motion (RIMM) made new breakdowns. So, mixed action even from stock to stock. Apple (AAPL) is hanging in the best, but has yet to take back resistance at 95 on a closing basis with force. Goldman Sachs (GS) continues to struggle as does Baidu.com (BIDU) and Intuitive Surgical (ISRG) -- struggle and struggle some more. Nothing bullish is taking place from a stock leadership perspective. You always need those leadership stocks to rock higher when a market is trying to bottom. Leaders must lead as they say and thus far we are not seeing that on a consistent basis.
Another thing to watch that has been very consistent in terms of the overall market has been the VIX. It put in a very bullish inside day today. Yes, it was down and thus why the market rose but you can see clearly how this oscillator put in that inside day versus yesterday's candlestick. This should mean that within one more day maximum, the market should begin its down trend again. If that does not happen, we would have yet another unusual internal that did not work. It does tell me, however, to be extremely cautious in terms of new long plays. Study that inside stick and you'll clearly see why getting aggressively long here probably, I say probably, isn't the best strategy. The VIX has been very reliable, so tread lightly here please on new longs. The Nasdaq would need to take out 1500 resistance and the VIX would have to break down below the bottom of that triangle for any of us to want to get really bullish.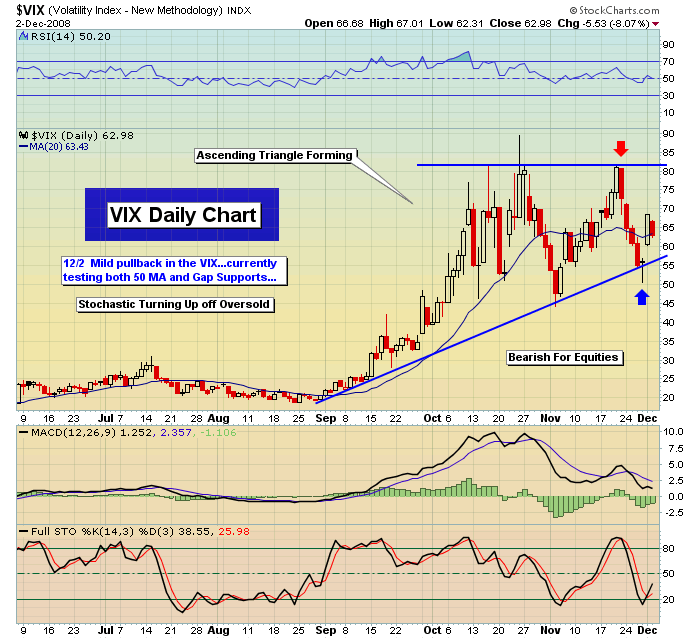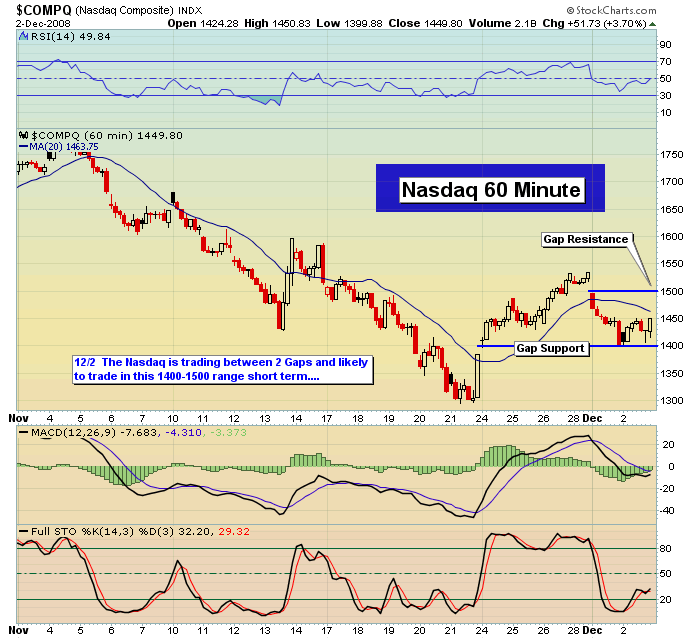 Another real concern I have here is complacency. Yes, I said complacency. The big thing out there now is how all of the worst is in the market and how no one wants to miss the big rally off the bottom. And that the market is due for a new bull and they have to be in, as the first few weeks or months are the very best of it. There seems to be little fear out there now. This is troubling to me. The majority of folks out there seem to feel that the last retest was it. It was all the market needed and now it's all systems go. That may end up being the case but there's very little out there suggesting this is true. Yes, we have had a nice rally overall off the bottom, but that does not mean we're out of the woods. This "just get long" stuff is not what I would be doing. There is real danger that we will lose 775 at some point and if we do, the masses will be sorry they got so aggressive, even down at these levels.
We are in no mans land to some degree with Tuesday's rally putting us in the middle of the Nasdaq range mentioned above at 1400 bottom area and 1500 top area. The VIX is critical in the coming one to two days as it's still in a bullish pattern and this suggests extreme caution please. Again, that inside day is flashing caution, caution and more caution. Let's hope we can move up and out here, but I don't see that happening very easily if at all. This market has a lot more work to do and to be honest, the trend is still down and the complacency issue is really under my skin. Let's continue to go very slowly through the mess here.
By Jack Steiman
Jack Steiman is author of SwingTradeOnline.com ( www.swingtradeonline.com ). Former columnist for TheStreet.com, Jack is renowned for calling major shifts in the market, including the market bottom in mid-2002 and the market top in October 2007.
Sign up for a Free 30-Day Trial to SwingTradeOnline.com!
© 2008 SwingTradeOnline.com
Mr. Steiman's commentaries and index analysis represent his own opinions and should not be relied upon for purposes of effecting securities transactions or other investing strategies, nor should they be construed as an offer or solicitation of an offer to sell or buy any security. You should not interpret Mr. Steiman's opinions as constituting investment advice. Trades mentioned on the site are hypothetical, not actual, positions.
© 2005-2019 http://www.MarketOracle.co.uk - The Market Oracle is a FREE Daily Financial Markets Analysis & Forecasting online publication.

Only logged in users are allowed to post comments.
Register/ Log in