How to React to the Bad Stock Market News
Stock-Markets
/
Stocks Bear Market
Jan 26, 2009 - 09:14 AM GMT

We had a lot of new people join the site earlier this month and I've been getting lots of emails and questions from them. One thing that stands out though is a lot of people asking about news items. For instance going into last week I had someone email and ask about the earnings for airline stocks. They wanted to know if they should buy or sell because of the earnings. How to game the news so to speak.


This is something I do not do at all. I don't base buying decisions based on news items and certainly not ahead of them. Usually if you react to a news item the news has already been priced in by the market so you are putting yourself way behind the curve. As far as trying to game the news I simply can't predict what an earnings report is going to be or what the economic news is going to be either. All I do is figure out what the trend is and try to ride that trend for as long as possible - and do my best to realize when it changes.
If you watch CNBC or read the financial press though you get bombarded by news and opinions. It can prevent you from sticking with the trends by putting unnecessary fear into you. For instance a lot of attention is put on the employment numbers. Going into employment numbers the reporters will say the market is waiting on the numbers and if they are bad it might dump. They say something like that so you get scared to act. Then the news is bad and the market goes up anyway.
The important thing is always the trend of the market. Not the news. News can be bad and the market can go up nonetheless.
We are through the first big week of earnings reports from corporate American and over half of the companies that have reported so far have missed their earnings estimates. 50 of the 92 companies in the S&P 500 that have reported have missed, while many of these companies have refused to give earnings forecasts for the rest of the year.
56% of the companies that have reported have shown a drop in sales from a year ago. This is the sixth quarter in a row that earnings have shrunk - a run of quarters not seen since 1951.
If that news isn't bad for you how about this. On Friday the government is going to release 4th quarter GDP numbers. They are expected to post a decline of 5.2%. That would be the worst quarter for the US economy since 1982.
Well with all of this bad news you would think the stock market would be in total collapse, but it isn't.
You see the market has already been dropping into all of this bad news. It fell over 10% from its January high in just the space of a few weeks.
Last week the S&P 500 held the 800 level and bounced of it on Friday. Earlier this month I had been looking for the market to fall below this level and bottom nears its November lows - but last week's strength suggests that it might be bottoming right here. If that's the case then everyone who has been selling because the news is bad is going to be left behind when the next rally really gets going.
It all has to do with the trend of the market. The easiest way to identify a trend is to see if the market is making higher highs and higher lows. If so then you have an uptrend in progress. Now if you have lower highs and lower lows in progress then you have a downtrend going. I talked about this last year in a video I put together about using this type of trend analysis to figure out where to place stop loss orders. You can watch it here .
It also helps to see what is happening in multiple time frames to keep your mind not only on the big picture, but what is happening right now too.
Let's break down the broad market and see what is happening.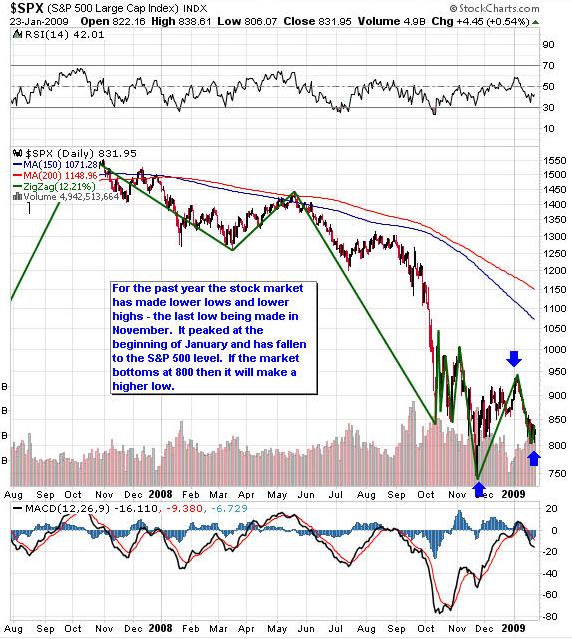 For over a year now the stock market has consistently been making lower highs and lower lows on daily, weekly, and monthly charts - the textbook definition of an overall downtrend. In fact it has been a brutal bear market.
The last lower low was made in November. After that low the market rallied into the beginning of January and then made a peak. It has since fallen to the 800 S&P 500 level. If 800 marks a bottom then the market will have made a higher low - which is a sign the trend may be changing. The odds would then favor the market going through its most recent high January high to make a higher high.
That would not necessarily mean a new bull market is in order, but would suggest the trend for at least the first half of this year would be up - we should expect a rally up to the S&P 500's 150 and 200-day moving averages.
Now will 800 hold? Let's look at the short-term chart and apply this type of analysis to it: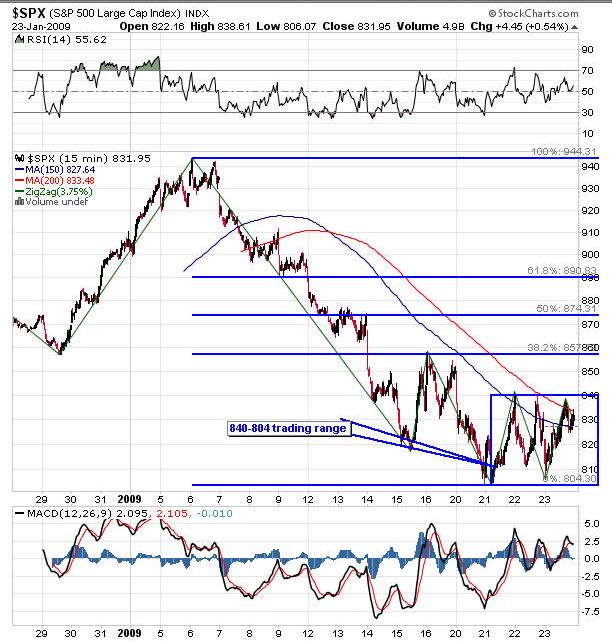 For the past few days the S&P 500 has been locked into a trading range of 840-804. I believe that its move out of this range will define its next big move. So if the S&P 500 were to close below 804 I would take that as a sign that a retest of the November lows is likely, while if it closes above 840 I would take that to mean that the short-term downtrend that has been in place since the beginning of January is over.
After 840 the next resistance point is around 860 - this is the point of the S&P 500's last peak on its hourly chart made on the 15th and represents a 1/3 retracement level of the January high and 804 low. If that gets taken out then I would take that as confirmation that the market is now in an uptrend on the hourly chart - one that would also turn into an uptrend on the daily chart.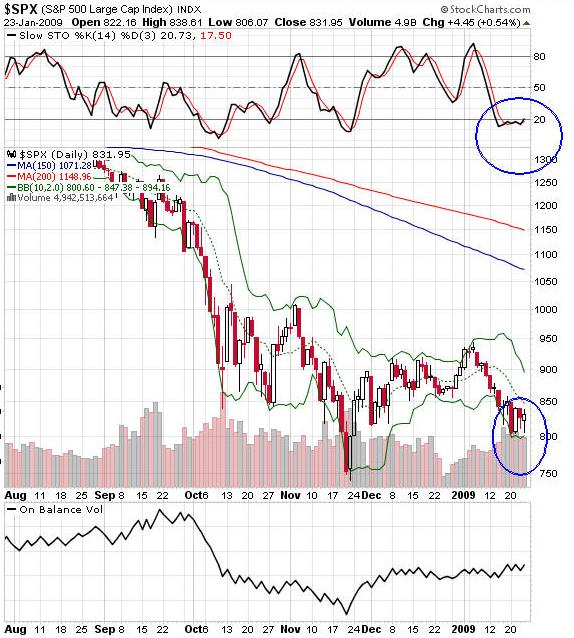 The daily stochastics for the S&P 500 - and the DOW and Nasdaq for that matter - are oversold. The S&P 500 has held the 800 level in the face of some very bad news the past few days and has based on its hourly chart. If it closes above the 840 level it will cause the daily stochastics to give a buy signal.
To sum up if the market does not break 800 in the next two sessions I expect it to rally and turn up. The daily stochastic would generate a buy signal. I would also expect such a rally to fully go through the 950 level on the S&P 500.
As for positions I like...
The above is a transcript of a WSW Power Investor Premium article. To access the rest of the article go here .
By Michael Swanson
WallStreetWindow.com
Mike Swanson is the founder and chief editor of WallStreetWindow. He began investing and trading in 1997 and achieved a return in excess of 800% from 1997 to 2001. In 2002 he won second place in the 2002 Robbins Trading Contest and ran a hedge fund from 2003 to 2006 that generated a return of over 78% for its investors during that time frame. In 2005 out of 3,621 hedge funds tracked by HedgeFund.Net only 35 other funds had a better return that year. Mike holds a Masters Degree in history from the University of Virginia and has a knowledge of the history and political economy of the United States and the world financial markets. Besides writing about financial matters he is also working on a history of the state of Virginia. To subscribe to his free stock market newsletter click here .
Copyright © 2008 Michael Swanson - All Rights Reserved.
Disclaimer - WallStreetWindow.com is owned by Timingwallstreet, Inc of which Michael Swanson is President and sole shareholder. Both Swanson and employees and associates of Timingwallstreet, Inc. may have a position in securities which are mentioned on any of the websites or commentaries published by TimingWallStreet or any of its services and may sell or close such positions at any moment and without warning. Under no circumstances should the information received from TimingWallStreet represent a recommendation to buy, sell, or hold any security. TimingWallStreet contains the opinions of Swanson and and other financial writers and commentators. Neither Swanson, nor TimingWallstreet, Inc. provide individual investment advice and will not advise you personally concerning the nature, potential, value, or of any particular stock or investment strategy. To the extent that any of the information contained on any TimingWallStreet publications may be deemed investment advice, such information is impersonal and not tailored to the investment needs of any specific person. Past results of TimingWallStreet, Michael Swanson or other financial authors are not necessarily indicative of future performance.
TimingWallStreet does not represent the accuracy nor does it warranty the accuracy, completeness or timeliness of the statements published on its web sites, its email alerts, podcats, or other media. The information provided should therefore be used as a basis for continued, independent research into a security referenced on TimingWallStreet so that the reader forms his or her own opinion regarding any investment in a security published on any TimingWallStreet of media outlets or services. The reader therefore agrees that he or she alone bears complete responsibility for their own investment research and decisions. We are not and do not represent ourselves to be a registered investment adviser or advisory firm or company. You should consult a qualified financial advisor or stock broker before making any investment decision and to help you evaluate any information you may receive from TimingWallstreet.
Consequently, the reader understands and agrees that by using any of TimingWallStreet services, either directly or indirectly, TimingWallStreet, Inc. shall not be liable to anyone for any loss, injury or damage resulting from the use of or information attained from TimingWallStreet.
© 2005-2019 http://www.MarketOracle.co.uk - The Market Oracle is a FREE Daily Financial Markets Analysis & Forecasting online publication.

Only logged in users are allowed to post comments.
Register/ Log in